Last Updated on June 15, 2020 by Heather Hart, ACSM EP
Let's be honest: I could write a small novel with all of the running errors, never mind just ultramarathon mistakes, that I've made during my athletic career. Many of them were simply a means of trial and error, like figuring out what sorts of foods sit well with my digestive system over long distances. Other mistakes were just plain stupid. The "I should know better" type of mistakes – like drinking one too many beers with friends the night before a race, or trying new shoes for the very first time during a race.
Dumb, right? Yeah, well… I did it anyway.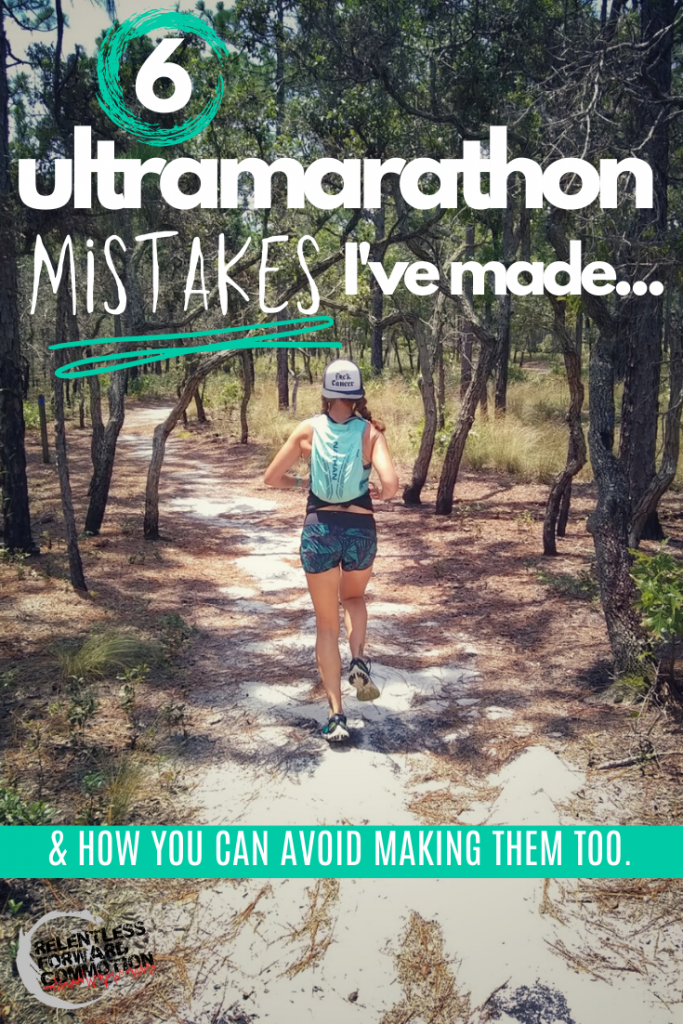 Regardless, having made so many mistakes myself during training and racing pays off in the coaching world: I can use my experiences and past running transgressions to help clients avoid making the same mistakes. Hell, I should probably add "making running mistakes so you don't have to since 2006!" to my resume.
But I digress.
My Top 6 Ultramarathon Mistakes
While my running blunders are seemingly endless, in this post we're going to focus solely on ultramarathon mistakes. I suppose it makes me feel a little better knowing that my top 6 ultramarathon mistakes are actually quite common in the ultra world. So while perhaps naive, I wasn't a total bumbling dummy. Nevertheless, these common ultramarathon mistakes absolutely CAN be avoided, when you have the knowledge to avoid them. Let's dive in.
1. Underestimating the distance
In May of 2015 I decided I was going to run 100 miles over the course of a 48 hour race...that month. I figured "48 hours is PLENTY of time! I only have to average a 28 minute mile, that's a walk in the park!" Keep in mind, my longest run ever at that point had been somewhere in the 28 mile range. And as you've probably guessed…I was not properly trained for the race.
I had no idea what my legs, body, or mind would feel like at 35, 40, or even 50 miles…never mind the 100K mark or beyond. I underestimated how hard the distance would be, and as such, I got my butt handed to me. I ended up quitting the race somewhere around the 52 mile mark. The thought of running another 48 miles on top of that? Absolutely inconceivable.
It was a humbling experience…one that I would make more than once, before finally being successful at the 100 mile distance.
How to avoid making this ultra mistake:
Listen, I'm not going to be the one to burst your bubble or tell you that you can't go from a marathon right to a 100 mile finish. People have done it, and continue to do it. But it is my belief that there is invaluable knowledge gained by building your ultra resume slowly. The experience acquired over working your way up the proverbial distance ladder (50K, 50 miler, 100K, etc.) pays off, and helps create a healthy respect for the longer distances.
2. Not following an eating schedule
Intuitive eating is great for daily life – not for ultramarathon racing. When it comes to running distances like 50 miles or more, you absolutely have to stay on top of your nutrition intake – even when you don't feel like eating.
I can't even tell you the number of times I've lost track of my nutrition during an ultra. Even worse: I cannot tell you the number of times my stomach didn't want to eat, so I just stopped eating all together. It's a recipe for utter disaster, every single time, and is likely the most frequent of my ultramarathon mistakes. And in my experience, not following an eating schedule has resulted in everything from snapping at my husband (classic low blood sugar behavior) to tears, to quitting the race altogether.
How to avoid making this ultra mistake:
Make a nutrition plan, and stick to it, no matter what. I started setting an alarm on my watch that will beep at me every hour during a race, to remind me to eat. I know how many calories I need to take in per hour, and not eating is no longer a choice. If I'm sick of a specific food, or it no longer sounds appealing? That's fine – but I have to eat something else. No exceptions.
Another trick is to make sure your crew and pacers are aware of your nutrition plan. I've had crew chiefs who have made me show them my empty snack wrappers to prove that I've eaten. Yeah, it makes you feel like a little kid getting scolded by a parent (did you eat ALL of your dinner?!?) but it pays off when you cross that finish line.
Related post: FUELING FOR AN ULTRAMARATHON: A COMPLETE GUIDE TO RACE DAY NUTRITION
3. Not Properly Pacing For the Long Haul
In certain situations, I am ridiculously competitive. If you put me in a field of top ultramarathon elites, I am reserved and behave myself (because let's face it, I don't stand a chance). But if I'm toeing the start line of a smaller race where there is a real possibility I'll podium – watch out. My common sense goes right out the window.
Therefore, multiple times (I mean, probably more than I can count) I have not properly paced myself at the start of an ultramarathon. I'll go out way too fast, either trying to gain a lead or maintain a lead. And everytime I think to myself "I can hold this pace for another 80 miles, right?"
Wrong.
As a result, I typically bonk, hard, and then struggle my way through the second half of the race (if I don't end up quitting).
How to avoid making this ultra mistake:
Before Frozen Hell Hole Hundred in 2019, a friend and fellow ultra runner gave me the most amazing advice. He told me that when the race director says "GO", to head to the port-a-potty instead of start the race.
Sounds crazy, right? But the idea is that I let everyone else get ahead of me, so that I'll focus on my own race. You see, one of my favorite things about ultramarathons is that anything can happen. 50, 60, 100 miles or more is a long, long time to run. You cannot spend that sort of distance running someone else's race…you've got to run your own.
His advice worked: over the course of the evening I started passing dozens of runners that had gone out too fast and burnt out around the 100K mark. I even finished 2nd place female overall, because I focused on my race, and not what everyone else was doing.
Point being: pace yourself for the long haul. Remember that a conservative start will pay off in the long run (pun totally intended). And that ultras are often won by those who make smart decisions that help them endure really long distances – not necessarily who is the fastest from the start.
4. Listening to the voice telling me to quit
Ever since I was a little girl, I've been an incredibly emotional being. I feel EVERYTHING – good and bad, and often, I get lost in those feelings. So it's no surprise that I've had some incredibly low-lows mid race that have caused me to quit when things got tough.
Hell, I once quit a 100 mile race at mile 90 – with PLENTY of time to spare – because I "just didn't feel like it" anymore (true story). In retrospect, I regret almost all of my DNF's where I quit because the "going got hard".
How to avoid making this ultra mistake:
The reality is: ultramarathons are physically AND emotionally taxing. You are undoubtedly going to have lows. So what do you do with them?
One of the best pieces of advice I've ever received came from a fellow ultra coach. He texted me before a big race and said something along the lines of "You ARE going to have lows, no doubt about it. Accept them. Push through them. Because you will have highs again…but you HAVE to stick through the lows in order to get back to the highs".
Remind yourself that each "low" cannot last forever. And if you stick it out, you will be rewarded with a high. Acknowledge – before the race – that there will be times when you want to quit. Come up with a solid plan of how you will work through those "I want to quit moments", and stick to the plan when it happens.
5. Underestimating Downhill Damage
When runners think of a challenging course with a ton of elevation, they often think about training for the elevation gain, not necessarily the loss. That's likely because while in the midst of it, running (or hiking) uphill FEELS so much more difficult. But that downhill? It's also destroying your muscle cells. And over the course of an ultra, you'll definitely start to feel it.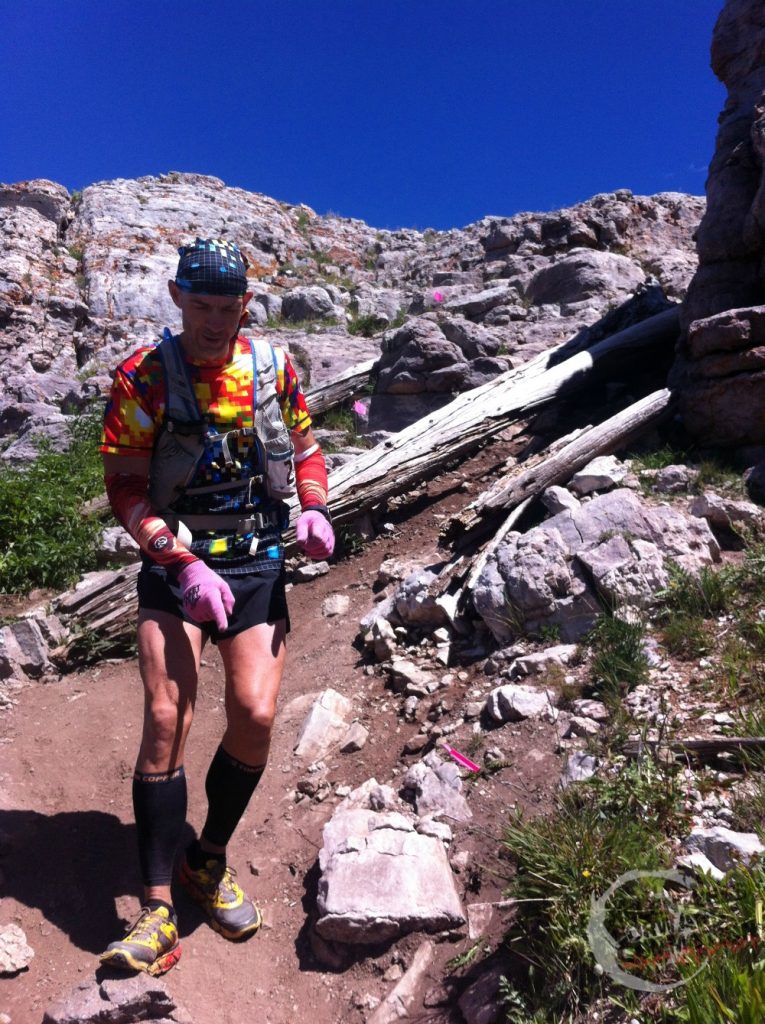 Case in point: 2019 Georgia Death Race. It was just not my day to race, but the long, extended downhill running destroyed my quads. I thought back to the many, many months I spent on the treadmill and stair climber working on my climbing skills, but how I neglected training for the endless eccentric contractions of the downhill runs. And it hurt, in a way I had not experienced in a very long time (thanks a lot, flat Myrtle Beach…)
How to avoid making this ultra mistake:
Train for downhill running, just as much as you do for uphill running. The easiest way to to do that is to utilize hill trails and routes for your training runs, rather than focusing only on treadmills or stair climbers. Or, you can add in some downhill specific workouts into your training cycle!
6. Not following a proper rest cycle after a race
Emphasis is often placed on the importance of a training cycle. But rarely do we talk about proper recovery cycles, even though they are just as important as the build.
More times than I can count, I have finished a race (or not finished a race, for that matter) and have hopped immediately into another training cycle. Perhaps it was because of the thrill of a strong finish, or maybe it was the need for redemption after a DNF. Either way, not taking a specified amount of time off to focus on rest sent me on a downward spiral into ultramarathon burnout. Believe me, it's not a fun place to be.
How to avoid making this ultra mistake:
In addition to following a training cycle, follow a recovery cycle post race as well. Truly listen to your body – there is so much more to recovery than simply "sore legs". Not sure what recovery should look like? Check out my post "How Long Should I Rest After an Ultramarathon?".
So there you have it: my top 6 ultramarathon mistakes. I'm certain there are more to be made in the future, stay tuned. Readers, what are some ultramarathon blunders you've made in the past?