For runners, the task of figuring out how to fuel for a race can be daunting.  There are seemingly endless nutrition options, and everyone's body reacts differently to each one.  It takes practice, trial, and error to find out what works for each individual.   But if race day nutrition is an art form, learning race day nutrition for an ultra is rocket science.   Trying to understand proper fueling for an ultramarathon is absolutely vital for race day success, as the significantly longer distances and extended time on feet require much more involved nutrition strategies.  It's almost as if you are fighting a figurative uphill battle from the start; failing to plan an adequate nutrition plan can ruin your race.
Ultramarathons have received an unfair reputation for being a big party where people run slow and gorge on junk food.  Now, I'll admit that I've personally contributed to the rumors from time to time: I've used the promise of the aerobic zone and potato chips as a means to entice first timers over to the ultramarathon "dark side".  Of course, the junk food rumors aren't entirely untrue…an aid station at an ultramarathon does look like a 10 year old's dream come true.  Candy, cakes, cookies, chips, Cheetos, and snack foods as far as the eye can see!
But fueling on the "junk" alone without any rhyme or reason will not likely lead to race day success.  You've got to have a solid plan of action when it comes to fueling for an ultramarathon.   In this post, we'll dive deeper into exactly how to formulate your own ultramarathon race day nutrition plan.
Before Race Day…
If you've heard it once, you've heard it a thousand times: "do (try) nothing new on race day." There's a very valid reason for this mantra in the running world, new things may cause discomfort.  We're talking anything from a blister to an extended visit behind a bush because you pissed off your gastrointestinal system.   When it comes to nutrition, you have to practice ultramarathon fueling plan time and time again to make sure it truly works for you.  Here's how to start:
Find your caloric intake baseline.
It's commonly stated that running burns approximately 100 calories per mile.  It's important to note the "approximate" clause in that statement.  In reality, caloric expenditure is going to vary based on a number of factors, including, but not limited to: gender, weight, athletic conditioning, effort, etc.   For a more accurate idea of how many calories you are burning while running, refer to this Walk/ Run Metabolic Calculator from ExRx.net
Now that we've talked about expenditure, let's talk about intake.  The average runner can only absorb about one gram of carbohydrates per minute (there are 4 calories per gram of carbohydrate) and about 240 calories total, per hour.   The main reason for this is because while running, blood is diverted to more important systems (such as the brain, heart, lungs, and muscles) and away from less important systems (such as digestion), therefore slowing down digestion.   A little quick math will reveal that even running at a very conservative pace of 4 miles per hour, a runner can not replace all the calories that they burn.
It's important to remember that our body stores "fuel" in the form of glycogen in muscles and liver,  glucose in the blood, and fat stores that can be converted to fuel.  So, just because we cannot replace all of the calories we burn, does not mean we are going to "run out" of fuel, as our body already has a solid backup waiting in storage.
Regardless, you can see how over the course of 50 to 100 miles, it can be easy to fall short on calories really quickly if you don't start fueling from the get go.
So…how much DO I take in?
Great question.  Again, this is going to vary from person to person.  Some people can handle a caloric intake on the higher end of 240 while running, others (like myself) cannot, without severe gastrointestinal distress (i.e…multiple visits to the port-a-potty).
This is where practice makes perfect (see below).  Pick a calorie number to start with, and see how you feel.  Bonking sooner than you should? Maybe you need more calories per hour.  Finding you feel bloated, lethargic, or have an upset stomach?  Perhaps you are taking in too much.  Race day nutrition is absolutely an experiment of one, and the only way you'll dial in what works well for you is to practice.
Decide WHAT you are going to eat and HOW.
Are you a fan of liquid nutrition?  Or do you prefer to chew your food? Maybe you like a little bit of both.  Do you plan to use endurance specific food (gels, drinks, chews, etc.) or will you fuel with "real" food?  There is no right or wrong way to get your calories in…as long as you are getting them.  If you're eating solid food, you must ensure that you are also taking in the proper amount of fluids to ensure hydration.  Fluid rates vary based on a number of factors as well, so I always go by the rule of thumb: drink before you are thirsty.
The best time to experiment with nutrition is during training, as you never want to try anything new on race day.  Keep in mind, just because you like a specific food, doesn't mean it's going to work well for you while running, especially due to the aforementioned slowing down of digestion.  So practice eating (or drinking) your calories of choice during your training runs, to make sure they work well for you and agree with your stomach.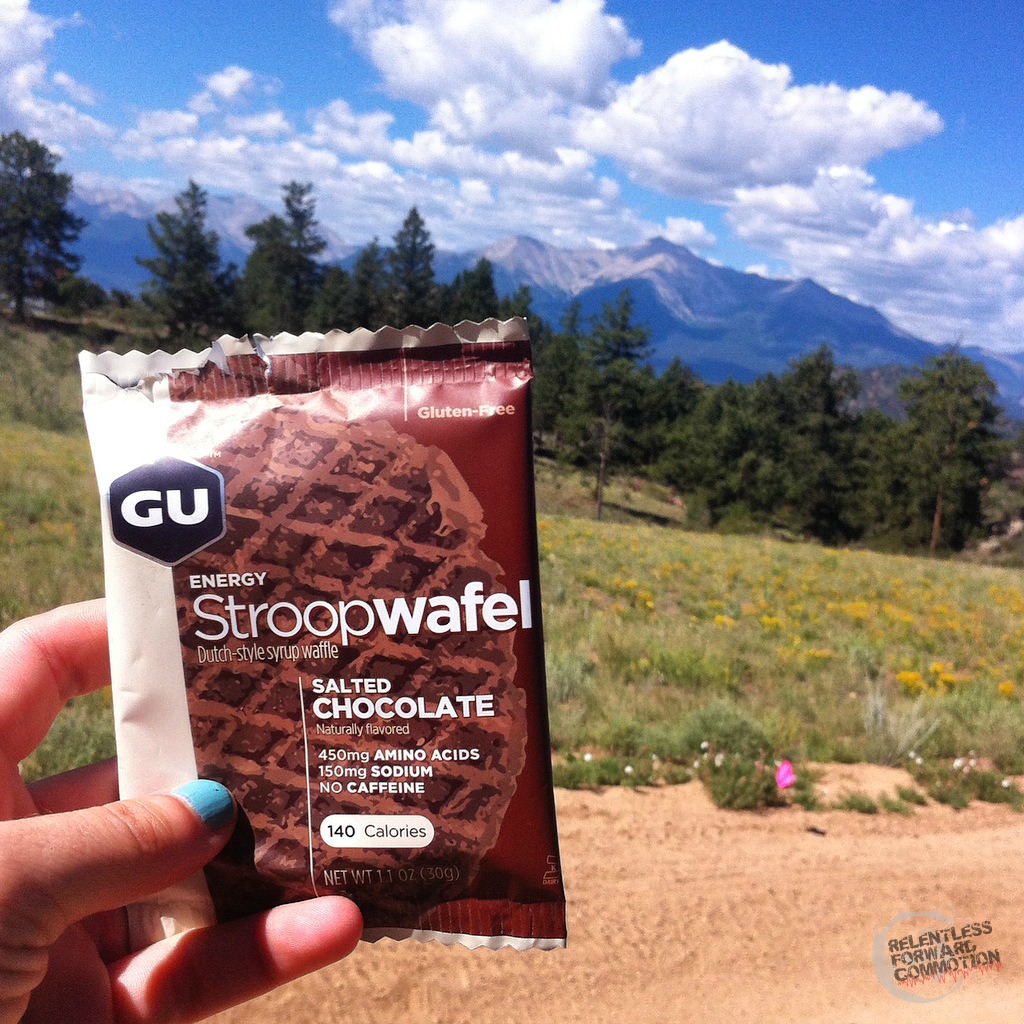 Next, decide how often you are going to take in your calories.  Would you like to eat once per hour?  Break your calories up by miles? Consume a large amount of calories at once, or keep a steady stream of calories coming in over time? Again, different approaches work for different people.
Figure out how to track your calories.
In the beginning of an ultramarathon, keeping track of your caloric intake is easy.  But as the hours and miles fly by, this becomes a more and more difficult task.  If you lose track, and start to bonk from the lack of calories, it becomes near impossible.  Next thing you know, you can't remember the last time you ate,  but it doesn't matter because you hate the thought of eating anyway, and then you're crying over something as silly as the fact that your shoe lace came untied.
You've bonked.
The best way to prevent this is to be proactive with your nutrition. So find a creative way to not only keep track of your calories, but to ensure you take them in.  Set an alarm on your watch. Share your plan with a friend or pacer to help ensure you stay on track.  On a looped course, I will personally set up a huge poster board where I will make check marks every time I eat
Practice, practice, practice.
This cannot be stated enough.  PRACTICE your fueling strategy so you know ahead of time what you'll be doing on race day, and so you know your plan works.
On Race Day…
You've practiced your nutrition game plan.  You've truly dialed in what works for you.  Now here's how to ensure the plan continues to work throughout the miles and hours of your ultra.
Start fueling from the get go.
As mentioned above, there is absolutely no way to take in as many calories as you burn over an ultramarathon.   Your best bet in beating a massive caloric deficiency is to ensure that you begin fueling from the start of the race, NOT a few hours later when you find yourself hungry.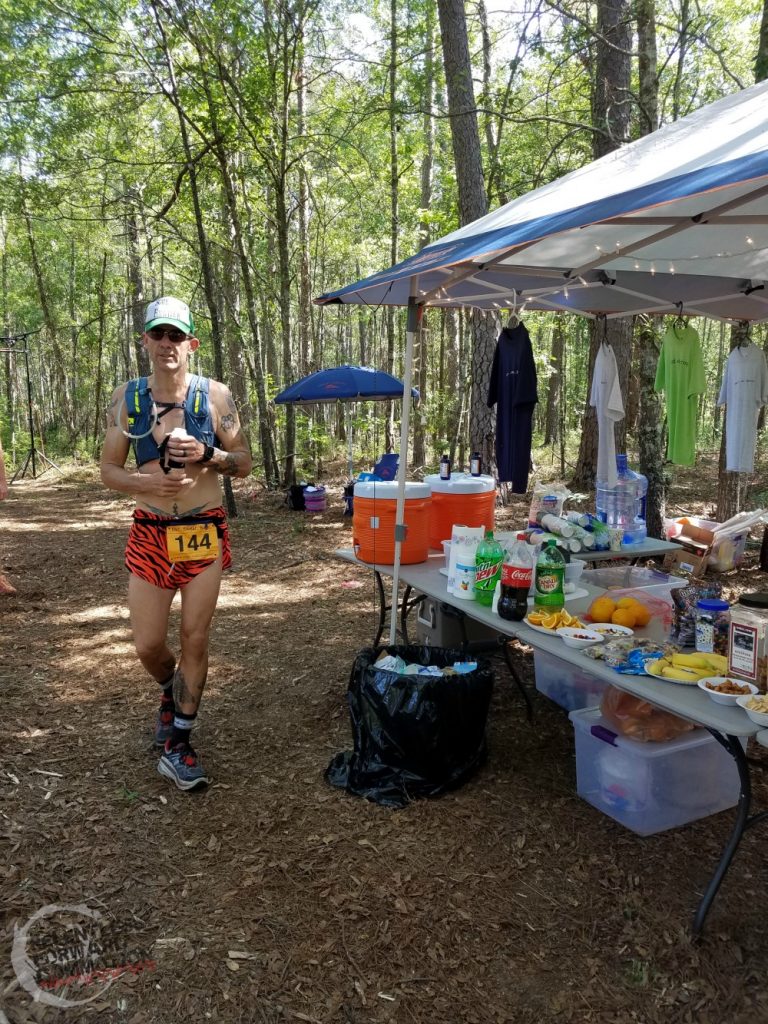 Keep track of your nutrition. 
Do. Not. Wing it.   How do I know?  Because I've bonked, more times than I can count, trying to "guess" if I've eaten enough (the answer was always no, I hadn't eaten enough).   This is where a crew comes in mighty handy.  They know before hand how many calories you need, and they can make sure you get them.  No unnecessary energy wasted on counting calories for you.
Have a backup plan.
Inevitably, there will come a point in your race where you suddenly cannot stand your fuel of choice.  For me, there comes a point when my beloved Tailwind is suddenly a vile, horrible concoction that I want NOTHING to do with.   Have a backup nutrition plan for when (likely not "if", but "when") this happens.
Do not stop eating. 
There may also come a point during your race, especially much longer ultramarathons, where you are so sick of food, the sight of anything makes you nauseated.  At which time, you may be tempted to make the irrational decision to stop eating.
Don't do it.
Trust me when I tell you that the worst thing you can do is stop fueling your body.  Find an alternative, slow down or lower your caloric intake, but whatever you do, don't stop all together, or you'll be on the one way train to Bonk City.
In short (ha)…
Fueling for an ultramarathon can seem like an endurance event in itself.  Over time, however, you will narrow down what works for you as far as nutrition, if you keep practicing.  Don't wait for race day and gorge on the pizza and skittles at the aid station…unless, of course, that was part of your plan.