Last Updated on June 26, 2018 by Heather Hart, ACSM EP, CSCS
A common question I hear from newer runners, or at least new-to-trail runners, is whether or not they can use their road shoe on the trails, or "do I really need trail running shoes?".  Runners seem to come from two different mindsets: the "sweet, an excuse to buy new gear" camp, or the "ugggh why is this 'inexpensive sport' costing me SO MUCH MONEY?" team.   In this post, we're going to break down the differences between trail running and road running shoes, and determine whether or not you really need to spring for a second pair of shoes just for the trail.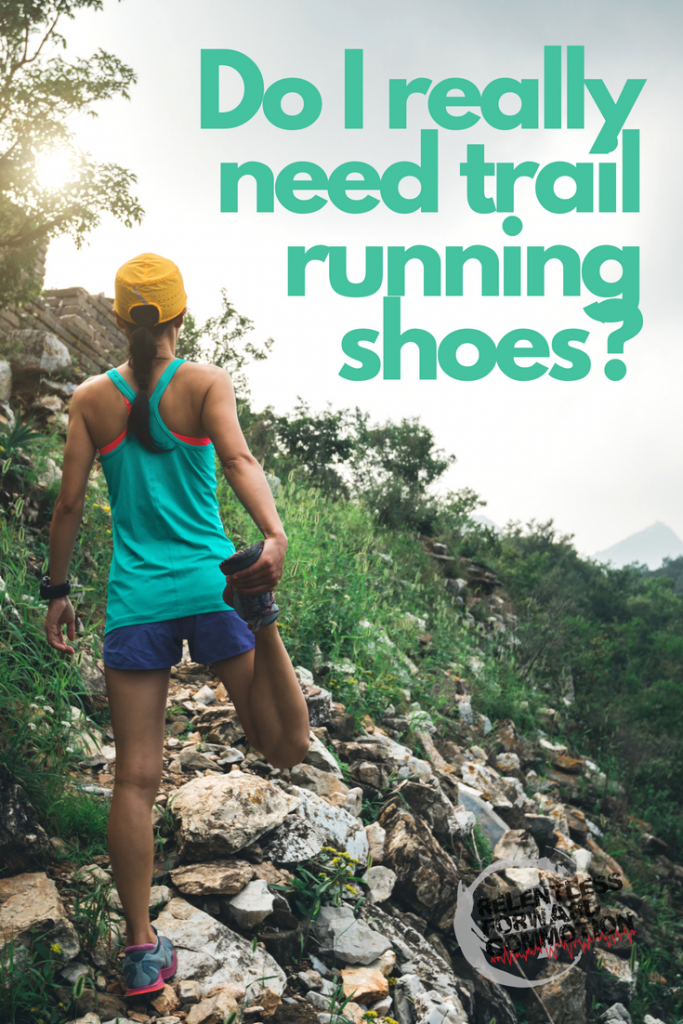 Here in Myrtle Beach, with our mostly sandy and relatively non technical trails, having trail shoes is not always a deal breaker.  While some of the "steeper" (definitely a relative term) climbs might feel a bit slippery in road shoes, you can absolutely get away with running trails in your normal road shoes…as long as you don't mind getting them a little dirty.   This isn't always the case, however, as some trails in other locations are significantly more technical, with roots, scree, rock faces, and more.  Needless to say, the features of a trail shoe can certainly make your trail running experience significantly more enjoyable.
Differences Between Road and Trail Running Shoes:
First, let's look at the differences between road running and trail running specific shoes.
Aggressive Tread/ Outsole.
The outsole (or bottom) of a road shoe is designed to be lightweight, fast, and responsive.  A trail shoe, however, is typically made of a sturdier rubber compared to that of a road running shoe, and features aggressive tread to help you tackle steep climbs or slippery terrain.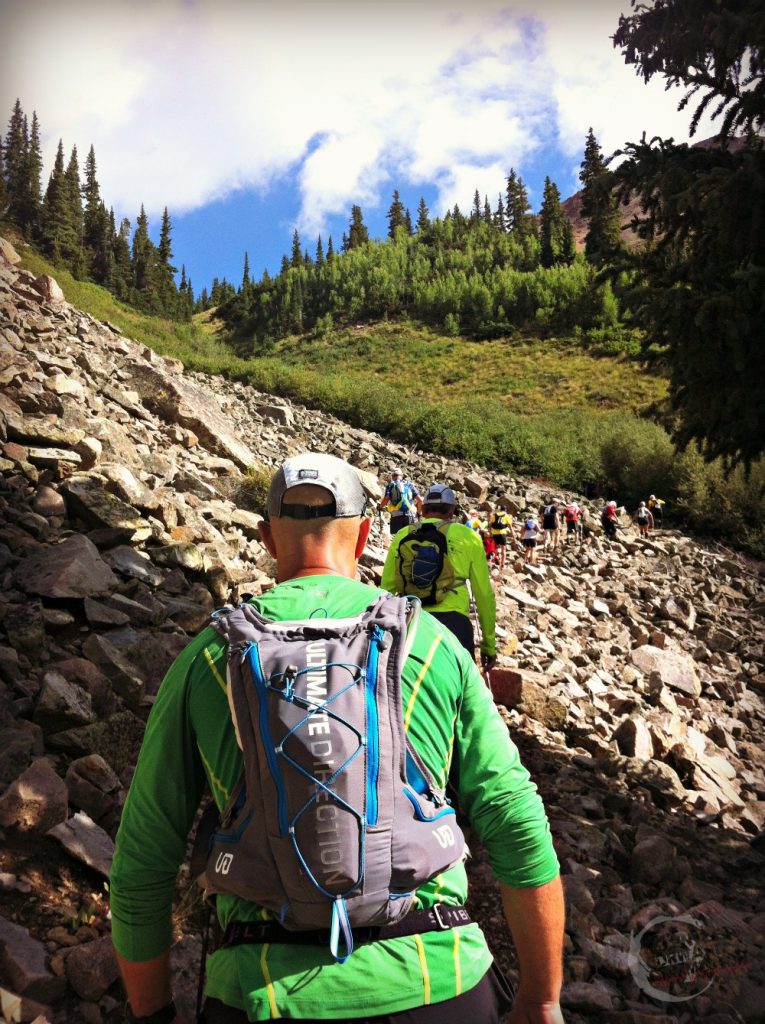 The depth of the tread varies on the type of trail shoe; some are smaller and designed for all terrain use (switching from road to off road), while others have bigger, burlier treads and grooves for more rough terrain.    The sturdier rubber helps protect your feet from sharp rocks and roots, and also allows the shoe to withstand the harsh terrain without breaking down as quickly.  The trade off for this protection is typically a slightly heavier shoe, compared to road models.
Supportive, Durable Upper.
Many road shoes are designed with the goal of keeping the weight of the shoe down.  Lightweight mesh uppers with sublimated or printed patterns help provide structure without adding too much weight. In a trail shoe, however, these types of uppers are more vulnerable to tears from rocks, roots, brush, multiple stream crossings, etc.  Therefore, a trail shoe is typically going to feature a sturdier upper, with more durable materials and reinforced construction.  Further, the upper helps to provide even more structure and support for the constant lateral movements that occur on trail, helping to guide your feet and ankles with the constant, unpredictable movements.
Wider Last.
Trail shoes are typically built on a wider last, the mold that the shoe is formed around during construction.  A wider last and wider outsole will provide a bit more of a stable base for the lateral movements that often occur on trail, while hopping around rocks, roots, and other obstacles.  This is not to be confused with "stability shoes", which are typically designed with an internal stability post that helps slow down the rate of over-pronation.
 Additional Features.
Many trail shoes have additional features, such as a reinforced toe (for accidental rock kicking), gaiter traps and hooks (to hold hold your gaiters in place and prevent debris from entering your shoes), an internal rock plate to help protect the forefoot from sharp rocks underfoot, and sometimes even waterproof materials to help keep your feet dry and comfortable.
Do I Really Need Trail Running Shoes?
Next, let's determine if you actually need a pair of trail running shoes.  Some questions to ask yourself:
Frequency
How often will you be running on trails?  If it's a one-shot deal, then perhaps springing to buy another pair of shoes isn't really worth the investment.  If you will be hitting the trails on a regular basis, then buying a pair of shoes specifically for the trail is a good idea.  Not only will you be more comfortable on the terrain, but you will preserve the integrity (i.e. not thoroughly trash) of your road shoes.
Trail Type/Conditions
What sort of trail will you be running on?  If it's a wildly technical trail, you'll really wish you were running in a pair of trail running shoes, even if you only head to the trail sporadically.  Not sure what you will face?  Ask local runners who do frequent the trail what they recommend.   If they do suggest trail shoes, they will also be able to give suggestions on what type of trail shoe you may need (super aggressive, all terrain, etc.)
Support
Do you have weak ankles? Prone to twisting them on curbs, rocks, and roots?  Do you stub your toes often?  It's OK if you answered "yes", you aren't alone.  The good news is that over time, trail running will help build strength in your ankles and lower body, as well as increase proprioception (aka, the ability to pick up your feet and not trip over everything – trust me, I'm reformed frequent trail faller).  If this is you, I would suggest a trail shoe regardless of terrain, as it will provide the extra support to help protect your feet and lower legs as you gain agility and trail skills.
_____________________________________________
So, do you actually NEED trail running shoes?  No.  Yes. Maybe.
In short, you can certainly use your road shoes on the trail.  You can also use your trail shoes on the road (though it will beat up the tread pretty quickly, and they might feel a little clunky.) However, if you decide to add trail running to your regular training routine, investing in a pair of trail specific shoes will make your trail running experience more enjoyable, and will help preserve your road running shoes for your road or treadmill miles.
Happy Trails!
Heather Hart is an ACSM certified Exercise Physiologist, NSCA Certified Strength and Conditioning Specialist (CSCS), UESCA certified Ultrarunning Coach, RRCA certified Running Coach, co-founder of Hart Strength and Endurance Coaching, and creator of this site, Relentless Forward Commotion.   She is a mom of two teen boys, and has been running and racing distances of 5K to 100+ miles for over a decade.  Heather has been writing and encouraging others to find a love for fitness and movement since 2009.