Last Updated on February 5, 2022 by Heather Hart, ACSM EP, CSCS
Mention the idea of running wet feet to any runner, and you're likely to be met with a cringe. Prolonged wet feet can be the difference between a good run, and a miserable run. Wet feet during long distance running can leave you at risk for things like blisters, hot spots, or worse, macerated feet.

(If you've never seen or experienced trench foot, consider yourself very lucky. It's very painful…and will make your stomach turn.)

But, trail running is notorious for exposing athletes to the elements of mother nature. That can include running through streams, puddles, and sometimes, even endless miles of swampy trail. And with it comes soaking wet shoes and feet. So if wet feet are the enemy, waterproof trail running shoes must be the solution, right?

Well…not quite. There are definitely pros to waterproof running shoes. But there are also cons as well, leaving you with a pair of shoes that might not be everything you expected them to be. In this post we'll cover the pros and cons of waterproof trail running shoes, and help you determine if these are the right kind of training or racing shoe for you.
What Makes a Running Shoe Waterproof?
The concept is simple enough: waterproof running shoes feature an upper (the fabric on top of the sole that sits on the top of your foot) either made with waterproof fabric (such as Gore-Tex or NeoShell) or treated with a waterproofing coating. The seams in the upper are sealed to make sure water cannot penetrate the shoe through that fabric. There are a number of different techniques to creating a waterproof shoe, but the bottom line is, the shoe is – in theory – impermeable to water.
Sounds great, right?
Back in my early days of trail running, I would have thought so. You see, the idea of having to cross a stream in the middle of a longer distance race, like a marathon or an ultramarathon, left me terrified that I was setting myself up for blisters, chafing, or worse, that would hinder my chances of finishing the race. I even remember getting to a stream crossing during the third stage of the 6 day TransRockies Run stage race, and taking the time to actually take my shoes and socks off, cross the stream, and put them back on once I reached the other side.
Back then I would have thought that waterproof trail running shoes would have been perfect…until many years later when I actually got a pair. As with many things in life, there is sometimes a tradeoff for getting the things you want out of a product, in that something else will fall short. And that was my experience with waterproof shoes.
The Benefits of Waterproof Trail Running Shoes
First, let's cover all of the great things about waterproof running shoes, because there certainly are plenty of positive features worth mentioning:
Protection Against the Elements (Dry Feet!)
The first and most obvious pro: waterproof shoes do keep your feet dry from outside water…to a point (we'll discuss this further in the "cons" section.) Waterproof shoes are ideal in rainy or snowy running conditions, or when you are running through small puddles or shallow snow. In these situations, your feet typically become wet over time due to extended exposure to the wet elements. Therefore, the waterproofing features help keep your socks, and thus your feet, happy and dry.
Warm Feet
Dry feet are also warm feet! And if you're running in cold conditions (such as snow, or winter rain), having warm feet, in addition to dry feet, is an added bonus. But, your feet aren't staying warm simply because they are dry.
The waterproof fabric of waterproof trail running shoes is, by nature, less breathable. It makes sense, as breathable fabric is typically more porous to let heat and moisture escape. But that same fabric will also let moisture IN. Therefore, waterproof shoes cannot, by nature, be as porous (or, the pores must be smaller than the size of a water molecule).
Less breathable fabric helps trap that precious body heat IN your shoe, helping to keep your feet nice and toasty on a cold run.
Typically More Durable
Waterproof fabric used in running shoes is typically much more durable. This is great if you are running through gnarly trail conditions, full of rocks, roots, thorns, or other angry plants that want to tear at the fabric of your shoes. And as most runners know, running shoes typically don't last long enough as is. So anything that can help extend the life of your shoes (and temporarily spare your bank account) is considered a "pro".
Are Waterproof Running Shoes Worth Having?
And as mentioned, with the good…comes the bad. While the following "cons" might not be applicable to every runner or every running situation, they are certainly worth considering before investing in a pair of waterproof shoes for yourself.
They Aren't Waterproof in Deep Water
In other words, if you end up in a puddle that is deeper than the height of the shoe, you're still going to get wet feet. The same goes for snow, if you get snow over the top of the shoe (and you aren't wearing gaiters to help keep the snow out) water and moisture will enter the shoe from above.
And if you're wondering how often runners actually end up in deep water, the answer is: it depends on where you live. Here in the Lowcountry of South Carolina, we frequently find ourselves with sandy, sea level trails that do not absorb water very quickly or efficiently.
Enjoy this short video, from the 2018 Hell Hole Hundred. This 2 mile section of the 16 mile loop notoriously looks like this:
Trapped Water
Guess what happens when you end up in deep water, like mentioned above? Water flows in from the top of your shoe. In regular running shoes, the water will typically drain out through the fabric of the shoe, aided by the pressure of each running foot fall.
BUT, if you get water into waterproof trail running shoes…it's not getting out.

The same waterproof fabric that was trying to keep your feet dry is now going to be your worst enemy. Because the fabric is non permeable for moisture, it's not going to let the water back out. And now that trapped moisture (or multiple ounces of swamp water, as it may be) is not only uncomfortable, but may put you at greater risk for blistering, chafing, or simply uncomfortable, pruned feet.
Not (as) Breathable
Now, the running shoe companies are going to swear that their waterproof shoes are still breathable. In my experience, that is a bit of a stretch.
I've always found waterproof shoes to be much less breathable than standard running shoes. More often than not, my feet actually sweat – and the sweat doesn't as readily escape, thanks to the waterproof membrane (once again, that waterproofing is working against me, instead of for me).
Of course, it should be noted that I currently live and run in incredibly humid South Carolina, not the frozen tundra of New England where I used to live…and where I assume these shoes might come in more handy. But, this is definitely something to keep in mind, depending on how sweaty your feet tend to get.
Increased Weight
The process and materials of making a shoe waterproof tend to also make that shoe heavier. On average, waterproof running shoes are upwards of 10% (almost 1 – 1.5 ounces) heavier than the same, non waterproof model.
To the non runner, one single ounce may seem trivial. But to a long distance runner, those ounces add up over time. (And believe me, we're picky about these things).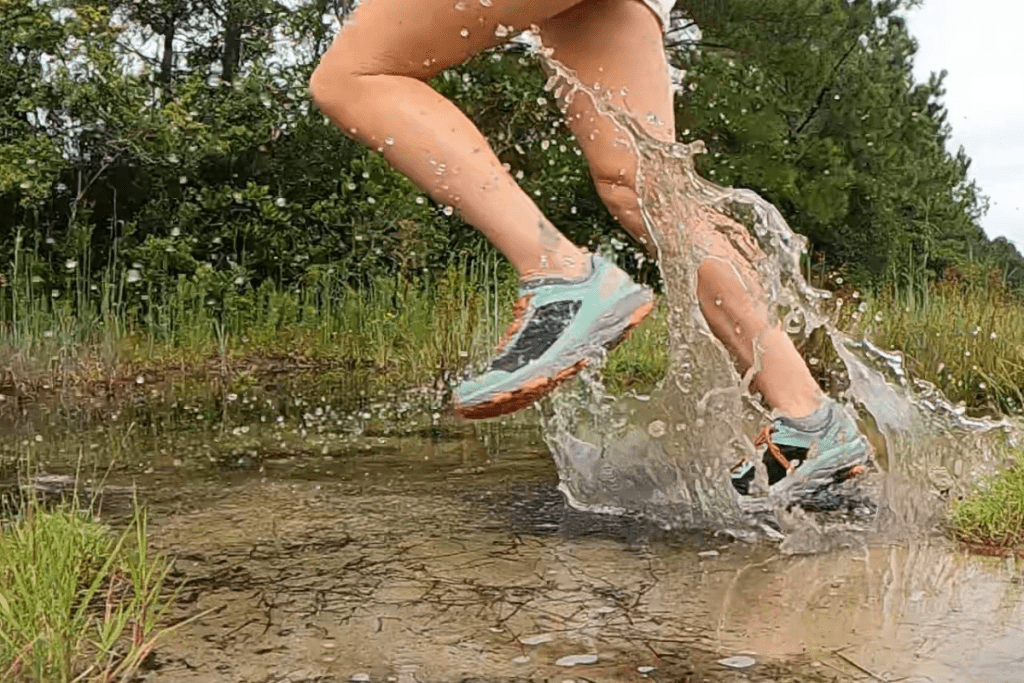 Cost
All technology and upgrades seemingly come with a premium cost. Waterproof trail running shoes are no exception. On average, waterproof shoes tend to cost upwards of $20-$50 more than the non-waterproof model of the same brand.
Now I hate having cold feet, so in certain situations, this extra cost would be absolutely worth it to me. The extra cost may not bother you, as well. However, it's certainly worth mentioning that in general, waterproof trail running shoes are going to cost you more than standard trail running shoes.
Who Should Run in Waterproof Shoes?
While there are seemingly as many (if not more) cons to waterproof running shoes as there are pros, these shoes definitely serve a purpose. Waterproof shoes are ideal for runners who run in:
Snowy (but not deep snow) conditions
Personally, I would use waterproof running shoes for winter activities, such as running on packed snow or snowy roads. Of course, as mentioned above, if the snow is deeper than ankle height, chances are you're still going to get snow into your shoes. In which case, a waterproof gaiter might be useful.
Rainy conditions
Similarly, waterproof running shoes would come in handy for an extended run during a rainy day, when ground conditions are moderate (no deep puddles) but your feet may become wet over time due to exposure.
Early morning dew
Do you trail run through fields, or on single track trail where the grass or other plants
Who Should Skip Waterproof Shoes?
If any of the following apply to your running scenarios, I would recommend saving your money and sticking with standard, non-waterproof running shoes:
You commonly run through stream or river crossings, deep puddles, or any other scenario where your foot will be fully submerged. In this case: your feet are going to get wet no matter what. You'd be better off in a breathable shoe that will allow the water to escape, as well as more ventilation to allow your feet to dry. out.
You live, train, or race in very humid climates. In this case, you might find that the waterproof aspect of the shoe to cause your feet to get warm, and sweat may get trapped inside your shoe.
What Should I Do to Keep My Feet Dry When Running?
Have no fear my friends, even if you aren't a great candidate for waterproof shoes, I assure you that your feet aren't doomed to be soaking wet! For those of us who do frequently encounter those deep water crossings, or live in a humid climate, consider implementing the following:
Wool socks
Wool fibers can actually absorb up to a third of their weight in moisture. And as an added bonus, wool has antibacterial properties that can inhibit the growth of bacteria. A number of companies now make running specific wool socks. I personally have had great experience, running through knee deep swamp water, with wool socks from Darn Tough, Feetures! and Smartwool.
Foot lubrication regimen
Make sure you are properly lubricating your feet with some sort of anti-chafe product. I personally recommend RunGoo from Foot Kinetic (affiliate link). Again, swamp tested.
Change your socks
(if necessary). If you're out for many hours on your feet, either in a race or a training run, consider bringing a backup pair of socks, and changing them out when your feet are starting to feel too wet. While this won't change wet shoe status, it can certainly help to have dry fabric against your skin.
Experience
Believe it or not, your feet do become tougher, and accustomed to spending longer times wet while running.
Knowledge
Last but not least, arm yourself with knowledge. I highly recommend the book "Fixing Your Feet" by John Vonhof (affiliate link), to learn how to properly prepare your feet and protect them against all sorts of damage associated with wet feet.
Best Waterproof Trail Running Shoes: Recommended Brands
Looking for some trusted, tried, and true running shoe brands that offer a waterproof version of their standard trail running shoes? Here are some of the best waterproof trail running shoes on the market:
Final Thoughts:
In conclusion, waterproof shoes may not be exactly what you hoped for (magical, dry feet forever!), but they are indeed a helpful tool to have in your arsenal of running shoes, if you have the means and desire to add another pair to your collection.
Whether you hit the wet trails with waterproof shoes or your standard trail runners, my advice to you is to embrace the wet feet. A bad day of trail running is still better than, well, most things. Happy trails, my friends!
Heather Hart is an ACSM certified Exercise Physiologist, NSCA Certified Strength and Conditioning Specialist (CSCS), UESCA certified Ultrarunning Coach, RRCA certified Running Coach, co-founder of Hart Strength and Endurance Coaching, and creator of this site, Relentless Forward Commotion.   She is a mom of two teen boys, and has been running and racing distances of 5K to 100+ miles for over a decade.  Heather has been writing and encouraging others to find a love for fitness and movement since 2009.