Last Updated on November 4, 2020 by Heather Hart, ACSM EP
A common ultramarathon question I hear from runners and non runners alike is "do you sleep during a 100 mile race?" It's right up there with "do you have to run that ALL AT ONCE?" and "do they let you eat?". (Yes, all at once, and yes, you can eat, for those wondering.) But on a serious note, newer ultramarathon runners who are eyeballing their first 24 hour or 100 mile race are often generally curious how to navigate running for so long with – or without – sleep. So let's dive into some ultramarathon sleep questions and strategies, shall we?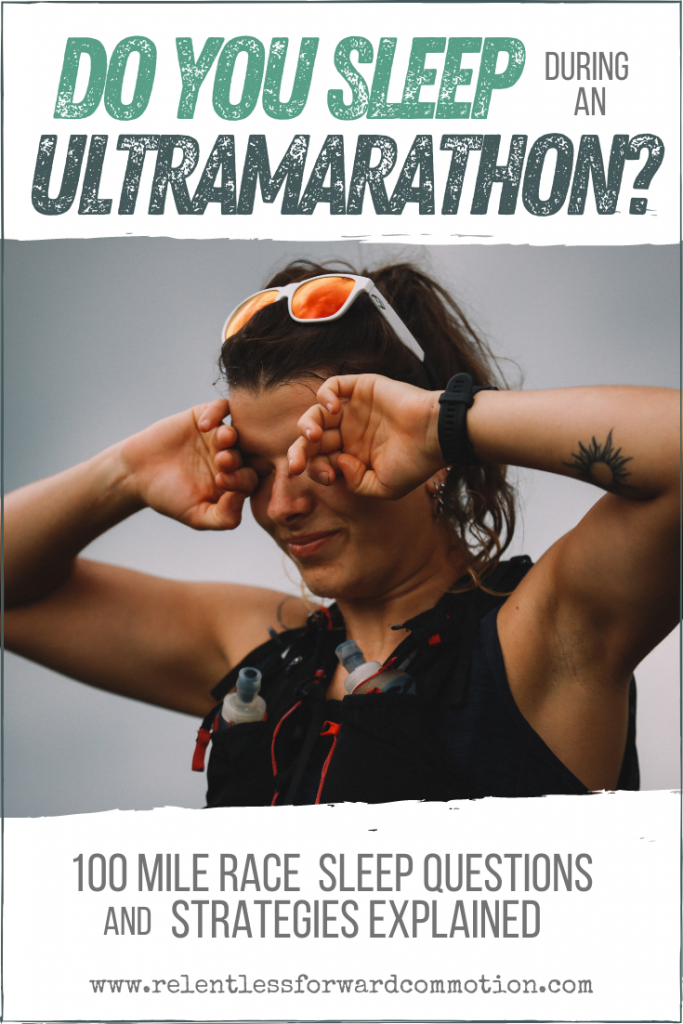 Let's talk about sleep:
There is not a single one of you reading this post who doesn't already know what sleep is. A basic human function required to maintain existence, I'm certain (and hopeful) you are all well versed in how to sleep. But do you know what actually happens to your body when you fall asleep?
Bear with me for a few paragraphs while I get science-y. I promise to get back to ultras soon enough, but this background information matters. We can't begin to understand if you should or should not sleep during a 100 mile race without understanding what happens to our bodies while we nap.
Sleep Cycles
Sleep actually consists of sleep cycles. The average person will typically run through 4-6 sleep cycles in one full nights sleep. In one complete sleep cycle, which typically lasts 70-120 minutes, you go through 4 stages of sleep: 3 non – rapid eye movement (NREM) stages, and one rapid eye movement (REM) stage. Each stage varies in length, and different physiological changes occur during each stage.
a drop in core temperature
relaxed muscles
slowed breathing
decreased heart rate
hormone changes
brain activity shifts (slows, changes patterns, and increases again during the REM [rapid eye movement] cycle)
Stage 3 of sleep is arguably the most important one. During the third stage of NREM sleep, which occurs approximately 20-40 minutes into the sleep cycle, blood flow to muscles increases, human growth hormone is released by the pituitary gland, and tissue growth and repair occurs. The third stage of NREM sleep is also the stage of deep sleep that leaves you feeling more "refreshed" when you wake up in the morning.
What about naps?
But since we're talking about sleeping during an ultramarathon, we obviously aren't running through multiple sleep cycles. We're talking about naps.
One would think, reading the information about stage 3 of NREM sleep, that it would be ideal to reach that stage for an ultimate recovery mid ultra nap. However, science disagrees. Remember that it takes approximately 20-40 minutes to reach stage 3 of NREM, and according to sleep scientists, that might be too long.
Countless research shows that naps longer than 30 minutes will likely cause sleep inertia. In other words: surpassing the 30 minute sleep window, without completing a full sleep cycle, can not only have no positive benefits, it might leave you feeling even MORE groggy. Which completely defeats the purpose of a nap when you are utterly exhausted.
So if aiming for that sweet spot of Stage 3 NREM isn't ideal, what is?
The case for short naps:
If you do a quick internet search, you'll find endless arguments for the benefits of 6-10 minute naps.
One research study put participants through 5 experimental nap conditions: a no-nap control and naps of precisely 5, 10, 20, and 30 minutes of sleep, and then followed up with a number of tests. The results showed that the 10-minute nap yielded the best results. Ten minutes of sleep produced immediate improvements in all outcome measures (including sleep latency, subjective sleepiness, fatigue, vigor, and cognitive performance), with some of these benefits maintained for as long as 155 minutes.
The case for long naps:
A longer nap of 90 minutes should allow you to work through one full sleep cycle. 90 minute naps have shown to increase cognitive function (Ong et al, 2020) When waking up from a 90 minute nap, you may feel more mentally focused, notice a boost to your physical energy, and feel more balanced emotionally.
So, should I sleep during a 100 mile race or not?
Now, back to ultras. Let's face it: after dozens of hours on your feet and pushing beyond normal bed-time hours, most runners feel an overwhelming urge to stop, close their eyes, and take a nap. And who can blame them?
We've talked about sleep science in the average Joe/Jane…but what about in ultramarathon runners? Well – there was a study for that too. In 2015 researchers followed 24 participants of the 106 mile Ultra Trail du Mont Blanc, tracking napping patterns and cognitive performance. The results? "There was no correlation between cognitive performance and either amount of rest obtained or time into the race." Further, out of the 24 participants, only 16 finished. And those who napped took longer to finish the race than those who did not.
So should YOU nap during a 100 miler? Potentially – but you have to time it just right. As we've already discussed, there are benefits to taking very short naps, or very long naps – but there's a middle ground that might actually leave you feeling MORE groggy than if you didn't nap at all.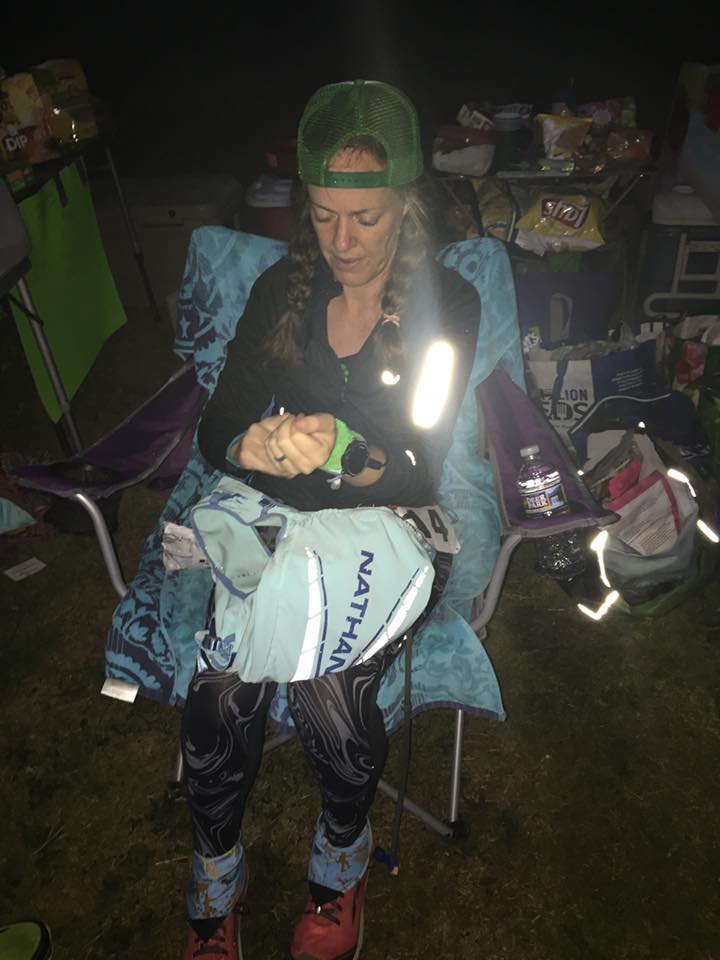 Ultimately, it seems to boil down to personal preference. Ultramarathon world record holder Camille Herron is known for taking power naps, even over races of only 24 hours (keep in mind, "only 24 hours" is relative, haha). Other elites rarely stop moving, neverminded nap.
Personally I've finished 100 milers with naps, and I've finished them without. Keep in mind that things like course difficulty, course start time (does it start at night, resulting in two overnights running?), and how long you've actually been out on the course can affect your personal need for sleep.
So let's get to some real world experiences:
The No-Sleep Ultramarathon Strategy:
For distances of 100 miles or less, most ultrarunners choose not to sleep. In an informal poll in an ultrarunning specific forum, I asked 110 mile finishers if they napped during their race. 83% who responded said they do NOT nap. So to answer the question of "DO people sleep during a 100 mile race" the consensus seems to be "some, but not most people."
Let's dive into the pros and cons of the no – sleep during a 100 mile race strategy
Pros:
While we all love sleep after a day full of running, there are legitimate reasons why skipping a nap might actually be beneficial during a 100 miler. Such as:
You don't waste time sleeping.
It doesn't get more blunt than that, I suppose. But, those minutes or hours where you would be sleeping can be used logging miles instead. And the faster you get to the finish line the better (usually).
Your muscles don't lock up from inactivity.
As soon as you stop moving, your body goes to work trying to repair all of the damage caused by your ultramarathon. Muscle soreness begins to set in, making it even harder to get moving again. That's not to say your legs won't hurt during a 100 miler even if you don't nap. They will. .
Cons:
Hallucinations, bad attitudes, confusion, etc.
Mental cognition can absolutely fall apart due to exhaustion and sleep deprivation during an ultramarathon. You might get confused, hallucinate, cry…you name it. Often referred to as the "sleep monsters" in the ultra world, the exhaustion can cause some crazy mental and emotional experiences.
related post: Miles, Mind Tricks, & Ultramarathon Hallucinations
You might fall asleep anyway.
Sometimes, your body wins. And despite planning on NOT sleeping, you fall asleep anyway. Maybe it's in a chair at an aid station. Maybe it's on the side of the trail. Maybe it's in a tent, because you're so damn exhausted, you just give up.
The Pro-Sleep Ultramarathon Strategy:
Pros:
You Get to Sleep.
Closing your eyes, even for just a few minutes, at 3 am when you've been running for the past 20 hours, feels AMAZING. If nothing else, the act of stopping for a few minutes, even if you don't fall asleep, can give you a mental energy boost.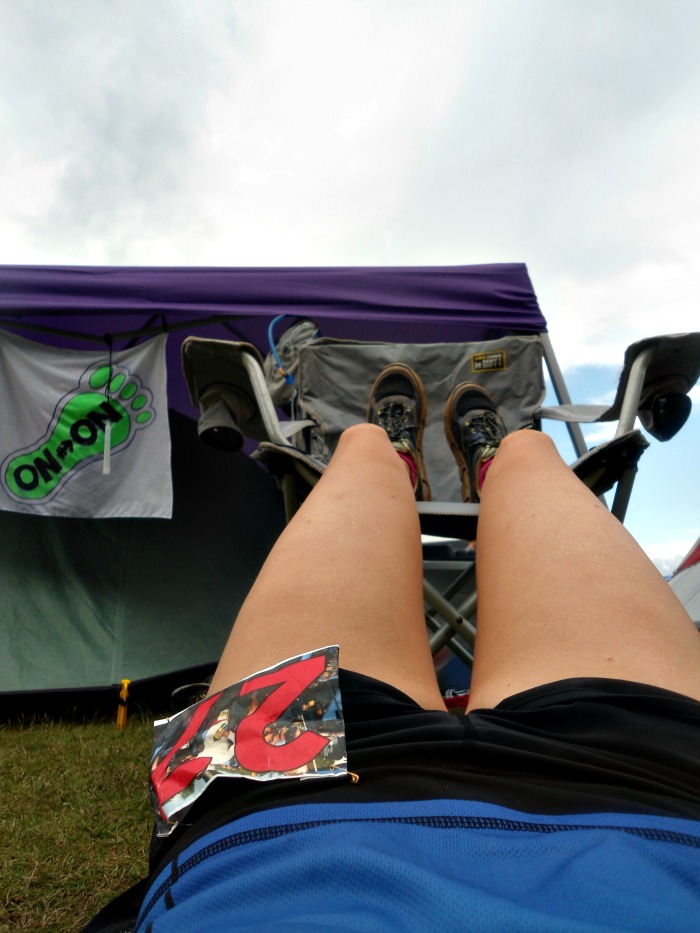 You'll Feel Mentally Refreshed
As mentioned above, science has proven that sleep as little as 10 minutes long can leave you feeling mentally refreshed. If you're in a deep hole of "sleep monsters", a short nap may relieve you of hallucinations, confusion, headaches, and more.
Cons:
You may actually feel worse after a nap
You may wake up from a brief nap feeling worse than you did before you closed your eyes. Muscle stiffness or grogginess may leave you feeling like you wished you never stopped.
You might not actually be able to fall sleep.
Have you ever been utterly exhausted, begging to lay down and close your eyes…only to lay down and find yourself unable to sleep? It's the worst. And if it happens in the middle of an ultra, you may be mad that you wasted time when you could have been running.
Going to take a nap mid race? Here's how:
You've read the pros and cons. You've decided you might give a nap a try mid 100 miler. Here's what you need to know:
1. Make Sure You Are In A Safe Place
Don't crawl off to the side of the trail and assume people will find you. If you are going to close your eyes for a nap, make sure you are in a safe place where someone will find you if you doze off for too long.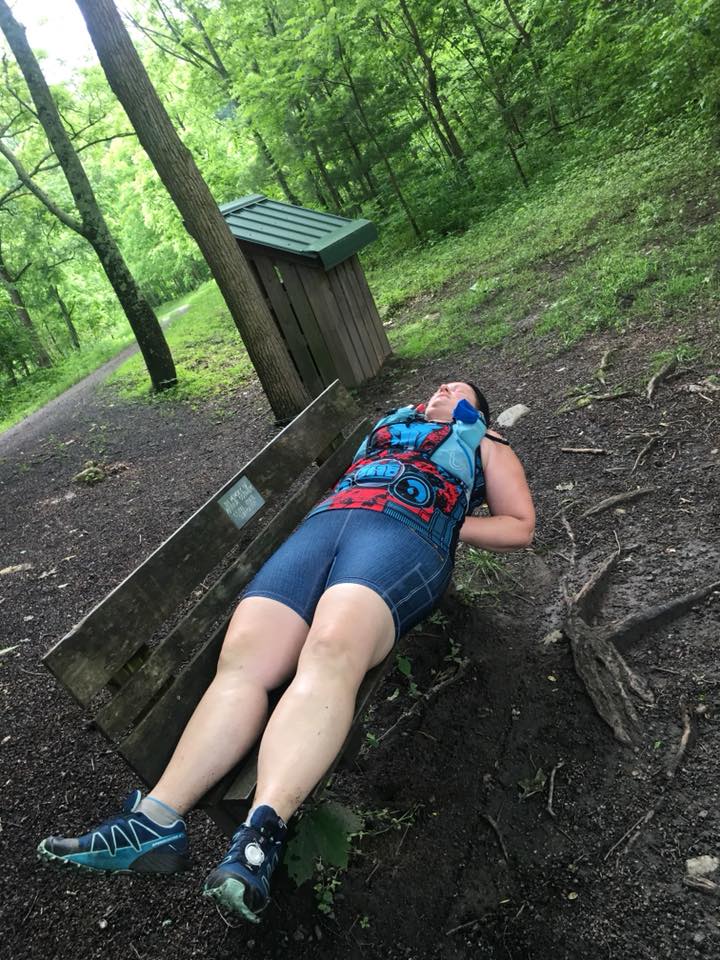 2. Make Sure Someone is There to Wake You Up
Tell your crew, tell your pacer, tell an aid station volunteer. Tell SOMEONE that you are laying down for a nap, and kindly ask them to make sure you wake up in a specific amount of time. Set your phone alarm as a backup.
3. Don't Get Too Comfortable
Saying it again and louder, so you understand the utter importance: DO NOT GET TOO COMFORTABLE. Because when the alarm goes off in 10 minutes or your pacer/crew starts to shake you awake you are NOT going to want to get out of your cozy cocoon to return to suffering. Trust me on this one.
Don't want to take a nap? Try these tips to help you stay awake:
Tried and true tips to staying awake during an ultramarathon:
Caffeine
Limit your caffeine intake during the race until you REALLY need it. If you hold out on the caffeine until the sleep monsters start to take hold, then it will hopefully be more effective than if you've been sipping on caffeine all day. Of course, everyone responds differently to caffeine, but I've found this works for me.
Brush Your Teeth.
Yeah. Strange but true. A minty fresh mouth will put some pep in your step. Don't ask me why, but countless ultrarunners swear by it.
Sprint – just for a few paces.
Falling asleep on trail? Sprint for a few paces. Carefully, of course – watch out for the roots. But a quick sprint may stimulate the sympathetic nervous system, which triggers the fight-or-flight response. Hormones will surge throughout your body, providing you with a burst of energy. It's not a long term solution, but it temporarily snap you out of an exhausted state.
Talk to Someone
When I'm falling asleep on trail during the middle of an ultramarathon, I often request that my pacers talk to me. And not just talk AT me, but engage me in conversation. It keeps my brain from focusing on how utterly exhausted I am.
Sing. Out loud.
Listen, I once sang karaoke at a bar on the night of my wedding. Turns out, I sound MUCH worse on microphone than I do when I'm in the car driving alone. Nevertheless, when I'm utterly exhausted, I'll put aside any semblance of shame and sing out loud. Similar to talking to someone, the mental and physical effort it takes to sing out loud keeps my brain distracted, and helps keep me awake.
Ultimately, Sleep During a Race is a Personal Preference
The bottom line is this: everyone's body responds differently to sleep deprivation. Further, your body may respond differently to the lack of sleep from race to race. Going into your 100 miler, have a sleep (or no sleep) plan in place. But like anything in the unpredictable world of ultramarathons: be ready for those plans to change. I hope this post has helped explain how to make the most of your mid ultramarathon naps, if you do choose to sleep during a 100 mile race.