Last Updated on December 11, 2019 by Heather Hart, ACSM EP, CSCS
Prior to my entrance into the world of ultramarathon, I had always imagined hallucinations to include terrifying scenarios. The kind of things that I'd have to remind myself were not real. Being chased by unidentifiable monsters that were out to get me. Hearing creepy voices calling to me in the woods. Avoiding cracks in the ground where the earth was trying to open up and swallow me. But the first time I hallucinated, it was not any of these things that would make my hair stand on end.
It was butter tubs.
Round, gray, plastic, Country Crock tubs, to be specific. They were occasionally scattered in the middle of the trail, and I, nearly 35 hours into a 100 miler gone awry that included two overnights without sleep, found this to be completely normal and nothing worth questioning. In fact, it took me telling my husband to "watch out for the butter tubs" a handful of times before he pointed out that they were actually stumps from fallen trees, and I was hallucinating.
What are Hallucinations?
The definition of a hallucination is when a person sees, hears, smells, tastes or feels things that don't exist outside their mind. These are referred to as sensory, auditory, olfactory, gustatory, and tactile hallucinations, respectively. These types of hallucinations can happen independently, or in a combination of senses. For example, a combined sensory and auditory hallucination is when you are seeing and hearing something that isn't actually there.
" My first 100 I thought I saw my dog in a tree. It turns out it was a plastic bag, but I was CONVINCED my 6 pound chihuahua made it out of the house, an hour away from home, and up a tree. I was SO mad at my parents (who were dog sitting). Eventually they sent me a picture of them with the dogs to calm me down. But for quite a few miles I was steaming mad and demanding a ride home IMMEDIATELY to make sure my other dog was safe too " – Erin G
Many runners report experiencing hallucinations typically during the overnight or early morning hours of longer distance ultramarathons when physical and mental exhaustion is high. Tales of spectators that are actually trees, and wild animals that are actually logs are common. But mid-race hallucinations often get weirder than that. One woman I polled reported seeing massive piles of bagged popcorn that turned out to actually be bushes. Which was a huge bummer, because she was really craving popcorn.
What Causes Hallucinations?
Broadly, there are a number of situations that may cause hallucinations. Those include:
psychiatric disorders such as schizophrenia
progressive neurological conditions, such as Alzheimer's disease
drug use (both prescription and illicit)
sleep deprivation
Each of these situations may cause hallucinations to happen for different reasons. For example, research suggests auditory hallucinations experienced by people with schizophrenia involve an overactive auditory cortex, the part of the brain that processes sound. But as a whole, science is still trying to understand exactly what happens in our brains to cause hallucinations.
" I saw a Coca Cola bottle that was the size of an airplane crashed in a tree. Then I also saw my mom curled up in a tree stump. I was PISSED that she was going to disqualify me at mile 97 for trying to give aid outside of an aid station. " – Elizabeth S
In all situations, it is believed that there is some sort of alteration in chemical and electrical signaling and communication in the brain, which ultimately results in the hallucination.
Hallucinations and Ultra Runners
But since we are all runners here, let's discuss the relationship between endurance athletes and hallucinations. Namely: why do hallucinations sometimes happen in the middle of an event?
" A nine foot tall silver back gorilla paced me across Bloodroot at Death Race 2013. But that honestly wasn't the weirdest thing I saw. The weirdest thing was the realization one night that all flowers have faces, you just have to know how to look at them correctly. " – Mark W
Our first thought seems to always be sleep deprivation. But sleep deprivation is a tricky one to understand. Namely because it's considered unethical to deprive a subject of sleep for more than 48 hours in a study.
A review by researchers at the University of Western Australia examined over 21 prior studies involving sleep deprivation. These studies included periods of sleep deprivation lasting from 24 hours to 11 days (clearly, the 11 days was pre-ethical consideration). All showed that sleep loss can be a direct cause of prominent hallucinations and other misperceptions, as well as mood changes, distorted thinking, delusions, depersonalization, and time distortions (Waters, 2018). These symptoms start to appear after 24 hours without sleep. Further, the symptoms increased in intensity and frequency until sudden deterioration by the fifth day, characterized by acute psychosis .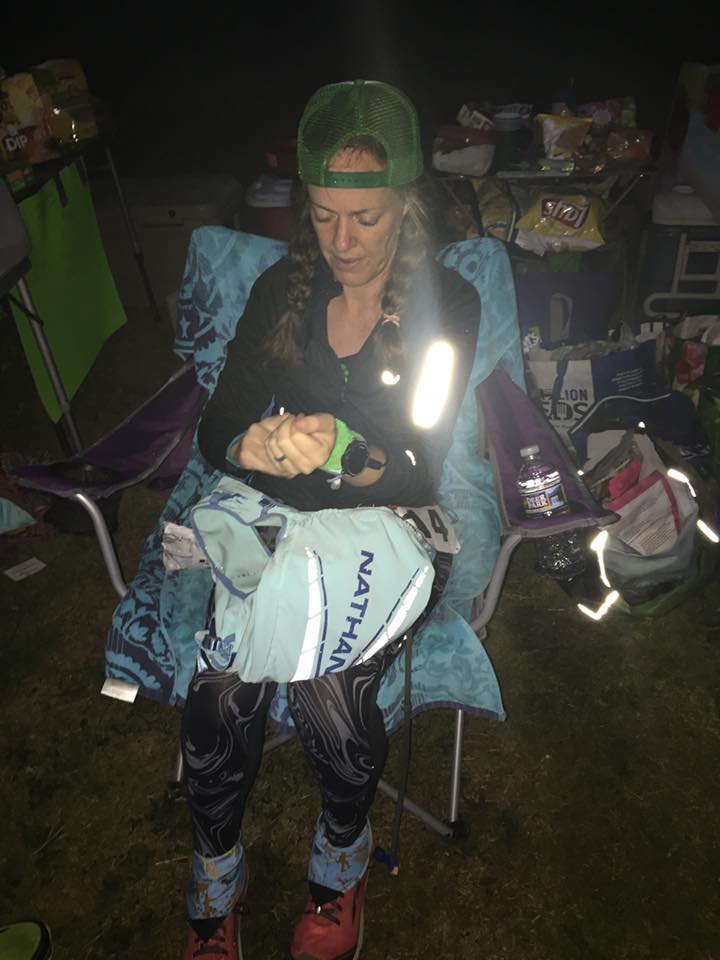 (Please don't run for 5 days without sleep. Highly not recommended. The above picture was probably 32 hours into a race, and I felt awful.)
But is there more to it than just a lack of sleep?
In the article "Within the Dreams, Reality, and Hallucinations for Ultra-Marathon Runners", author Andrew J. Mojica, of the University of Texas at El Paso , details a research study performed on runners of the 2003 Badwater Ultra. At it's core, the study seeks to determine if Pheidippides witnessing an apparition of the god Pan during his run from Athens to Sparta in 490 B.C, was, in fact, a hallucination.
During that study at Badwater, a number of hypotheses as to why ultra runners specifically may experience hallucinations were addressed. These potential causes include:
Sleep deprivation
Physical exhaustion
Dehydration
Prolonged exposure to high temperatures
All things certainly not unheard of (rather, I would argue quite common) in extreme endurance events, such as ultramarathons, or multiple day adventure races. Add in the fact that most hallucinations happen at night, when your eyes and mind are already likely to play "tricks" on you in the dark.
Are Hallucinations Dangerous?
A hallucination itself is not inherently dangerous. Unless, of course, you try to pick a fight with the guy mocking you from the side of the trail, only to discover "he" is actually a cactus.
"I thought I saw a wolf in the woods but I knew better than to make eye contact. I just froze in place. Then I felt sobs welling up in my chest because I didn't want to be captured by wolves and be raised in a cave…as a wolf child!! All the sudden I realized that I was a 40 year old woman not, a 2 year old. I didn't HAVE to be raised in a cave by wolves! Needless to say it was such a real emotional moment for me. But the lady at the next aid station gave me some Mountain Dew. All was right with the world again. " – Rhonda N
That said, hallucinations are symptoms of something else going on physically that is abnormal. And those underlying causes of hallucinations very well could be dangerous. Missing one night of sleep likely won't hurt you long term. But things like severe dehydration and prolonged exposure to extreme elements can both be deadly.
And this brings us to our next point:
What to Do if you Hallucinate During an Ultramarathon
It's 4:00 am, and you've been running for the last 20 hours. You're absolutely exhausted. All of a sudden, off of the side of the trail you see what appears your car, parked in the middle of the woods (true story, this happened to me. Feel free to insert your random hallucination here).
What do you do?
Well first, you turn to the person next to you and say "hey, do you see that bear wearing a tutu sitting on the chair in the side of the trail? No? I must be hallucinating then."
But if you're alone:
Stay Calm: Take a deep breath and assess the situation. Acknowledge that you are hallucinating. Remind yourself that whatever you are hearing/seeing (etc.) is not real.
Focus: When running, especially when tired, we have a tendency to "zone out". This causes you to disassociate with what's really going on around you. While this helps you forget about the pain or monotony of running, it can also increase the possibility of hallucinating. Focus and be aware of your surroundings.
Eat / Drink: If hallucinations can possibly be caused by dehydration or physical exhaustion, then drinking and eating may help. If you start hallucinating, definitely take the time to ensure you've been eating and drinking enough.
" I begged my pacer to walk to the hill to the (non-existent) waffle House and get some waffles and bacon. We weren't even near an aid station to smell food. " – Kaci N
Sleep: Weighing the pros and cons of catching a few minutes of sleep during a race can be hard. Especially if you are chasing a specific finish time, or trying to beat cutoffs. For 24 hour or less races, sleep might not be necessary. For longer events, even catching a half an hour of sleep or more can really help your mind refocus.
In conclusion: hallucinations often accompany sleep deprivation, and sleep deprivation often accompanies ultramarathon running. Can you avoid hallucinations? Maybe…by ensuring your body is as rested, well fed, well hydrated, and well cared for. Which isn't always possible with the nature of ultramarathons. But at the end of the day, while some hallucinations can be scary, they are more often really funny. And if nothing else, they certainly make for a good story after the fact.
References:
Waters, F, Chiu, V., Atkinson, A. and Blom, J.D. Severe Sleep Deprivation Causes Hallucinations and a Gradual Progression Toward Psychosis With Increasing Time Awake. Front Psychiatry. 2018; 9: 303.
Mojica , A. Within the Dreams, Reality, and Hallucinations for Ultra-Marathon Runners. University of Texas at El Paso. 2003
Heather Hart is an ACSM certified Exercise Physiologist, NSCA Certified Strength and Conditioning Specialist (CSCS), UESCA certified Ultrarunning Coach, RRCA certified Running Coach, co-founder of Hart Strength and Endurance Coaching, and creator of this site, Relentless Forward Commotion.   She is a mom of two teen boys, and has been running and racing distances of 5K to 100+ miles for over a decade.  Heather has been writing and encouraging others to find a love for fitness and movement since 2009.