There's no denying that trail runners love nature.  The freedom of running through the forest, across the mostly untouched earth, hearing nothing but the birds and the wind blowing through leaves truly is half the reason we choose trails in the first place.  I like to believe that most trail runners wouldn't knowingly do anything to harm the trails that they love. But have you ever wondered about your running's impact on Mother Earth? Do you ever stop to think if your actions lead to being an environmentally responsible trail runner?
The truth is, there are a number of environmental mistakes even the most "green" trail runners may make without even knowing it. Here are seven steps you can take to ensure you are being an environmentally responsible trail runner.
HOW YOU CAN BE AN ENVIRONMENTALLY RESPONSIBLE TRAIL RUNNER:
I hope I don't sound like I'm lecturing, but I am about to break out my very own Woodsy Owl soap box here.
Stay on trail (please)!
I know it may feel confining to your wandering soul, but it's important that you stay on the pre-established trail.  Do not be tempted to take any shortcuts, walk along the edge of the trail, or create your own path.  Straying off the path may promote erosion of the trail, eventually widen the trail, and can harm plants and potentially even wildlife – especially if everyone starts wandering off the "beaten path".
And not only is it bad for the environment, but straying off trail – especially on private property – violates proper trail etiquette.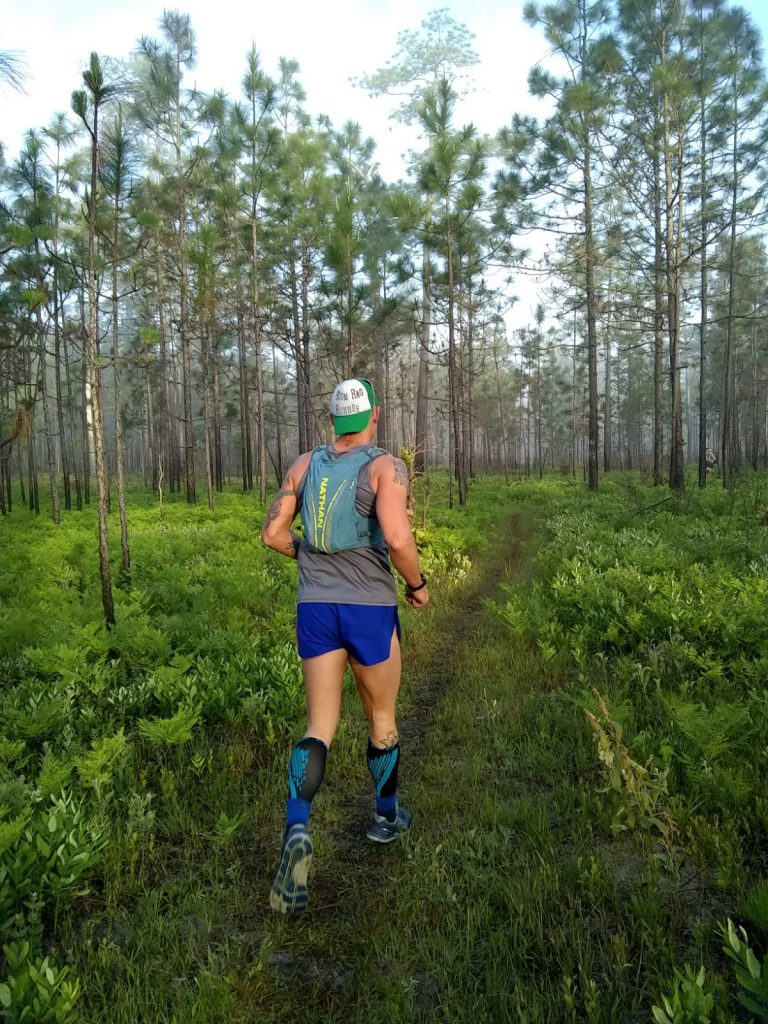 Leave Absolutely No Trace
Carry in, carry out, period. This is a simple concept, and one that I think most runners mean to adhere to.   But as with most things, good intentions are not enough.   If you bring something in, make extra sure that you pack it out.  This counts for everything, even items you may assume are biodegradable or environmentally friendly, like fruit peels or toilet paper, or yes -even poop (see "when Nature Calls" section below).  Sure, some of these items may break down over time, however, introducing them into a non native environment may cause a host of other issues
Pay special attention to garbage like gel wrappers…and the small tab you tear off to open the gel. These often get left behind on the trail, even accidentally, when they fall out of the pockets they were meant to be secured into.
Pro tip: to ensure you are an environmentally responsible trail runner, always keep a reusable ziplock bag in your hydration pack. You can use it to put all of your trash in, rather than stashing small pieces in your pockets or hydration pack that can inadvertently fall out.
When Nature Calls…
To put it bluntly: squatting behind a bush when you have to poop is simply part of the trail running experience.   But did you know that simply stepping off trail and finding a little bit of privacy isn't always enough?  While urine has little effect on vegetation or soil,  and doesn't carry infectious diseases or parasites, fecal matter on the other hand poses a ton of potential environmental concerns.  But that said,  animals may be attracted to the salts in urine.  So…
If you have to pee:
First, find a spot that is at least 200 feet from any potential water sources.  And obviously, step off trail…your fellow trail users would rather not step in your "business".  Urinating on gravel, pine needles, bare soil and rocks is less likely to attract curious critters.  If those options aren't available, "scuffing" the ground with your feet (especially soil or gravel) can help make it more absorbent, reducing the risk of splashing.  
If you've got to go #2:
The best thing you can do is to dig a small hole, about 6 inches in depth, to do your business into.  Be sure to cover the hole back up when you are finished.  If you are running in an area where the soil is not conducive to digging a hole, you've got to carry your poop back out.  Yeah, I said it. Carry out your poop.  Here's the thing: mountains and trails everywhere are being overrun by human feces, causing not only an unsightly experience for fellow runners and hikers, but it's threatening waterways and wildlife.    We don't seem to bat an eye at picking up dog poop with plastic baggies, so we shouldn't be grossed out doing it with our own excrement.
And for both: be sure to also pack out your toilet paper.
Adhere to any open/closed trail status.
Some trails truly are wild, carved by wanderers through private lands. Others are purposefully built trails on public land, designed specifically for public use. The latter types of trails are typically cared for and maintained on a regular basis, whether it be by park rangers or by a group of volunteers. These types of trails are often closed due to inclement weather. Running, hiking, or cycling on wet trails can cause erosion of soils/substrates, or can simply destroy the trails and/or features.
Further, a portion of trail may be closed if there is a naturally occurring event that mustn't be disturbed, like, nesting birds or a threatened plant species re-growing.
Often, you might not understand why a trail is closed, or you may think it's "not that muddy", etc. I assure you that the people in charge of maintaining the trail have perfectly valid reasons for closing the trail. For the good of the trail, please adhere to open/closed status.
Do not disturb wildlife.
Chances are good you will stumble across some sort of forest critter while running on trails. From spiders and snakes to deer or even bears, the trails you run on may be home to countless forms of wildlife. The key word here is "home", as in theirs, not yours.
If a snake crosses your path, go around. If a cute furry rabbit appears on trail, do not chase it. You get the idea. These guys are not out to hurt you or ruin your run, they just want to carry on with their business. Please let them.
Dog etiquette:
Speaking of wildlife, being an environmentally responsible trail runner means making sure your dog is not doing any harm to nature as well.
"Wildlife is the #1 reason we have rules about where dogs can go and when they need to be on leash." says Jim Dees, Outdoor Educational Coordinator for the U.S. Forest Service.
"This time of year especially, dog-wildlife encounters can go badly – for both the wildlife and the dog. We spotted a mama bear here last month with FOUR cubs – very unusual! The odds of all four surviving are slim. Every time those cubs have to run could tip the scales for one of them. And Mama would not react well to a dog running through! The same goes for the survival of fawns and other animals."
It's also imperative that you clean up after your dogs. Dog feces can be dangerous for the same reasons as human poop above. Further, please carry out your little plastic poop bags. Yes, some of them do claim to be biodegradable, but it make take YEARS for those bags to actually decompose.
Be an ambassador for trail running.
"Silly as it may sound, silly as it is, there are hiker purists out there who think runners must all be jocks who don't appreciate nature the way they do." says Dees "They think that runners blow by without stopping to appreciate the place, and so it's probably runners who do most of the trail damage and littering. Those of us who work here don't really think that, but it's one of the public pressures we sometimes deal with. Those of us who run can help by making sure that's not the image we project on the trails. Be courteous to those you pass. Let people see you pausing to pick up litter, not leaving it. And maybe comment as you pass about how lucky we all are to have trails to enjoy, so they see how much we all have in common."
Nature, our forests, deserts, trails, and other outdoor places are incredible gifts – but they are not guaranteed.  It is up to us as outdoor enthusiasts to take care of the things we love.  Do the right thing and be an environmentally responsible trail runner,  even when no one is looking (especially when no one is looking).