Last Updated on January 30, 2022 by Heather Hart, ACSM EP
It makes perfect sense why people would be apprehensive of wild animal attacks while trail running: the forests (and deserts, and plains, and other places trails naturally occur) are homes to wild animals. Further, while they are relatively rare, when wild animal attacks DO happen to runners, the stories are sensationalized and shared endlessly among the community.
How many times did we see the articles about the runner who choked the mountain lion to death? Or how about the woman who was attacked by a bear in the middle of a marathon? It's no wonder these fears reside in the back of the minds of trail runners.
The truth is, we are exposed to a number of dangers every time we head out on the trails. The biggest risk, in my opinion, is injury from falling on rocks/roots/uneven terrain. Coincidentally, I'm writing this post while healing a sprained ankle…from falling on trail. The second greatest risk, perhaps, is getting lost or weather exposure…or a combination of both. Lower on the list of dangers is the risk of encounters with wild animals. And although they are very rare, attacks from animals such as bears, mountain lions, and coyotes are not completely unheard of. Unfortunately, animal attacks on trail runners have been deadly.
How to Avoid Wild Animal Attacks While Trail Running:
I'll be the first to tell you that you shouldn't let the fear of wild animal attacks keep you from hitting the trails. I also do not want to vilify wild animals: the forest (desert, etc.) is their home, we are the intruding visitors. But, because animal attacks do (rarely) happen, the best thing you can do lessen the potential danger is educate yourself. Here are a number of precautions to take, and tips fort what to do if you encounter a wild animal on trail :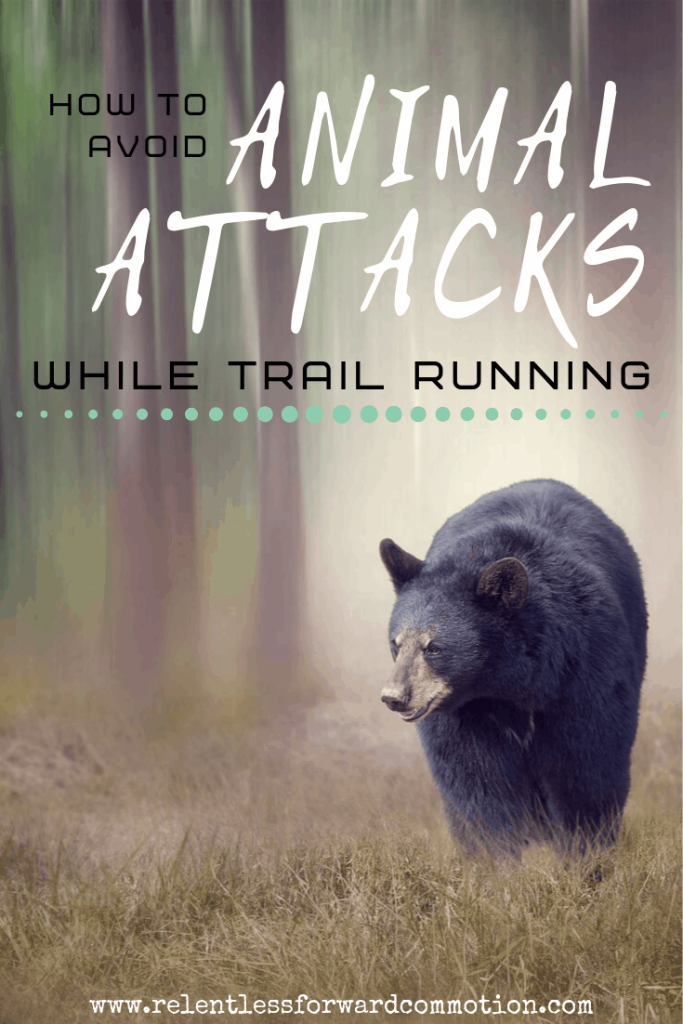 Avoid areas where aggressive animals frequent.
It seems like common sense, but I'm going to say it anyway. If you know of an area where aggressive animals live, or if you've heard of a trail that's had a ton of dangerous wildlife sightings: don't run there. For example, if it's spring and you've heard a mother bear and her cubs are frequenting a certain section of your favorite trail, avoid running there during cub season.
Be Aware of Your Surroundings
The truth is, most animals want to avoid you just as much as you want to avoid them. That said, some wildlife will potentially attack if they are startled and/or feel threatened (or, they perceive their offspring are threatened). If you are completely zoned out with your headphones on and music blaring in your ears, you may miss obvious signs and sounds that an animal is near by.
Do Not Approach a Wild Animal
So, you're running along and there it is: a bear/coyote/cougar/insert potentially dangerous animal here. Hopefully you've been aware of your surroundings enough to spot the animal from a safe distance. Staying as far away as possible may limit the potential for an attack. In other words, do not approach the animal for an awesome Instagram photo. Remember: even non predators (like a moose) can be aggressive if they feel threatened. Retreat slowly, if you can, and keep your eyes on the animal while you do so. If you must continue on your path, slow down and give the animal time to leave the area.
Be Cognizant of Running with Dogs in Bear & Cat Country
While your dog may be well behaved, it could still be perceived as a threat by a wild animal – especially protective mothers. "Wildlife is the #1 reason we have rules about where dogs can go and when they need to be on leash." says Jim Dees, Outdoor Educational Coordinator for the U.S. Forest Service. "Dog-wildlife encounters can go badly – for both the wildlife and the dog. We spotted a mama bear here last month with FOUR cubs – very unusual! The odds of all four surviving an encounter are slim. And Mama would not react well to a dog running through!"
What to Do if a Wild Animal Approaches You:
Do Not Panic.
Let's be real: who wouldn't panic if they were suddenly staring down a mountain lion? I know I would. But, you have to try to keep as calm as possible.The saying that "animals can sense fear" is absolutely true. Panicking can let the animal know that you are vulnerable, and may provoke an attack. Stay as calm as possible.
Don't Run.
Instinct kicks in, adrenaline courses through your body, and every ounce of your being is screaming "RUN!" But…don't. If an animal does approach you, don't run unless you are absolutely certain you can reach a safe spot immediately. The reality is, you won't be able to outrun a dog, bear, mountain lion, etc. Instead, running will trigger the animal's instinct to attack.
Be Tall, Loud, and Boring.
When it comes to dogs, experts agree that standing very still and acting "boring" will cause the dog to lose interest. Waving or throwing items may instigate an attack.
When it comes to bears and other wild animals, identify yourself as a human by standing tall and talking calmly. Your voice must be firm, calm, and loud; any shrieking or sounds of fear can be sensed by the animal and may trigger an attack response.
If the wild animal acts aggressively, use a loud, firm voice, and throw rocks or sticks at it to try to scare it away, especially in the case of bears or mountain lions.
What to Do if a Wild Animal Attack Happens:
If you are attacked by a domestic dog, try your best to cover your head and face to prevent soft tissue damage. Hopefully the dog will lose interest and may retreat.
If you are attacked by a bear, mountain lion, wolf, alligator or any other wild animal, fight back with any possible method. In all instances, a product like mace, pepper spray, or bear spray may help ward off the animal. Continue to yell loudly and firmly for help.
Bottom line: we should never let the fear of what "could" happen prevent us from enjoying the trails. Wild animal attacks are indeed rare. But it is important to remember that wild animals are just that – wild. By respecting this fact, and respecting the boundaries of these animals, you can help minimize your risk of wild animal attacks while trail running.