Last Updated on January 30, 2022 by Heather Hart, ACSM EP, CSCS
Before I met my husband, I vowed to find a partner who was also an endurance athlete.  For no other reason than simply to be in a relationship with someone who didn't question early Saturday morning long runs, my need for at least a half a dozen pairs of running shoes, and understood exactly why a taper week could make me so irritable.   Not only did I find that in Geoff, but I also scored a running partner who pretty much matched my pace and endurance level, meaning, we almost immediately started racing side by side.
Over the last seven years, we have crossed the finish lines of our first 50 miler, 100K, and 100 miler, hand in hand. We've traversed a 6 day, 120 mile stage race across the Colorado Rockies, we've taken turns dragging each other to finish lines, and we've suffered the heartache of DNFing races together.  This may seem incredibly romantic, a match made in running heaven.   And for the most part it is, I'm so lucky to not only have a supportive husband cheering me on, but one who cheers right by my side almost every step of the way.
But the reality is, running and racing with your significant other can certainly have its ups and downs.  We've definitely said our share of "things we didn't mean" to each other while out on the course.  We've experienced days where one person simply can't keep up with the other.   We've had moments where we had to run more than a few feet apart, and take a little "time out" from each other  We've learned a lot about ourselves, about each other, and about racing together along the way.
Here are 6 of the more important things to keep in mind if you decide to tackle an ultramarathon with your spouse, partner, or significant other.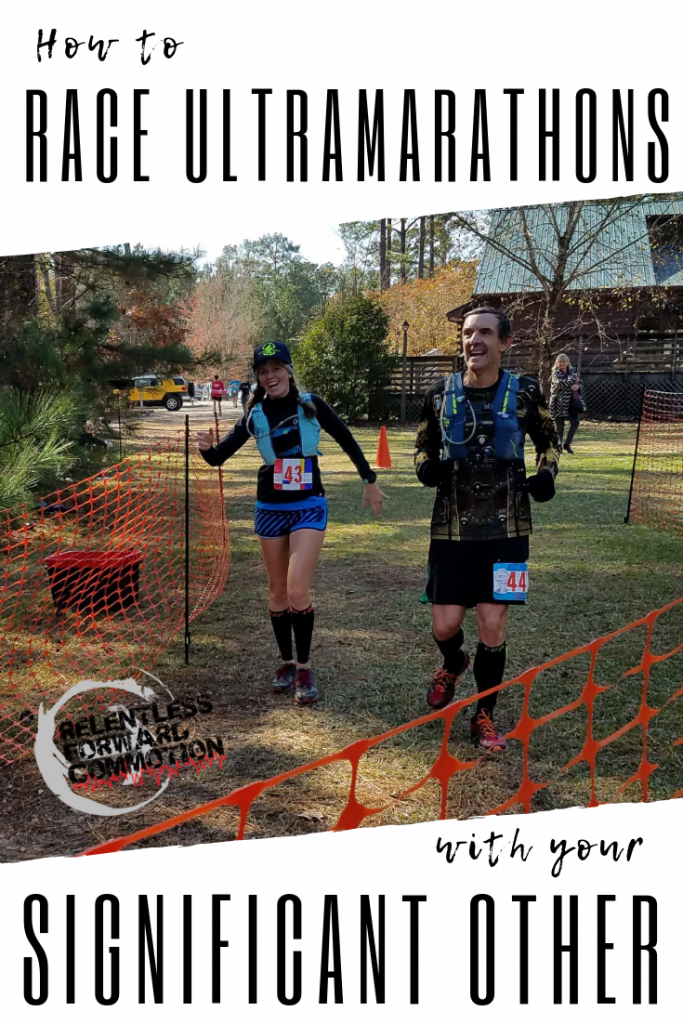 Discuss your individual goals BEFORE the race.
Decide – before the race – if you are going race together, or if you are going to push to achieve your individual goals.  Then, most importantly: stick with that decision.  If one half of a couple has a less than stellar day on the course so the other half leaves their partner in the dust even though they had initially planned to stick together, chances are good that feelings might get hurt. Alternatively, if one person really wants to push for a personal record, and the other is holding them back, tension could arise.
Discuss, beforehand, all possible scenarios, keeping in mind that we are talking an ultramarathon, not a 5K.  It's a long race, with plenty of time for things to go wrong.  Will one partner continue on if the other one has to quit?  What if you both decide to shoot for a PR together, and one person can't hang?  Put every potential outcome on the table, and be clear about your decisions, so there is no room for misunderstanding.
Of course, it's OK to have different goals and to NOT race with one another, or to start together and not finish together.  There have been a number of races where Geoff and I started together, but one person wasn't having a great day, so they either stayed back or DNF'd, while the other person pushed ahead.  They important thing was that we discussed this possibility before the race.  As with all situations in every relationship: communication is key.
Figure out a race plan for two – and stick with it.
In an ultramarathon, a ton of time can be wasted at aid stations or crew points, figuring out nutrition, shoe changes, foot care, bathroom breaks, etc.  If you are running with someone else, and you do not synchronize those stops, you could end up doubling the amount of time you waste during these pit stops.  So talk about your nutrition game plan before the race.  Plan when you are going to take longer breaks for outfit changes, foot care, and other time consuming tasks, so you can do them at the same time.
Now, obviously there are going to be unexpected stops along the way, especially during distances like 100 miles or beyond. Try to take advantage of that time: if your partner has to stop, utilize that time to refuel, use the bathroom, fix your shoe, etc., therefore hopefully making your stops more efficient, and cutting down on the amount of time spent not running.
Crew – you still might want one.
During our first two 100 mile ultramarathon attempts (that ended at 54 and 62 miles respectively), Geoff and I naively assumed that we could rely on each other as pacers and crew, and we wouldn't need anyone else to help us reach our finish line goals.  What we didn't consider was the fact that both of us would be delirious, exhausted, and unable to make rational decisions for ourselves, never mind each other.  Hence two big "did not finish" results.
Our first successful 100 mile ultra did include a crew and pacers that helped us get to the finish line.  These friends and family focused their energy on us as individuals and as a team, to make sure we had everything we needed separately and together, to keep us moving forward according to our plan.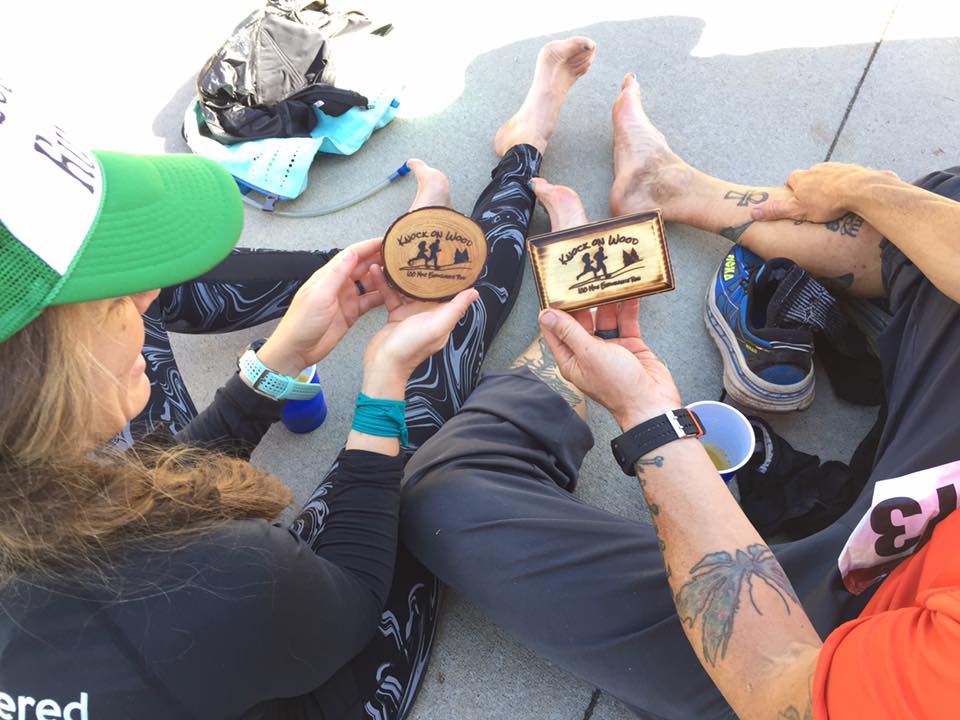 Don't take anything personally.
If you've ever experienced a "bonk" during a run, you know the lows that runners can go through during a race.  In an ultra, this bonk can be extreme, and in some cases, can happen over and over again, like a never ending roller coaster of emotions.  Personally, I've said some pretty rude, confusing, delirious, and sometimes downright mean things while my blood sugar was tanking, or while I was running on two nights without any sleep.
There's a reason why my parents bought me a plaque that hangs in my kitchen stating "I'm sorry for the things I said while I was hangry."
Point being, if your partner is in one of those lows, and maybe snaps at you over something like a poorly timed joke, or the fact that you handed them the wrong flavor of GU, take a deep breath, remember it's the "bonk" talking, and let it go.  Further, if YOU are the guilty party, having said something in the midst of ultra exhaustion, apologize, blame low blood sugar, and move on.
Have a safe word.
People think we're joking when Geoff and I share that we have a running safe word, but it's true.  During races, especially ultras where we may be out there for long periods of time, experiencing sleep deprived highs and lows, there come a number of instances where either one of us might want to quit.   There also may come a number of times where one of us complains of a stomach ache, or sore legs, or any of the other zillion ailments that can pop up during a race.
A running safe word – which should only be used in dire situations – let's your partner know when you truly mean that you need to stop.  Otherwise, your complaining can (and should) be met with a healthy dose of "suck it up" motivation from your better half.
Be patient.  Be understanding. 
I've already mentioned a few times that ultramarathoners experience a number of highs and lows throughout a race.  In fact, one of the best pieces of advice I was ever given before I dove into ultras was to remember that there WILL be highs, there WILL be lows, and the best thing you can do is to remember that after every low, a high will surely follow.
Unfortunately, it's pretty unlikely that those highs and lows will synchronize when racing ultramarathons with your significant other.  When you are feeling on top of the world, and feel like you could run forever: they may feel like their legs are made of cement blocks. When you feel like you can't take another step, your partner may be so unbelievably perky, you may want to throw a Clif Blok at their head.
You've got to be patient – and understanding – that your partner may be in a different physical or mental space than you are at that very moment.  And just like those highs and lows will vary for you, they will come and go for your partner as well.
Finishing any race is an incredibly rewarding experience.  Finishing something like an ultramarathon, even more so.  Having your favorite person on earth right there by your side for every step of the way? Priceless.
Here's to you, Geoffrey Hart.  There's no one else on earth I'd rather blister, chafe, puke, laugh, cry, and hallucinate in the middle of the night, in the middle of the woods, with.   Thanks for always taking care of my feet.
Heather Hart is an ACSM certified Exercise Physiologist, NSCA Certified Strength and Conditioning Specialist (CSCS), UESCA certified Ultrarunning Coach, RRCA certified Running Coach, co-founder of Hart Strength and Endurance Coaching, and creator of this site, Relentless Forward Commotion.   She is a mom of two teen boys, and has been running and racing distances of 5K to 100+ miles for over a decade.  Heather has been writing and encouraging others to find a love for fitness and movement since 2009.