Last Updated on February 23, 2022 by Heather Hart, ACSM EP, CSCS
I'm certain that many aspiring 100 mile ultramarathon runners are going to see this post and think "I don't need tips for getting through lows during a 100 miler – because I'm not going to have any."

I admire your confidence, and I've been in your shoes (are they Hokas? Mine were Hokas).
When I was training for my first few 100 mile attempts (yep, it took me a few tries before I finally finished my first) I would spend a lot of time picturing how awesome the finish line would feel. During my endless training runs, I would pass the time by reassuring myself that I was tough enough to get that 100 mile buckle. Sure, I envisioned that it would be hard…it's 100 miles after all! But I pictured myself holding my head high, believing in myself, and pushing through at all costs.
(I probably also had a soundtrack playing in my head for this imaginary highlight reel of the race where I persevered and proved to the world what a badass I was… you know exactly what I'm talking about.)
What I didn't do during all of those times thinking about my upcoming 100 miler was ever allow myself to think about what would happen if I wanted to quit mid race. Because I truly believed I wouldn't WANT to quit. Absolutely not a possibility. I wanted a 100 mile finish so bad I could physically FEEL it. And "tough athletes" don't ever let the idea of quitting cross their minds…or so I told myself.
So when I ultimately found myself 70 miles into my 100 miler, exhausted, calorically deficient, hurting, crying a bit, and feeling with every ounce of my being that I wanted to quit…I didn't know what to do.
So I quit.
This happened a couple of times until I realized that maybe I had to change my approach. Maybe the "Beast-mode/carry David Goggins boat/winners never quit" mindset wasn't working after all. Maybe avoiding the very real possibility that I was going to be in a dark place, mentally, was hindering my mental strength.  I needed to try something new.
Emotional Lows During a 100 Miler are Inevitable.
I'm going to cut right to the chase with some real talk, from both an athlete who has been there, to a coach who has worked with countless athletes racing 100 milers, to a volunteer and crew member who has witnessed this first hand: low points during a distance such as 100 miles are practically inevitable.
No matter how bad you want that 100 mile finish, no matter how much you "think" you are the type who would never entertain the idea of quitting, a body and mind that have been depleted, beat down, asked so much of, and stretched incredibly thin (as is the nature of running 100 miles) is unpredictable. The thoughts that cross your mind in those moments can be WILDLY convincing, even if your pre-race-brain doesn't want to believe it's possible.
So repeat after me, as I shout this from the rooftops:
Planning for potential failure doesn't make you weak, it makes you a prepared, mentally strong runner.
So I changed my mindset, I came up with a plan, and lo-and-behold…it worked. As of publishing this post, I have three 100 mile finishes to my name, as well as dozens of longer distance ultramarathon finishes.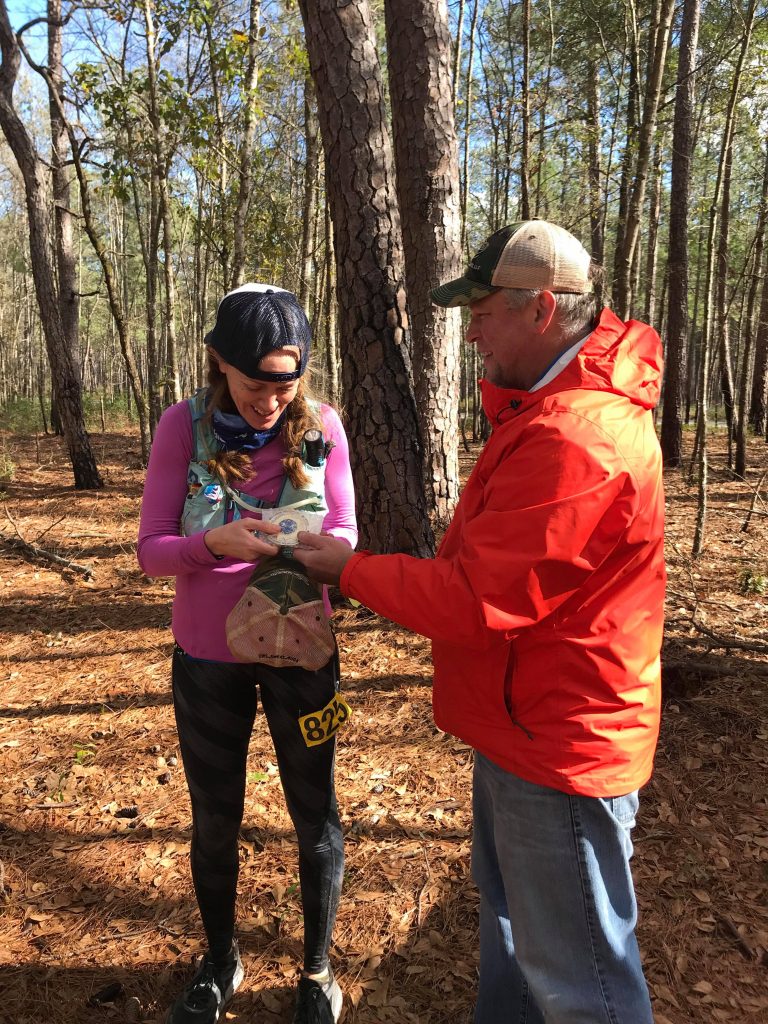 Now, when those inevitable lows hit (usually right at the 65 mile mark and in the dark), I am able to recognize what's happening and what to do next because I planned for this. Instead of feeling "woe is me" about it, I start working through my plan.
6 Tips for Getting Through Mental & Emotional Lows During a 100 Miler
I explain to all of my 100 mile clients that they need to have an actual, actionable (this part is key) plan for when those low moments hit.
What are you going to do when you find yourself absolutely exhausted, thinking you'd rather be at home with your (pets/kids/partner/comfy pillow) asleep in bed?
When you think "this was a really bad idea and maybe I don't actually want this 100 after all…"
Here's what I do, and what I recommend (continue scrolling to read more in-depth descriptions, or print out this infographic for reference):
CLICK HERE TO DOWNLOAD PRINTABLE PDF VERSION OF THIS GRAPHIC
1. Eat Something
When I suddenly feel myself teary, weary, or "woe-is-me" in the middle of a race, I eat. Even if I just ate something 20 minutes ago, and this is not a part of my scheduled eating intervals, I'll eat anyway. The blood sugar spike almost always makes me feel physically and mentally better within the next 15-20 minutes.
Because here's the thing: it's impossible to eat enough during a 100 miler to completely negate your caloric expenditure. There is a ceiling to how many calories your body can digest while running, and spoiler alert, it's not nearly as much as you are burning. So while you may have been doing a great job following your race day nutrition plan, in the later stages of the event, sometimes the calorie/glycogen depletion hits you hard.
In simpler terms – you get "rungry". But instead of anger, the lack of calories can appear as sadness, hopelessness, confusion, or utter exhaustion. So when you are suddenly feeling like you've entered a deep dark hole that you can't get out of…eat.
Trust me on this one.
2. Verbalize the Low
When you find yourself in a low, say it out loud.
I mean it, say it out loud, acknowledge it, put it into the universe. Sometimes saying out loud to yourself can help you recognize that your race isn't actually falling apart, you're just going through a tough patch.
More importantly: tell a crew member. Say something very matter of fact like "I'm feeling really (bad/sad/tired/like I might want to quit). Can you please help me get through it".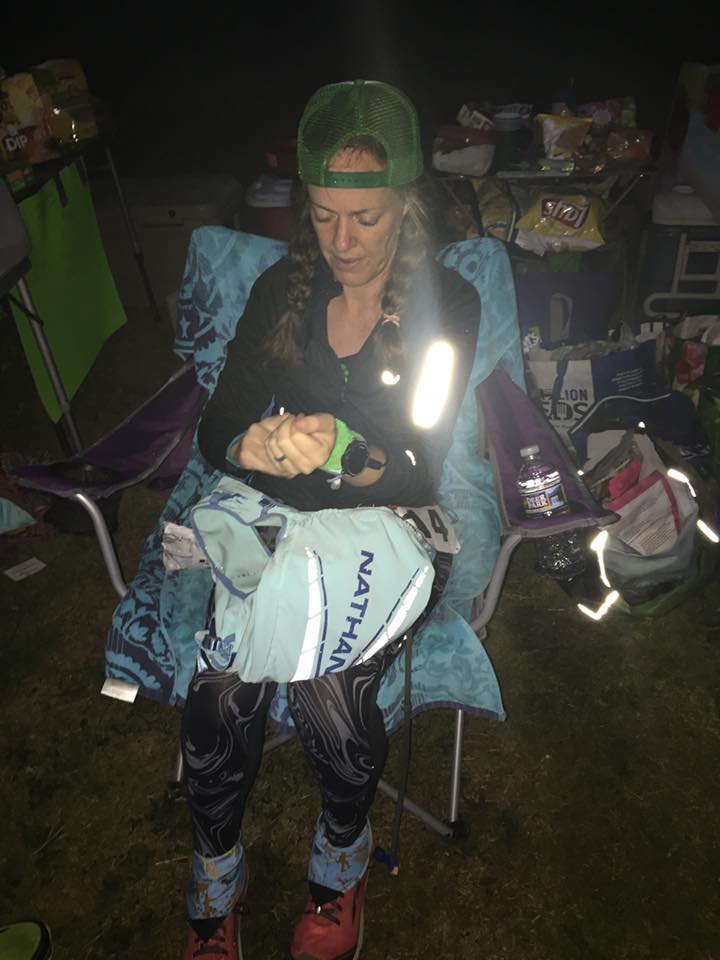 Don't let the low fester privately in your thoughts, if you do, it's only likely to make things worse. The more the people that are supporting you are aware of what you are struggling with in that moment, the more they can do to actively help you get past it.
3. Find a Distraction
Yes, I said it. The queen of "leave your earbuds at home and enjoy your time on the trail" is encouraging you to focus on anything else OTHER than the trail. Now isn't the time to try and be a badass and mentally will yourself to be stronger. Nope, if you are in a low, and you are struggling to get through it, distract yourself. I'm giving you permission – there's no shame.
Listen to music or a podcast, as long as earbuds are allowed by race rules. Ask your pacer to tell you a story, or ask if they will listen to you tell one. Count steps, count trees, count something. Tell jokes, to your pacer, to the trees, to yourself (I find myself extra funny when I'm sleep deprived). Sing out loud. Yeah, you'll look ridiculous, but honestly at that point in a 100 miler, chances are your fellow racers could also use a good laugh, and will appreciate your candor.
Speaking of fellow racers, try striking up a conversation with another runner, as long as they are up for it. (Definitely respect the fact that some people choose to sit…or in this case, run…in silence).
Do anything you safely can to take your mind off the low.
4. Give 30 More Minutes
Feeling so bad that you want to quit? Take a "cooling off" period before making any decisions.
Promise yourself you'll keep moving forward for another 30 minutes before quitting*. That's NOT 30 minutes in a chair "thinking about it", it's 30 minutes making forward progress on the race course. You've already been out there on the course for this long, what's another 30 minutes?
Chances are, the low you are experiencing will pass in that time frame, and you'll be super glad you didn't quit.
*Note: this approach does not apply to injuries. If you are seriously injured, do not keep going. 30 more minutes when in pain can be the difference between a minor injury and potential surgery.
5. Realize these Lows are Normal
I wanted to call this section "this is what you signed up for" or "you're not special", but I figured I'd go with something a little less sarcastic and a lot more positive.
When you find yourself in one of those potential race ending lows, remind yourself that this low was expected (after all, I already told you this was going to happen, didn't I? OK there's a little sarcasm). The hard parts are why you're here after all, to conquer an incredibly difficult feat so many others aren't capable of. That so many other's wouldn't even begin to attempt.
Having to dig really deep through these uncomfortable, or even painful lows, is part of the sport of ultrarunning. You are not suffering through anything that many others before you haven't experienced. And just like so many other ultra runners who came before you, you CAN get through this.
6. Know That This Low Will Pass
One of the best pieces of advice I was ever given when I was a newer ultrarunner, was to think of ultras like a roller coaster. There are high points, and there are low points. You might be riding a high and then very quickly plummet into a low, so fast it you don't know what happens.
But what comes after the low? Another high.
Now, just like a roller coaster, it takes a lot longer to get from a low to a high, than it takes to go from a high to a low. You've got to put in some work to climb back up out of that low.
But the thing to remember is that if you keep pushing, you will climb out of it. If you've done everything else I've mentioned in this post (especially the eating!) the low absolutely, 100% will eventually pass, but ONLY if you keep going.
But if you quit, you'll never find that next high.
Need more ultramarathon tips? Check out these posts:
Do You Sleep During a 100 Miler? Ultramarathon Sleep Strategies Explained.
Preparing Your Crew For an Ultramarathon
7 Things to Do During a 100 Mile Ultramarathon Taper
Heather Hart is an ACSM certified Exercise Physiologist, NSCA Certified Strength and Conditioning Specialist (CSCS), UESCA certified Ultrarunning Coach, RRCA certified Running Coach, co-founder of Hart Strength and Endurance Coaching, and creator of this site, Relentless Forward Commotion.   She is a mom of two teen boys, and has been running and racing distances of 5K to 100+ miles for over a decade.  Heather has been writing and encouraging others to find a love for fitness and movement since 2009.