Last Updated on August 19, 2016 by Heather Hart, ACSM EP, CSCS
Eureka! Stage 1: Buena Vista to Railroad Bridge
20.8 Miles / 2,500 ft gain
(Incase you missed it, read the TransRockies Run Preface post HERE.)
Tuesday morning Geoff and I woke up early in our cozy cabin, thanks to my insistence upon turning on the provided ceramic space heater.  Despite being the middle of August, it was incredibly cold outside, at least to these South Carolina transplants.  If you asked me, I'd have told you it was maybe 15 or 20 degrees (F) outside.  In reality, it was probably about 45 or 50, with a cold wind…enough to have us put on every bit of warm clothing we brought and question what the hell we had just signed up for.  Myrtle Beach has turned us into cold weather pansies.
We reluctantly packed our bags, checked out of the campground and our cozy cabin, and boarded the shuttle with only 3 other people to head to the start line.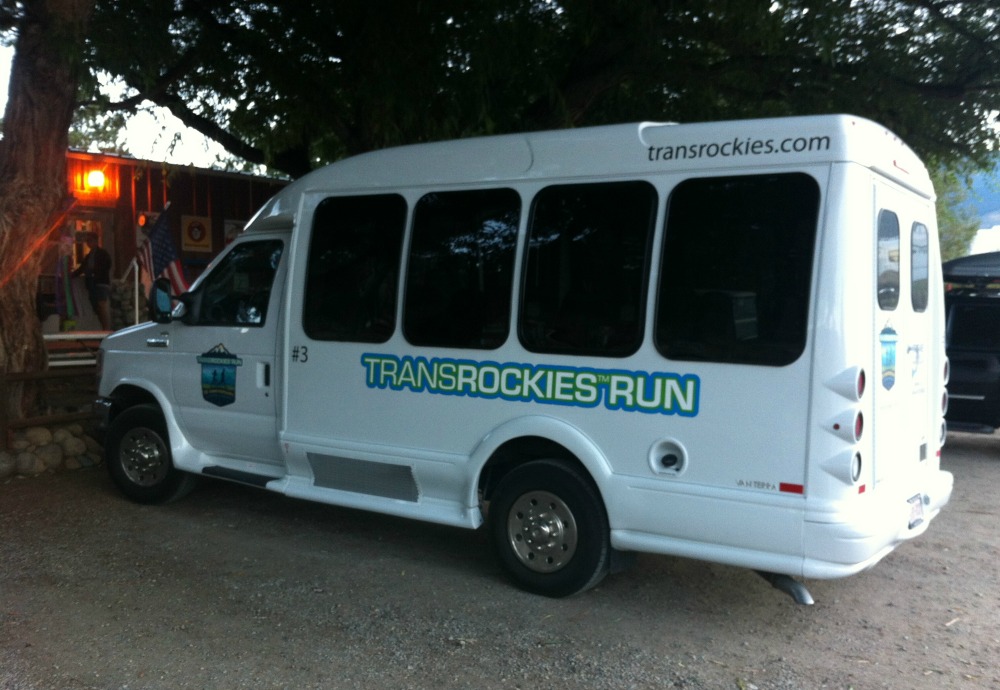 We were most definitely the first group of shuttle customers of the day.  Because I have an obsession with being early to races, or perhaps it is simply a fear of being late, we arrived painfully early to the starting area.  So early in fact, no one was around except for a few volunteers that were beginning to set up the starting corral.  I felt as though we should have offered to help them, that's how early we were.  But instead, we made a beeline towards a coffee shop that had their lights and heat on, and their doors open.  While they gladly welcomed us into their open space, their cash register wasn't open for business yet, so Geoffrey had to wait on his coffee.   Fortunately for the rest of us, he only had to wait about 10 minutes.  Please note the following before and after photos:
Geoff then suggested we leave the warm comforts of the coffee shop, with the reasoning that we should make room for other customers.   He's the thoughtful one, as my freezing cold butt wanted to selfishly stay put.  But then off in the distance I saw a patch of sunlight beginning to creep over the mountains, and suggested we sit in the sun.  I headed down the road, only to happily discover that it was SIGNIFICANTLY warmer in the sunshine patch.  The second biggest shocker about Colorado (next to the fact that it was a desert, complete with cacti) was the drastic temperature changes with something as simple as a cloud passing by.   I've been used to spending the summer with temperatures hovering from a cool 95 degrees to a hot 105, so this whole 30 – 90 range was throwing me for a loop.
We sat and slowly peeled off layers, as we put the final preparations to our hydration packs and waited for Jen to show up.  I snacked on airplane pretzels (remember? The ones the awesome purple mermaid shorts earned us?) as we waited, and we all joked about how we were all totally in over our sea-level, flat-land, heads.  Laughter certainly helps quell the feeling of dread, as well as the internal voices screaming "you are totally in over your head…"
Eventually it was time to head back down the road, from the comfort of my sunny spot to take our place in the fast growing port-a-potty line.   Fortunately, as we walked away I realized more than just my sunny-spot had warmed up significantly.  We had been told that Stage 1 was typically a hot and dry stage, and the three of us were more than ready for it.  After all, we had spent all summer training in Myrtle Beach.
Shortly before the start, we ran into our New England friend Rick.  Not only were we happy to see more familiar faces, we were happy that he and his friend BJ had made it, albeit barely, despite the recent Delta airlines debacle that had held people up from their destinations all over the world.  At the same time, I met a long time twitter/old school dailymile friend that I had been in contact with for years, though had never actually met.  Shout out to Last Place Rob!  So great to finally meet you!
We posed for a quick GoPro selfie, but first Rick felt the need to catapult the GoPro onto the pavement in a very dramatic fashion.  It was hilarious, and the laughter felt really good for my nerves.
We lined up in the corral, and heard the first of 6 days of AC/DC's "Highway to Hell", the song that would send us out of the starting gates every single morning.  I won't lie, I got a bit teary at this point.  Partially because I was terrified of what was to come.  Sure I had trained my butt off, but there was only so much I could do in flat, sea level, South Carolina.  Was I in over my head?  Was it a bad idea?  The other part of me was weepy because I was so freaking excited to actually BE there, in that very moment, a moment I had dreamt about for a long time.
The "GO" horn sounded, and we were off.  Geoff, Jen, and I took off at a very, very, let me emphasize VERY conservative pace. I.E.: slow.  Yet almost immediately my lungs were gasping for air, my heart pounding, as if I had sprinted out of the starting gate.  So THIS is what it feels like to run at altitude (we were at approximate 7,888 feet above sea level a the start).  We all laughed between gasps, but I feared I was going to have a long day ahead of me.
We started on pavement, which I found somewhat hilarious, but quickly rounded a corner to head across a bridge towards a single track trail.  The bridge had immediately bottle necked, as we had previously been told to expect.  In fact, one friend had told us "the bridge will bottleneck, so take your time and hang towards the back – don't be a hero."  While another equally as helpful friend told us "the bridge will bottleneck, so get towards the front a little faster than you would normally start, so you can avoid the hold up."  After the first few minutes of oxygen sucking altitude running, we opted to go with the former advice, rather than the latter, though I'm not necessarily sure it was by choice.
I won't lie, the bottleneck was fine by me.  Even hiking up the hills caused me to fall short of breath, so I gladly walked.  And I was very, very happy to see that we were FAR from the only ones attacking the first small climbs at a walking pace, instead of barreling up them in a full run.  I was also instantly jealous of those who could seemingly bound up the hills effortlessly.  I told that inner voice to sit down and shut the hell up: we had 6 days to survive, and we were a bunch of sea level kids. Run our own race, don't worry about theirs.  This was NOT the time to be competitive. I had absolutely no business being competitive.
Eventually, the single track turned into a wide open dirt road, and stayed that way for a very long time.
The three of us proceeded to alternate running and walking, depending on the terrain.   I couldn't tell you how fast or slow we were going, as I had chosen to not run with a GPS watch.  Running blasphemy, I know.  In fact, none of the three of us had a GPS, and I truly think it only contributed to an overall positive experience.  I was truly living in the moment, enjoying the beautiful sights.  Again, I couldn't get over how "desert" like this part of Colorado was.  Who knew? (Probably everyone but me.)
And then we climbed.
And climbed.
And climbed. And the views from the top? Absolutely freaking worth it.
It kind of bums me out that the pictures can't even begin to do the actual views justice.  I mentioned this to our group, to which Geoff immediately replied "kind of like cheesecake".    Uh, yeah, kind of like cheesecake, I guess…
We summited much easier than I expected, though it certainly wasn't by any stretch "easy".  Just one of the "easiest" climbs we would experience over the next 6 days.  Fresh legs, I suppose.  And "only" about 850 feet of climbing, we maxed out at about 9,337 feet during this stage.
The first aid station of the week appears, and I immediately feel relieved.  We are solidly in the middle of the pack, not at the back of the pack,  and I feel strong. Feelings of I CAN do this, I DO belong here, finally slowly start to seep out.
My hydration/nutrition plan so far had been: 1) drink a sh*t ton of water, because it's hot out and we are at altitude (you dehydrate much faster), pop a Hammer Endurolyte every hour, and eat energy blocks/chews whenever I felt like it.  So far, so good…but an aid station is an opportunity to feast.   I'm telling you, aid station snacks are half the fun of ultra running.  Forget marathon aid stations with water, Gatorade, and maybe some sort of gel if you are lucky: ultra aid stations are a junk food buffet.  I grabbed a handful of potato chips, a few slices of watermelon, and one of these: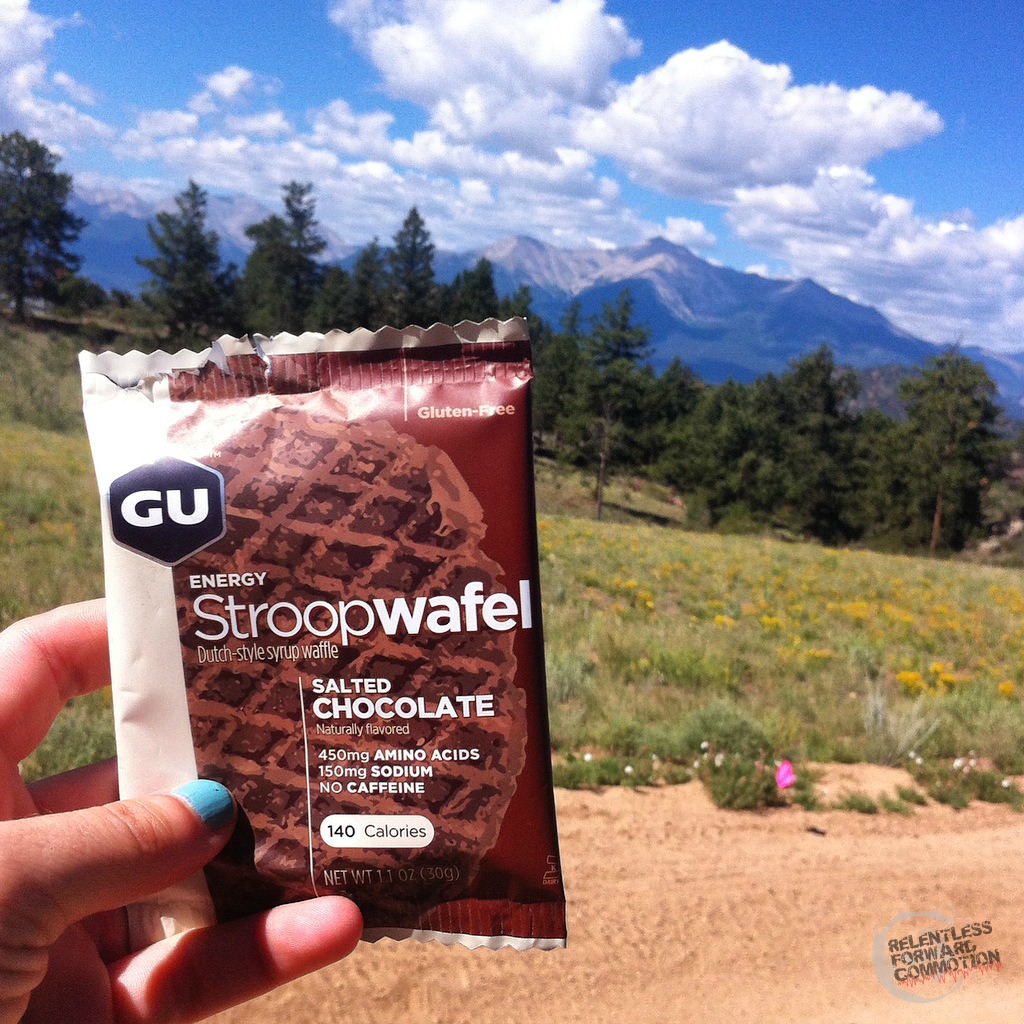 Never in my life had I tried one of these waffles (GU or other brand) but I figured, what better time than race day to try something new!
(Please note my sarcasm.  Don't ever try something new on race day.)
It was surprisingly delicious, and my stomach surprisingly digested it without any protest.  From that point on, Geoff, Jen and I would refer to GU Stroopwafles as "Strooples", or any variation of the word, including, but not limited to : schpoople, bra waffles (more on that later), shapooples…you get the idea.
This post is already getting extremely long, so let me sum up the majority of the next 10 or so miles: it was hot, sandy, and sunny.  There were more climbs, and more descents, and I just kind of cruised through all of them, fueling and hydrating as necessary.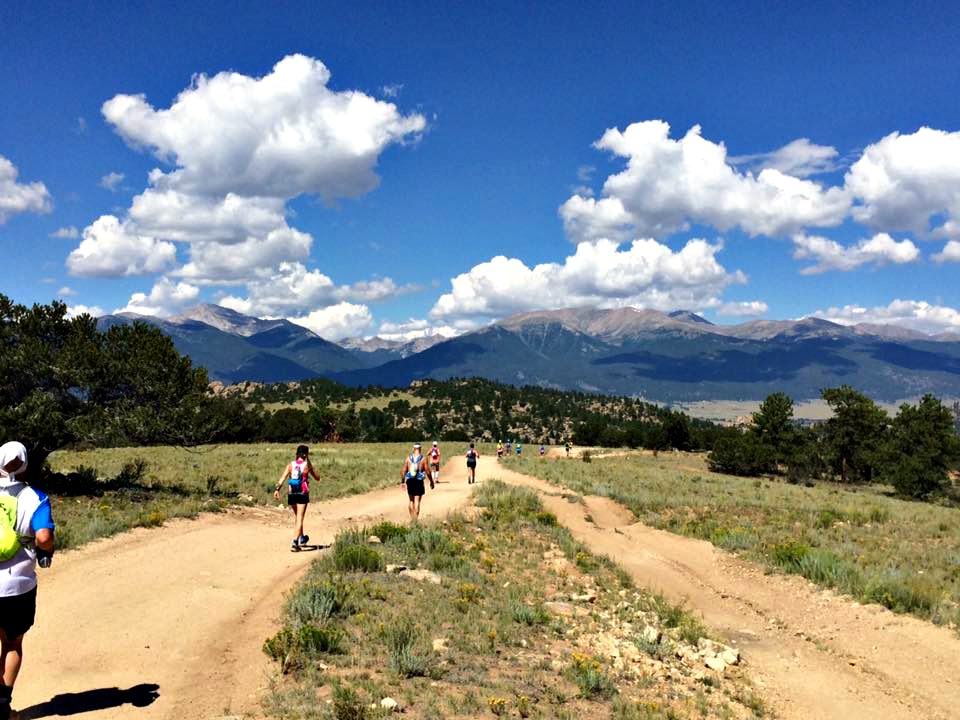 I MARVELED at the fact that despite the heat, I was able to actually feel the cool breeze and the sweat evaporating off of my skin, thus cooling it, as nature intended it to do.  In South Carolina, all we have during the summer is an oppressive layer of humidity that clings to you like a tight prom dress.  It was such a wonderful breath of fresh air, almost literally, to not have that humidity.
I saw a snake:
Please note the size of this massive beast, as shown by the pine needles taking up most of the picture.  It was seriously the length of a pencil, at best. I actually chased it down for a picture before Geoff reminded me that a) I'm not a National Geographic photographer, as you may have guessed by all of the semi blurry pictures with horrible lighting that I've shared thus far, and b) we were in Colorado, there was no telling what kind of "danger noodle" that might be.  I reluctantly backed off.
Check point/aid station #2 came and went at about mile 14, with nothing too exciting to report, other than the fact that the volunteers/crew were amazing, as always.
Run, run, run.
Eventually we hit a stretch of downhill after some single track, and I saw my friend Lauren, last years Kahtoola/TRR winner and this years TRR social media guru.  She told us there was whiskey waiting for us at the last aid station, and then took this picture (while Geoff shouted "don't do anything stupid Heather". Heh.  He knows me too well.)
After fueling up at check point 3, including a pitcher of ice cold water dumped over my head, and a shot of sun-hot whiskey for Geoff, we knew we were about to hit the home stretch.   Unfortunately for all of us, the home stretch included just shy of a 4 mile false flat.  "What's a false flat?" some of you may be asking.  Well, my friends, that's when the road appears almost flat…except it's actually a long, gradual, seemingly never ending climb.  The sort of climb that plays tricks on your mind and feels ten times longer than it actually is.
And that's when the heat started to get to all of us.  Once we passed through some really cool rock tunnels at the beginning of the stretch, there was very little to see or do, other than pick short run/walk intervals to suffer through until the finish line was finally in sight.
5:48:42 was our official finishing time, for what everyone with a GPS grumbled was well over 21 miles.  I have no idea what that means, in the grand scheme of things, as we had absolutely ZERO idea of what to expect, time wise.
At the finish, I slugged down some chocolate protein recovery drink, which was mighty disgusting, mostly because I hate chocolate milk.  But I had convinced myself that protein + recovery was vital, and this would become a ritual of mine over the next 6 days.  Slam down the gross drink, then indulge in the potato chips, Coke, and other nonsense that we runners love to shovel into our mouths after particularly long runs.
Next we headed down to the river at the base of the parking lot to soak our sore legs in the icy cold Colorado waters.  Despite the usual "I just ran 21 miles" soreness, nothing was overly painful, and I was pleasantly surprised to not have any blisters or hotspots.  Not that I expected any, but you just never know when one will pop up and totally ruin your day.  Or your 6 day stage race.
Unfortunately, the soak didn't last long, as a storm rolled in, incredibly fast. Onto the shuttle we went, and then off to Arrowhead campground for the night.  Yes, the same place we stayed the previous two nights, only this time we would be staying in the community tents, rather than a cozy cabin.
At the campground, we were told to go find our tent…at the top of a ridiculously steep hill.  Though it was merely a logistical decision, at the time it seemed like a mighty cruel trick played on tired runners by the TRR crew.   We hobbled our way to the top of the hill, and Geoff and I were assigned our tent with seconds to spare before the rain came falling from the sky.  So, in our sweaty post race gear, and without any of our bags yet, we just laid down on the tent floor to weather the storm.   Worst decision ever for our legs, best decision ever for our mental health.  It was mighty cozy in that tent…a theme we wouldn't see a lot more of in the coming days.
The storm passed, we grabbed our bags, and I headed down to shower in the amazing shower trucks.  These things are a genius idea, I'm telling you.   A few beers (well, one, I'm a lightweight) at Chillville (the land of lounge chairs, snack food, giant Jenga, and tons of beer), and then onto dinner.  Both of which I have much better pictures of and stories to tell in the coming stages.  So you'll have to come back for those.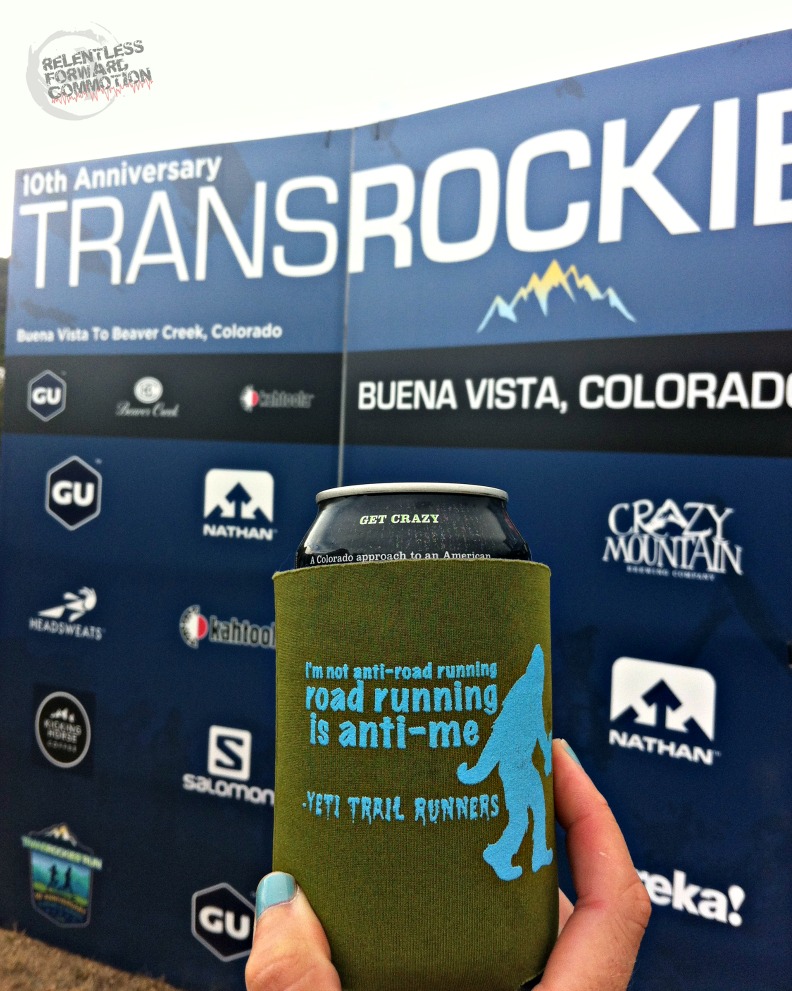 After dinner we were given logistics, medial, and safety talks from the head medics, the guys who marked the course, and the hilarious director of operations with one of the best Canadian accents.  I only bring the accent up because as a result, I probably missed 1/4 of the information he gave us.  In retrospect, it's no big deal, as I obviously survived the race.   Anyway, it was emphasized by all that the next day we would be heading up and over Hope Pass, at 12,536 feet.  It was also emphasized by all that there was a thunderstorm predicted for the same time frame many of us would likely hit the pass, and we needed to know how to react if we were about to be struck by lightning.
Yes, you read that right.  Not the "what to do in a thunderstorm" talk that we are all given from the time we were little kids.  No, this was the "what to do when your hair starts standing on end, you can feel the electricity in the air, and you are so high up a mountain there is zero tree cover to protect you, this could probably actually kill you" speech.
Once again, I felt woefully in over my head…here goes nothing.
_____________________________________________________
Check back tomorrow for the tales of stage 2.  A massive THANK YOU to Kahtoola, INC. for sponsoring our journey to the 2016 TransRockies Run.   Also a huge shoutout to INKnBURN for our amazing outfits.!
Heather Hart is an ACSM certified Exercise Physiologist, NSCA Certified Strength and Conditioning Specialist (CSCS), UESCA certified Ultrarunning Coach, RRCA certified Running Coach, co-founder of Hart Strength and Endurance Coaching, and creator of this site, Relentless Forward Commotion.   She is a mom of two teen boys, and has been running and racing distances of 5K to 100+ miles for over a decade.  Heather has been writing and encouraging others to find a love for fitness and movement since 2009.