Last Updated on January 22, 2022 by Heather Hart, ACSM EP, CSCS
The third time's a charm, so they say.  After two years of registering but having to back out for other reasons, I finally made it to a Men's Health Urbanathlon on attempt #3.   It was everything I had expected it to be: a solid blend of the obstacle racing I love combined with 10 miles of fast road racing.
Saturday morning, Geoff and I woke up at 3:00 am (yes, painfully early) and hit the road for New York City.  While Urbanathlon had advertised a Thursday and Friday packet pickup, Geoff and I were unable to make those dates,  and instead had to pick up our bibs race morning. Our trip was relatively uneventful, and we were super stoked to find PLENTY of *free* parking right at Citi Field, home of the New York Mets and the location of the 9th annual Urbanathlon.  Geoff and I laughed as our conversation as we left the car was loudly interrupted by a train that passed overhead.  We were not in Vermont anymore, that was for sure; this course was certainly well outside of our normal mountainous territory.

It was a quick walk (less than a quarter mile) to the festival area, where there was virtually no line for packet pickup. Bag check was free (another bonus that I'm not accustomed to in the OCR world!), and there was plenty of pre-race activity and excitement going on.  TRX was on hand with numerous straps to allow runners to warm up.  There were a number of other sponsors already set up, such as Hoka One One,  allowing us a little bit of distraction as we passed time.  An announcer near the starting corral was leading other athletes through another warm up.  It was a great pre-race vibe.
And to add to all of this: there wasn't a cloud in the sky and it was approaching…dare I say it…warm.
Urbanathlon was offering two course options that morning: the "Classic" race, consisting of 15 obstacles over 10 miles, and the "Sprint" race, consisting of 10 obstacles over 4.5 miles.   Geoff and I, king and queen of "why run a few miles when you can run A LOT of miles" were registered for the the Classic course.   Now, coming from a very full season of traditional obstacle racing, 15 obstacles over 10 miles seemed incredibly minimal.  Plus, there was that whole "road" thing that us trail runners were highly unaccustomed to as of late.   Our goal was to simply have fun.
We lined up in our corral for the 8:00 am start.  There were, I believe, 8 corrals that started approximately 3 minutes apart, which did an excellent job at thinning out the crowd and preventing backups at obstacles.  Soon it was time for our wave to go, and as to be expected, we took off running.
Of course, because I always forget to do SOMETHING pre race, my GPS wouldn't record my splits because the memory was full.  It did show my current pace, which I figured would be enough.  As mentioned already, I haven't run a race on the road in a long time, never mind 10 miles.   I really didn't know what to expect, but wanted to start the race off conservatively.
Now, for being in New York City (well, close enough for those of us who don't live in the city), the Urbanathlon course directors managed to find 10 miles worth of sprawling grass and trees in Flushing Meadows Corona Park.  Other than the occasional overpass, nothing felt "city" to me at all.   It was a very pretty course.  As you'll see in the photos below, I chose to run with a hydration pack, though ultimately it wasn't really necessary, as there were six water stops along the 10 mile course.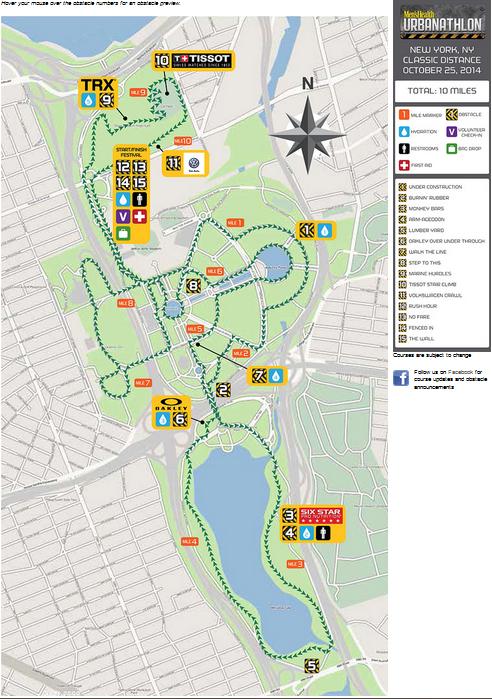 The obstacles we encountered were, in and of themselves, easy.  However, unlike most of the OCR's we have done as of late, we came at them full speed, making them significantly harder. A few rows of plastic jersey barriers are no big deal, except when they are thrown in the middle of your tempo-or-race-pace run.
While the Men's Health Urbanathlon was most definitely a co-ed race, the number of men far outweighed the number of women (or at least that's how it felt in our wave).   I had to laugh as we approached obstacle #3 & #4, the Monkey Bars and "Arm-Ageddon" as so many men let out what I will call the "bro-cheer"; you know, "Yeahhhh!  Get it! Get some!" accompanied by a bunch of grunting and yelling.   I joked with Geoff that I felt like I was at an obstacle-racing-frat house.
I'm not exactly sure what the penalty was for missing the monkey bars, but I know there was one, as there was a "penalty box" with people doing what looked like both push ups and burpees.  Thankfully, I crossed the monkey bars no problem, and no penalty needed.
Somewhere around this point, Geoff turned to me and asked what I thought so far.
"It's a road race with obstacles" I replied.  "But I like it."   He nodded in agreement.   There was A LOT of running compared to the number of obstacles.  This may seem obvious, but again, after a season of climbing endless ski-slope faces, a flat, smooth, paved course was a nice treat.
And you know those days where running just seems to come easy?  The days where you feel your body pushing faster and harder than normal, you wait for the inevitable moment where your lungs and muscles start to scream in agony and force you to slow down…but it never happens?   I was having one of those priceless days.  Though I started out conservatively, I fell into a great pace, somewhere around the 7:30-8:00 min/mile range.   I kept waiting to bonk. 
It never happened.
Somewhere around mile 7 I started flying.  Occasionally I'd glance down at my GPS to see a 6:5x/mile pace and debate internally whether or not I should slow down.  The decision was made for me from behind – where Geoff started yelling at me to slow down, he couldn't keep up.  I laughed and smiled – this was clearly revenge for the countless races he flies up the mountains and I'm dragging behind him yelling at him to wait up.  Regardless, I made him hang in the mid 7's, I couldn't waste this feeling.

On the course we passed some really great structures and sculptures.  Turns out, this area was the location of the 1964 World's Fair, and the structures we saw were the remains of what was once an incredible sight (check out THIS POST for some really neat before and after pictures)
Somewhere past mile 8 we headed back into the same parking lot we started in.  I was still surprisingly feeling fast and strong, but rumor on the race course had been that we still faced about one full mile of stadium stairs.  That was going to feel…awesome.
First however, came the most difficult obstacle of the day for me: a set of five Marine Hurdles.  Turns out, when climbing a wall, I use my feet FAR more than I thought, as can be seen in the first picture where I completely swing UNDER the hurdle.
And then we headed into the Citi Field Stadium for stairs, stairs, and more stairs.   Tissot was sponsoring a time trial for the stadium portion of the race, and special awards would be given to the winners of the time trial. Needless to say,  I would not be one of them: the stairs kicked my butt.
Inside the stadium we ran up and down both the stadium stairs and stairwells in the hallway. Music was blasting and the vibe was absolutely "this really sucks but we are almost done so let's suck it up and GO."  To say there was a lot of walking among the participants would be an understatement.
Eventually we left the stadium for the last straight away to the finish line.  But first, we had a handful of obstacles to perform.
While climbing over taxi cabs and school buses is a novelty that  fits perfectly with the "Urbanathlon" theme, climbing UNDER a tiny little Volkswagen was a fun challenge.   Not only is sliding across pavement a difficult task in and of itself, but I barely had any overhead clearance, and I'm not a big girl.  I can't imagine how hard that must have been for some of my larger male counterparts!
Last up, a decent sized wall (I'd guess 8 feet?) right before the finish line.  If you were unable to scale the wall, to the very left and right were both ropes and a rope ladder to assist you to the top.
We crossed the finish line in a clock time of 1:41:53, and a chip time of 1:32:52.   Considering the stair climb took a lot out of me, the fact that I started off really conservatively, and that there were obstacles slowing us down, I was STOKED with an overall pace of 8:36/min mile.   Had I known I had that kind of day in me, I would have tried to race from the start, as the 3rd place finisher in my age group was only 4 minutes faster.  But you know, hindsight is 20-20.
The finish line included a race and distance specific medal, water, pretzels, and a banana.  As soon as we stepped out of the finishers chute we walked right by the Six Star Pro Nutrition tent which supplied us with not only protein bars and a protein shake, but upon joking with the reps, gave Geoff and entire tub of protein powder, and took the time to talk to us about the race.  That's an awesome race sponsor for you!
Next we instinctively headed over to get our free post race beer.  I was handed a Bud-Light, Geoff a Budweiser (I cringed, but then remembered that free beer consumers can't be picky).  At that point it occurred to me that it wasn't even 10:00 am, and I didn't really want a beer anyway.   Geoff felt the same.  We both sat there in the beer tent, staring at our open yet untouched beers contemplating what to do next.   In this day and age you can't just hand a stranger an already opened beer and say "here, have this".  But I felt like a wasteful jerk throwing it away.  Finally, we decided from an ethical standpoint, that there certainly wasn't anyone in the world starving for beer, so we tossed them.   (First world problems.)
And then we headed out to make the long drive home.
Overall thoughts:  I personally enjoyed this race VERY much.  It combined my love of obstacle racing with my first true love of road racing – the love that I have neglected for the last few years.   The obstacles were easy enough for a beginner to get their feet wet (though not literally, as this was a mud free course) in the world of obstacle racing.   Yet, for those who are more experienced, the long intervals of road running added a new challenge to really push your endurance between obstacles.  Running THROUGH  a major league baseball team stadium is certainly a unique experience.  
Would I say it is worth the registration price, of $95 early bird, up to $138 week of?  (Sprint course ranges from $65 – $94).  From a strictly road-runner's perspective, looking for a unique and different challenge: yes.   If you are an experienced obstacle racer who looks for a significant number of challenging obstacles in your races: not a strong "no" but I'm leaning in that direction.    To change my opinion, I would encourage Men's Health Urbanathlon to consider a few minor upgrades for the cost:  a few more obstacles, or slightly longer thus more difficult versions of the obstacles.  And perhaps a tech t shirt or fitted gender specific vs. the standard cotton unisex shirt.  Though to give credit where credit is due, there was no charge for parking (typically $10 at most OCR's) and no charge for bag check (often $5 or more). 
All of that said though, I would highly encourage road runners and obstacle enthusiasts alike who are looking to try something "out of the norm" to give Men's Health Urbanathlon a try.   The 2014 dates and locations include: 10.18 – Soldier Field, Chicago, 10.25  – Citi Field, New York, and 11.23 – AT&T Park, San Francisco .  Be on the lookout for 2015 dates!
Reader thoughts: if you are an obstacle race enthusiast, does the thought of pavement appeal to you or discourage you?  Road runners: would you try the Urbanathlon? Why or why not?
Disclosure:  I was given a free registration to the 2014 New York Men's Health Urbanathlon through a campaign with Fitfluential, LLC.  As always, all thoughts and opinions posted are my own. 
Special thanks to Geoffrey Hart for his photography.
Heather Hart is an ACSM certified Exercise Physiologist, NSCA Certified Strength and Conditioning Specialist (CSCS), UESCA certified Ultrarunning Coach, RRCA certified Running Coach, co-founder of Hart Strength and Endurance Coaching, and creator of this site, Relentless Forward Commotion.   She is a mom of two teen boys, and has been running and racing distances of 5K to 100+ miles for over a decade.  Heather has been writing and encouraging others to find a love for fitness and movement since 2009.