Last Updated on January 22, 2022 by Heather Hart, ACSM EP, CSCS
In an ideal world, we'd all be accompanied on our ultramarathons by an experienced crew that runs like a well oiled machine. They would know what to do – and when to do it – without needing you to utter a single word. The reality is: many first timers to ultra distances bring along friends and family to help them out who are also unsure of what they are about to get into. Crewing for an ultramarathon is a learning experience for both the crew and the runner. Here are nine tips for preparing your crew for an ultramarathon.
Tips for Preparing your Crew for an Ultramarathon:
Crew members are absolutely invaluable during an ultramarathon. Personally, I'd rather have an inexperienced crew than none at all. Especially when I'm so exhausted I can't even tie my own shoe.
Explain How This Whole "Ultra" Thing Works
Ideally, you've recruited crew members that have previously spectated an ultra, or at least heard you ramble on and on about one before. If not, explain to them how an ultra works. Describe aid stations, check points, and what their role will be at each of these locations. Give them a brief ultra spectator/crew etiquette lesson (stay out of the way, the snacks are for runners only, etc.)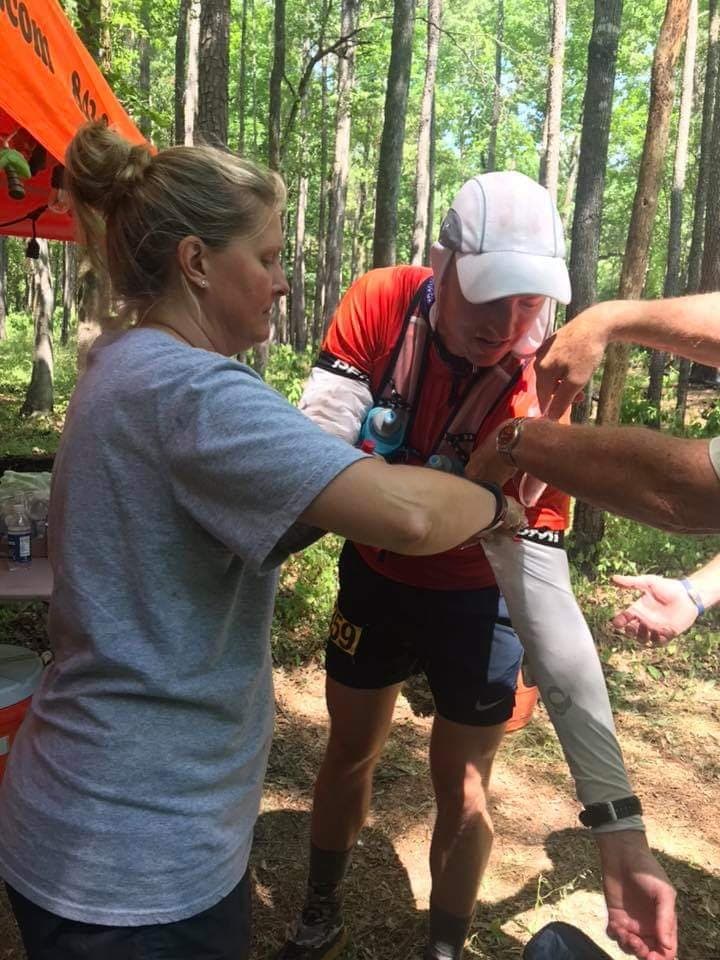 Make Timelines & Checklists
Create a timeline of where your crew will need to meet you, and when. Make sure they know how to get to the various aid stations (if it's a point to point. If you are racing a looped course, determine where exactly your designated meeting point will be. Discuss means of communication, and how they will be able to estimate time ranges of when they should meet you.
Outline everything, from nutrition to shoe changes, and beyond. Come up with an "A" plan, and a "B" plan, if things start to fall apart. For examples, if at mile 70 you are so sick of GU's you refuse to eat another, give options for taking in calories.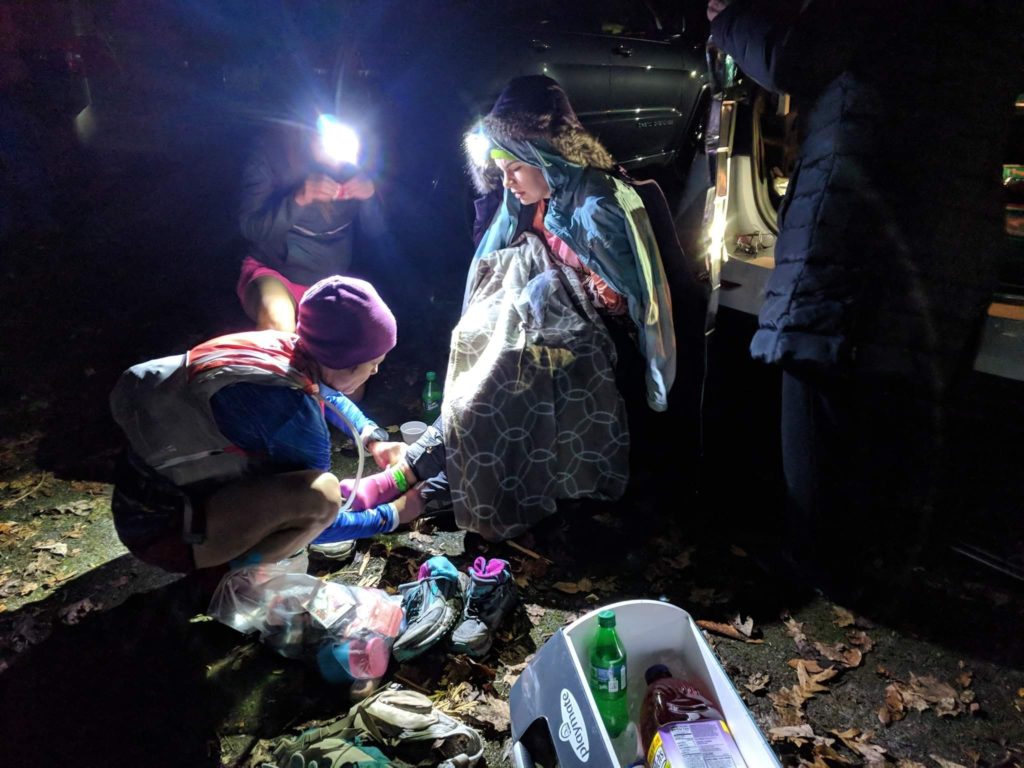 Rarely does everything go exactly as planned in an ultramarathon. That said, having an outline will help ensure nothing gets overlooked, especially when everyone is exhausted.
Explain Ultra Emotions
Ultras are exhausting. Runners are physically and emotionally pushed to the limit. As such, emotions can run high. There may be tears. There may be screaming. Things are said, by runners and crew, in the heat of the moment that maybe they don't really mean.
"My husband doesn't come to races anymore because the last time he crewed me, I told him to go f*ck himself." – Client of ours that will remain anonymous
As a crew member, it can be scary to see your runner seemingly coming unglued. Their gut reaction may be to do whatever they need to in order to comfort you. But "comfort" isn't what gets you to the finish line of an ultra.
Remind your crew that these emotions – while not necessarily normal in the real world, are normal in ultras. And that anything you say is not personal, it's the exhaustion talking.
The best course of action for your crew is to keep a level head, and stick with the pre-established plan. Chances are you (the runner) just needs the release of emotions -and probably some food – and you'll be ready to keep moving.
Talk About the Awkward Stuff
Preparing your crew for an ultramarathon means preparing them for the good…and the bad. Put it all out there, even the gross, uncomfortable stuff, so there are no awkward moments on race day. (Just kidding, it will still probably be a little awkward). Popping blisters, pooping in the woods, puking…it all happens. Your crew may have to really get "in your business", doing things like helping you get dressed, feeding you, lubing up your feet (or other areas). The possibilities are endless, so cover it all.
Go Over Worst Case Scenarios
Discuss the worst case scenarios…just incase. What to do if you are no longer on pace for your "A" goal. How to adapt if your gastrointestinal system starts to rebel and you can't keep any food down. What to do if you decide you really need to sit for a while, when you previously insisted there would be NO stopping. How to deal with issues like hypothermia, or overheating.
Some people like to focus only on the positive, and not give the idea of "not finishing" a second thought. However, I'm a fan of going over every possible scenario. That way, if something out of your control happens, your crew is prepared and ready to adjust the plan as needed.
Create a Safe Word
People always laugh when I tell them that my husband and I have an ultramarathon "safe word". But it's true, and has come in useful in the past. During an event like a 100 miler, the thought of wanting to quit is probably going to cross your mind. Hopefully, that's the extent of it: it crosses your mind, you brush it aside, and keep going.
But sometimes you'll find yourself deep down in a very dark place, and it will feel like you simply can't go on. You'll want to quit. That's when your crew and pacers need to step up and pull you out of that spot and not let you quit.
HOWEVER, sometimes you'll be legitimately hurt, or physically or emotionally unable to go on, for whatever reason. Having that "safe word" will allow your crew to know when you need to be pushed, and when you actually need to stop.
Practice
Have your crew practice the things that may not come naturally to them. Things like: taping feet, measuring out your electrolyte drink, tying shoes on someone else's feet. Yeah, believe it or not, that's harder than it sounds!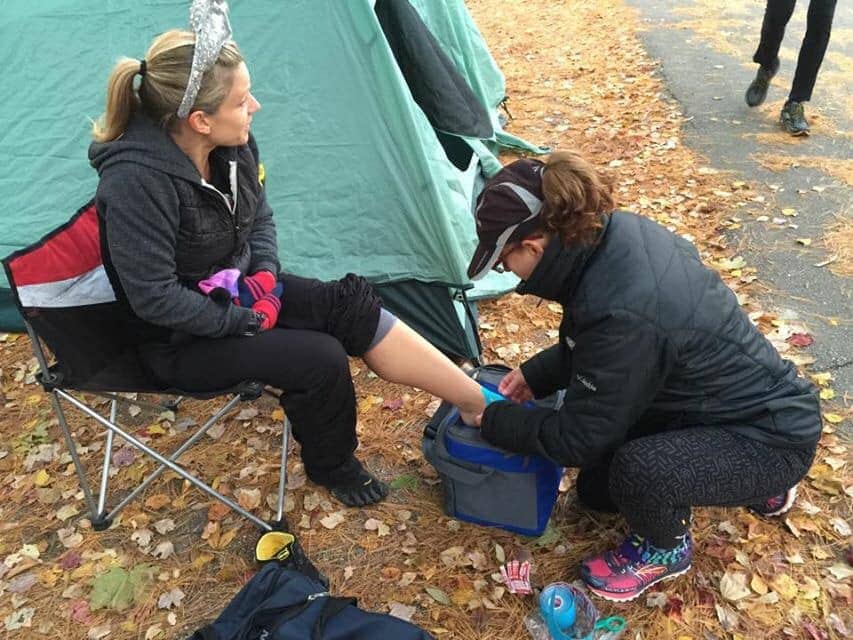 Practicing will not only give your crew members confidence, but will increase the likeliness that everything goes smoothly on race day.
Make Sure Your Crew Can Take Care of Themselves
While not nearly as tiring as running an ultra, crewing and pacing an ultra can be exhausting in it's own right. Crew members have to be mentally "on" their game during the entire race, making sure their runner's needs are taken care of. Often, this means sleepless nights, crazy weather exposure, and running from place to place.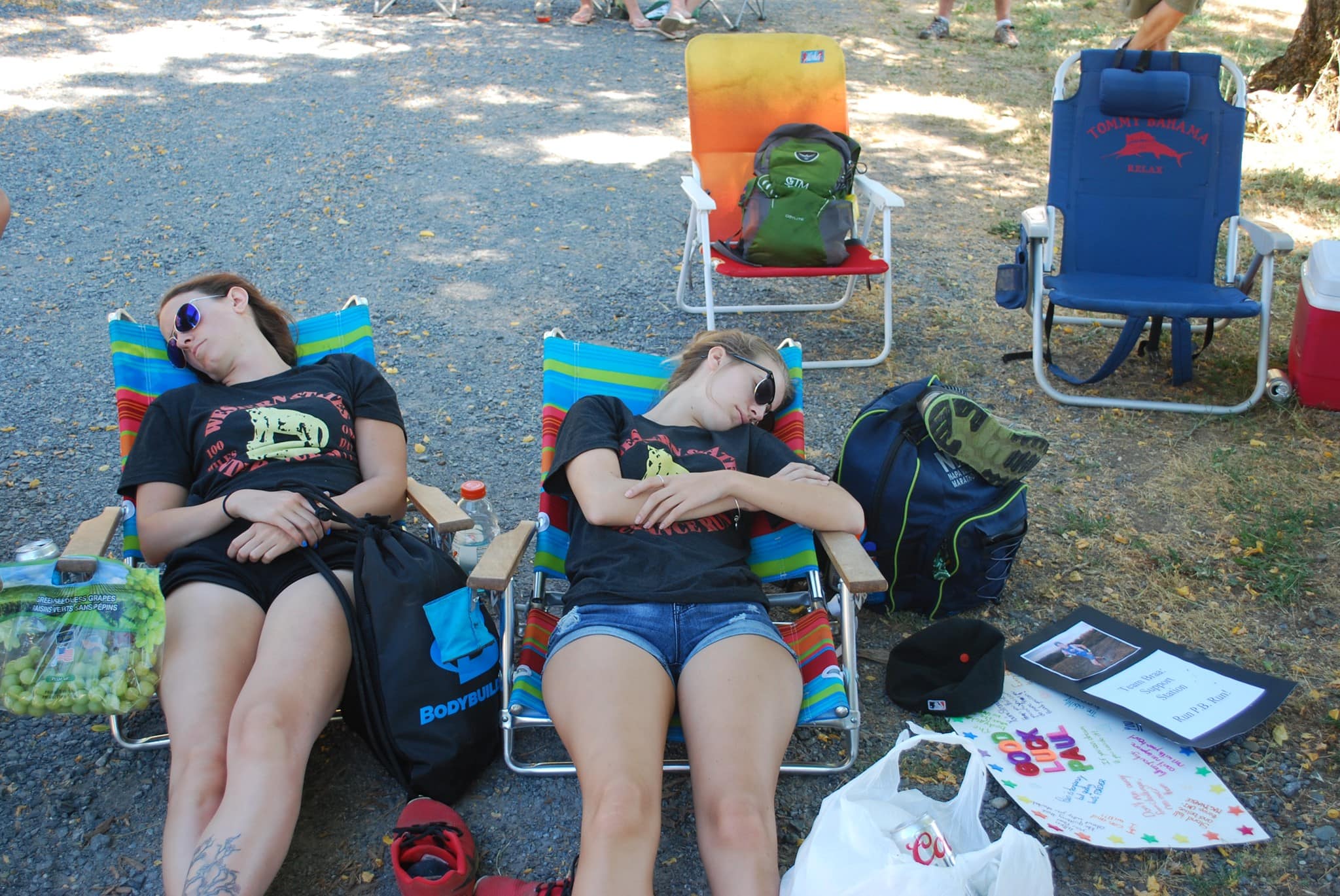 Stress to your crew that it's important they take care of themselves while taking care of you. They need to eat, hydrate, wear sunscreen, and rest when they can. Your crew will be of no use to you if they can't take care of themselves first.
Thank Them Profusely for What They Are About to Do.
Crewing and pacing for an ultramarathon is a selfless task. It's exhausting, it's dirty, and it's sometimes really gross. There are likely dozens of other things your crew could be doing on a Saturday afternoon (and night, and Sunday morning). Instead they are choosing to help you achieve your dreams. Be patient with your crew, and be sure to let them know that you couldn't do this without their help and support.