Last Updated on January 27, 2022 by Heather Hart, ACSM EP, CSCS
Running an ultramarathon? Wondering if you really need to bring along a crew, or if you can go it alone? Indeed, there are a number of benefits of having a crew when running an ultra, and it goes beyond simply having someone to help you tie your shoes when you can no longer bend over to reach your toes. They say it takes a village to raise a child.
And sometimes, it takes a village to help a runner reach a 100 mile finish line.
The year was 2015. Geoff and I were attempting our very first 48 hour race, my first ever ultramarathon, alone, without a crew. Truth be told, we had no idea what we were doing. Crew? What crew? We didn't need a crew, we had each other, we told ourselves and those who asked. We'd be FINE.
Or so we thought.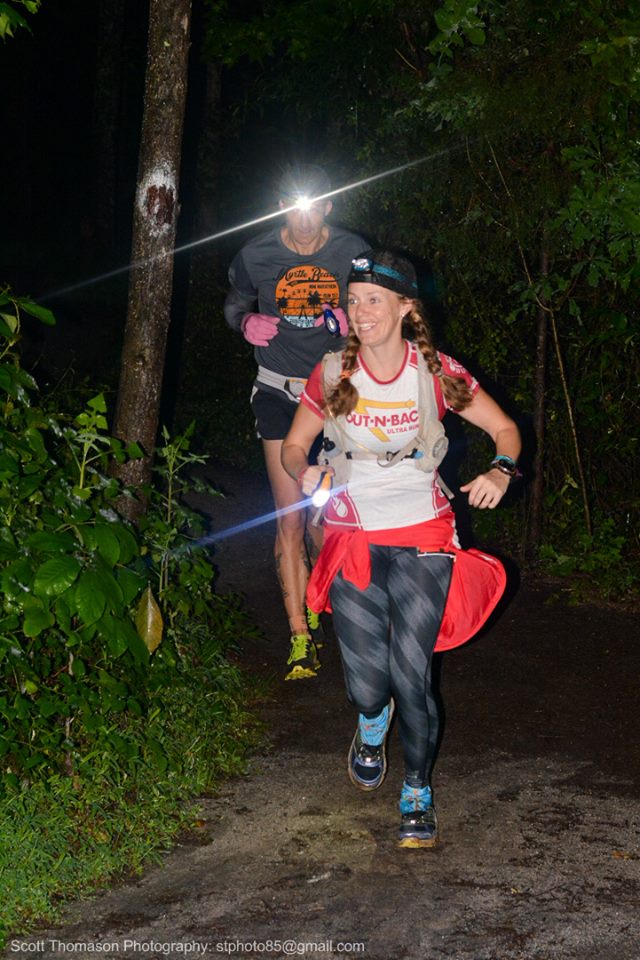 I suppose, for all intents and purposes, we were "fine", I mean, we did survive the weekend mostly unscathed. But we also spent upwards of 20-30 minutes at transition after each loop, bumbling around like exhausted idiots. We wasted time trying to figure out what to address first: feet, or nutrition? Bug spray or sunscreen? We ran out of water on course. Our tent area looked like a yard sale, with gear and shoes, chairs and nutrition, just spread out everywhere.
Oh, and we ended our race at a mere 17 hours and 52 miles into the 48 hour race.
Almost a year later to the date, we decided to show up crewless again to another 100 mile attempt. We coincidentally parked our tent next to the tent of the eventual race winner, and his massive crew. As I watched our neighbor's crew take care of his needs quickly and efficiently during the few times we happened to be back at transition at the same time (it was only a 5 mile loop, and he lapped us a few times), I realized how beneficial having a crew could be when it comes to running ultramarathons.
Meanwhile, we again bumbled through transitions, wasted tons of time, and called it quits at 100K, instead of 100 miles.
Another year later, we showed up to the same race once again, this time with a couple of people dedicated to making sure Geoff and I finished our 100 miler. And with our crew's endless support (despite some serious chaos and unexpected events), we did finally earn our 100 mile buckles.
The Benefits of Having a Crew when Running an Ultra:
If you're facing your first big ultra, and wondering if you need to bring along a crew, this post is for you. Of course at the end of the day, it's a personal preference. I've seen some people show up to races with an entire entourage that helped them successfully reach the finish line. I've also seen others show up to a race with nothing more than a bucket, an extra pair of shoes, and a chair…and win a 100 miler with zero outside assistance.
If you are considering brining some people along for your race, here is a list of benefits of having a crew during your ultra:
You Don't Have to Worry (as much) About Logistics
Having a crew means you can focus on running without stressing about the logistics and details of the race. Shoe changes, drop bags, headlamp batteries, remembering your required gear, etc. Or very important tasks like – "who is going to make my grilled cheese sandwich at mile 80?"
Hey, it's important.
Of course, I wouldn't advise you mentally check out 100% regarding race details: at the end of the day, you are still responsible for the outcome of your race. However, knowing that other people have you covered for most of your race day logistics can help take some emotional stress off of your shoulders during race day.
A Crew is Significantly More Efficient
Remember the aforementioned bumbling Geoff and I did during our first few 100 mile attempts? A crew will help cut down on – if not eliminate – the "bumbling". A good ultra crew is much like a pit crew in race car driving – they will have everything you need ready and waiting for you. While one person is helping you change your socks, another may be refilling your hydration pack with water and food. A good ultra crew will help you get in and out of an aid station quickly, ensuring you don't waste too much time that should be spent running on the course.
They Will Help You Stick to the Plan When Your Brain Goes to Mush
Ultramarathons are no doubt physically taxing, but they can be mentally exhausting as well. Especially as you approach later, and even overnight hours, in the race. During these later stages, even the simplest tasks can become difficult. Your crew will not only help with those tasks (like trying to put on compression socks when you can't even reach your toes), but they will help you stay on track to achieve your goals. Your crew will also help you remember the small details that might be easy to forget: did you put on sunscreen? Grab your headlamp? Refill your Tailwind? These are the kind of things that you don't want to forget – and then remember another mile down the trail.
You Don't Have to Do Math
One of the surprisingly hardest things to do, while exhausted mid run, is math. How many hours until the next cutoff? What pace do I have to maintain in order to get there in time? It's like all of the blood has left your brain to instead help aid your hard working muscles, lungs, and heart. When you are already 65+ miles into an ultra, these questions feel like rocket science. Having a crew there to figure out these important math equations for you – no matter how simple they may be – is always a relief.
They'll Make You Eat
I have this horrible habit that has led to many a DNF in my ultra career, and it goes a little something like this: I don't eat enough early in the race, and then I start to bonk (crash and burn). When I start to bonk, I lose my appetite and don't want to eat anymore, even though the one thing that would likely save me from the bonk would be to eat. And so eventually, I find myself at a point (usually in tears) where I can't go on.
On the other hand, almost every successful ultramarathon I've completed, I've had a crew on hand reminding me – or forcing me – to eat.
Keep You Moving Forward
One of the important crew duties for many ultra runners is that of a pacer. A pacer essentially:
keeps you safe on trail when you may otherwise be delirious
makes sure you don't get lost
keeps you moving forward – sometimes at a faster pace than if left to your own exhausted devices
They Won't Let You Quit
When you're pulled over on the side of the trail having a pity party over how freaking exhausted you are, a stranger is more likely to take pity on you and perhaps allow you to allow yourself to quit. Not your crew. Your crew knows your highs, and your lows. Your crew knows how much work you've put in to simply be on this race course. And your crew knows how to get you back out there on your feet.
How to Choose an Ultra Crew
So now that we've talked about the benefits of having a crew when running an ultra, you might be wondering how you choose who should be on your crew? Here's a few tips to keep in mind before asking your friends and family to take the weekend off and follow you through the woods:
Organizational & Self Sufficient Skills are a Must
The last thing you need is to come into an aid station asking your crew for an item, and have them in turn becoming the ones who start bumbling around looking for said item. Or a crew that doesn't know how to read a map and gets lost trying to meet you at an aid station. You get the idea. Your crew needs to not only be able to take care of YOU, but take care of themselves, so you have nothing to worry about but running your race.

Thick Emotional Skin (Not Easily Offended…by You.)
…or at least those who know not to take it personally when exhaustion and low blood sugar causes you to accidentally snap at them because they pulled out the wrong pair of socks (hey, it happens.) For this reason, endurance athletes who completely understand the highs and lows of extreme endurance events are often your best choices. Or family, who will love you despite your mood swings. During my first successful 100 miler, I put my older sister -a two time Ironman finisher – in charge. I knew she'd love me despite my "rungry" moments.
Not Afraid to Take Charge
Similar to the necessity for "thick skin" , choose people who aren't afraid to take charge, make decisions for you when necessary, and enforce those decisions. Those who won't take no for an answer when you need to eat, but don't want to. Those who will decide which shoes you're going to wear when you are too exhausted to decide on your own.
Ultra Experience Helps
Though certainly not necessary, choosing a crew that has ultramarathon experience (or a lot of time spent around the ultramarathon community) certainly helps. Experienced ultrarunners know that this sport isn't always as glamorous as Instagram makes it out to be. There are gnarly blisters, tears, puke, and insane emotional highs and lows. A crew that knows what to expect when it comes to ultra race days will be more likely to be able to roll with the punches.
Of course, who you choose for your crew is completely up to you. I've seen moms, dads, kids, boyfriends, best friends, even students of ultra runners helping out on crew. The most important thing when choosing a crew is making sure that their presence will only help you work your way towards your end goal, and not hinder it that progress.
But the best part of bringing a crew to your ultramarathon?
Having someone there to celebrate with at the finish line, who selflessly put just as much heart into the race as you did.
Heather Hart is an ACSM certified Exercise Physiologist, NSCA Certified Strength and Conditioning Specialist (CSCS), UESCA certified Ultrarunning Coach, RRCA certified Running Coach, co-founder of Hart Strength and Endurance Coaching, and creator of this site, Relentless Forward Commotion.   She is a mom of two teen boys, and has been running and racing distances of 5K to 100+ miles for over a decade.  Heather has been writing and encouraging others to find a love for fitness and movement since 2009.