Last Updated on October 4, 2019 by Heather Hart, ACSM EP, CSCS
For many, your first 50K is your first introduction to the world of ultra running. And for some, it may even be your first introduction to racing on a trail.  While many aspects of your first 50K will be similar to that of shorter distance races you've run in the past,  there are certain elements that are unique to the world of ultramarathons.  In this post, we'll cover those differences, and everything you need to know about running your first 50K.
Helpful Tips for Running Your First 50K:
Trail Etiquette
Let's get this one out of the way first.  If your 50K is on the trail, then it's absolutely imperative that you follow proper trail etiquette. I always feel like a bossy blogger when I discuss trail etiquette, but  it's such an important topic.   Trails are a far more delicate ecosystem than your average paved streets, and while the forest may be vast, the trails themselves are often narrow.  In other words, it's not only important that you're completely aware of your surroundings at all times, but you need to be aware of how you may impact the people and environment around you.   Here's are some of the more important trail etiquette tips:
– Passing on single track: During the race, if you need to pass someone, call out "ON YOUR LEFT!" before passing.  If you're on a really narrow single track, give that person a few seconds to find a spot where they can safely move to the right side of the trail, then pass them on the left.
– Stay on the trail.  Do not blaze your own path, cut across switchbacks, try to take a long way around a mud puddle, or otherwise step off of the trail unless 100% necessary for safety reasons.  Not only will stepping off trail pose environmental issues, but it might also be considered cheating (especially if you are cutting the course!)
– Leave absolutely no trace.  Don't throw any trash on the ground, including paper cups at an aid station.  I know that is standard protocol at a road race – volunteers will pick up your trash.  On a trail, however, there is too much risk that some trash might get left behind.  So avoid leaving anything on the ground in the first place: put all trash in the garbage.
– Leave your headphones at home.  The sounds of nature will provide you with all of the motivation/distraction you could ever need!  But if you absolutely have to have your tunes, keep the volume low enough that you can hear what is going on around you, like other runners trying to pass, or potential safety hazards.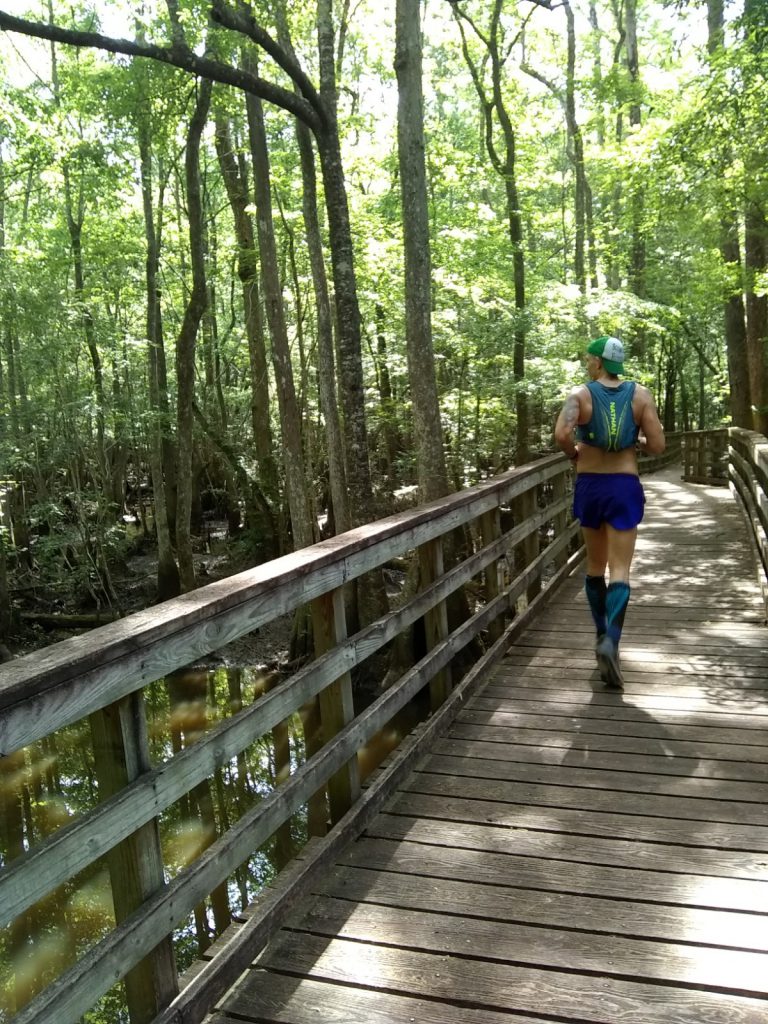 Aid Stations
Let me tell you – you haven't seen an aid station until you've seen an ultramarathon aid station.  Forget the standard water, Gatorade, and maybe some gels and sliced oranges of a road marathon.   Ultramarathon aid stations are a smorgasbord of calories just waiting to be consumed by hungry runners.  They are the buffet table of your childhood dreams.
Items I've seen at ultramarathon aid station tables include, but are certainly not limited to:
pizza
PB&J's
boiled potatos
potato chips
bacon
candy (M&M's, Starburst, Sour Patch Kids, Skittles, jelly beans)
endless baked goods (brownies, cookies, cupcakes, etc.)
pickles
fruit (watermelon, bananas, oranges, etc.)
 burgers
grilled cheese
soup
pancakes
This list could honestly go on and on.  Anything goes at ultra aid stations; they truly like are an oasis of happiness and excitement in the middle of your race.  But, there are two aspects of aid stations that can hinder your race:
1) Watch what you eat.
The endless snacks can be tempting, but the rule of "try nothing new on race day still applies. As far as nutrition goes, stick with what you've trained with, and what you know your gastrointestinal system will be happy to digest (i.e. what won't send you running to the port-a-potty.)
2) Don't stay too long.
The welcoming, friendly, fun atmosphere of an ultramarathon aid station can sometimes feel TOO inviting.  Unlike an aid station at a road marathon where people typically "grab and go", ultra aid stations can feel like a party. A very welcome party, especially when you are in a "low" point or struggling in you race.   You may see runners stopping to chat, refilling their hydration packs, fixing their shoes, or even sitting.   And it's totally OK to do those thing, just make sure you don't get caught in the trap of wasting too much time at the aid station.  Because believe me, it's easy to do, and it happens to the best of us.
Drop Bags
Drop bags are far more common in much longer distance ultramarathons (50 miles and beyond) but are not unheard of in 50k's, especially if it's a more demanding course, and the race director expects participants to be out on the course for longer periods of time.
The purpose of a drop bag is to allow runners access to items they need during a race, but do not want to (or simply may not be able to) haul around in their hydration pack for the entire race. It gives you an opportunity to refuel with your own specific nutrition, or even change attire based on varying trail or weather conditions, without having to carry it.
What you put in your drop bag – if drop bags are offered at your 50K – is up to you.  Common items include: nutrition, extra socks, maybe even a change of shoes.  You can find more helpful tips on what to bring (and what not to bring) in my post "The Beginners Guide to Packing an Ultramarathon Drop Bag". 
Check ins
Ultramarathons often include checkpoints at various (or all) aid stations.  Race directors require check ins for a number of reasons, mainly to keep track of participants (it's easy to get lost on trails!), to ensure people are covering specific sections of the course, and, if applicable, ensuring people are making cutoffs.
If your 50K requires check ins, it's your responsibility to make sure that the volunteers check you off on their list when you come through their aid station.  Sometimes, multiple runners may show up at once, and it can get a little chaotic for volunteers.  Never assume they saw you, always double check!
Distances & Courses May Vary
Often times a 50K may be tied in with shorter – or longer – distance race options.   As such, there may be runners who are:
Running faster than you because they have less distance to cover.
Running slower than you because they have much more distance to cover.
Following a different course/course signs
Let me tell you, it can be wildly frustrating at first to see a half marathon distance runner blow by you with fresh legs when you are trying to conserve your legs for almost three times that distance.  But, it's important that you stick to YOUR plan and try not to get caught up in other peoples race day excitement.
Even more important (especially on trails) is remembering to pay attention to the course YOU are running.  Don't necessarily assume the person in front of you a) knows where they are going, or b) is running the same course you are.
HAVE FUN!
Ultramarathons tend to have a much more relaxed atmosphere than traditional road races.  That's not to say that ultra running athletes do not take their racing seriously – they still do.   But I tend to find the overall vibe at ultramarathons to be fun and lighthearted – and it's incredibly infectious.  Ultras often feel more like a family reunion rather than a business-like event.   Definitely take the time to enjoy the awesome ultrarunning community and fun atmosphere.
Hopefully this guide will leave you feeling more prepared for running your first 50k.  If you're still in the beginning phases of looking into training for a marathon, be sure to check out my free 50K training plan, as well as this library of ultramarathon training and racing tips.  Have fun, and welcome to the world of ultra running!
Heather Hart is an ACSM certified Exercise Physiologist, NSCA Certified Strength and Conditioning Specialist (CSCS), UESCA certified Ultrarunning Coach, RRCA certified Running Coach, co-founder of Hart Strength and Endurance Coaching, and creator of this site, Relentless Forward Commotion.   She is a mom of two teen boys, and has been running and racing distances of 5K to 100+ miles for over a decade.  Heather has been writing and encouraging others to find a love for fitness and movement since 2009.