Last Updated on January 22, 2022 by Heather Hart, ACSM EP
If you're new to the ultramarathon world, chances are the concept of packing a drop bag is also new to you.   In traditional road races, you may have the opportunity to drop off a bag of gear for after the race, but what do you leave in a bag that is meant to be used DURING the race?  In this beginners guide to packing an ultramarathon drop bag, we'll break down the entire process as well as drop bag etiquette to help make your next ultramarathon go as smoothly as possible.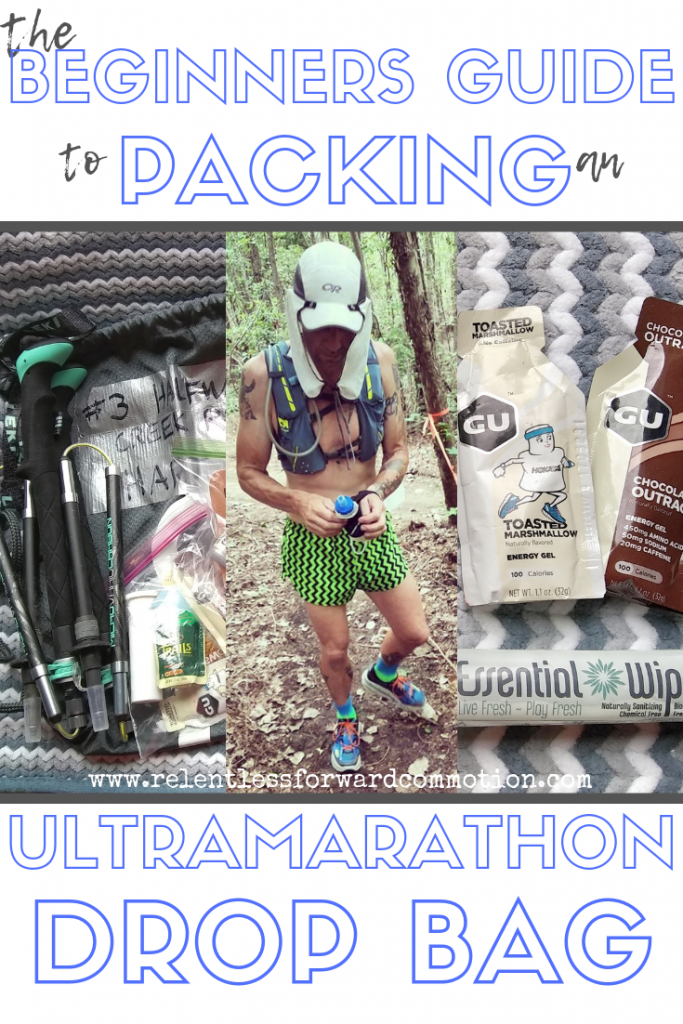 WHAT IS A DROP BAG?
It's no secret that ultramarathons often require a lot of gear.  You're on your feet for multiple hours, sometimes even days.  You may experience many weather changes, or extreme varying terrain.  In short: you (may) need lots of "stuff".  The purpose of a drop bag is to allow runners access to items they need during a race, but do not want to (or simply may not be able to) haul around in their hydration pack for the entire race.   It gives you an opportunity to refuel with your own specific nutrition, or even change attire based on varying trail or weather conditions, without having to carry it.
HOW DOES A DROP BAG WORK?
Before a race, the race director will assign specific aid stations or mileage points for drop bag locations.  In this case, the race director will often ask you to either drop your bags with him/her the night before the race or at the starting line of the race, and the race staff will bring your bag(s) to those specific points.   Shorter races may only have one drop bag option, where longer distance point to point ultramarathons may have multiple drop bags.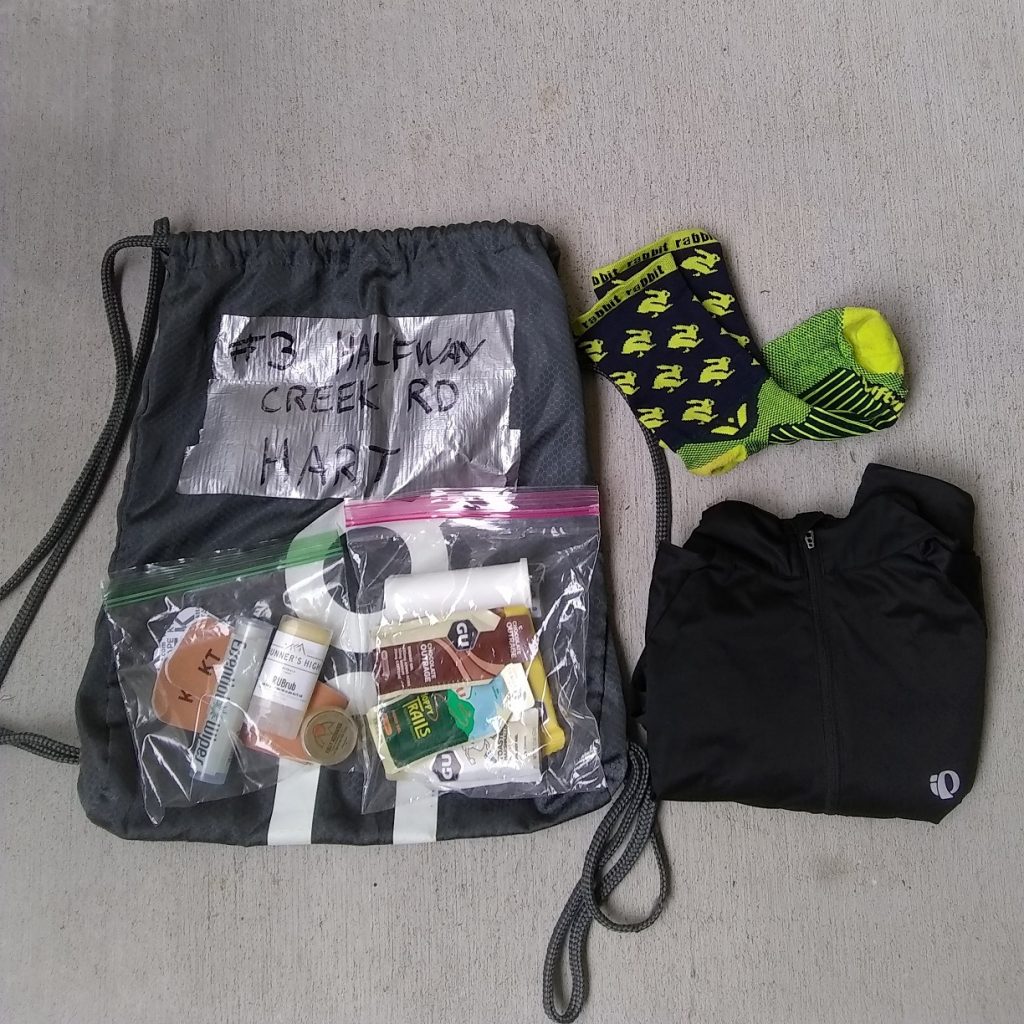 When you arrive to that specific point during the race, you will have access to your drop bag.  It's entirely up to you what you take from the bag, or, what you take off of yourself and decide to leave behind in the bag (extra layers, trekking poles you no longer need, etc.)
For a looped course, you may pack your own drop bag or box to use, when needed, every time you pass by the start/finish aid station.
WHAT TYPE OF BAG SHOULD I USE?
You'll want to use a bag that is secure, and if at all possible, waterproof.  This will ensure that your gear does not inadvertently fall out, and will stay safe in the event of rain or inclement weather.  You'll also want something easily identifiable (kind of like at baggage claim at the airport), especially as you are exhausted later in the race.
In the case of aid station drop bags, size DOES matter: the smaller the better.  Remember, all of the other runners in the race will likely also be utilizing a drop bag, so you're going to want to take up as little space as possible to ensure there is enough room for everyone (and to ensure the volunteers aren't lugging tons of unnecessary equipment around).  There are companies that make specific gear bags, from super high-tech ranging in the $100 or more range, to inexpensive plastic options.
That said, it does not have to be race specific: something the size of a drawstring backpack or a small 5 gallon plastic tote are ideal.  Yes, your "bag" doesn't necessarily have to be a bag…though they are easier for race staff to transport.
When in doubt: read the race rules to see if there are any limitations to drop bag (or box) type and size (as well as instructions on how to mark your bag), and if necessary, reach out to the race director for clarification.
For a looped course: a larger tub may be necessary.  Personally I use a 20 gallon tote for these types of races (where space is available and I'm the one lugging tote to and from the race)
WHAT GOES IN THE BAG?
Deciding what goes into your drop bag is definitely a task that becomes easier with experience.  During my first ultramarathon, I packed seemingly, excuse the pun, everything but the kitchen sink (check out this blog post from 2017 and how much stuff I brought. I probably used 1/4 of it).  I was so paranoid that I wouldn't have what I needed when I needed it, and so I went overboard.   But with practice and experience, I was able to not only figure out what was truly necessary, but how to make those necessary items even less space consuming.
Nutrition:
Some people rely solely on aid station food during ultramarathons.  Other's carry their own nutrition.  If you are in the latter category, you're going to wan to pack enough nutrition to get you from that current drop bag to the next drop bag…plus a few hundred extra calories for good measure.   The extra calories will ensure you have enough nutrition on you incase it takes longer to get to the next aid station or drop bag than expected.  Further, it will give you options, incase you decide you are absolutely sick of what you thought you were going to want to eat at that point in the race.
Foot Care:
Decide if you will need to change socks or shoes at this point in the race.  Even if I choose to not pack an extra pair of sneakers, I will almost always include a fresh pair of socks and a small amount of blister prevention (RunGoo*, Trail Toes, Body Glide, etc.).  Even those with tough feet can encounter some unfavorable and unexpected trail conditions that can cause hot spots or blisters, and having "happy feet" can truly make or break an ultramarathon.   Further, sometimes a fresh pair of socks can be a huge mental/emotional pick-me-up during a low point in a long race!
First Aid & Personal Care:
This is going to vary greatly based on the individual.  Is your skin extra sensitive, and you know you're going to need to reapply sunscreen? Are you a female on your period, and you are going to need some backup tampons?  Have a history of a queasy stomach, and know you might need some antacids?  Wear contacts, and know you might need some eye drops?   I don't recommend packing your entire medicine cabinet, but really stop and think about what sort of items are going to be dire in your race based on YOUR needs.  Some people swear by baby wipes or even a toothbrush/toothpaste as a refreshing pick-me-up later in the race.
If there are items that can make or break an unforeseen emergency, you are going to want to carry them on you at all times; do NOT rely on a drop bag.  For example, an epi-pen if you have severe allergies, glucose tablets if you are a diabetic, an inhaler if you are an asthmatic, any necessary prescription drugs, etc.
Clothing:
Think about the location of the drop bag, and consider what time of day (or night) you will hit the bag.  Will you reach this drop bag around nightfall, and you know you will need some extra layers for warmth?  Or, will you reach the drop bag midday, and know that exchanging a fresh shirt for your dirty, sweaty one will help prevent chafing and give you a mental boost?
Other Gear:
Other potential gear that you may want to consider packing into your drop bag will again vary based on the race itself, terrain, time of day, and your specific needs.   These items may include things like trekking poles, headlamps, or even a battery charger.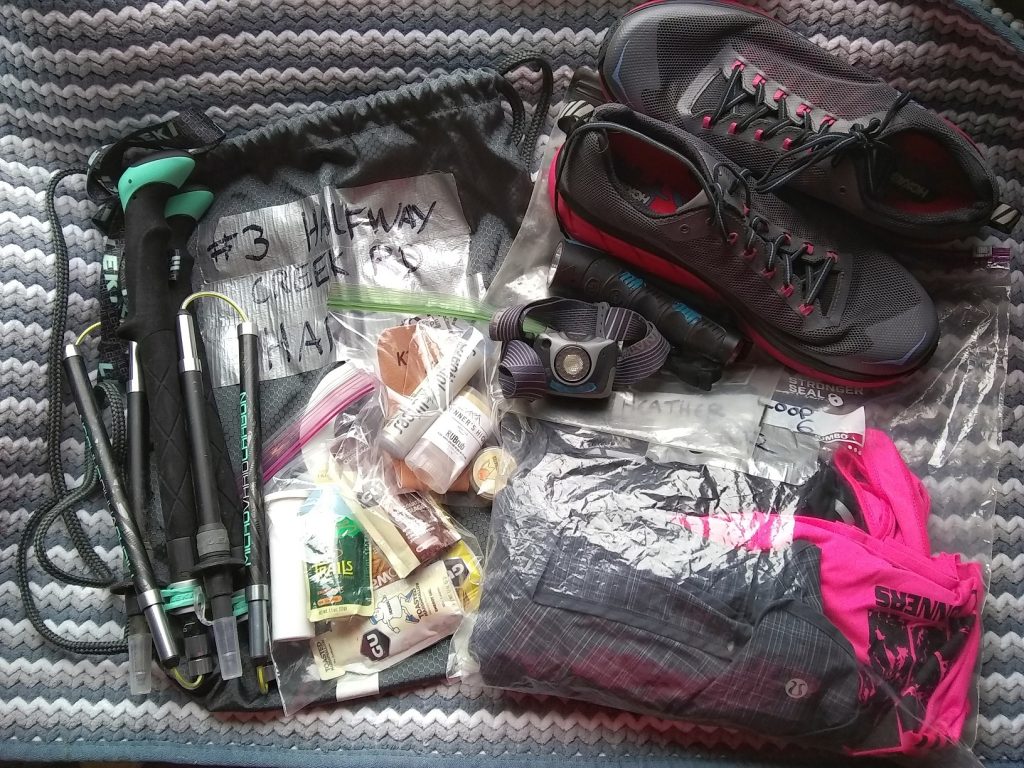 WHAT DOESN'T GO IN THE BAG?
While race directors, staff, and volunteers will do their best to make sure your drop bag stays safe, there are no guarantees that it will, or that you will even reach your bag.  I've been at races where drop bags were maliciously stolen from unattended drops, and I've even seen drop bags inadvertently taken by another racer (or crew) who mistook the bag for theirs.  Therefore you should avoid packing:
Anything valuable
Anything irreplaceable
Anything you absolutely need during the race (see above: first aid medical emergencies, etc.)
Anything you NEED to get back after the race – just incase you don't.  (see below: "will I get my bag back?)
As mentioned already, you also really want to avoid overpacking. Not only will overpacking your drop bag frustrate the volunteers/staff who have to haul your stuff from point A to point B, but it will frustrate you when you are either exhausted and/or in a rush, trying to dig through your bag to find what you need.   So, avoid packing things such as:
Your lucky penny collection
Your favorite framed photo of your pet dog
Multiple pairs of compression socks in various patterns, so you have fashionable options
A Snuggie (though tempting, for sure).
HOW SHOULD I PACK EVERYTHING IN MY DROP BAG?
I'm glad you asked!  The worst thing you can do is haphazardly throw everything into your drop bag.  The best thing you can do is minimize and organize.
When it comes to nutrition and first aid, individual or travel sized items work best.  Instead of packing your entire full sized bag of tailwind, buy single serving packages, or place a few scoops into a plastic sandwich bag (ideally, reusable.  Save the planet!)   Instead of packing an entire bottle of salt tabs, pain relievers, or antacids, use small travel pill cases to pack only one serving (or whatever you think you might need for that particular section of the race).  Pro tip: empty nuun or other tablet containers also work really well.
The same goes for a change of outfit, or electronics/other gear.  Group them all together, so you can easily find what you are looking for.  I prefer to use larger, freezer or gallon sized plastic bags for these items (again, reusable – or use the plastic ones repeatedly for different races.)  Then, put all of those smaller bags into your larger drop bag.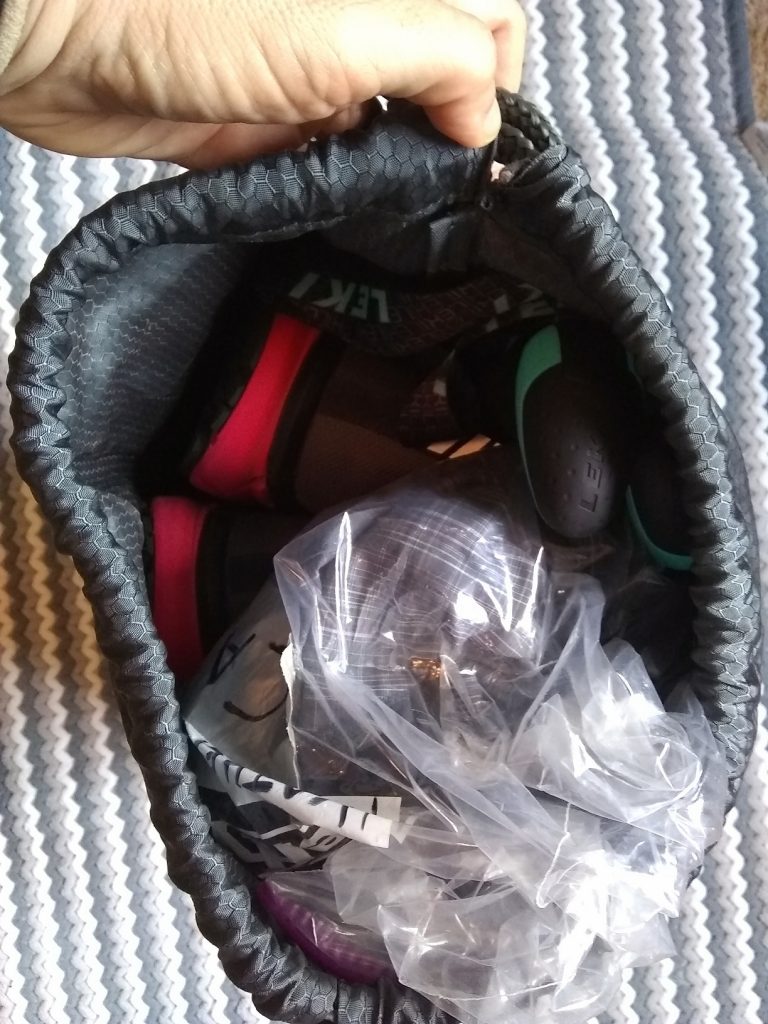 If I'm using a single tote for a looped course I will still utilize this "bag" method, grouping clothing, nutrition, and other gear based on mileage.  For example, I will keep everything I think I need for the first 20 miles in one large bag, within the tote (organized in the method mentioned above) .  Again, this makes things so much easier when you are exhausted, or when you are asking a crew member or volunteer to dig something out for you.  Asking for your "mile 80 bag" will certainly narrow things down from simply trying to dig through 24 (or more) hours worth of clothing, etc.
WILL I GET MY  DROP BAG BACK?
Maybe.  In most races, the race director will make every effort to get the drop bags back to the finish line before the race is over, or shortly after (this is typically discussed in pre-race instructions or at a pre-race meeting).  If you have a crew, they may be able to scoop up your drop bag after you pass through that aid station.   However, neither of these options are always guaranteed or feasible.  So as mentioned above, avoid packing anything that you absolutely cannot afford to potentially lose.
ANYTHING ELSE I SHOULD KNOW?
The drop bag can be an incredibly helpful tool when packed correctly.  However, it's important to remember that drop bags are never 100% guaranteed.  There may have been difficulty getting the bags to the drop station at the correct time. There may have been theft -purposeful or inadvertent.  The course may have to be unexpectedly rerouted and you miss the drop station all together.   The point is, while a drop bag can be a life saver mid race, it should never be 100% relied on.  Have a back up plan for nutrition or other necessary items, just incase.
Have any questions about what you should/shouldn't put in your drop bag?  Leave a comment below!
*Affiliate links are used in this post.