Last Updated on January 22, 2022 by Heather Hart, ACSM EP
Laying in the grass with my eyes closed and the deafening roar of whitewater filling my ears, I found myself in an almost out of body experience as I observed my present situation.
Frankly, I was a hot mess.
Despite the fact that I had been wearing a hat and sunscreen all day, I could feel the exhaustion and tightness in my face and lips that comes after hours of relentless sun exposure. My hair, now a tangled mess, faintly resembled the two braids it had started off in 10 hours earlier. The skin on my legs was covered in a thick layer of dirt and bug bites. I was still wearing the same pair of shorts I had been wearing for a 7 mile trail race earlier that morning, and I was certain I smelled atrocious. To some, this might sound like an uncomfortable scenario, but to me, it was nothing short of perfect. An outdoor lover's heaven on earth.
Except it wasn't heaven, it was Tuck Fest.
_________________________
I don't remember exactly how or when we first heard of this annual event held every April at the U.S. National Whitewater Center in Charlotte, NC. I believe it was an exchange with another runner along the lines of "hey, are you guys going to Tuck Fest?", which led to a Google search to figure out what the hell it was, which led to immediate ticket purchasing. Long story short, Geoff and I had a blast at Tuck Fest 2017, and couldn't wait to return for the 2018 fun.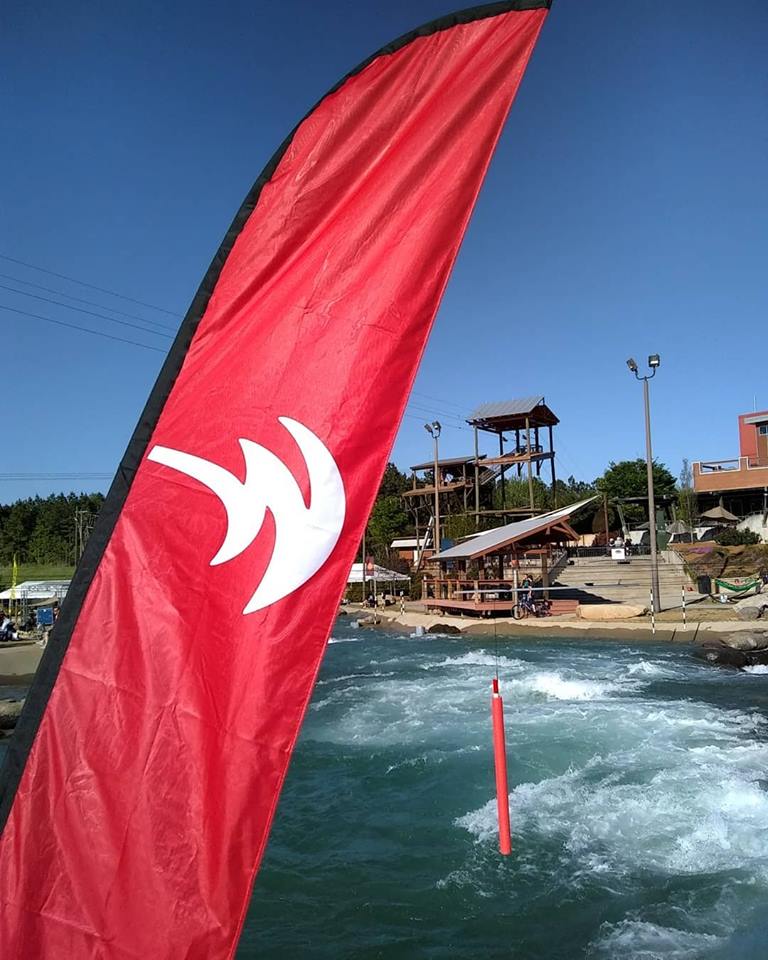 Tuck Fest truly IS an outdoor lovers version of heaven on earth, featuring four days of trail running, mountain biking, rock climbing, whitewater boating, yoga, music, zip lines, beer, vendors, and so much more. Best part?
It only costs $35…for the entire weekend.
I contemplated how I was going to write this post: do I split it up into four separate posts, one for each day? Or jam pack everything into one single post, potentially losing everyone's attention (even my most loyal reader, mom) before the end? I decided on the latter, because let's face it: brevity is never my specialty. I will be focusing mainly on the running portions of Tuck Fest, since that is what I do. (Don't be fooled, this is still going to be ridiculously long)
And when it comes to trail running, Tuck Fest did not disappoint.
My adventure partner in crime (Geoff), and our friends Daniel and Felicia arrived at McDowell Nature Preserve Campground Thursday afternoon and set up our home base. There is no camping onsite at the USNWC, and instead of staying at a hotel or Airbnb, we wanted to keep our Tuck Fest weekend as outdoorsy as possible. Plus if we are being honest, camping was a significantly cheaper option, and other than sleeping, we barely spent any time at the campsite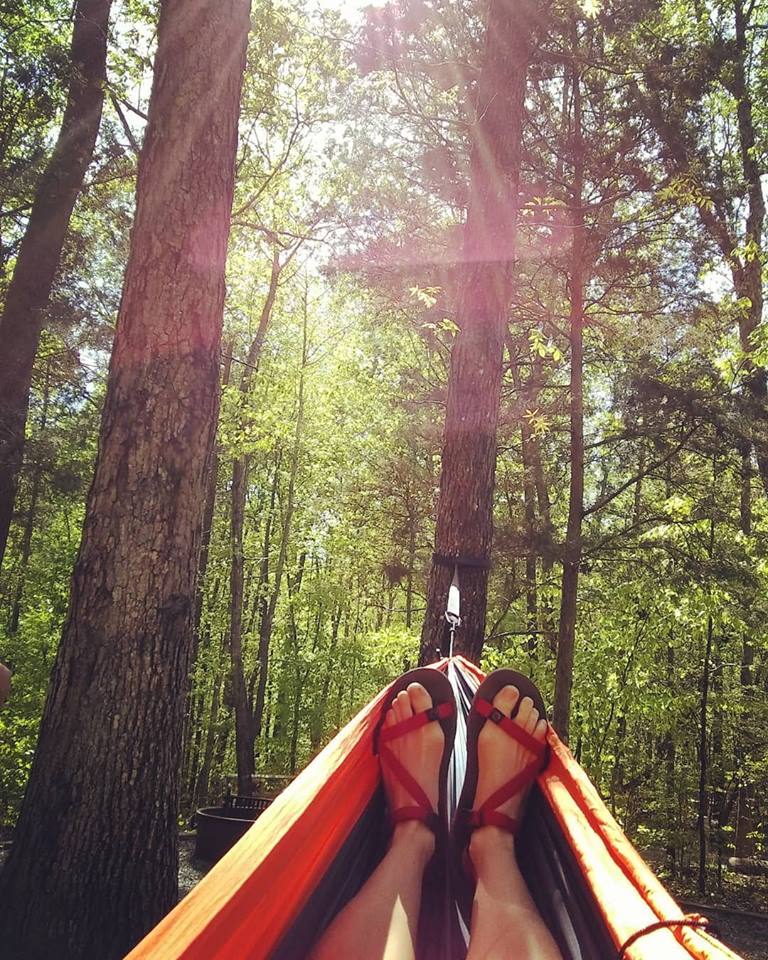 Initially, our group had wanted to sign up for the "marathon challenge" option, which included running the Thursday night 4 mile trail race, Friday half marathon, Saturday quarter marathon, and either of the 5K Trail Races (Friday night or Sunday) to run a total of 26.2 miles (or more). However, Thursday night also offered a twilight obstacle/adventure race, which we had participated in last year, and had a ton of fun (despite getting woefully lost). After meeting up with the fifth member of our weekend party, Lori, a pal that flew in from Boston, we huddled together to decide what to do. Group consensus was that we can trail run any day, but a scavenger hunt of this nature was something different and exciting…so we opted to do that instead.
Tuck Fest Twilight Obstacle Race
At the start time of 6:30 pm, all teams were given the exact same map and told to be back by 9 pm, having reached as many checkpoints as possible. Our group was at a slight disadvantage, as three of us have only been to this location once before, and two were first timers. In other words: we had no idea where we were going. But we had a hell of a fun time trying to figure it out.
There were bridges, cargo nets, wall holds, and more. And I found out I still know how to climb a rope.

We were able to get 11 of the 13 checkpoints, which was enough to grab our team 2nd place. It was an unexpected prize that came with medals and a podium finish!
Sleep that night was cold, but solid. I thought we were done for the season with freezing cold nights in tents, alas, mother nature graced us with one more 35 degree evening. Thank goodness for the greatest sleeping bag ever invented (amazon affiliate link, but I've been raving about this thing for years, so you really should check it out.)
_____________________________
Tuck Fest Half Marathon
Friday morning we headed back to the USNWC early enough to grab a killer parking spot (fyi, parking cost $6 per day, unless you drive a Subaru, then it's free) but not too early. The half marathon wouldn't start until noon (12:00 pm) so we had plenty of time to kill before the race. We spent a good part of the morning watching the qualifying rounds for the Deep Water Solo climbs, and making friends with other people's dogs. USNWC welcomes four legged friends, and there was no shortage of friendly, fuzzy pups on property.
When we eventually headed up to the start line of the half marathon, I was quickly suckered into participating in a mystery challenge, lured in by the potential to win a free pair of La Sportiva shoes. There's not much I won't do for a free pair of running shoes. As it would turn out, the challenge was a buddy wall sit…last team standing.
Geoff and I made it a few minutes before my feet slid out underneath me. We managed to land third place, which was enough for a LaSportiva sticker and ridiculously shaky, spent quads…but no shoes. Thoroughly trashed quads now lined up for the start of the half marathon.
I'm not sure what the culprit was: the 12 pm start time, the 7 miles logged the previous night, going out way too fast (downhill starts will do that), or the squat challenge, but I had a very rough start to this race. I immediately felt too hot, even though the temperatures must have barely breached 60 degrees. I tore my tank top off to run in only a sports bra, something I rarely do.
The trails at USNWC are absolutely gorgeous…and as rolling as they come for us here in South Carolina. You go up, you go down, but you rarely run on anything flat. This is the exact opposite of what we have here in Myrtle Beach, and my tired legs were protesting. In fact, at one point I yelled "walking" while climbing a longer ascent, to which my gracefully aging husband did not hear, and it totally pissed him off as he stopped dead on the trail behind me. We rarely argue…and I'm not just saying that to save social media face, it's the truth. But his audible sigh and subsequent lecture led me to believe he wasn't feeling the teamwork that day, so when I told him he could go on without me, he did. He didn't even ask the running safeword.
I, on the other hand, wasn't mad. Maybe I spend way too many miles lost in the swampy woods of Chad Haffa's races, but on these crowded trails it suddenly occurred to me how much I prefer to be alone. Trail races, in large crowds, include so much pressure. Pressure to keep up with the person in front of you, or pressure to maintain a pace to not backup the trail behind you. Pressure to find the right places to pass…and hope those in front of you can actually hear it, and aren't totally plugged in to their headphones. Sometimes I want to race, but sometimes I just want to enjoy quiet time on the trails. So I let Geoff go. I let the conga line behind me go. And I finally fell into my own groove.
I began to relax, and it was glorious. Though it still wasn't easy.
The course was two loops, and the first loop registered at exactly 7 miles. I won't lie, it was tempting to stop right there, especially considering Lori was there with refreshing beverages in hand. But I pushed through, and finished the 14 miles in a 2:50 slog. Some days you can run 30,40,even 50 miles, no problem. Other days a slightly long half marathon absolutely humbles you. This particular race was the latter. Yet still, a gorgeous afternoon on the trails beats, well, pretty much everything else. I was still happy.
The rest of the day was spent enjoying veggie burgers, fries, and some local craft beers as we spectated some of the whitewater events. I am absolutely fascinated by the white water kayaks, and have decided I WILL learn how to roll a kayak in the next 365 days. Mostly because the thought of it absolutely petrifies me. Which is why I should do it.
_____________________________
Tuck Fest Trail Quarter Marathon
Have you ever run a quarter marathon? Neither had I. Technically speaking, a quarter of a marathon should be 6.55 miles, but I knew going into this race that it would be another loop of the previous day's half marathon…or 7 miles.
Geoff decided to sit this one out, so I ran solo. It was another beautiful morning, though significantly cooler, especially considering this race started at 8:00 am. To sum the quarter marathon up: I was happy. My legs were tired from the 14 miles the day before, but I was happy and content. After at this point, three solid days of forests, trails, friends, and sunshine, how could I not be happy?
I pushed through the quarter marathon as a moderate effort training run, and ended up finishing with a pace about a minute and a half faster per mile than the previous day. I'll take it.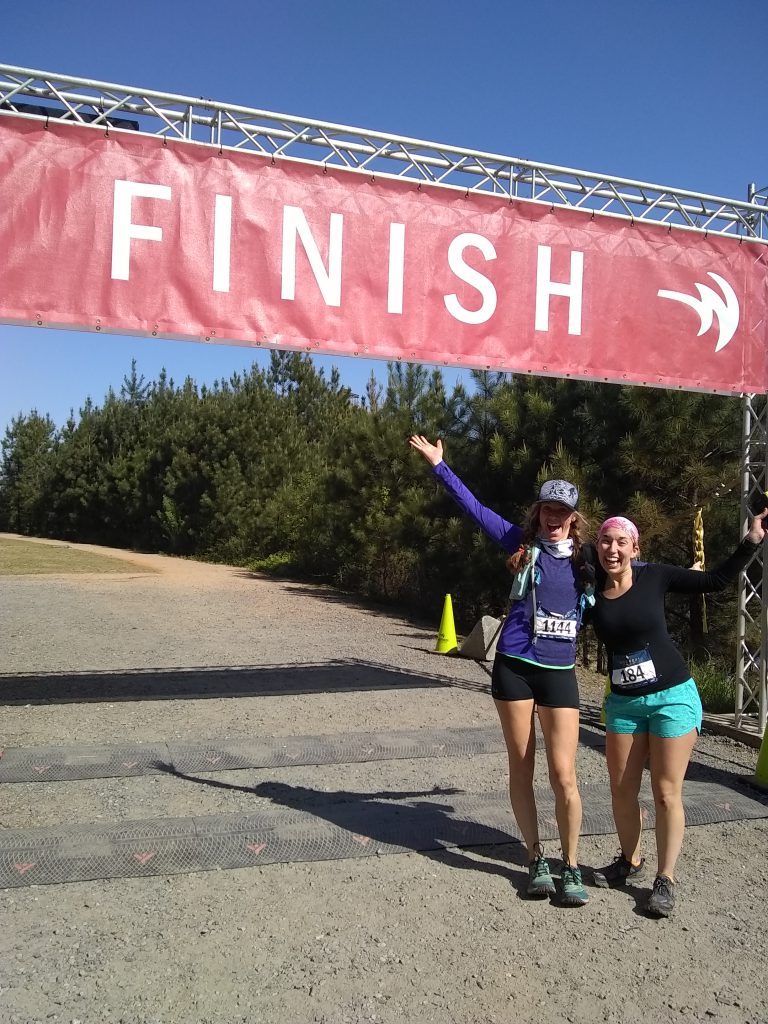 The rest of Saturday consisted of perching ourselves on a grassy knoll in the middle of the whitewater, watching more adventures take place around us as we soaked up every last ounce of sunshine. One of the highlights of the afternoon included watching the "Baker's Dozen" Kayak race, which can only be described as chaos on whitewater. The description says it's simply a 13 lap race around the white water channel, but I'm pretty certain they sent out every kayak, canoe, raft, paddle board, and bellyak at the exact same time to create a demolition derby atmosphere on water. It was hilarious and amazing.
As you've probably noticed, we did a lot of "relaxing". But it should be noted that the event list at Tuck Fest includes so much more than running, stuffing your face with veggie burgers, and watching boats go by. The "to do" list includes, but is not limited to:
3 & 7 hour adventure races
Yoga of all styles and abilities (including acro and SUP yoga)
Bouldering and top rope rock climbing
Mountain bike races
Whitewater kayaking, rafting, canoeing, paddle boarding
open water swim races
Flat water SUP, kayaking, and canoeing
Zipline and ropes course
Family and kids races
Product Demos
Seminars on everything from bike maintenance to wilderness survival
and so, so much more. Needless to say, there is no shortage of things to do. But our crew? We were thriving on the fresh air and downtime.
_____________________________
Tuck Fest Trail 5K
Sunday morning was the earliest of all, as we had to pack up our campsite before heading to USNWC. Geoff had once again opted out of the run due to some foot pain, but I was ready to go. When the emcee announced starting waves, I decided to head towards the front of the "not in it to win it but faster than the average Joes" category, aka wave 2.
When the emcee shouted "go" I took off at a slightly harder than comfortable pace, and held it. I normally loathe 5K's, I despise going from zero to anaerobic in such a short period of time. I am a long distance girl through and through. But for whatever reason, I decided to hover in that land of uncomfortable but not unbearable."
Trail 5K's are a love/hate/love for me. Let's compliment sandwich them, shall we? I love seeing people up and moving. Absolutely love it. I dislike that newbies on the trail have little trail etiquette knowledge, and therefore you can get into some hairy situations trying to pass someone who can't hear you coming due to really loud music in their headphones (or a complete lack of understanding as to what "on your left" means), stop in the middle of a single track trail to tie their shoes, you get the idea. But I love the trails with a passion I can't even begin to describe, and anytime I can share that with a newbie? Worth it.
Point being, there were a few hairy moments out there trying to run my little legs off, but I did it anyway.
We spent the rest of the day enjoying the last offerings of Tuck Fest, including (but not limited to) demoing some sweet Specialized Epic mountain bikes, taking a Survival 101 course (don't eat the bugs with more than 6 legs), watching a bouldering competition, collecting various stickers and swag from the dozens of vendors, and enjoying jackfruit burritos.
And then it was sadly time to head back to Myrtle Beach. Which is probably a good thing, because this post has gone on significantly longer than I planned it to. (Doesn't it always?) If you're still reading, know this: Tuck Fest is worth every single penny of the $35 registration fee. From trail running to mountain biking, rock climbing, paddleboarding, and so much more: Tuck Fest truly is the "Disney World" of outdoor sports enthusiasts. As long as I live in the Carolinas, I will continue to go back year after year, and absolutely encourage you to check it out next year as well.
Thanks to everyone – old friends and new – who made the weekend so amazing. It was a pleasure sharing the trails, sunshine, and veggie burgers with all of you.
Happy Adventuring!