Last Updated on January 24, 2018 by Heather Hart, ACSM EP, CSCS
It was one of those moments where you wish you could freeze time, and somehow bottle up the positive energy surrounding you in order to feed off of it forever.  Despite having about 40 miles under my feet already, I was flying through the woods at a "I feel like I could run this pace forever" speed.  The mid-winter sun was slowly beginning to set, casting the most breathtaking orange rays through the bare forest.  The temperature was ideal for running, not too warm, not too cold. (This Vermont girl still gets a huge kick out of wearing a t-shirt in January.) I genuinely had a smile on my face as I navigated my way down the leaf and pine straw covered trail, not feeling a care in the world.  If ever there could be a visual of why I love running so much, this moment would have been it.  It was simply perfect.
And it was in that perfect moment that I decided I should take a break from the thing I love the most.
______________________________
Frozen Hell Hole Hundred.  Chad Haffa of Eagle Endurance announced this race right in the midst of my most recent hernia surgery last summer, and I knew right away that I wanted to be a part of it.  Of course, I chose the 100 mile distance, because….well because I was laid up on a couch completely unable to move while I was recovering from surgery, so OF COURSE 100 miles seemed like a logical choice.
6 months passed quickly.
Friday night Geoff and I drove down to the Jericho Horse Trail head in Bethera, SC, a tiny town in the middle of the Francis Marion National Forest.  This was the exact same location as the summer Hell Hole Hundred, and I'm pretty sure we ran though here during Swamp Fox Ultra…though I can't be certain.  Anyone who has spent anytime in the Francis Marion Forest can assure you that it all looks EXACTLY the same: flat, vast, and like a wild boar or angry local could pop out from behind a tree at any moment.
After a hilarious (in retrospect) debacle of about 6 of us trying to decide which end of a dead end road to set up our campsites, we finally settled on a spot.  In fact, it was the exact same spot we parked our tent during the summer Hell Hole Hundred.   This time, however, we would share our space with a handful of friends and their tents as well.
After everyone was set up, we sat around until well after dark, discussing everything from Little Debbie snack cakes to the fact that we could see the stars…but not a single cell phone camera was capable of photographing them. Around 7:30 pm everyone was so cold that we decided to just go to bed.
Sleep was fitful.
I've camped in below freezing temperatures multiple times, but for whatever reason, this particular evening was brutal.  The normal thick-with-humidity Carolina air was dry and bitter.  I could not stay warm unless I was completely submerged into my sleeping bag, but once in there, I couldn't breathe.  It was an endless cycle of shiver, cover my head, get warm, hyperventilate, remove head from sleeping bag.  Repeat.  I was so grateful when I finally started to hear cars arriving, and realized it was 5:30 am.  I could end this cycle of misery, and tackle a new one.
It was time to run.
Our pre-race routine was a little untraditional.  We got into our car, cranked the heat, and attempted to ready two adults for a 100 mile race all in a tiny Scion XB.  It was entertaining, to say the least (I'm pretty sure I got RunGoo all over the dashboard) but it was done.  Even at this point in the morning, mere minutes from the start of the race, I was not nervous.  In retrospect, I attribute this to the fact that I had nothing to lose.  After One Epic 24 hour race 6 weeks earlier, I found myself with a mystery pain in my forefoot that had been plaguing me to the point that I just stopped running.   I wasn't as prepared as I should have been for this race, but a looped course meant that I could, in theory, bail out whenever I needed to.
Chad, the race director,  gave a pre-race meeting, and once again I couldn't tell you much of what he said, other than "wild boars" and "you can only drop out at the two aid stations, I won't pick you up anywhere else".   He's one of my favorite race directors, I have no idea why I can never remember what he says.
And then we were off.
Geoff and I immediately settled into a three minute run, two minute walk interval.  We picked up a few others on our way, and spent the first entire loop talking, laughing, running, and just enjoying the day.  The cold temperatures slowly gave way to a much welcomed warm sunshine.
It was beautiful. I was happy.
The course consisted of a number of really long, straight trails, combined with even more long, straight fire roads, that added up to a 16.3 (ish) mile loop.  It was also incredibly well marked and easy to follow course, which was a nice surprise.  The only real notable things about the course were the complaint table…


…three poor dead (wild boar) piglets in the middle of one of the roads (I had never actually seen a boar before), a giant (at least 30 feet high) pile of sawdust from the early 1900's, and the fact that the last 5 miles of the course were mostly underwater.
It was originally our goal to finish each loop in approximately 4 hours, but we came in on the first one at 3:30.  Not too fast, not to slow.   At transition, I changed my socks out for a dry pair, reloaded my hydration pack with snacks, and (im)patiently waited for Geoff.  99.9% of the time, we make great racing partners.  But the nearly 6 years we've been running together has given us both quite the intuition as to how the other person is faring in any given race, and I could tell already, though he hadn't said a word, that his heart was not in this race.
So I rushed him like the total asshole I can be sometimes. (Please note, the "you are holding me up and I'm being an asshole" face of mine in the photo below)
Loop two: I remarked, probably a million times, about how beautiful it was out there in the woods.  I hate to whine, because I spent the majority of my life in New England and know how brutal winters can be (as well as how brutal this one has been for everyone back home), but here in the Carolinas we've had a long stretch of "cold" for us.  Lows of 20's and 30's for the last few weeks had left me aching for warmth and sunshine, and on this particular day, mother nature came through.  The warm sunshine penetrated to my bones, and it truly lit up my soul.
My nutrition was great, my aforementioned angry foot was not aching at all, and I felt 100%.  While still maintaining our prescribed run/walk intervals and paces, we were flying by people left and right.  Some days you are just on.
At about 10 miles into the second loop (26 miles in to the race) Geoff started falling behind.  I kept making side comments, asking if he was OK, knowing the answer before he even had to say it.  So needless to say, it didn't surprise me when he told me to go on without him.
And I didn't hesitate to go.
I made it about 50 yards down the road before guilt slapped me in the face, and I stopped and called back: "WAIT! YOU DIDN'T SAY THE SAFEWORD!"  Yes, ladies and gentlemen, my husband and I have a racing safeword.  It's the confirmation that the other person didn't say "go on without me", but deep down actually meant "I'm really suffering here, for the love of all things please don't leave me behind, and if you do I'll hold a grudge for a really long time".  You know what I'm talking about.
Geoff yells back the safeword.  (It's "bananus", in case you were wondering.  And in case you are also wondering what the hell a bananus is, please see the diagram below:)
I shout back that I love him, and take off.
I pass an awesome pair of women who are out there tackling their first ever 60K.  We exchange a few words, and they tell me I look strong.  I FEEL strong, so I'm super grateful for their confirmation.  I pass quickly through the next aid station, and then head into the last 5 mile swampy stretch.   This section is much easier to navigate solo, you don't need to worry about calling out obstacles and the path of least obstruction to those behind you.  Alone, you can quickly pick through the dry sections.  The prickers and foliage I try to tiptoe through tear at my tights and arms, but I feel numb to all of it.  I'm on such an incredible runners high.
I finish loop #2 in well under 4 hours again, and inform everyone back at transition that Geoff is on his way, but I'm going on without him.   I'm over 50K in to the race and still feeling awesome. My friends Felicia and Kristy, both done with their 16 mile race, help me gather everything I need for loop #3 while I change my socks  I'm in and out in less than 10 minutes.
I begin loop #3 alone.   And alone I remain for a long time.  For the first 6 miles, no one passes me, and I pass no one.  Every now and then I turn around to see if anyone is coming up behind me on the trail, but I never see a thing. It is the first time I'm painfully aware of how long some of these stretches are.  Eventually, I do come across the first aid station.  The lone volunteer greets me, and tells me I'm the first female to come through on the third loop.  I give a "woohoo, go me!" exclamation, quickly followed by "but it's WAY too soon to worry about any of that."  I'm 36 miles in to a 100 mile race, ANYTHING can happen over the course of 64 more miles.   I thank him for volunteering, and head back out.
I cross highway 41 and head back into the trail.   I've been riding a runner's high for nearly 40 miles now, but all of a sudden I'm overcome with a feeling of euphoria.  In fact, it brings me to actual tears.  I of course check myself, and wonder if I'm maintaining my calories properly: I usually only get emotional when my blood sugar drops.  But I quickly remind myself that my nutrition has been spot on.  It's simply the fact that I feel so good, combined with the gorgeous forest, and a perfect single track trail.  I'm truly, genuinely, happy, in a guttural feeling that I haven't experienced in a long time.
And that's when the wildest thought popped into my head: I think I need to take a break from all of this. The ultras, the 100 miles attempts, the training volume, the very thing that at this exact moment had brought me so much joy and pleasure.
The strangest part of all was that this random thought didn't surprise me, but instead felt right.  I've never been able to put into exact words what sort of demons I have been chasing around in the woods, for miles, and hours, and DAYS over the last few years (the last decade, if we are being honest), but in that instant I felt as if those demons had been exorcised.  Whatever I had come here -in the figurative sense, not just this race – to achieve, had finally been done…at least for now.
I always wondered what it would feel like when my heart finally told me to take a rest.  This was not how I expected it to happen, but not a tiny sliver of my being questioned it.  It's time for a break.
But not at this exact moment of course.  Because at this moment I'm 40 miles into a race, feeling amazing, and doing really well.  So I continue on.
Another quiet 5 miles pass, without a soul in sight.   I make mental notes of the longer stretches of road, the ones that might cause me to think I've gotten lost later in the night, when everything is dark and the trail suddenly looks unfamiliar.  At about mile 45 I hit the second aid station, for the 3rd time. There was a new volunteer there this time, and he was accompanied by an older gentlemen who happened to be passing by. He saw the table of food and thought perhaps there was a picnic going on, so he turned his truck around to come see what was going on. According to him, it boggled his mind to instead discover that this buffet of food was a fueling pit stop for people willingly running up to 100 miles through the vastly empty forest.
While I stopped to refill my handheld and rearrange all of my gear for the nightfall, I chatted with the volunteer and the spectator.  The older gentleman asked me why on earth I would want to run 100 miles. My gut reaction was to tell him I choose to do this because there are so many things in life that are significantly harder, and compared to those burdens, 100 miles really doesn't seem that bad.  It was a heavy, perhaps harsh comment, that came from a place of unfiltered truth. 
The gentleman blinked and looked at me with a neutral stare, as if my words didn't register.
So I quickly fish for a more relatable story, and tell  him that I'm also an exercise physiologist, and I am fascinated with testing the limitations of the human body.  In this case, my own body.  He continues to stare with blank, unrelatable eyes.
So I added "plus the ultra running community truly is the greatest, most fun group of people I've ever met!".  Finally the elderly gentleman opened his mouth, looked me in the eyes, and said point blank, without skipping a beat: "I hope you're currently seeing a psychiatrist." I laughed. A genuine laugh, as I was not at all insulted by this man's words. Hell, he's probably right. As I put my pack back on, I replied "the trails are my therapy, Sir.  That's the real reason why I run. " I thanked them both for their help, and ran off down the road as the older gentleman called behind me to watch out for wild boars, and have a nice evening.
I enter the swamp section again, and the wooded area suddenly becomes much darker under the shade of the trees.  As I start to wonder if it's too soon to bust out my handheld lamp, I nearly trip on one of those knobby, evil swamp roots.   The light comes out.  I slowly pick my way through the swampy areas.  Though this is not a large race, participant wise, there have been enough people through – and trying to work their way around- these giant puddles throughout the day, that the puddles have seemingly gotten wider.  Trying to keep my feet dry has become much harder.  I remember to go left on all of them, as I had done on the previous two loops, but it's so much slower going this time around.
Suddenly, I'm not enjoying being alone anymore.
I'm not scared.  I haven't been fearful of the woods, the dark, or being in the woods in the dark since I got over my Blair Witch phobia, circa 1999.  But perhaps I'm lonely.  My mind begins going to the place it should NEVER go during a one hundred miler: the place where you begin to contemplate exactly how many more miles you have left to run…and how many of those will be done in the cold and dark.  I quickly scold myself for even going there, and instead remember that Felicia had promised me a grilled cheese at the end of this lap.
(In case you missed it, grilled cheese sandwiches – or lack thereof – can make or break my races.)
I finish the lap strong, and promise myself a solid 20 minutes of self care and familiar faces.  I cross the start/finish line, check in with the timing volunteers, and Chad tells me he has something for me.  He takes the top off of a metal buffet warming tray and pulls out a tinfoil square.
IT'S MY GRILLED CHEESE!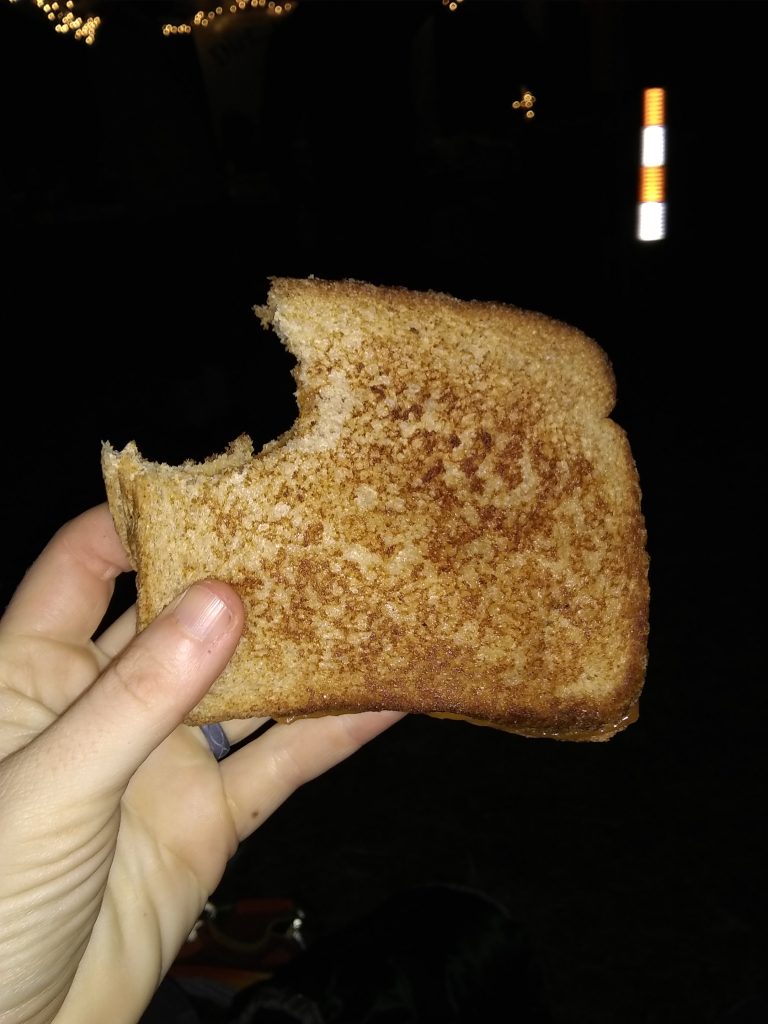 I sit down in my camp chair and go to work. I've got hands all around me, for which I am eternally grateful for. I start rattling off directions – I need more tailwind, I need to charge my Garmin, I've got to change my socks – and Geoff, Felicia, and Kristy get to work while I stuff the grilled cheese in my grocery hole.
Approximately 48.9 miles are done, and it's nearly 6:30 (11.5 hours into the race).  I'm in a really good headspace still, perhaps even more so with this buttery, absolutely non vegan but I make exceptions during race weekend, comfort food and calorically dense goodness.   But when Geoff asks if I want him to tag along for the next loop, I immediately and enthusiastically reply "YES!".  When I finish eating, we pack our hydration packs for a potentially long, cold loop.  While I've put layers on, I instinctively grab a hooded sweatshirt and tie it around my waist.  I'd rather sweat than freeze, any day, so the extra bulk around my waist is absolutely worth avoiding being potentially cold, and hours away from base camp.  At 7:00 pm, we roll out.
My left achilles tendon had suddenly become really aggravated, so I ask Geoff if we can walk for a while.  Up to this point, I had continued my run/walk intervals and had been feeling great.  The sudden pain in my lower leg/ankle was slightly concerning, so I figured I was better off to take an even more conservative approach from here on out.  I was a mile shy of halfway through the race, with 18 hours to go until the 30 hour cutoff.   I can't calculate exact numbers at this point (I can never "math" well during a race) but I estimate that I can maintain approximately a 20 minute mile at this point (including breaks) and still make the cutoff.  A little walking isn't going to hurt.
And fortunately, we're walking at a great clip.  We're hovering around a 15:00/mile walking pace and feeling good.  We pass people, other people pass us. Go figure, now that I have someone with me on the loop, I run into seemingly EVERYONE ELSE that's out on the trail.   Out there alone, Geoff says to me out of the blue that he wants to take some time off from these events, and re-evaluate our goals.  He starts rambling off reasons why, as if he needs to convince me or justify his decision.   I interrupt him – apologize for interrupting – and then tell him that just a few hours earlier I had an epiphany of my own.   I, too, wanted to take some time off.
But I still wasn't sure why.
Much of it, we discussed, was certainly the fact that our lives right now simply don't accommodate the type of demanding schedule training for a 100 miler requires.  My kids are still young, I'm always pulled in a million different directions with various work/coaching/training projects (happily and willingly, of course, but time consuming nonetheless), and other things in our life and relationship have been suffering (strength training, housework, sleep.)   I think in our society, especially as fitness professionals ourselves, we have been conditioned to not make excuses. But at some point it is imperative that you differentiate excuses from reality, and realize that sometimes simply aren't the right times in your life.
The reality is, maybe this isn't the right time in my life for these 100 mile pursuits.  Or maybe, I just need a break.  Either way I was happy to have my husband/racing partner/best friend's understanding and support.
But at THAT moment, I had a hundred miler to finish.  And I was feeling strong.  The first 6 miles of loop #4 pass relatively quickly. We hit aid station #1 to find our friend Eric.  I'm happy to see a familiar face, and grateful that people actually volunteered to stand in the cold, in the middle of nowhere, to help make these crazy races go a little bit smoother.   I mention that my achilles is still acting up, and an amazing woman named Dawn, who was there crewing for someone else, hands me this ProStretch foot rocker to use.   Absolute heaven and immediate relief.  I'm so grateful.
(Note: the foot that prevented me from training for about six weeks? NEVER MADE A PEEP.  Go figure.)
We don't hang out at the aid station for too long, as the temperature is really dropping.  In fact, I had already put my hoodie on, over a fleece lined pullover, AND a Pearl Izumi weatherproof shell,  and thanked my earlier self for thinking to bring it.  We cross highway 41, and head back into the woods.
About 15 minutes down the trail, I decide that I hadn't eaten enough at the last aid station, and ask Geoff to reach into my pack and grab me one of the applesauce pouches I ALWAYS eat during these events.  A quick, sweet, delicious 70 calorie shot of natural sugars.   Down the grocery hole it goes, onward we go.
Maybe 15 minutes later, like a slap in the face, I go from happy and content to experiencing tunnel vision, nausea, and touch of incoherence.  It hits so fast and without warning, I'm actually a little afraid.  But we are in the middle of nowhere, almost literally, so I have no choice but to keep moving forward.  I grab on to Geoff's arm to keep myself steady.  He asks if we want to slow down.  My heart screams yes, but I look at my GPS and realize we simply can't slow down anymore, or I'll a) not make cutoff times, and b) probably freeze.   We keep moving forward, and I don't say much.  The dizzy spells and nausea come and go.  I know this is not necessarily abnormal in a race like this.  Highs and lows, they happen .  But it's the sudden and acute sting of pain I feel radiating from my foot all the way to the right side of my head that scares me.
My body is quickly and systematically shutting down, and I can't seem to shake it.  And I have no idea what to do other than to keep moving forward.
The next four miles are the longest four miles of my life.  I'm grateful for Geoff, he is at many times the only reason I don't tumble off into the woods.   I'm also grateful for the fact that I had taken the time on previous laps to make mental checkpoints of the course, as numerous times on the long stretches, Geoff questions if we are still on the course (we were).
It's always hard to pull the plug on a race.   It's even harder to pull the plug when you are currently holding first place by a few miles.   But when we finally arrive to the aid station, I answer the volunteers question of "are you alright?" with "No. I'm not" and sit down on the ground.  Geoff wraps a safety blanket around me, then texts Chad to come get us.   The thought of quitting sucks, the thought of trying to make my way through the swampy section in this condition just seems stupid.  At 60.14 miles, my race is done.
D.N.F.  Do Nothing F*cking stupid.
Chad and Krista arrive, and I climb off of the ground into the warm truck. I promise not to puke on Chad's upholstery as I try to formulate the words to describe what the hell just happened.  I'm not sure.
I'm still not sure.
In the following hour, I perform the walk of shame from Chad's truck to my own campsite, and try to put the pieces together.  Multiple people say to me "but you LOOKED so STRONG! What happened?" to which I can only reply, I have no idea.  I even break out my phone's calculator to do my best to figure out how many calories I consumed, and conclude that it was plenty.   As I sit there, my shoulders and back seize up into the most painful cramp I've ever felt.   I start to plead to Geoff to take us home, it's freezing out, and we are only an hour and a half away.  He reminds me that we are both exhausted, and that would be unsafe.  So instead, like the amazing husband he is, he takes all of our sleeping bags into the warm car, heats them up, then builds me the coziest tent cocoon ever.
I crawl in to the tent and immediately fall asleep, not opening my eyes again until the next morning.
________________________________
EPILOGUE 
I woke up disappointed.  OF COURSE I woke up disappointed.  I don't think you can complete any distance ultra without putting some of your heart and soul into it.   Plus, did I  mention the finishers coin and 100 mile belt buckle? They had yeti's on them.  I adore the abominable snowman.   I, understandably, did not come home with one.
But the disappointment also comes with a whopping dose of acceptance.  We are only 24 days into the New Year, but the unexpected theme for this year, for me, has been self care.  As cliche as it sounds, I woke up New Years day compelled to purge self destructive habits from my life, and focus on self care, no matter how silly or small.  I gave up alcohol, a casual habit that had become a vice, that was recently transitioning into something perhaps even worse. I started cutting workouts early so I could instead treat my sore body to some extra stretching time,  a massage, or red light therapy.   My diet has been much healthier, and my awareness to how every day choices positively (or negatively) effect my emotional well being have been heightened.
I swear, I don't know where this new "Zen" Heather came from, but I'm rolling with it.
The conscious decision to step away from 100 mile attempts is likely just part of this new chapter in my book. Until I have the time in my life to appropriately train for these events, I no longer feel it's necessary to subject my body to their abuse.  Some people in the ultra world are completely capable of maintaining race mode, hopping from one hundred miler to a next seemingly, month after month.  My body simply isn't.  At least not right now.   And my my heart is ready for a break as well: constantly feeling like I'm chasing training runs, and never being able to do enough, has been wearing heavy on my soul.
So for me? It's back to square one.
I have some 50K's on the horizon, and I plan on spending quite a bit MORE time in the gym, focusing on overall strength, mobility, and flexibility to compliment my running.   My time with 100 milers isn't over.
As always, Chad, Krista, and all of the Eagle Endurance volunteers put on a hell of a race (pun totally intended).   Mark my words, Jericho Horse trails…I'll be back.
Heather Hart is an ACSM certified Exercise Physiologist, NSCA Certified Strength and Conditioning Specialist (CSCS), UESCA certified Ultrarunning Coach, RRCA certified Running Coach, co-founder of Hart Strength and Endurance Coaching, and creator of this site, Relentless Forward Commotion.   She is a mom of two teen boys, and has been running and racing distances of 5K to 100+ miles for over a decade.  Heather has been writing and encouraging others to find a love for fitness and movement since 2009.