Last Updated on November 21, 2017 by Heather Hart, ACSM EP
Sometimes the best adventures are the spontaneous ones.  The ones that present themselves out of the blue, the ones you quickly say "yes" to before the more rational, adult side of you can butt in with reminders of other responsibilities that you should tend to instead.
The Hairy Bison 30K was exactly one of these adventures.
Thursday afternoon a good friend of ours messaged Geoff inviting us to tag along for a 15K/30K event put on by the Harbison Trail Runners.   Since moving back to Myrtle Beach in 2015, I've always wanted to visit and run in the Harbison State Forest in Columbia, SC.  But the nearly three hour drive always makes it juuuuust out of reach for random day trip, so we've never actually made it there.
But this opportunity seemed too good to miss: I already had a 16 mile run planned on my training schedule, the kids were at their dads house, our friends offered to drive, and oh, did I mention this race was FREE?
Actually, it's better than free: they pay YOU to run the race.  But we'll get to that soon enough.
The Hairy Bison 15K/30K is an annual event that is always held the Saturday before Thanksgiving.   It costs absolutely nothing to enter, though they do ask for donations if you are feeling up to it, in the form of cash and/or shoes (we also brought along two shiny new pairs of Karhus.  Buh bye Karhus!). 
After signing a waiver, you are given an official bib.
Now, from what I understand, the Harbison Trail Runners gather a few weeks before the race and custom design every single bib.  Some of them have numerical significance.  For example, our friend Daniel's bib was number 45, and decorated to look like a 45 record.  Geoff's bib?  Self explanatory: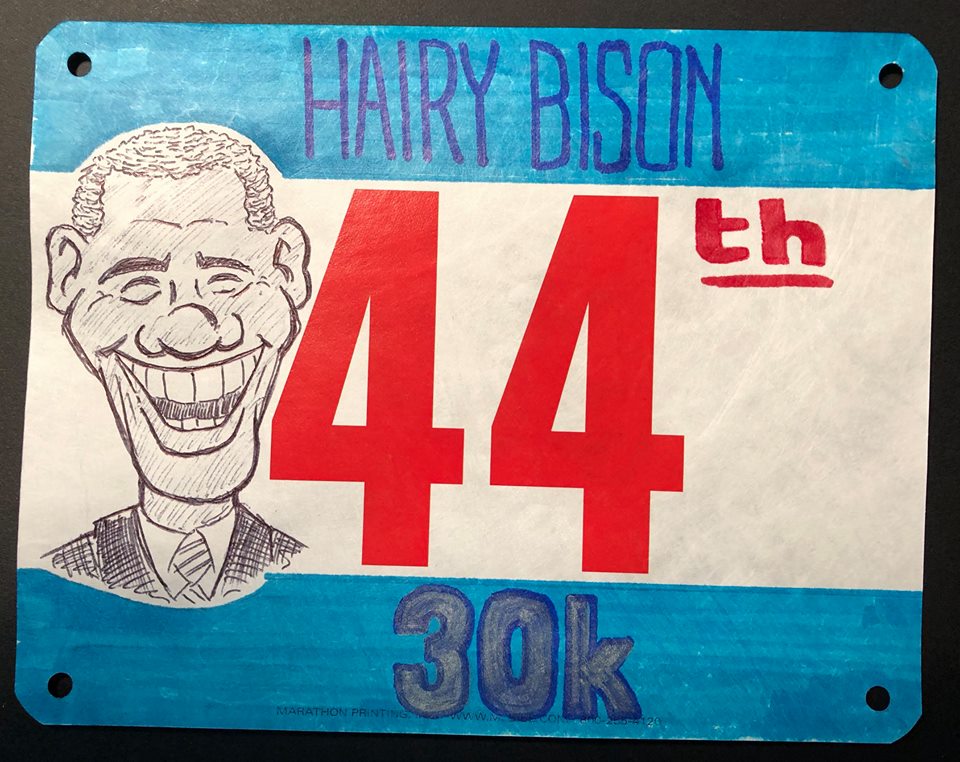 They say that you don't choose the bib, "the bib chooses you".  I'm still trying to figure out why mine choose me.
(Check out more of the incredible bibs in their online Facebook album.)
At 7:15 am we lined up at the start/finish line for the pre race instructions.  We were reminded that this was a free race, always has been, always will be.  And the other thing the course always was? Unmarked.  So you were highly encouraged to follow someone who looked like they knew where they were going.  And in the event that you got lost, you should suck it up and enjoy the extra trail time.
These are my kind of people.
Did I mention that the emcee (guessing also the race director) was dressed as some sort of Pharaoh?  He was, because there was some sort of Egyptian theme.  And as such, the race began after the crowd summoned the "Bisonubus", and said Bisonubus blew the starting horn.   The whole thing was ridiculous and I loved every second of it.
The race started and Geoff and I took off at a very conservative pace.   Too conservative, actually, as it got us caught in the giant conga line that is the beginning of a single track trail race.  But you do what you can, and pass "on your left" (or sometimes on the right, when everyone else was doing it, even though you feel like you are breaking every trail rule you've ever been taugh) when you can.
The course is significantly more hilly than anything we have here in Myrtle Beach, however the hills are all gradual and sustained.  None of the astroturf covered steep but short drops we are accustomed to on our local trail.  How perfectly appropriate is it that Myrtle Beach's main trail resembles a mini golf course?  Today we are surrounded by nothing but nature. I welcome the challenge and change in terrain and run.
The trail itself was gorgeous. I wish I had some amazing pictures to share with you…but I don't.   So instead, picture a near perfect single track, surrounded by the reds, oranges, and yellows of fall leaves, and the true peace and quiet that comes with being in the middle of the forest.
About 4.5 miles in, we come to the one and only aid station on the course.  We are greeted by Bill…or maybe it was Ted, my memory is of a blonde and Geoff says he saw a brunette…on top of a very excellent phone booth time machine, reminding us to be excellent to each other.
(Later released photographic evidence reveals it was Ted.  My bad.)
We're also handed a Buffalo Nickel, as proof that we made it to the aid station.
(Remember I told you we were PAID to run this race? It's true. I earned ten cents!)
The aid station is bustling with excitement, music, and smiling volunteers, which truly are some of the best things during a race. I take a little time here to ditch a few layers, as the temperature is slowly rising from the 37 degrees we started in.  Then, it's back into the woods.  The 30K race was two loops of the 15K race.  During the first loop, we are NEVER alone on trail, so I didn't fear getting lost.  Yet still, I tried to pay close attention at a few tricky intersections, hoping I would remember them for the second loop.  Especially since we would be running it backwards (as in, the other direction, not actually running backwards.  Though backwards running actually is a "thing").
To be honest, we ran the first loop much harder than I would have liked to, considering I was using this as a training run.  But when you're in a large crowd of people on a single track trail, your mind starts to do crazy things.  Or at least mine does.  You don't want to get stuck behind people going too slow for your current taste, so you pass them.  And sometimes, you end up passing people you realize you probably should have just stayed behind, as you feel yourself pushing a little too hard to get around them.  Then, the "crazy" comes out (I know this can't just be me) and says "don't let them pass you back.  In fact, maybe you should speed up a bit to put some distance between the two of you…"
Sigh.
So yes, we ended up running far faster than I would have liked to, because I apparently have no running self control.  At about mile 6.5, it occurred to me that I hadn't eaten anything yet.  Normally I wouldn't be too concerned, but I remembered that breakfast was at 3:00 am, nearly 6 hours ago.  When it comes to nutrition, I'm a grazer…as in I need my calories in small portions and frequently, or I become a less than stellar friend, mother, and wife.  "Hangry" is the term emblazoned on a plaque hung in my kitchen.  Add in running an 18 mile race, and a drop in blood sugar is simply a recipe for disaster.  So I pull out a trusty Gu Stroopwafel, and proceed to shovel it into my grocery hole. As to be expected, because I didn't put it in my bra to keep it warm,  it's hard and crumbly.  I somehow manage to aspirate Stroople crumbs into my lungs, and proceed to cough and choke for the next half mile.
I swear, you can't take me anywhere.
We finally make it to the turnaround, where I take the time to properly eat the rest of my stroopwafel.  It took us 1:40, and we're at exactly 9 miles, which takes me by surprise because I've spent the season running Chad Haffa's self described "I don't know how to measure" courses (they are awesome, by the way, just really long).   I vow that we'll take the second loop slower.
Except now there are very few people headed in our same direction (most people ran the 15K), and the course is seemingly all downhill.  At least for now.   I question our accuracy on a few intersections, but keep moving forward. I'm grateful that there are still people headed towards the finish in the opposite direction, for they reassure me that I'm headed the right way every time I question an intersection.
We run and run and run.  I'm feeling good, as my Stroopwafel calories have kicked in and the temperature is continuing to increase.  Forget what science says: I've long since lost my Vermont blood,  and now I run best (and happiest) in 60-70 degree temps.  We're flying down a very long descent when suddenly we come to a 3 way intersection.  I remember clearly passing a bridge that I thought for sure we would go over, and told myself to remember it for the second loop.  But now here we were on the second loop, and I couldn't remember if this was the bridge we were supposed to remember.  None of the trail names sound familiar, and Geoff swears we are supposed to head in one direction, while I'm convinced it's the other direction.  At this point, a group of mountain bikers comes by, and tells us we are supposed to head up the trail…back the way we just came. I KNOW that's not right, so we stand there and try to figure out what to do next.
After what felt like 5 minutes, but was probably only 15 seconds, Harbison regulars Rick and Rich come running down the trail and point us in the right direction.   Thank you guys, you were a race-saver.
We run with Rick and Rich for maybe a half mile before we come to the aid station.  Bill (or is it Ted?) and the volunteers are gone, but the Buffalo Nickels and excellent time machine remain.  So I grab my nickel, and climb into the time machine.  Obviously.
We head back into the woods and run for maybe another half mile with Rick, before he leaves us behind to wait for Rich.
We are alone in the woods once again.   I realize that as much as I love racing, the trail running community, and meeting new people, I also really love being alone in the woods.  (And by alone, I mean with Geoff, because we are woefully and happily connected at the hip).  At this point we have maybe 3 miles left in the race, and while my body is ready to be done (it's been a long few weeks of training and racing), my mind is enjoying every second. I turn my face up to the warm sun peeking through the trees, deeply inhale and absorb the smell of fall leaves, and put out a massive dose of gratitude to the universe that I am physically able to participate in a sport I love so deeply.
(Insert another beautiful trail picture that I forgot to take here.  Use your imagination.)
We are finally about a half mile from the finish, and I'm bitching (in a loving way) about not remembering so much downhill at the start.  Because we're seemingly running ALL UPHILL now, and I'm tired.  But eventually, we see an opening in the trees and we find ourselves in a parking lot. I feel relieved…then confused.  Because nothing looks familiar.  We're faced with a bunch of mountain bikers at their cars, looking at us with an equal amount of confusion that two random runners wearing race bibs have popped out of nowhere.  This is definitely not the parking lot we started in.  I look around and realize the trail actually runs parallel to the parking lot, so we hop back in and continue on.    Down a little hill, around a corner, and finally, we've made it.
We cross the finish line and we're each handed two raffle tickets and two free beer tickets to be redeemed at a local pub called the English Bulldog.   The raffle is already going on, and a huge crowd is sitting around the Pharaoh/RD as tickets are being pulled for some incredible prizes, like ENO hammocks, Osprey backpacks, and Harbison 50K entries, among other things.   There is a tent immediately behind the crowd with tons of food, including hot soup, but I find myself not wanting any of it.  Some races make me ravenous, some leave me finicky.  Today was the latter.  We find our friends Daniel and Felicia in the crowd, and go stand with them.   While Geoff and I didn't have our tickets pulled, Daniel won our group a 6 pack of Sacred Heart IPA
Once the prizes are all drawn, the crowd packs up and heads to their cars.  The 2017 Hairy Bison is over, until next year.
THINGS I LOVED ABOUT THE HAIRY BISON:
Everything.
THINGS I DISLIKED ABOUT THE HAIRY BISON:
Nothing.
Thank you the Harbison Trail Runners for welcoming us out-of-towners to your super fun event.  This event was incredible, better than many other not-free-races I've been to. You are the type of trail community we aspire to grow here in Myrtle Beach.   Keep being excellent to each other.
(And thank you to Daniel Riddle and Fe-Conspiracy-Theory-licia for letting us tag along.  You are two of my favorites, I love you both!)