Last Updated on September 1, 2017 by Heather Hart, ACSM EP, CSCS
I'm fairly certain I signed myself up for the 2017 Dirt Dash marathon while under the influence of pain killers.  Doctor prescribed, of course, but judgement affecting none the less.   But let's be honest, what's a runner who is laid up recovering from hernia surgery to do to lift her spirits other than plan future races?   Traditional online shopping was out, I need more running gear like I need another hole in my abdominal fascia.  So clearly, registering for a race was the logical decision.
I've discovered a sort of unexplainable time warp in the running world, where time crawls when you are counting down the days until you are cleared to run again, but speeds waaaaay up when you facing a race you aren't quite ready for.  Both scenarios comprised the 8 weeks between my hernia surgery and the Dirt Dash marathon.  I spent a lot of time not running, and then a very short, fast amount of timing remembering "Oh shit, I signed up for a MARATHON that I have no business running yet."
But such is the story of Heather's life.
Friday at 2:30 pm, Geoff and I diligently took our spots in the school pick up line to scoop up the kids.  Instead of allowing them a weekend to "relax" by current societal norms after their first week of school (read: stare at TV or video games all weekend) we crammed them into the back of our car with tents, chairs, coolers, and running gear, and headed to Middleton Place in North Charleston to camp the night before the Dirt Dash.  I'll be damned if I raise "normal" kids.
But I did let them stare at their iPads for the 2.5 hour drive from Myrtle Beach to Charleston.  Parenthood is all about compromise.
After some crazy 5 pm post work traffic jams and a few rain storms, we finally made it to Bailey's Field across from Middleton Place just in time for the end of Friday night packet pickup.  We grabbed our bibs and shirts from race director Chad Haffa, signed the kids up for the 5K, made a few jokes about the alligators in the pond, and set up camp for the evening.   This was the same location as the Hallucination 24 hour race we ran back in February.  Before that race, dozens of runners and support crew set up camp the night before, but this time, it would just be our tiny Myrtle Beach crew spending the night.  Our own private Idaho campground.  There was plenty of good food (including Dutch Oven berry cobbler.  Pro tip: always bring a Boy Scout with you when you camp.), good beer, and lots of laughs.
6:00 am came quickly.   There was no need for an alarm clock, because we were camping in the same field that would be used as a parking lot.  Headlights through tent walls make an incredible wake up call.  The marathon and half marathon would start at 7:30 am, and the 5K & 10K would start at 6:30 am.   I was surprisingly not nervous for my race at all, despite the fact that I hadn't run more than about 11 miles in the last 4 months.  No, instead I was freaking out about the logistics of my kids running on an unfamiliar trail without me.  In typical "always imagine the worst case scenario" mom form, I was picturing them wandering around the 5,000 acres of the Francis Marion national forest (I actually don't even know where we were, but that sounds geographically possible), snatched up by an alligator, or even the supposed Bigfoot that the race director mentioned the Discovery Channel had come to film on this very same property.
Needless to say, I was a bit distracted.  But after the third time of running through the "what to do if you get lost" speech with my kids, it was time for mama bird to let her hatchlings jump from the trail nest…and it was time to line up for my own race.
Chad warned us that the course had a ton of rain dumped on it the day before, and there was a lot of standing water. The warning doesn't phase me, as my mind immediately went back to the days I willingly spent 7 or 8 hours at a time purposefully trudging through mud as an obstacle course racer.  Instead I was still worried about my kids, and I knew I wouldn't be able to relax until I knew they were done with their race and safely at the finish line – not lost in the woods.
There was a countdown and we were off.  The first loop of the course was the exact same loop we ran for Hallucination back in February, only this time we were running in the opposite direction.  It was immediately familiar, though much, much greener this time of year.   Geoff and I decided to go with a 4 minute run / 1 minute walk interval right from the get go, as the longest run I had done in the past 3 months  (since Knock on Wood 100) was only 11 miles. I needed to preserve my legs as long as possible.  The half marathon field was SIGNIFICANTLY larger than the marathon, with about six times as many participants.   It's really hard in a multi-distance race start such as this one to remember that some, or in this case most, of the other participants are only running half the distance you are, so it only makes sense that they are running significantly faster.  It takes a good bit of discipline (and a huge dose of not giving a shit) to hold back and run your own race.  This was most definitely the case for Dirt Dash.
Not two miles into the race, Geoff and I determine that we are renaming this race the "Grass and Puddle Dash".  Dirt is a misleading name, because the course is a bunch of mowed roads through fields, littered with puddles from the storm the race director mentioned earlier.  My feet are already soaked, but this doesn't phase me quite yet.  I've run with wet feet many times before, and have never had an issue.   We hit the first aid station, thank the volunteers (the local JROTC) and head down a long straight road.  The course is FLAT, as one would expect from coastal South Carolina, and at this point in the day, is relatively shady.   We play the back and forth game with other runners as we go through our run/walk intervals,  but eventually leave most of them behind.
Geoff is constantly yelling at me to slow down, and I heed his warnings.  I know the heat is going to creep up soon, and I also have heard rumors that this course "might be longer than a marathon", so I needed to run conservatively.
Come to find out, the rumors were true: the first loop clocks in at 7.4 ish miles…and we have to run this loop FOUR times.
At the start/finish of the loop we refill our handhelds, I throw another 200 calories (two scoops) of tailwind into my bottle, and we are off again.   We're about an hour and a half, give and take, into the race, and I know that the 5K/10K runners are out on the course.  I feverishly keep looking ahead, hoping to spot one of my kids.  I just need to know they aren't lost (running mom fears) then I'll be able to relax.   We make it just about two miles to the first aid station, and I catch sight of my youngest (thanks to his neon yellow shorts…I dress him that way on purpose, easier to spot on trail) turning off onto the 5K/10K route.  I ask the volunteers if they've seen TWO little dudes, and they all reply "yes ma'am."
I breathe a sigh of relief, and literally feel lighter.  They are far from the end of the 5K group, so I rest assured that they aren't going to get lost after all.
Until  five minutes later I unexpectedly find my 10 year old…lost. Cue the return of mom anxiety.
He's on the half and full marathon course, having missed his turn.  He's only about a half mile off course, but when we let him know his error, the look on his face nearly broke my heart. I turn him around and tell him to head back to the aid station (you could still see it from where we were, that section of trail was so straight) and he hangs his head, Charlie Brown style, as he trudges off in the other direction.
Once again, the kids are not lost (for now), and I can focus on my race.  I'm happy that the areas I was certain would be subjected to direct sunlight by loop two are still relatively shady.  We run our four minutes / walk our one minute dutifully.  During nearly every run interval, Geoff yells at me to slow down.   I do, knowing that he's right, I need to pace myself.   But I feel so good, so strong, and I find myself slowly getting irritated that I can't go faster.  Eventually the "slow down" comments turn into "bye" and "see you later" sarcastic remarks.  I can tell he's just as sick of telling me to slow down as I am being told to slow down.   At about 5 miles into the second loop (about 12 miles into the race) Geoff tells me to go on without him.
I immediately respond "no, of course not" because leaving one another mid race is not what we do.  Ever.  But Geoff keeps insisting.   A huge part of me WANTS to push, so eventually I ask him to repeat the gym safe word.
That's right, we have a gym safe word, and if you're wondering what it is, it's "bananus".  That's the brown part of the very end of a banana.  Bet you didn't know it had a name.   Anyway, we've had a "gym safe word" for years, to be used during workouts when one person REALLY can't go on and the other is trying to use the "suck it up buttercup" tactics.    Geoff repeats "bananus", so I know he truly means he wants me to go on.  "Besides, you might have a chance at the podium" he said as I took off.
Eeep.
I hadn't really thought of that yet, I knew that I was NOT in racing shape, and I was banking on two of my Myrtle Beach friends to beat me. Except they were both behind me, and in that moment it did occur to me that not a single female has passed me yet, instead I've done all of the passing. I knew there weren't a ton of people registered for the marathon distance, but I also didn't know how many people were behind me.  And just like that, there she was: the inner competitive voice that drives me to do stupid things.
Welcome to the party, voices in my head, hope you brought Body Glide.
I run on ahead, and quickly gain distance on Geoff.  I'm feeling great as I round the corner to the last little straight-away before the big open field that holds the start/finish line.  We run by one of the many ponds we will pass during the race, when out of the corner of my eye, I see him (or her): an alligator.  I immediately turn around and pull out my phone, getting funny looks from other people who are coming in to finish the half marathon.  "I never see alligators where I run, I need a picture!" I say to no one in particular.  Once a blogger, always a blogger.
As I finish loop #2 I see both of my kids with medals around their neck.  The mom anxiety finally fully dissapears into the air. I give them both hugs and high fives as I refill my tailwind and water.  I also pop two Hammer endurolytes…it's getting really hot.  I try not to spend too much time in transition, as I have determined that I am now racing instead of just running.  Racing who? I'm still not sure, but I think I'm doing well, so I'm racing someone who is trying to pass me.  Probably.
The start of loop three is relatively uneventful, until I realize I'm so thirsty that I just slammed 200 calories of tailwind in less than a mile.  Normally, I try to extend my nutrition into more frequent, but smaller doses, as it tends to piss off my gastrointestinal system far less. I fear this oversight is going to come back and bite me, and sure enough, over the next 15 minutes it does.  I struggle with nausea but keep pushing forward.  Thankfully the nausea doesn't last long, but it did apparently leave me looking like hell.  I know this because the guy at aid station #2 asked me, with concern on his face, if I was alright.  I replied, "oh yeah, just trying to stay cool" to which he responded with a bit of side eye: "well…be smart.  Be safe."
Somewhere around mile 5, Chad (the race director) comes by on his ATV.  He asks how I'm doing and I tell him I feel great.  I ask him how many people are ahead of me, still clueless as to where I rank in this race.  He responded with something very vague like "not that many", which gives me a boost.   I run on.
About a half a mile later, I feel a pebble under my right forefoot.   I slam my toe into the ground mid run a few times, hoping to dislodge the pebble and have it move towards either the toe or the heel of my shoe, but it doesn't work.   I'm on a shady section of trail and there is not a soul to be seen ahead or behind me, so I quickly stop, sit on the trail, and yank my shoe off.  I feel around inside….nothing.  I take off my sock expecting a pebble to fall out…nothing.  I even take out my Superfeet insert, thinking maybe something is lodged in it.  Nothing.
And that's when I remembered the exact same experience from Knock on Wood.   Except this "phantom pebble" popped up around mile 80 or so, not mile 20.   I'm frustrated, but I also know I don't have a ton of time to waste, so I put my sock and shoe back on and will myself to ignore the "pebble".
I run on, eventually hitting the last field/pond close to the finish line. I run into my friend Julie who is on loop 2 of her marathon.  She tells me she's dropping after that loop, and I tell her I don't blame her.  It's freaking hot, and I too am starting to suffer.    But I've only got one more loop to go.  I can do anything for another seven miles, right?
Right.
I hit transition, fill the water, add tailwind, pop two more Endurolytes.  I ask the timing volunteer how many women are ahead of me.  He responds that he has absolutely no idea.  All four race distances are coming through this exact start and finish line, and our bibs don't differentiate who is running what distance.  Fair enough.  I'm at about 22 miles, and I tell myself to put my head down and go.
Long story short, those last 7 miles sucked.  Capital-letters-social-media-yelling-SUCKED.  The heat is really starting to get to me, and I'm feeling a little dizzy.  Not dizzy enough to be concerned – yet – but dizzy enough to know that I'm making another dumb ultra runner decision by pushing my body in this heat.  I find that pulling the bill of my hat down low over my eyes helps me create a feeling of tunnel vision, and believe it or not, that helps me find my running zen.  When that stops working, I start counting every time my right foot hits the ground, as a means of distraction.  My running/walking intervals are crumbling, as I'm having to add just a little bit more walking in there to keep my heart rate in check.  But I push forward, knowing this was my last lap.
Did I mention that this entire race, my feet have been soaked?  They were.  The puddles were so numerous that it was futile trying to avoid them, so I just ran through them all.  About halfway through lap four I realize that the "pebble" under my foot is not a pebble, but instead the start of a vertical blister/split in the pad of my forefoot.  I realize this because every time I make a lateral movement, both of my forefeet (yes, both now) feel like they are on fire.   Trying to avoid lateral movement on a trail is near impossible, but my form has already gone to hell, so I start what I can only imagine looked like the most ridiculous, exhausted, horrible form shuffle for the next three miles.
The last three miles were essentially the point in the race every runner has experienced at one point or another in their career, where you question your sanity, question your ideas of "fun" , and simultaneously try to survive.  We are an odd bunch.   My feet are on fire and I audibly whimper more than once, something I've never found myself doing in a race before.  I remind myself of all of the tough things I've been through in life: childbirth, twice, abdominal surgery, twice, 100 mile races, numerous ultras…this "marathon" was NOT going to break me.
Rowen (my ten year old) and Julie meet me on the corner of the last straight away, and I couldn't be more relieved to see them.  I'm *almost* done.  I high five Rowen and give him a kiss.  He's still in the "I love mama" phase, I've got to take it while I can still get it.   And then I will myself to finish that last half mile.
29.4 miles, 5:16:48.  The "marathon" was just a little long.
I hit the finish line, give the timers my number, high five the race director for turning this "marathon" into an almost-ultra, and immediately sit down in the grass and yank my shoes off.  My feet have not hurt this bad in a very long time.
As happy as I am to get my shoes off, I'm equally nervous to see the damage done.  Thankfully, it ended up not being too bad….just bad enough to limp around for the next hour or so.   Cue gross foot picture in three…
two…
one…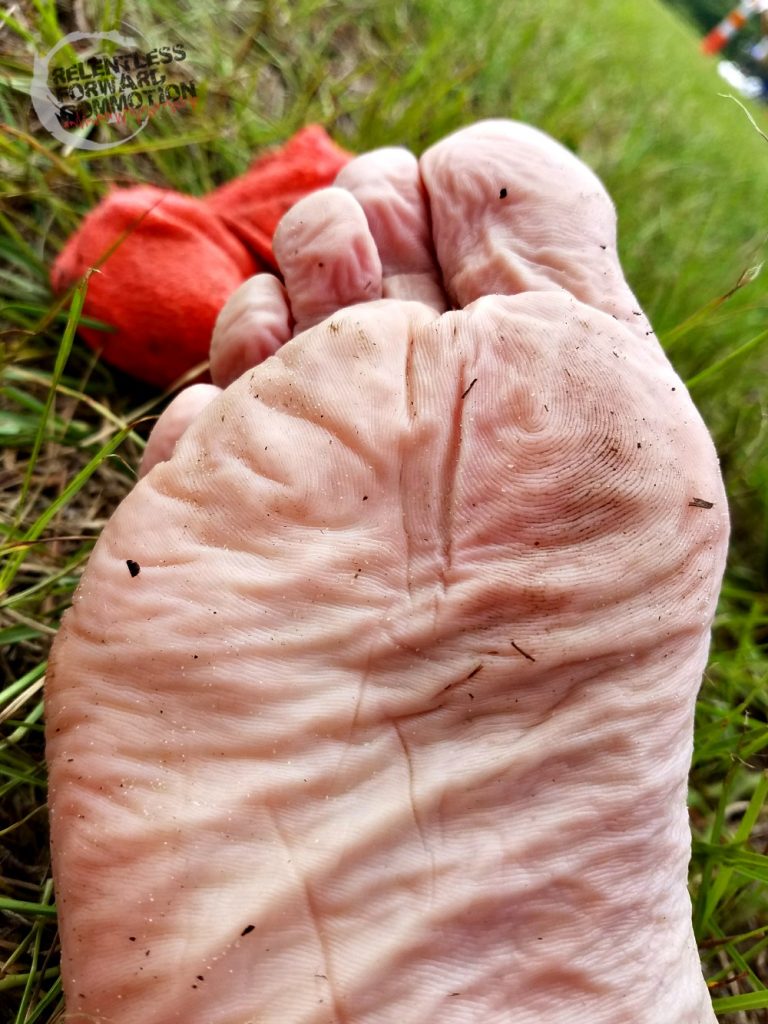 In the end, I came in 2nd place female.  First place beat me by over 21 minutes, no wonder I never saw her.  Third place came in 29 minutes after me.  You could say the race field was small…and the race course long.  But hey, it's all about who actually shows up, right?
I won a kickass "Dirt. Sweat. Bugs." Eagle Endurance hat for my valiant (or just dumb) efforts, and then headed back to the tent to shovel half of a leftover sub and the most amazing post race grilled cheese sandwich I've ever had into my grocery hole (aka mouth).
RACE REPORT CARD: 
Yesterday at the store I mentioned that I was *this close* to finishing this race report, and someone asked me if my review opinions have changed now that I have dabbled in race directing myself.  The answer was "yes but no".  My views HAVE changed, but having directed races myself has nothing to do with it.  Instead, as I find myself falling deeper and deeper into the world of ultra running, I realize I put more value in different things.
I don't care about a flashy expo or perfectly organized packet pickup.  I care about a race director that not only knows you by name, but asks how your stomach is feeling mid race, because he knows this is your first event post surgery.
I don't care perfectly marked, USATF certified courses.  I care about having an adventure, and nothing says fun like wondering if you're lost because you should have reached the end of your loop a mile ago.   And hell, long courses = more running for your dollar, you can't deny that simple math.
I don't care about a flat, fast course. I care about terrain that is going to challenge me, uneven fields that leave me fearing for my ankles, and muddy trails that makes me wonder if I'll ever get these socks semi clean again.
I don't care about a massive post race food table, the kind where people load up boxes with more food than they possible need or could eat, all provided by a huge corporate sponsor. I care about a tight knit running community that offers up their OWN food to complete strangers, or brings homemade cookies to contribute to the aid station table.
I don't care about the "bling".  I care about the accomplishment and the experience.
All of that said, this race gets an A+.  Between a ridiculously hard course (for being so damn flat), the option to camp the night before,  great race swag (I know I said that didn't matter, but it's still a cool bonus), and an amazing community, I couldn't have asked for more from this race.
Except maybe another 1.71 miles to make my marathon an even 50K…
See you at Swamp Fox, Eagle Endurance!
Heather Hart is an ACSM certified Exercise Physiologist, NSCA Certified Strength and Conditioning Specialist (CSCS), UESCA certified Ultrarunning Coach, RRCA certified Running Coach, co-founder of Hart Strength and Endurance Coaching, and creator of this site, Relentless Forward Commotion.   She is a mom of two teen boys, and has been running and racing distances of 5K to 100+ miles for over a decade.  Heather has been writing and encouraging others to find a love for fitness and movement since 2009.