Last Updated on January 27, 2022 by Heather Hart, ACSM EP, CSCS
Saturday morning, 6:57 am.  I stood off to the side of the starting line of the 2019 Frozen H3 100, feeling optimistically – yet cautiously – confident.  As I looked at the sea of faces I had never seen before here at the Jericho Horse trail head, all ready to tackle the "swamp" for the first time, my confidence came in the fact that I knew exactly what sort of hell we would be up against that day.  Shin deep water, a ton of mud, and a special kind of loneliness that comes with a 16 mile loop that does not pass a single sign of civilization, save for a small wooden bridge here and there.  No buildings, certainly no spectators, and very few interactions with other runners.   It was going to be miserable and certainly far from easy, no doubt about it, but knowing is half the battle, or at least that's what G.I. Joe taught me, growing up in the 80's.
My confidence that morning also came from the fact that I knew this time, my approach to this race was going to be very different.  Don't get me wrong, I wasn't confident that this approach was going to actually work, but if nothing else, it would be a new type of adventure, and after failing at this course twice in the last year (once at Frozen H3 and once at the summer Hell Hole Hundred) I was desperately ready for a different experience in this 100 mile madness.
Chad, the race director, gave the final countdown, and the wave of excited runners took off.  I, along with my husband Geoff and our friend Dave, stood off to the side, and watched them all go.  This was a first for me, and I'd be lying if I didn't admit it was one of the hardest things, racing wise, that I've ever done.   My mind raced with ridiculous thoughts about the "competition" and wondering if losing a few minutes right off the bat would break my race.  How much would I hate myself if I missed the cutoff by 30 seconds?
I took a deep breath and reminded myself that we had a plan – and that plan was to finish this freaking race, period. STOP WORRYING ABOUT OTHERS AND FOCUS ON YOUR OWN DAMN RACE.
Trust the plan. Trust your training.
After everyone had taken off and the trail head was once again clear, we took off into the dark woods.
_______________________________________________________________
Note: I promised myself that I'd wait until later in the race to take pictures…but when later came, I somehow managed to trap my phone in a waterproof bag. I'm not even kidding. Felicia and I had to cut it out with a pocket knife Sunday morning.  So, this post will be sparse in pictures, other than the few I took before aforementioned bag snafu, and what I was able to snag from others.  For you visual learners – like me – sorry.  Try to use your imagination.  
_______________________________________________________________
LOOP 1
Pacing has always been a hard thing for these long legs.  Don't get me wrong, I'm no Usain Bolt,  I'm not setting any land speed records…or even "obscure race in the swamp" records.  But when it comes to ultra running, learning to slow down (slow way down) has been hard, because my happy comfortable pace is still too fast, at least for now.  Slowing down to a true "Z1" aerobic, sustainable pace takes added effort, but in the long run (pun absolutely intended)…it's worth the effort.
My plan for the race is simple in theory, yet has been ridiculously hard for me to actually execute in the past.   For the first 50 miles, I set myself a pace goal that I must hit or be SLOWER than, in order to prevent myself from going out too fast. This, for those of you who know me, is unfortunately a common occurrence.  The last 50 miles I gave myself increasingly slower time goals that I must hit or be FASTER than, in order to account for the fact that my legs were tired…but still make the 30 hour cutoff.  I realize how simple this plan seems, but in the heat of the moment I almost always get caught up in race day excitement, convince myself I can indeed maintain this race for another 20 hours, or simply get too competitive for my own good – especially when I have no business doing so.
This is exactly why we started AFTER everyone else.  Doing so eliminated two of the three aforementioned race day temptations (podium dreams and other peoples excitement). Shout out to Nathan Dewey for the idea; I didn't get in the port-a-potty, like you suggested, but I did (not so patiently) wait it out.
As our little bandwagon of ultra misfits – myself, Geoff, Dave who was still chasing his first buckle and told me earlier that he, too, was not trustworthy, Soliel, also going for 100, and Eric, out for the one loop race option, made our way down the trail, I obsessively checked my watch to make sure I wasn't going "too fast".  I tried to really observe how my body felt at our desired pace so that I could stay in that zone, without having to become a slave to my Garmin.
And I tried like hell to not think about who might be on the trail in front of me, and if I could catch them. "It doesn't matter", I repeated to myself over and over, "run your own damn race."
The daylight quickly arrived, and the temperatures warmed up to the mid 60's.  It was an absolutely gorgeous day to be on the trail, and I noted multiple times how happy I was to be running in a tank top and shorts. As we ran down the trail, we all settled our race day nerves with jokes, stories, and teaching Dave all of our ultra vernacular.  Terms like "grocery hole" and "pocket snacks" were referenced frequently, as I asked all of them to remind me every hour – on the hour – to stuff calories into my grocery hole.  In turn, Dave taught us about "Son of a Bitch sticks" (the sticks that you step on, and unexpectedly get slapped in the shins with) and Soleil taught us a song about scat ("it comes out of you and it comes out of me, it starts with an S and ends with a T…").
Man, ultrarunners are weird.
Speaking of my grocery hole: for the last two years I've been religiously using Tailwind. I love the stuff, it seemed to work well for me. However, for the last two years I've also continuously bonked and DNF'd 100 milers.  At some point a week prior to the race, I put two and two together, and realized that perhaps I'm not consuming enough calories using the Tailwind.  Reason being, I would tell myself to sip on the tailwind as I ran, with the goal of refilling my bottle every hour. I thought that taking in the calories slowly over the course of the hour worked better for my digestive system, rather than taking in 100+ calories all at once.  But without fail, after a few hours, there'd still be some Tailwind left in my bottle when it was time to refill.  I'd tell myself this was OK…and just add more on top.  But then the same thing would happen the next hour, then the next, and before I knew it I was barely drinking anything.
Though it has been years since I've relied solely on things like gels and chews, I figured desperate times called for desperate measures: I was desperate to get this 100 mile monkey off my back.  So every hour, on the hour, 100-150 calories would go into my mouth and be consumed, right then and there…and I would pray to the ultra gods that it didn't piss off my GI tract.   GU Stropwafels, Clif Bloks, Huma gels, and salted almonds were my go-to snacks.  I also vowed to eat something – anything -off of the table at each of the aid stations to add to my overall caloric intake.
So, let's talk about this course, shall we?  The Frozen H3 course consists of a 16+ mile loop through the forests and swamps of the Francis Marion National Forest.  The 100 mile runners would need to complete this course 6 times…plus another 4 miles to hit 100.  The first 6 miles is a horse path trail across pine covered dirt and/or mud, that feels as straight as an arrow.  At one point you can practically see the runners almost 2 miles ahead of you.  Dave immediately shares how much he hates this section, and I can absolutely understand why.  I instead decide to try to break this first 6 mile section down by landmarks, as I know it will help break up the monotony later in the course.   We've got the sketchy bridge, the big forest service sign, the pretty bridge, "snake alley" (a long, concrete barrier/bridge in the swamp that is notorious for attracting water moccasins that want to sun themselves), a road crossing, another road crossing, a wooden bridge, third road crossing, wooden bridge, fourth road crossing, wooden bridge, sharp left turn, decent/climb into the aid station.
One of my favorite things about Eagle Endurance races, and I've said this a million times, is the community.  There is a 99% chance that you will stumble upon a familiar face at an aid station, and this race was no exception.   We check in, Dave grabs a bag of cookies to shove in his pockets now that he is aware of the concept of pocket snacks, and we quickly head on our way.  In addition to our pacing, I had allotted 15 minutes per 16 mile loop to spread across the 3 aid stations (mile 6, mile 12, and the start/finish).  We figured there was no sense wasting time if we didn't need it…so we didn't.
Back into the woods, we run what I'm certain is my favorite section of the Hell Hole course.  It's windy, actually has elevation, and reminds me so much of Vermont (home) it almost brings tears to my eyes.  I enjoy every single step…but also make a note to really pay attention to where the trail is going.  Everything is covered in a heavy layer of leaves and pine needles, and in this section of forest, it can be hard to see where the trail actually goes.  This is no problem right now, of course, only 7 miles in to the race during daylight, but in another 80 miles and in the dark, it could be a recipe for disaster.
We cross another road, and take a "detour" from the last few adventures on the Hell Hole course.  Instead of running up this long, monotonous, dirt road, we head into the Turkey Creek portion of the Palmetto Trail.  We had run this section during Swamp Fox a few months back, but that section of trail had been in dire need of some love.  Thankfully, RD's Chad and Krista came to the rescue. They not only cut and cleared fallen trees from the course, they LEAF BLEW the trail so you could see where it was.  As a result, there was an incredible smooth, beautiful, winding single track through the woods. I'll admit, I was shocked. I couldn't understand why Chad was being so nice, he thrives on making his courses a challenge, and not making a single step "easier" for runners.
It would all make more sense in another 12 hours.
The Turkey Creek section contained a two minute (at least by walking, and according to the video I took) section that contained wooden planks to help you pass a particularly swampy area.  These planks were littered with rebar nails that were sticking up in all directions, just begging to trip you. So we opted to walk.
Once leaving Turkey Creek, we wind up on a dirt road where we run maybe a half a mile, then take a right onto another dirt road.  We run on this dirt road for maybe a mile and half, max, and then take another left turn onto a third dirt road.   It's really hard to maintain pace on these flat, runnable dirt roads, and I'm scolded by my crew more than once to slow down. This last stretch of dirt road is also about a mile, and we find ourselves at the Yellow Jacket Aid Station, at mile 12.  Again, a quick check in, grab a handful of snacks (I opted for Goldfish crackers) and we're on our merry way.  Another mile on the road, another mile on another road.
And then we hit the swamp.
For a refresher, please watch this video, demonstrating what the swamp looked like last June:
What can't be seen in this video is the fact that there are snakes, everywhere.  Including venomous water moccasins and copperheads, that like to rest on any dry patch of land they can find.  So trying to tip-toe around those floods was virtually impossible.  I knew that it wouldn't be that bad this time around, and further, I knew the snakes wouldn't be out.
Much to my surprise, the trail wasn't even sort-of that bad…it was bearable.  In fact, I was able to quickly and efficiently tiptoe my way around the mud enough to come out on the other side of this 2 mile mess relatively unscathed AND with dry socks.  I couldn't believe it.
In the blink of an eye, it seemed, we were done with loop one.  We're ahead of schedule (but not by too much, this was an important part of my plan). I tell the others (minus Eric, who was only running the one loop option) that I want to spend 10 minutes changing socks, refilling my hydration pack with snacks and water, and then get back on the trail.
LOOP 2
The temperature is heating up a bit. I feel GOOD, and I'm still trying like hell to hold back. In fact, I keep yelling at Geoffrey to slow down, as he has taken the lead and definitely sped up.  The problem is, his pace feels good on my legs…but I know better.  20 miles is still way too soon in a 100 miler to make stupid decisions.  We're cruising along and I notice that it's gotten quieter. Suddenly I notice Soliel has not only fallen off the back, she's hunched over with her hands on her knees.   We all stop, and I head back to check on her.  I yell "are you OK?" and she points to her mouth. I can't exactly tell what she is saying, but I know it's something along the lines of a pissed off stomach and probably some puking.  She motions for us to go on.
This is one of the hardest parts of racing with friends.  My mind immediately races between her safety and my own race.  I know that we are less than a mile from the next aid station, the weather is perfect, she has food and water, and that there are plenty of people on the trail behind her.  I also know that I have a goal, and this is my race, too.   We run on without her.
Aid station one, new single track trail, road, road, more road, aid station two, more road, swamp, and we're back to the start.  50K (and then some) is done.
Back at the start/finish, Felicia, my ultra-angel, does exactly what I asked her to do, and "mother hens" me to the full extent. "Did you eat all of your food? Yes? Prove it, where are your wrappers? You didn't eat that waffle, eat it now while you are sitting here. Take these two endurolytes.  Are you drinking? Are you peeing? Do you need to change your socks?"  To the non ultra runner, this may seem kind of bossy, but 100 mile vets will tell you that this is exactly what you need.  Later on in the day, if someone asks you "what do you need?" you will probably stutter a bit and get lost in the fog of ultra running confusion.  No, you need to tell your crew BEFORE the race EXACTLY what you need, so that they will not ask you what you need during the race, they will tell you what you need.    And Fe did just that….AND spent the 4 hours between babysitting me for 5 minutes each loop in the cold forest.  That's true friendship, I could never thank her enough for what she did for me this weekend.
LOOP 3:
Geoff, Dave, and I head back into the woods. As we run down the long stretch of trail I'm overwhelmed by the sun rays shining through the tall pines.  So far, I'm feeling incredible.  I've stuck to the plan so far, and it's paying off. I feel good…cautiously good. I can't help but fear that at any given moment, the other shoe is going to drop and I'm going to feel like shit.  To get my mind off of it, I say out loud to Geoff and Dave "this is so incredibly beautiful, I'm so very happy right now. I'm going to remember this very moment when things are sucking later tonight."  On this loop, I can tell spirits are starting to slip, so I remind the guys that this is the last loop we have to maintain this pace, then we have some wiggle room to slow down if we want to.  That seems to make everyone happy.  I also start counting the first section's landmarks: sketchy bridge, sign, bridge, snake alley, road, road,bridge, road, bridge, road, bridge, road, aid station.
Somewhere around mile 42 ish Geoff starts to drop off the pace.  I can immediately tell he is bonking, and I grill him on his nutrition and hydration.   Before this race, I had strategically packed each 16 mile loops nutrition in a separate bag, so there was no question as to how many calories I had eaten (as in, had I eaten enough).  Geoff had kind of winged it, and though I can vouch for the fact that he did indeed eat, I don't think he ate enough.
We eventually make it to the next aid station, and Geoff heads into the port-a-potty to deal with a now queasy stomach.  Local Myrtle Beach friends Karen and Mark are manning the station, and I'm once again happy to see familiar faces. I make small talk with them while waiting for Geoff to emerge from the bathroom.  Dave goes on without us, but says "don't worry, you'll catch me".   I ask them if they've seen the most recent weather forecast – rumor had it we were supposed to get a ton of rain overnight.   They weren't 100% sure when, but they assured me it was coming.
"Worry about one thing at a time, Heather" I reminded myself.  Right now, my worry was getting Geoff moving again.  I also worry about digging out our lights and jackets, because dark is getting ready to settle in any moment now.
Geoff returns, I thank Karen and Mark, and we walk down the road.   I suggest that after a while, we try to run for just 2 minutes and see what happens.  We do, and it doesn't go well.  As we continue to walk down the road,  the 10 miles of being on my feet all day starts to settle in, and I find myself in an unexpected low point.
"If you quit, I'm done too." I tell Geoff matter-of-factly.  I quickly follow it up with "That's not your fault, of course. I just don't really want to be out here overnight without you.  Damn co-dependency."  He laughs, and says he understands, but we never mention it again.
Eventually we catch up with Dave, just before we enter the last two miles.  Headlights/ handheld lights on, we decide that at this point, we've banked enough time (safely, without breaking my speed rule) to navigate this mess in the dark solely with walking. We also hoped it would give Geoff some time to recover and rally. However, the temperatures are starting to drop fast, and my lightweight shell jacket isn't cutting it. I power walk my way through that swamp somewhere around a 15:00/mile and get us back to the start/finish, and our tent, once again slightly ahead of schedule.
I look at my watch.  It's around 6:35, and I want to get back on the course no later than 7:00 pm.  I turn to Geoff and say  "I'm not pressuring you, but please let me know what you are going to do by 6:50."  He agrees, and I head into the tent to put on warm clothes for the next loop.  We're supposed to be clear of rain until at least midnight, and I'm hoping that we can get this loop done before then.
I emerge from the tent and get busy filling my hydration pack with more snacks, taking care of my feet, and changing my socks.  Eventually I look up to see Geoff in a pair of sweatpants.
"Are you out?" I say to him, already knowing the answer.
"I'm out.  I'm done".
"OK." I reply, and continue packing my bag.  The aforementioned feelings of not wanting to go on without him were long gone (sorry, love…). We were just shy of 50 miles into the course, and quite honestly, I felt good.  Sure, my legs felt like they had just run 50 miles, but as a whole I felt really damn good.   My friend Raquel had just shown up to begin pacing us, and I was excited to get back on the course.  So that's exactly what Dave, Raquel, and I did.
LOOP4
Though this was the first loop I had allotted more time for our overall pace, the three of us settled in to essentially the exact same pace we had been holding all day.  Earlier, when there had been a couple of rumblings/mentions of how everyone must be "so far" ahead of us, I constantly reminded our group (but mostly, reminded myself) that our slow and conservative pace was going to pay off.  Not that it mattered – because I was only racing myself – but I had estimated that around the 4th loop, we'd start blowing by people, and I'll be damned if that wasn't spot on.
Over the next 16 miles we passed about 8 100K/100 milers who were moving much slower.  I, as much as anyone, know that 100 miles is a loooooong day, and anything can go wrong, so I'm certainly not insinuating that these people went out "too fast" or anything like that.  Rather, it put a ton of pep in my step to know that the plan I had made for myself was working: I was feeling fresh and awesome as I approached the 100K mark. 
Karen and Mark were still manning the Yellow Jacket aid station, and told us we better get a move on because the weather was about to turn.  In fact I believe Mark said something along the lines of "you might want to finish this thing by 1:00 am, it's going to pour."  I laughed, since it was currently around 11:00 pm, and I still had over 38 miles left to run.  Finishing anytime soon would only happen if I quit…and I wasn't about to do that.
We finished loop 4 ahead of schedule, once again, and I promised Dave that this loop we could sit down and feast on grilled cheese and tomato soup.  If you've been following my ultra adventures over the last few years, you know that denying me a promised grilled cheese mid ultra will literally cause me to quit.  Grilled cheese is life, and has been since the time I was 5 years old, it's not even up for argument.
Eric, our friend that ran the first loop with us, is back to pace us for loop 5.  My plans called for approximately 12 am to 5 am, and I knew that this loop was going to be the biggest mental struggle for me, because my body just wants to shut down and go to sleep.  To make matters worse, it's supposed to pour. Needless to say, Eric has his work cut out for him.
I make a quick, spur of the moment change in gear plans, and ask Geoff if he happened to bring my Dad's yellow LL.Bean rain jacket.  I've brought a couple of different running specific all weather jackets, but let's be honest, none of them are completely waterproof – not like a good old fashioned yellow rain jacket.   He did bring it, and he gets it for me. I tie it around my waist: it's bulky as hell but I figure it will be a fair trade off if the sky does indeed open up.   It's 11:55, we're ahead of schedule, and we hit the trail.
LOOP 5
We take off for our first few runs, still cruising along at our normal pace.  I suddenly notice how hard running has become.  It feels almost instant.  I try to shake it off, but I can't.  I slow down, it doesn't help.  So I ask the guys if we could just walk for a bit.  We have to maintain a 16 minute mile (according to my plan) and I'm able to walk faster than that, so Eric agrees.
And just like that: I bonk.  HARD.
Eric and Dave keep trying to talk to me, and I'm struggling to respond.  I'm sure they thought I was just in a bad mood, but the reality is, it took far too much energy to respond.   They fall back just a few paces to give me space, and I'm power walking as fast as my tired legs will take me.  I'm having flashbacks to this exact race, on this exact section, in the dark, last year.   I bonked then too, and I feared that this year would also end in a DNF.  I try to shake this feeling of exhaustion, gloom, and doom, but I can't.  I'm frustrated, I had done everything right up until this point!  I even just ate at least a few hundred calories worth of grilled cheese and tomato soup, why isn't that kicking in?   The wind is picking up, trees and large branches are cracking in the woods, and I suddenly want to be anywhere but there.    It occurs to me that I should eat, but I also don't want to stop this forward motion to dig out food, it's going to take way too much effort.
This, of course, is the worst thing you can do.
Fortunately, I brought a pacer along.  And sure enough, at 5 minutes to the top of the hour, Eric calls ahead "HEATHER!  TIME TO PUT FOOD IN YOUR GROCERY HOLE!"
I stop dead in my tracks and choke back tears as I say to Eric, quite pathetically I might add:  "OK, but can we please stop so I can eat?"  He laughs and replies "Of course!"
I eat an entire Stroopwafel and take half of a 5 hour energy shot.  Then I get moving again.  Sure enough, not 5 minutes later I feel like a new person.  The first sign that I'm feeling better? I start running my mouth with incessant chatter again.  Something along the lines of "whew, that was close you guys!  I just bonked, but now I'm good!  Remember when I didn't want to talk to you like 10 minutes ago? That was bad!" etc., etc.
Pro tip: if you're ever hanging out with me, and I go from being super friendly and outgoing to super quiet and standoffish, and you know that you haven't done anything to upset me…feed me.  My parents can assure you this has happened my entire life.  When grumpy Heather comes out, she needs food.
We make it to the first aid station and it's starting to rain.  It's still too warm for a jacket, but at the same time, I don't want my base layer (my tank top) to get wet, and potentially cause me to become colder later.  So I untie the yellow rain jacket, put it on, and we're back on the trail.
I put that coat on not a moment too soon.
The sky does indeed open up.  It's windy, it's rainy, everything is suddenly soaked… and I think of the phrase my Dad used to say: "it's a good day to be a duck".   I smile as I think about Dad, and know that it's no coincidence I'm out here in the middle of the night, wearing his jacket and his hat (a Boston & Maine railroad trucker hat).  He's not only with me, he's laughing at me, shaking his head and saying something along the lines of "only you, Heather Jean" regarding the fact that I do something this foolish, for fun.
We cross the road into the Turkey Creek single track trail.  Remember earlier in this post (like 3,000 words ago, this is getting out of control pretty quickly) when I mentioned that I couldn't believe Chad (the RD) had turned soft and actually used a leaf blower to clear the trail?
Yeah, well now that cleared dirt was nothing but a sloppy mess.  With no leaves or pine straw to aid in traction, this section of the trail was now as slippery as a skating rink.   Noooooow I get it, Chad.  Now I see, haha.   We slip and slide, I think I hear Dave fall off of the boards and into the swamp behind me, and my feet are also soaked, but eventually, we make it out on the other side and we're back on paved road.
On the last loop, we pass multiple people.  This loop?  We do not see another soul, save for the aid station volunteers.  Oh, and one very large opossum.  It only adds to the misery of this loop (the loneliness, not the volunteers or the opossum), but I keep reminding myself that this time is going to pass one way or another.  I could either pass it by getting rained on in the woods, or I could pass it getting rained on in a tent.  Might as well keep moving forward.  And to be honest, keeping that in mind, I was able keep the misery at bay.
We make it to the Yellow Jacket aid station and I'm excited to see my friend Nathan.  He's a very accomplished ultra runner himself, and he's been a huge cheerleader in my corner over the last year.   I tell Nathan that I'm approaching the point where  food isn't really appealing anymore.  Thankfully I'm not nauseated or anything like that, I'm just so sick of force feeding myself endurance food every hour on the hour.  Nathan tells me that at this point, I could do nothing but sip coke for the next 20 miles and I'd still finish.  That gives me a boost of confidence – both that I'm that close to the end of this adventure, and that Nathan, the guy who comes out here and runs 200+ miles in the summer FOR FUN, thinks I've practically got this race in the bag.
My core temperature is dropping, but the long sleeve I have tied around my waist is absolutely soaked.   Fortunately, I have a plastic rain poncho folded up in my hydration pack.  Eric and Nathan help me get that on underneath my rain jacket, and I'm almost instantly warmer.  We don't hang around for long…it's time to head into the swamp.
It's at this point that I realize how much my feet are starting to hurt from being wet.  The middle of my forefoot is starting to feel hot, and I know a blister is coming.  I think it's for that reason alone that I decide to try and pick my way around the now quickly growing mud pits and flooded sections.   It's practically a lost cause, I come out of there absolutely soaked anyway.   But the important thing is: I make it out.
We return to camp right on schedule.  I am hoping to return to that awesome roaring fireplace of Brian's, and multiple familiar, smiling faces under the tents.  But when I show up, half of the tents are gone, there's no more fire pit, no more chairs, and no one is around.  My spirit immediately drops.
"Hello?" I yell "Is anyone here? I'm back!"
The zipper to our tent whirs open, and Geoff pops his head out.
"Hiya doll, come on in here, we've got you all set up!"
Sure enough, chairs have been set up INSIDE the tent, the lantern is shining bright, and all of my stuff is spread out everywhere, waiting for me.   As it turns out, the wind and rain was so bad, it was knocking tents around left and right.  So my friends weren't bailing on me, they were just saving themselves.  They are forgiven, haha.
Geoff helps me change, because at this point my legs are starting to lock up, and it feels near impossible to take off soaking wet clothing…especially sports bras and tights.  Thank goodness for ultra-husbands.  He fixes my feet while I deal with nutrition.  Felicia shows back up (she was at the timing tent), and gets herself ready to join me on this last loop.
Finally, we head over to the timing tent.  RD Krista is passed out with her head on the table, and RD Chad doesn't look terribly amused, but who can blame him: it's cold, rainy, and he hasn't slept either.
"Heather.  You have completed loop 5." he says to me, very matter of fact.
"Yes sir." I reply, equally as matter of fact.
"You are now starting loop 6.  When you finish that, you'll have to do another 4 mile out and back."
"Yes sir."
"Go."
LOOP 6
The rain has subsided, but the forest is absolutely soaked.  My feet are also in a lot of pain, and almost feel like the forefoot of both feet is splitting, in classing "swamp rot" or "trench foot" style (don't google either.  Trust me.)  As such, I try to pick my way around some of the new puddles that have formed on the previously dry section of the trail.  Dave, on the other hand, is having none of this.  "Fuck it, I'm done with the water, I just want this to be over with" he says as he barrels through the water.
I'm successful in keeping my feet dry for approximately ten whole minutes before I slip and my entire left foot is soaked.
"FUCK! " I yell, to no one in particular.  "FUCK, FUCK, FUCK". Now I'm in full on temper tantrum mode. But there's not a damn thing I can do about it, so I just keep moving forward. This however, has set the tone for loop 6, and that tone is "let's just get this over with."
As we trudge on, my feet get progressively worse.  Instead of thinking about it, I focus on the fact that any minute now, the sun will come up.  It HAS to come up, eventually, right? I know that daylight will be a huge mental boost, and at this point, I'll take anything.  Further, Geoff handed my trekking poles before we left for this loop, and trying to navigate through the dark with them – WITH my handheld light (seriously, what was I thinking) – was proving difficult at best.
The sun rose again, as it always does, and I felt immediately relief.  In fact, Felicia and I spent a solid 4 or 5 miles chatting away.  Sure, I hurt, but who doesn't at 88 miles?
We're back at Turkey Creek, and it's worse than ever.  I'm trudging away as best as I can, but the slippery mud is causing my blistering, splitting feet to feel like they are on fire.  I find myself speeding through this section as quickly as I can, hoping that being back on a long stretch of dirt road will bring reprieve to my feet.
I was wrong, the impact of the hard packed dirt hurt way more.
A few days before the race, fellow ultra runner and total badass Annie Randolph told me that when my feet started to hurt (because, this is a given in 100 milers) I needed to mentally disconnect from them, and visualize tucking them away in a box so that they were no longer a problem to me.  Needless to say, I spend the next few hours saying out loud "MY FEET ARE IN ANNIE'S PAIN BOX.  MY FEET ARE IN ANNIE'S PAIN BOX!"
At this point, I'm not the most exciting person to be around.  I'm so exhausted that I don't want to talk anymore, I just want to move forward.  Felicia tries to carry on conversation to distract me, but I'm having none of it.  Further, Dave, who is clearly in the pain cave himself, keeps turning around to ask about paces, mile splits, and other things he can no longer keep track of because his Garmin died.  I keep giving him confused looks and responding with things like "I don't care anymore, just keep going!"  We are approaching the Yellow Jacket aid station, with about 8 miles left in the race.  It's 9 am, which means we have to maintain a 30 minute mile average to make the 30 hour cutoff.  We're hovering around a 16:00/mile, simply power walking, so I'm not worried.
I also want to be done so badly, that I'm not going to "take my time".
We blow through the aid station.  I yell something like "825, Heather Hart" to volunteer Sean, who already knows who I am.  He says something like "Great job, you're almost done!" to which I snap "8 more miles is not almost done" or something like that.  I don't remember, I just remember feeling like an exhausted bitch. Sorry Sean, it wasn't you, it was mile 92 speaking.
A few more miles of dirt road, and then we're in the swamp.
A  few hours earlier I informed Felicia that my feet were so messed up, that there was no point in trying to pick my way around the muck: I was going straight through.  Thank goodness, because this mess had only gotten messier.  Some sections looked like this:
While others were simply completely underwater.
I find myself incredibly grateful for the trekking poles.  Yeah, I know what you're thinking: who the hell uses trekking poles for a flat course?  Someone who wants to get the hell out of the swamp, that's who.  Those poles were integral in making it through that mess without falling over.  I feel bad for Felicia who a) doesn't have poles, and b) has much shorter legs.  But she is hustling to keep up and doesn't complain for one second.
The cold water actually felt fantastic feet, but the slippery mud made the burning that much worse.  Not to mention the fact that every time we came out of a big puddle, my shoes would be chock full of mud.  About a mile from the start/finish, I asked Felicia if , when we got closer, she would run ahead and grab me a fresh pair of socks and shoes, so I could change quickly before heading out on the last 4 miles. I know it was only 4 miles, but I was in a ridiculous amount of foot pain.
"Annie's box of foot pain, Annie's box of foot pain" on repeat in my head.
We're less than half a mile from the start/finish, and finally out of the muck.  I notice the most hilarious thing happening in my shoes: the massive amounts of mud in my shoes are hardening under my forefoot and around my toes, and actually creating a metatarsal pad of sorts.  The mud is relieving the pain in my feet, I can't freaking believe it.
We hit 41 and cross the street to head back into camp.  Geoff and our friend Brian are there, cheering me on.
"It's a freaking mess out there. My shoes are FULL of mud!" I randomly yell to them.
"Change your shoes!" Brian yells back.
"I can't…the mud is holding the skin on my feet together."
They both just laugh.  I run past our camp, and head straight to the timing tent.  RD Chad is missing in action, but RD Krista is there.  She and another friend (and one of the most badass runner's I've ever met) Karen are standing under the tent.  They show me a roll of green marking tape, and tell me that 2 miles down the trail, I'll find some of this.  Rip off a piece to prove I've been there, bring it back, and I can be done.
You don't have to tell me twice.
THE LAST 4 MILES
All things considered, I'm not miserable.  I'm sore, tired, and hating my feet, but I've definitely felt worse, even at half the distance I've currently covered.   That said, this last stretch of trail was akin to folding laundry: nothing is inherently wrong with it, you just don't want to do it.  Or at least I never want to do it, and I didn't want to run this stretch either.
But spoiler alert: I did.
Of course, I spend the first mile stressing over the fact that I wouldn't put it past Chad to put the tape somewhere around mile 2.5, or 3.   But I put my head down, and go.  I'm desperately looking ahead, hoping to see one of the 3 guys Krista told me were on the out and back section ahead of me.   After what feels like forever, I see a familiar face: Chris is running towards us.  I yell ahead "Is the tape actually at mile 2?"  He responds that he thinks it's even maybe a little before mile two, and tells us to look for it hanging from a tree.   I thank him, put my head back down, and keep going.
Finally, FINALLY, I see that blasted tape.  There's another guy at the tape when we get there.  I tear off a decent length, and ask Felicia to tie it around my wrist. I'm NOT losing this thing.  And then we take off ahead of the guy.
My spirits are lifting, the end is actually in sight.  Felicia asks me if it's sinking in yet, and I tell her sort of – but not really – because I've spent the past 100 miles so focused on what I was doing, that I was just mentally DONE.  I hadn't listened to any music, I hadn't even written this damn blog post in my head (maybe if I did, it wouldn't have been so long).  I focused on my goal and sticking to the plan, and it didn't leave time for much of anything else.
Wait, I take it back, at some point that morning Geoff told me he had Jon Secada stuck in his head, and I'm pretty sure I had this ear worm running through my head for at least 30 or so non consecutive miles (that video is so fantastically 90's it almost hurts).
Anyway, the temperature drops about 20 degrees all of a sudden.  I thought it was me, but Felicia agreed.  A cold front was rolling through, and just in time, I was about to be done.
7,156 words later, I'll now bombard you with the pictures:
I won't lie, a number of times during the race, I pictured the finish line, and wondered how I'd react.  Would I cry?  Would I exclaim some well earned expletive, like "I'm fucking DONE!"?  But as I ran across the finish line, all I could do was smile.  The best word to describe that feeling:  content.   I felt content.
Finally.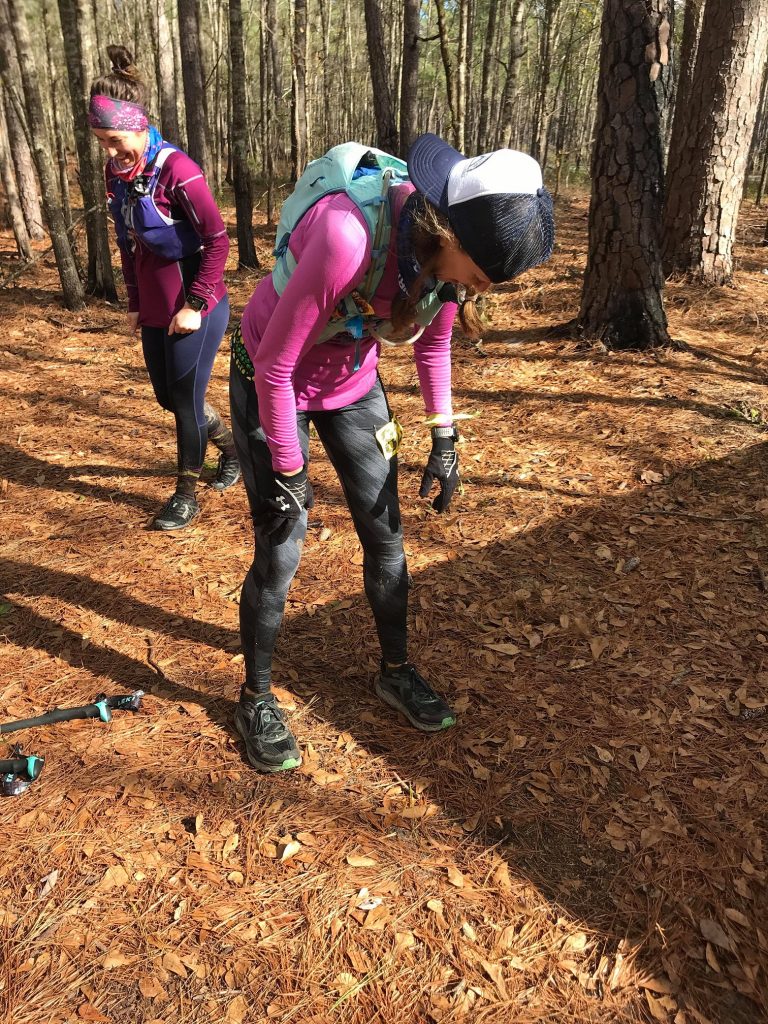 I hugged my husband.  I hugged my Felicia.  And then, whether he was ready or not, I hugged my race director.
Chad informs me that I'm the second place female, which totally takes me by surprise, because I honestly did force myself to take any thought of competition out of my head.   My time of 28 hours, 13 minutes, and 43 seconds nets me second female, and sixth overall.   In fact, only 12 of us would finish the 100 miler, with 16-100 miler DNFS.  It was a tough day, on a very unforgiving course.
Chad handed me a hat, a finishers sticker, a little felt yeti pin that I've been coveting since my DNF last year, and of course, the buckle: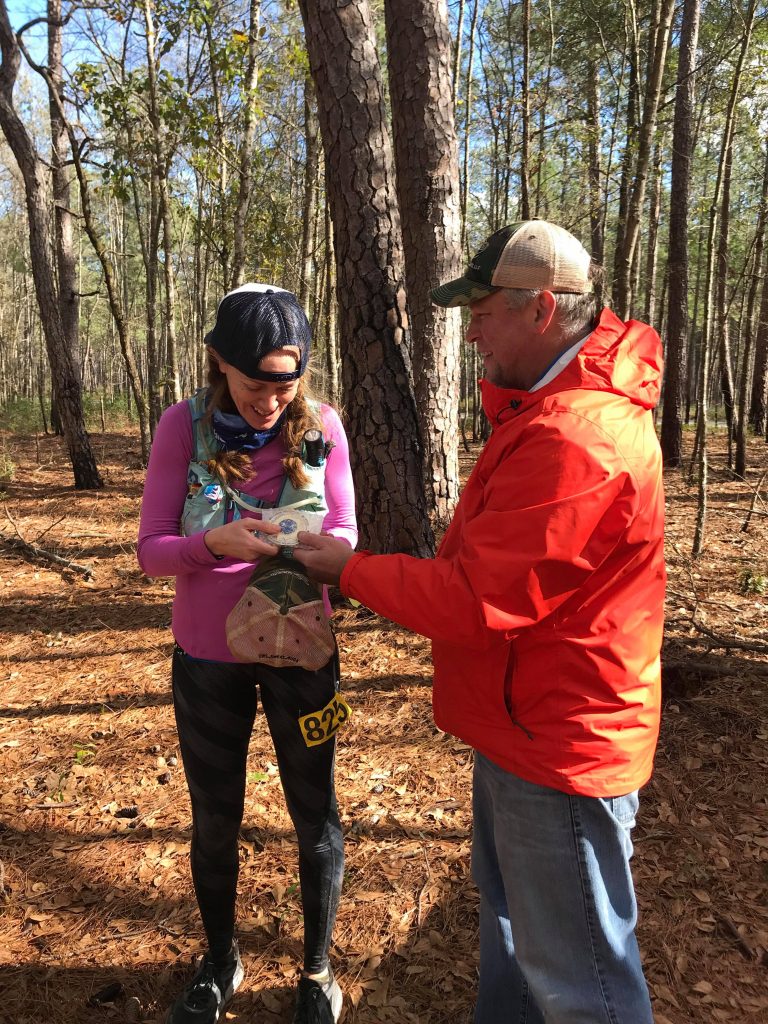 I have so much more to say about all of this, but my kids are getting pretty sick of me sitting here typing away instead of making dinner, and I'm pretty sure you all deserve a belt buckle of your own for reading this post, it's an endurance even in it's own right.  So stay tuned for a second post, where I ramble on about what I think worked -and what I will change for the next one.
Yes, there will be a next one – did I mention I got into the Vermont 100 Lottery for this July?
Before I go, I'd be remiss if I didn't say a few thank you's:
Thanks to Dave Moore, for the endless company and support.  We spent nearly 100 miles running together, you realize you're now my friend for LIFE, right?
Thank you to Eric for pacing me through the pouring rain and my bonk, after having run a race of your own that morning.   Thank you to Raquel for driving all the way down to the swamp just to run one loop and drive all the way back to Myrtle in the same night.
Thank you to Felicia for sacrificing your weekend, and time with your adorable pups, to literally babysit me for 10 minutes every four hours, sitting around in the freezing cold forest, and then barreling through some gnarly swamp (I swear my toenails will never be clean again).  Thank you for making me eat, for letting me vent about my feet, and for loving me even when I get quiet and cranky.  You are the best friend a girl could ask for!
Thank you to Chad and Krista for another amazing event, and for sacrificing your sleep so that us crazy runners can accomplish big things.  Thank you to all of the volunteers and friends who kept me going: Soleil, Brian, Karen, Mark, Nathan, Amelia, Howie, Karen J, Sean, Jay, I'm sure I'm forgetting people so forgive my ultra brain.
And most of all, thank you to my husband Geoff.  He's a cyclist, did you know that? I'm pretty sure he actually hates running. But without fail nor even the slightest bit of hesitation, he follows me into the woods (in a non creepy way) and supports me as I quite literally run after my goals.
In the words of the great philosophers Daryl Hall and John Oates: you make my dreams come true.
Heather Hart is an ACSM certified Exercise Physiologist, NSCA Certified Strength and Conditioning Specialist (CSCS), UESCA certified Ultrarunning Coach, RRCA certified Running Coach, co-founder of Hart Strength and Endurance Coaching, and creator of this site, Relentless Forward Commotion.   She is a mom of two teen boys, and has been running and racing distances of 5K to 100+ miles for over a decade.  Heather has been writing and encouraging others to find a love for fitness and movement since 2009.