Last Updated on by Heather Hart, ACSM EP-C
This post was sponsored by Optimum Nutrition as part of an Influencer Activation and all opinions expressed in my post are my own.
While knocking 10 miles out on the treadmill the other day, I distracted myself by finally watching the Joe Rogan podcast (yes, you can watch a podcast) with Courtney Dauwalter.   At the time of the interview, she had just smashed the Moab 240, winning first place overall (not just female, but overall) by over 10 hours.  She was nearly 20 miles ahead of the first place male.  That's just unheard of.
One of the things Joe asked Courtney was to describe her diet.  Of course, an athlete of that caliber must follow a very stringent, wholesome diet, with carefully calculated macronutrients and supplement replacement, right?
Courtney casually replied something along the lines of "I like nachos." And that was it.  A regular "American diet" , she called it.   I found myself equal parts in awe, and frankly, a bit jealous.   Because an "American diet" of nachos, burgers, and snack cakes sounds right up my alley…only my body would hate me for it.
Then again, I'm not running 100 mile training weeks and winning 200+ mile races like Courtney is.
The reality is, I do train hard (for a mere mortal).  I also spend most of my "work" day on the go, as a personal trainer and group exercise instructor.  I'm always moving, and I workout two to three (sometimes even more) times a day.  If I don't eat regularly, I turn into a miserable human being, a perfect embodiment of the term "hangry" (hungry + angry).  So what I eat matters.  The difficulty, of course, is finding quick, on the go snacks and meals that help – and not hinder – my performance, recovery…and level of "hangry".
Recently I discovered new, ready-to-eat protein options from Optimum Nutrition, and they've been a huge hit not only for my snack cake loving self, but my always hungry and also always in the gym husband.  You see, I have an incessant sweet tooth.  If I don't show up to the gym/work prepared, I can almost 100% guarantee that I will stop at a convenience store or the local donut shop drive through on the 20 minute ride home. (Or while waiting to picking up the kids from school, or while out running errands…you get the idea.)
Sound familiar?
As you may already know, protein is an essential macronutrient required by our bodies.  Protein is required for recovery and growth of muscles damaged by hard training, both in the gym and on the trails.  These Optimum Nutrition snacks are perfect, on-the-go sources of protein (upwards of 10-20 g of protein per serving) that not only help satisfy aforementioned sweet tooth, but quell the "hanger" while helping my body recover from that morning's workouts. 
The Optimum Nutrition snacks are portable, don't need to be refrigerated or reheated, and are easy to toss in my gym bag (which doubles as my briefcase…personal trainer life). Best of all, they aren't hard to come by: you can buy Optimum Nutrition snacks, affordably, at your local Walmart.
Want to give these protein packed snacks a try?  Optimum Nutrition's generosity left me with enough snacks to share with YOU!  One lucky winner will receive:
A 4 count box of Salted Toffee Pretzel Protein Crisp bars
A 3 serving bag of Cinnamon Roll Protein Almonds
A 4 pack box of Peanut Butter Chocolate Protein Cake Bites
A 4 pack box of Chocolate Frosted Donut Protein Cake Bites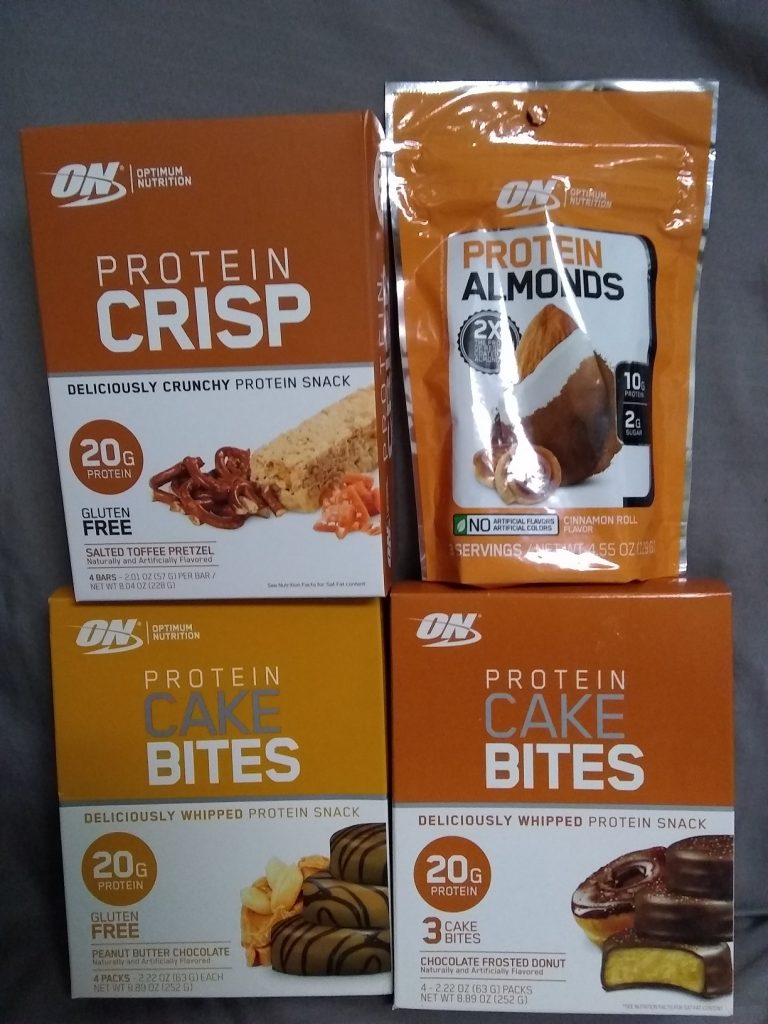 To enter, use the rafflecopter widget below.  Winner will be chosen on Sunday December 16th and will be contacted via email.  Good luck!