Last Updated on January 22, 2022 by Heather Hart, ACSM EP, CSCS
If you ask me, there are two things that can be absolute deal breakers and race enders during an ultramarathon: low blood sugar and angry feet.
It is well known among the running community that a) you have to eat enough food to avoid "bonking", and b) happy feet equal a happy runner. No one has time for blisters, hot spots, or shoes that don't fit quite right (or low blood sugar, but that's a topic for another post).
And a blister that may slow you down during a 26.2 mile marathon, will absolutely bring you to your knees (or at least the dreaded chäir) during a 100 miler.
If you're getting ready to make the leap from the traditional road racing world to ultramarathon distances, you're probably wondering what the best shoes for ultramarathon distances might be. Do you need a special shoe for ultra distances? Or will your regular road or trail shoes do the trick?
In this post, I'll cover ultra-specific factors you should take into consideration when choosing the best long distance running shoes for ultramarathons
How to Choose the Best Long Distance Running Shoes for Ultramarathons
Having been around the long distance running world for well over 15 years, and more specifically the ultrarunning world for the last 7 years, I've frequently observed that newer runners are convinced there is a magical shoe hiding out there that they simply haven't discovered or heard about yet. This is incredibly apparent if you frequent any sort of online ultramarathon community, as you'll regularly see newer runners posting things like "what are the best shoes for ultramarathon distances" or "I'm running my first 50 miler, what shoes should I wear?"
And the answer, time and time again, is always this: it's going to vary from runner to runner. What works best for one runner will not necessarily be the best for another. If this was the case, the running shoe industry would likely only consist of one single shoe brand with a handful of models to choose from. But in reality, the running shoe industry consists of dozens and dozens of major brands (and countless other lesser known names, and was estimated to be worth about 98,000 Million (USD) in 2019, and expected to reach 120,000 Million by 2026 (source).
But with the advent of things like the Nike Vaporfly (and all iterations) lending to not only elites setting world record running times, but helping everyday runners set PR's, it's no wonder runners may assume the same exists for an ultramarathon.
The Best Ultramarathon Shoe is the One That Fits.
Sorry to be the bearer of bad news, but the truth is: there is no such thing as one single "best ultramarathon shoe" on the market. (But don't stop reading here, I promise I have valuable information to share that will help you find the answers you are looking for!)
Let me give you two immediate examples as to why:
Killian Jornet, arguably one of the most talented mountain and ultrarunners on the planet, runs in Salomon brand shoes. Now don't get me wrong, they are great shoes, and many other ultrarunners will recommend them as well. But for me, they are far too narrow in the forefoot. If I attempted to run even twenty miles in a pair of Salomon trail shoes, I would end up with blisters on my feet (thanks to my bunions) that would bring me to my knees in pain. Therefore, even though they are great shoes for some, Solomon would NOT be the "best" ultramarathon shoe for me.
Ultramarathon courses are highly variable. For example, the current 100 mile world record time was set by Aleksandr Sorokin in April of 2021 at the Centurion Track 100 on, you guessed it, a track. (And his time, incase you were wondering? 11:14:56). However, one of the more prestigious and well known ultramarathons in the United States, the Western States Endurance Run 100 miler covers a variety of terrain and single track trails through the mountains of the Sierra Nevada's, climbing a total of 18,090 feet (5500 m) and descending 22,970 feet (7000 m). These courses arguably have nothing in common other than the total distance covered.
Ultimately, the best ultramarathon shoe on the market is the one that:
1. Fits YOU, and
2. Meets the needs of the specific ultramarathon course you are running (more on that below).
So, first thing's first: get a shoe that fits you. Not a shoe that an elite wears, not a shoe that your running partner swears by, not a shoe that looks badass or that you were able to get a discount on. When you really stop and consider how many miles you'll be covering and steps you'll be taking in an ultramarathon (consider that on average, runners take 1,500 steps per mile) you want shoes that are going to fit well and feel good.
What Makes an Ultramarathon Shoe "Fit"?
I often tell runners that the best sign a shoe fits you properly is that you forget you are wearing it. You don't have any areas that rub your foot, or feel "funny", or simply just contribute to any sort of nagging sensation.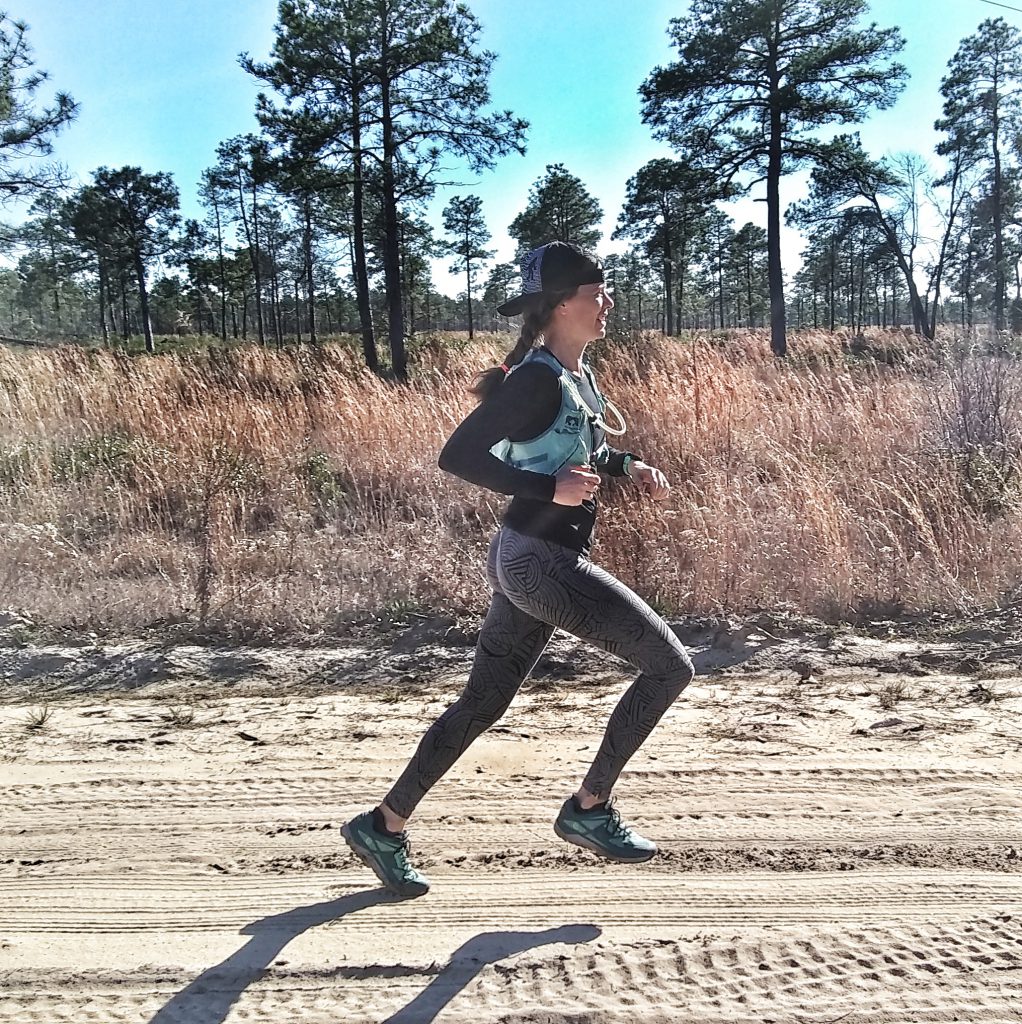 Frankly, you have enough to think about when running an ultramarathon, your shoes shouldn't be one of them. But what exactly are you looking for?
A shoe appropriately sized for the length AND width of your foot.
You're going to want a shoe that let's your foot, completely relaxed, sit comfortably inside the shoe. Nothing should feel sharp, tight, or restrictive. For example, in addition to not having your toes bent in anyway at all, the tips of your toes should not be rubbing against the front of the shoe.
The width of the shoe should fit in a way that you are not spilling out over the sides of the bottom of the shoe. Running shoes are available in a variety of widths, even in women's sizing.
A shoe that gives enough room for natural movement of your foot
Every time your foot hits the ground during the natural running gait, your foot moves. This is a natural part of the running gait (more on this later), and your body's way of absorbing the impact of the force of running. In addition to the natural pronation through the landing and toe-off, the muscles along the arch of the foot stretch and "flatten" temporarily to absorb impact. They then contract during liftoff, acting as a spring to propel you forward.
But the important thing to note here, is that as your arch flattens, your foot temporarily becomes longer and wider.
Therefore, a shoe that fits *just* enough will likely not allow for the natural movement, and may cause discomfort.
Should Ultrarunners Size Up Shoes For Swelling Purposes?
When it comes specifically to the sport of ultramarathon, you may have heard other runners talk about needing to size up to accommodate swelling of your feet during later stages of the race.
This may be true to an extent, but there are a few things to consider:
Not every runners feet swell, and further, not every runners feet swell during every race. There may be a number of factors that contribute to whether or not a runner's feet swell during a race, including things like the race course itself, hydration and/or temperature circumstances (that may contribute to swelling overall)
Sizing up to the extent that you are sliding around in your shoes before your feet start to swell (especially on climbs or descents) will likely cause not only blisters or hotspots, but may cause you to feel less confident on your feet.
My recommendation, if significant swelling is a concern, is to have a backup pair of shoes in a larger size to change into during later stages of the ultramarathon, in order to accommodate your swelling feet IF (and only if) necessary.
Shoe Cushion Level Desired
Do you prefer a ton of cushion? Do you prefer a more minimal ground contact feel? And, the bigger question: are you going to want something different over he much longer distances of an ultramarathon?
Personally, I love a more minimal, ground contact feel for runs around a marathon distance or less. But once I hit that 40, 50, 60+ mile mark? My feet want more cushion. I'm not alone here: there's a reason why Hoka One One shoes, with their "maximal", marshmallow like cushion are widely popular in the ultramarathon world. Your feet may or may not want the same.
While more cushion may seem like a good idea for ultramarathon distances, scientists aren't so sure if this is as beneficial as it sounds. While the topic is still widely debated, there is research demonstrating that runners running in maximal shoes may not only increase impact forces and loading rate, but may also change a runners biomechanics.
Point being: go with comfort, rather than thinking a shoe will "do" something for you, such as prevent injury or make you faster.
Stability vs. Neutral Shoes: Does it Matter in an Ultra?
Should you be concerned about needing extra "support" in your shoe for ultramarathon distances? Maybe. But then again, maybe not. Time for a little science:
A quick rundown on foot landing mechanics:

During the normal running gait most runner's feet will land on the lateral (outer) to middle of the foot, then gently roll in towards the medial (inside/arch) side of the foot when the foot lands with each step. This is called pronation, and is part of the way the body absorbs the force of the impact of running, as well as setting you up for the next "push" off of the ground through the toe-off movement.

However when some people land, their foot rolls towards the medial (middle) side at a significantly greater movement rate than normal, either through a collapse of the arch, or a bend in the ankles (I hate calling it an "ankle break", it sounds so painful, but that's a common industry term). This is referred to as "over pronation".

Severe overpronation can, in some runners, cause pain or other issues (but it's important to note, doesn't cause issues in all runners who overpronate). In these cases, a stability shoe can help lessen the rate of overpronation, and thus, lessen the occurrence of negative side effects due to overpronation.
BUT…(here's where it gets tricky) stability shoes might not be necessary for trail running. Consider the movement of a runner's feet across a technical trail littered in roots, rocks, or other constantly varying terrain. The runner's foot is not landing over and over in a repetitive, similar movement, but instead is landing in a variety of different patterns to adapt to the terrain it is landing on.
Not only is a stability shoe not necessary in these instances (because not every foot fall is going to result in overpronation), but a stability shoe might, in fact, feel less "stable", as it's giving a false sense of what is truly going on underfoot.
Therefore, if you typically need a stability shoe for road running, and your ultramarathon is on a road, dirt road, or other surface that does not vary, then a stability shoe is likely the best choice for you.
However, if you are running on a constantly varying trail, a stability shoe is likely not necessary (and what's more, most trail shoes are considered "neutral" anyway).
Consider Aftermarket Inserts
If you need a little extra support underfoot, but don't want to use a true stability or support shoe, an alternative option may be an aftermarket inserts. Not nearly as aggressive as custom orthotics, these insoles (such as Superfeet or Treadlabs), may help minimize overpronation or excessive movement of your arch without changing the overall feel of your shoe.
Of course, these inserts come with their own set of pros and cons, and aren't necessarily the right choice for every runner. You can learn more about them in this post: "Aftermarket Insoles for Running Shoes: Do You Really Need Them?"
Ultramarathon Course Specific Considerations
Once you have the proper fitting shoe, the next thing you need to consider is the specificity of the ultramarathon you'll be running. It's important to remember that ultra distance races can vary greatly. You can run 100 miles through some gnarly, backcountry, craggy mountain terrain (like the Hardrock 100), or you can run 100 miles exclusively down busy, paved roads (like the Keys 100). There are 50 milers that include 39 miles of running across beach sand (like the Badwater Cape Fear 50) and there are ultras that may include a little bit of every terrain you can imagine – including waist deep water crossings.
Trail Running Shoes:
Are you running an ultramarathon on a trail? Depending on the type, terrain, and difficulty of the trail, trail specific running shoes are going to be the best choice.
Let's look at the difference between road running shoes and trail running shoes:
A trail running shoe is going to have more aggressive tread on the outsole to help you grip the trail, and avoid slipping on things like rocks, muds, soft sand, etc. Not having to worry about slipping and sliding can save you a ton of physical and mental energy, especially over ultramarathon length distances.
Trail shoes are going to have a more durable upper (the top half of your shoe) than road running shoes, in order to withstand the abuse of off-road running. They will be less likely to tear or break down when they run through brush, rub against rocks, or get caught on thorns.
The more durable upper also helps to provide even more structure and support for the constant lateral movements that occur on trail, helping to guide your feet and ankles with the constant, unpredictable movements.
Trail shoes are typically built on a wider last, the mold that the shoe is formed around during construction. A wider last and wider outsole will provide a bit more of a stable base for the lateral movements that often occur on trail, while hopping around rocks, roots, and other obstacles.
Trail shoes may have other trail specific features such as a reinforced toe (for accidental rock kicking), gaiter traps and hooks (to hold hold your gaiters in place and prevent debris from entering your shoes), an internal rock plate to help protect the forefoot from sharp rocks underfoot, and sometimes even waterproof materials to help keep your feet dry and comfortable (more on that below)
While a trail running shoe isn't necessary for all trails, for all of the reasons listed above, they can certainly help.
Road Running Shoes:
There are a number of instances where road running shoes (basically, any running shoe not made for the trail) may be ideal for an ultramarathon.
An ultra run on the road (I guess that one is pretty obvious).
An ultra run on a track (indoors or outdoors).
An ultramarathon run on a hard packed surface, such as a dirt road, fine gravel trail trail, or any other uniform terrain where slipping and/or "shoe grip" isn't a concern.
While likely rare, in a situation where you simply cannot find a trail shoe that meets your specific fit needs.
Hybrid or All-Terrain Shoes:
What about the ultra races that cover all sorts of terrain? Perhaps you're running a 24 hour race on a 5 mile loop that is partially trail, partially paved path, and partially across grass?
In this case, you'll want to look for a shoe specifically advertised as "All-Terrain", OR, a trail shoe with less aggressive tread.
One of my personal favorites in this category is the HOKA Challenger ATR. I can run on single track trail and immediately hop on pavement without feeling uncomfortable, or as if I'm in the "wrong" shoe.
Thoughts on Gore-Tex / Waterproof Shoes:
If your ultramarathon contains a water crossing, is predicted to be run in rainy or snowy weather, or is in some way a wet course, it may be tempting to want to run in waterproof shoes in order to keep your feet warm and dry.
However, it's important to remember the following:
If you end up in a puddle, water crossing, or snow that is deeper than the height of the shoe, the water will still enter your shoe from the top, resulting in wet feet. But what's worse, is that due to the waterproof nature of the shoe, now that water is trapped INSIDE your shoe.
Waterproof shoes tend to be less breathable, and may result in your feet sweating more. And, thanks to the waterproof membrane, the sweat doesn't escape as readily, resulting in swampy, damp feet.
The process and materials of making a shoe waterproof tend to also make that shoe heavier. On average, waterproof running shoes are upwards of 10% (almost 1 – 1.5 ounces) heavier than the same, non waterproof model. In many cases, one ounce may seem trivial. But to an ultramarathon runner, those ounces add up over time.
Should You Race In More Than One Pair of Shoes?
Certainly there are plenty of ultrarunners who can finish a 100 miler in one single pair of shoes. But, there are also some situations where you may want to race in more than one pair of shoes. For example:
If a runner finds they need more cushion, more of a heel/toe differential ("drop"), more support, or more space in their due to swelling later in the race, a shoe change might make sense.
A race where the terrain changes drastically at some point during the race, and stays that way for a significant distance. For example, the JFK 50 miler runs across a very rocky, mountain ridge section of the Appalachian Trail from miles 2.5 to 15.5. Then, miles 15.5-41.8 cover an almost totally flat unpaved dirt/gravel surface. Finally, it finishes off with 8.4 miles of rolling, paved roads. While a runner certainly COULD run this course in one pair of shoes, depending on the conditions (is the AT section wet, snowy, slippery?) switching from a more aggressive trail shoe to a comfortable road shoe after mile 15.5 may make more sense
A race where your shoes are going to get absolutely ruined by the terrain. Such as the summer or winter Hell Hole Hundreds in South Carolina. This 16 (ish) mile loop course notoriously includes a 2 mile section where your shoes not only get wet, but they fill up with mud, making them heavy, slippery, and nearly useless. Changing shoes before each loop is almost always necessary.
The Best Shoes for Ultramarathon Training
Now that we've talked all about the course specific demands for an ultramarathon event, I think it goes without saying that you need to not only consider what shoes you should wear for your race, but what shoes you should wear for the hundreds (or thousands) of training miles leading up to the race.
Again, this is going to vary based on…you guessed it….the type of terrain you are training on.
Should You Train In More than One Pair of Shoes?
First of all, if you anticipate racing in more than one pair and/or style of shoes, then yes, you should absolutely train in more than one pair/or style of shoes.
The classic "don't try anything new on race day" warning.
Race day aside, if your training terrain varies, then your training shoes will likely vary too.
Terrain aside, I personally find benefits in training in multiple types of shoes based on the time or distance of my workout. For shorter, speedier runs, I prefer a lighter, more responsive shoe. For longer durations on my feet, like weekend long runs or longer base building runs, something more similar to my cushioned race shoe is my first choice. While this isn't necessary for ultramarathon success, I find it not only helpful in prolonging the life of my running shoes, but in helping me make the most of each training run by wearing the most appropriate shoe for each workout.
Final Thoughts:
I hope if you've read this entire post you've realized that the best shoes for ultramarathon distances are going to be any shoes that work best for YOU. I highly encourage runners to think beyond the catchy marketing of the shoe industry. Anything that claims to make runners "faster" is likely based upon research demonstrating micro-increases in performance among elite runners, who already have every single other factor of their running down to an exact science.
For the rest of us, a shoe that simply fits and performs well based on YOUR needs is going to be the biggest contributing factor to how well your shoes lend to your ultramarathon success. Remember, the ideal way to tell if you have the best shoes for ultraltramarathon distances is to find a shoe you forget you're even wearing.