If you're looking for a first time trail half marathon training plan, dirt and trail loving coach Heather is here to help. Personally, I've always found the half marathon to be a really enjoyable distance. It's short enough that you can push yourself to the limits of your aerobic threshold, but still long enough to feel like a true endurance event. And if you're already a distance runner looking to dip your toes into the trail running world, the half marathon distance is a perfect place to start.
All of that said, my first trail half marathon kicked my ass.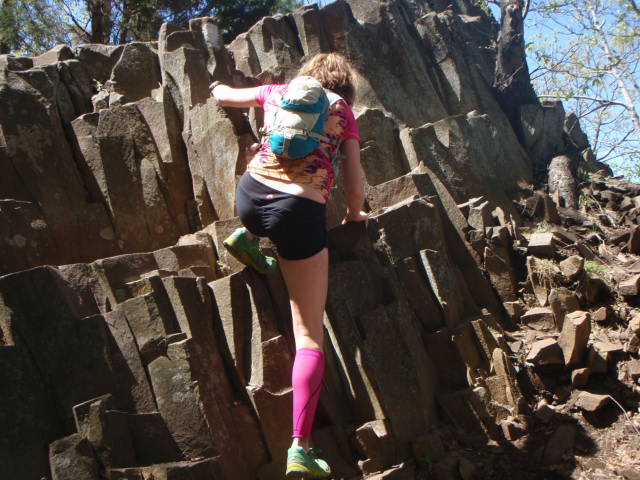 It's true. I had considered myself an "experience" runner when I toed the starting line of the 7 Sisters Trail Race in Holyoke, Massachusetts in the spring of 2013. I was sporting a recent half marathon PR of 1:40. That, for me, was fast. I was confident that I'd be able to rock this trail race (which was technically only 12 miles, not 13.1) with similar ease.
Three hours and fifty seven minutes later I crossed the finish line, absolutely humbled (and if we are being honest, hurting). Now, to be fair, this particular course is ranked one of the more difficult trail races in the country. However, there were a number of trail specific training factors that I completely ignored. As such, I tripped, fell, and stumbled my way through that race.
12 Week Trail Half Marathon Training Plan
You don't necessarily NEED a trail specific training plan to finish a trail race, but in my experience: it helps. I designed this beginner trail half marathon training plan with newer trail runners in mind. The goal of this plan is to safely build the endurance required to run 13.1 miles, while also focusing on the specific needs of trail running. That includes not only becoming comfortable with running on trails, but purposefully incorporating hill work into your training routine.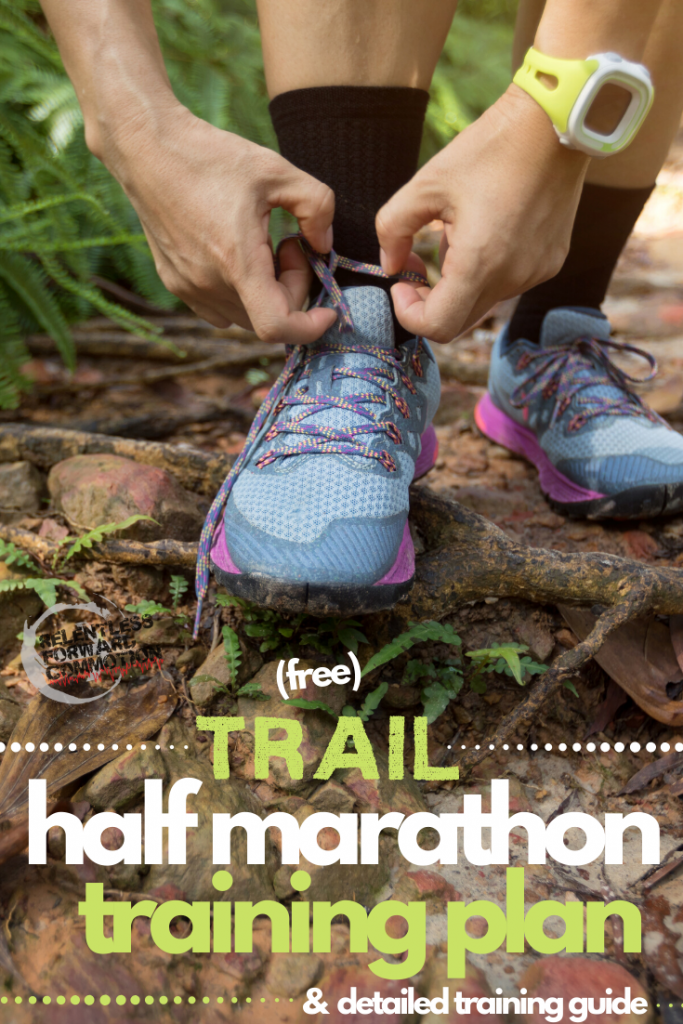 In this plan, I have designated specific days to run on the trail. It's important that you become comfortable with the nuances of trail running, such as learning how to not trip on rocks, or how to duck last minute under spider webs. Now, I realize that not everyone has easily accessible trails to run on. If that is the case, do your best to incorporate trails or off road running as much as you possibly can, but don't stress if you can't do every trail workout ON the trails. Miles on the road or treadmill are better than no miles at all.
On the other hand, if you have trails that are easily accessible, and you want to run more or even ALL of your workouts on the trails: go for it! The more time you spend on the trails, especially trails with terrain similar to that of your planned race, the better.
What the Trail Half Marathon Training Plan Entails:
This twelve week plan, suitable for beginner to intermediate runners, is designed to get you safely to the starting line of a trail half marathon distance race. The plan starts with a long run of 5 miles, and a weekly mileage of approximately 18 miles.
The plan includes only 4 runs a week, all with specific purpose. There's one day of active recovery, one day of strength training (though I always encourage more!) and one day of complete rest. Please note: the strength training and active recovery play a vital role in the training program. These are not "days off" from training, but rather, another opportunity to make your body stronger. Please don't skip them.
Every fourth week, you have a cutback week. During this week, you'll have a significant decrease in mileage and effort. For some, these weeks are a welcome break. Others may fear that these cutback weeks will be detrimental to their progress. This couldn't be further from the truth. Your body needs these recovery weeks to heal, and allow you to continue making progress. Please adhere to these cutback weeks!
Monday: Core & Balance Strength (No Running)
I can hear it now…"Wait this is a running plan, why are we starting out by NOT RUNNING?". Hear me out: with my clients, I almost always make Monday a rest day from running, to help the body recover from the longer workouts of the weekend. However, it's also a perfect opportunity to start your training week out on the right foot by investing time into strength and injury prevention.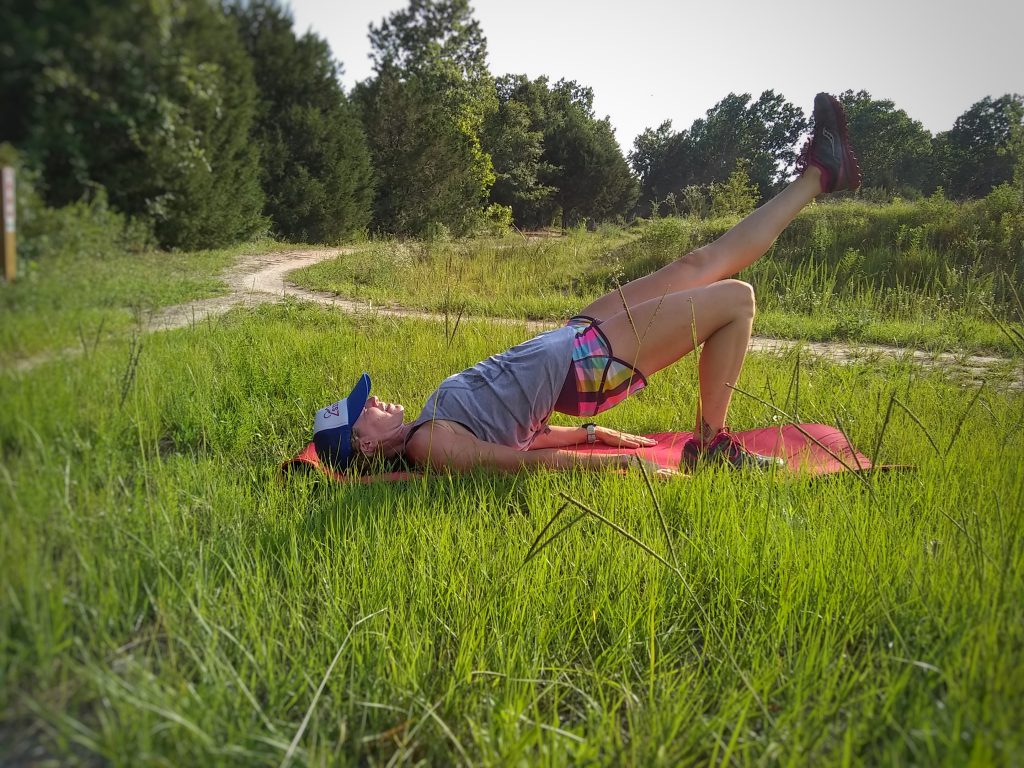 I recommend 30-60 minutes of core and hip strength, as well as lower leg stability / balance work. If you have a routine you already love, by all means, do that. If you are looking for something, try these:
6 Lower Leg Strength, Stability, & Balance Exercises for Trail Runners
8 Core & Hip Strengthening Exercises for Trail Runners
Tuesday: Trail Base Mileage
As the principle of specificity states, you must repeatedly perform a specific skill in order to get better at it. As mentioned above trail running presents it's own set of skills compared to road running,so it's important to practice.
Your trail base mileage workouts should be done at an easy, conversational pace. If you are heart rate zone training, I'd recommend spending the majority of your time in zones 1 & 2. Obviously your heart rate may spike when climbing hills, which is normal. But try to allow the heart rate to return to that aerobic zone for the majority of these workouts.
Wednesday: Hill or Speedwork
On Wednesdays of build weeks, you'll have either a hill or speedwork session programmed. The hill workouts are especially helpful for those running a hilly trail half marathon course, but training in more flat, rural areas.
For hill repeats, ideally a larger hill (one that takes upward of 60+ seconds to summit) is ideal. It is important to focus not only on proper uphill running form, but downhill as well. I think a lot of people underestimate how much the eccentric muscle contractions of downhill running can hurt if you don't properly train for it!
This workout will be one of the tougher workouts in your week. Listen to your body: if anything feels off, adjust this day to become another easy, base building run instead.
Thursday: Base Mileage, Graduating into Tempo Runs
For the first five weeks, Thursday runs will be a continuation of base building runs. Again, these are done at conversational pace. During week six, you'll add in a tempo pace work. Your tempo pace is a pace about 25 to 30 seconds per mile slower than your current 5K race pace. If you are unsure of what that is, you can simply run by effort. Tempo effort should be sustainable, but moderately difficult.
Thursday runs can be done on any surface (road, trail, treadmill, etc.)
Friday: REST
Fridays are for rest! Please take this day off from exercise. A neighborhood walk with your dog, or gentle yoga/stretching is fine, but this day should truly be for rest.

A common misconception among many runners is that more running = faster runner, and therefore, many runners loathe rest days for fear that time off will make them lose progress. Quite the opposite is true: rest days are an integral part of the training process. During rest days, your body recovers from the physical stress of workouts, rebuilds damaged tissue, and becomes stronger.
Saturday: Long Run
Long runs are truly where your body adapts to running for long periods of time, physically and mentally, and are a cornerstone of distance training. Further, long runs are the perfect "dress rehearsal" for your race. Long runs give you an opportunity to experiment with – and perfect – nutrition and hydration plans, anti chafing products, new shoes or shorts…you get the idea. Long runs should be done at an easy effort pace (or, Zone 1 &2 as mentioned earlier).
Sunday: Active Recovery
Every Sunday (and Wednesday during cutback weeks) is a scheduled active recovery day. These workouts are designed to help promote blood flow, encourage healing, stimulate cardiovascular endurance, but remain low impact. Workouts like: swimming, biking, hiking, yoga, elliptical, etc. are all great options. Keep the effort on the lighter end. If your body is exhausted and you are in need of a rest day, you can substitute the active recovery days with rest instead.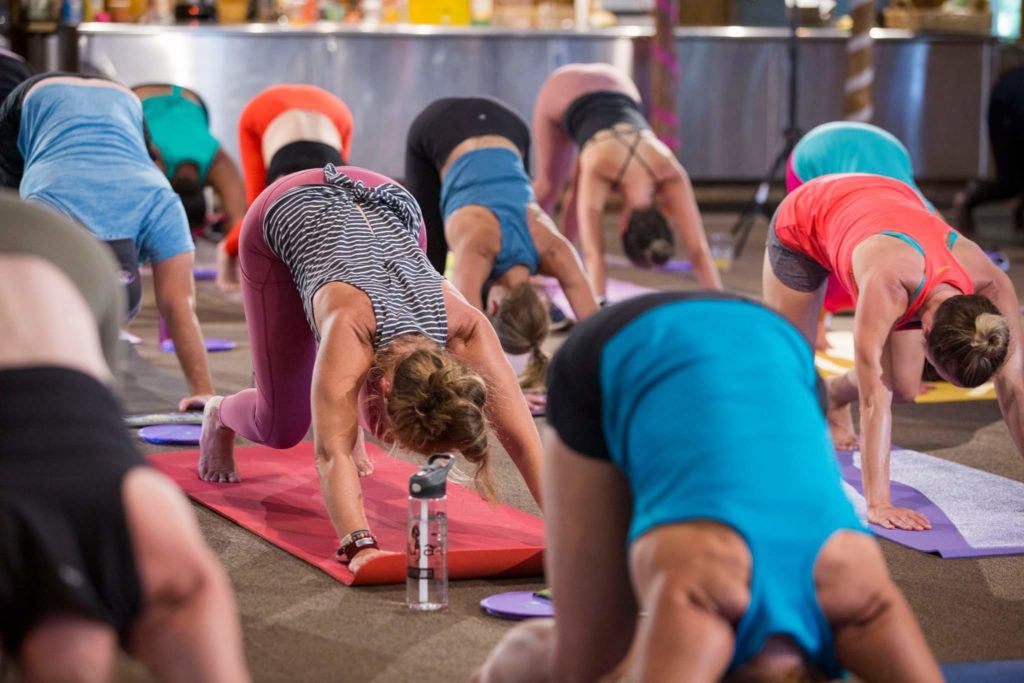 DISCLAIMER:
The following training plan is designed for educational purposes, and is not a prescribed training plan for any particular individual. While I am a certified exercise physiologist and RRCA running coach, and have designed this training plan with safety in mind, you should understand that when participating in a trail half marathon training program, there is the possibility of physical injury. If you engage in this training plan you agree that you do so at your own risk, are voluntarily participating in these activities, and assume all risk of injury to yourself. You should consult your physician or other health care professional before starting this or any other fitness program to determine if it is right for your needs.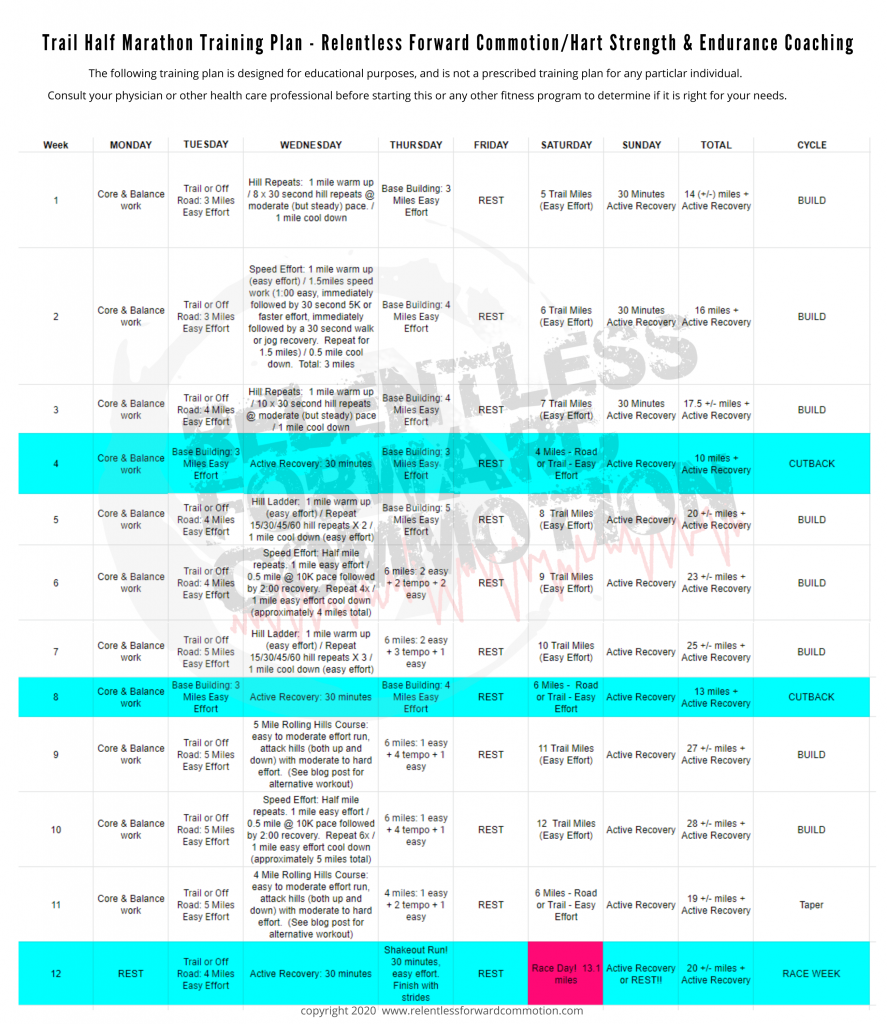 Tackling a trail half marathon is an awesome experience. It is my hope that this training plan helps you not only safely reach the starting and finish line of your trail half marathon, but that you enjoy the entire training process. If you need – or want – more specific help, Hart Strength and Endurance Coaching would be more than happy to discuss the possibility of one-on-one coaching to give you a more detailed outline and support to reach your trail running goals.
Want more? Check out the following posts for more trail tips & inspiration:
What to Expect at Your First Trail Race
Do I Really Need Trail Running Shoes?
Happy Trails, my friends!