Last Updated on April 15, 2020 by Heather Hart, ACSM EP, CSCS
It's been quite a while since I've written a shoe review in these parts. I had fallen into a regular routine of ordering the exact same shoe model over and over, because why mess with what works? Alas, on a fateful day in New Jersey last October, I reluctantly put on a demo pair of Merrell Bare Access XTR 's.
And over the course of 5 miles (a Ragnar Relay Yellow loop), I fell in love.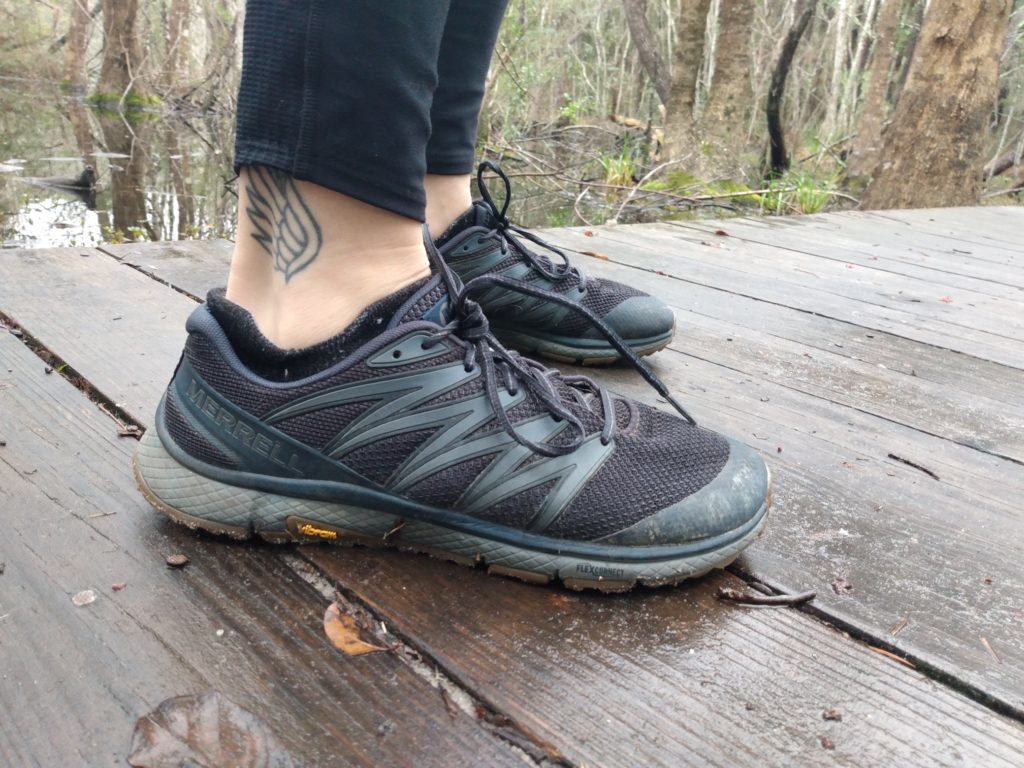 I didn't purchase my own pair that day though. No, we were in the middle of an East Coast road trip, and dropping $100 on a pair of sneakers I didn't necessarily need at the moment felt too frivolous, even to my running shoe loving self.
But, a month later when these bad boys popped up on a killer Black Friday (or maybe it was Cyber Monday, I don't recall) sale? You bet I hit "submit order" as quickly as I could. As mentioned, after spending practically all of my miles in giant Hokas, I was in the market for something much more minimal.
Merrell Bare Access XTR Review
What feels like a lifetime ago, I regularly ran in Merrells. I've had zero bad experiences with Merrell. It's just that at some point, I hopped on the Hoka bandwagon (me and everyone else) and honestly haven't really looked back.
I revisited the idea of Merrells when I met two reps at the 2019 Ragnar Trail Wawayanda Lake village. They showed me some of the current lineup. I explained to them that if I was in the market for a shoe, I'd probably want something that was the antithesis of a Hoka. Something light, low profile, maybe even zero drop. They recommended the Bare Access XTR. So I traded in my drivers licence for a few hours with the demo shoe. And honestly? It was love at firs step.
SPECS:
If you're into shoe specifications, or have certain preferences, here's what you need to know about Bare Access XTR's makeup/construction: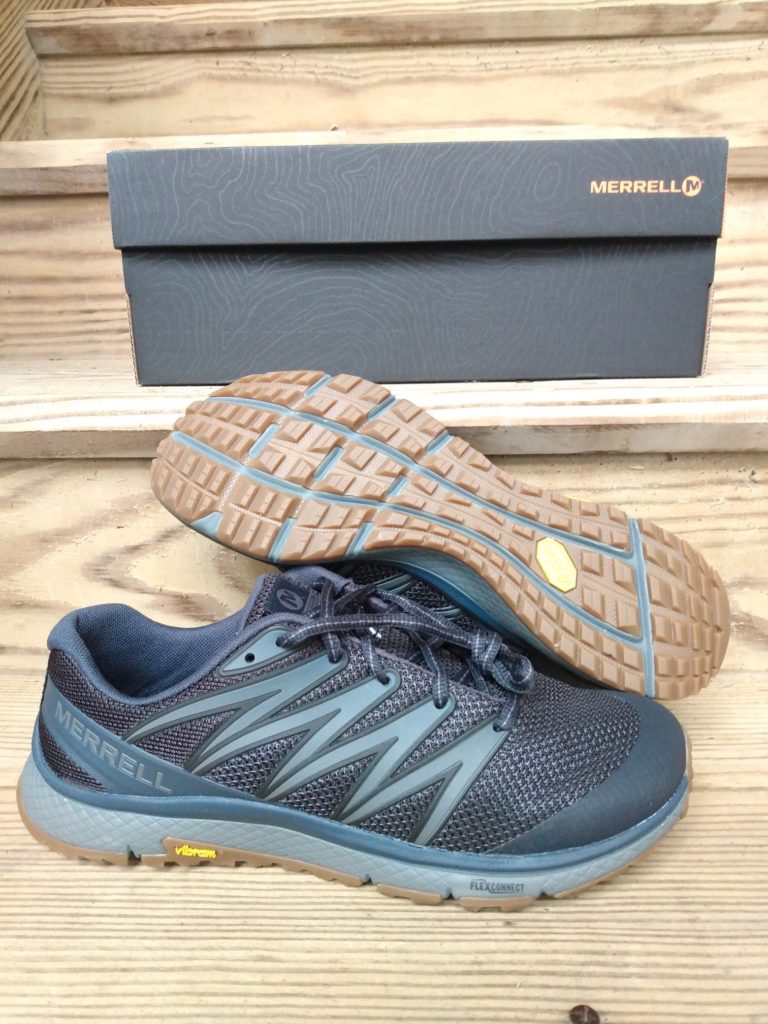 Drop: 0mm; Stack height (heel/toe): 17mm/17mm
Lug height: 3mm
Weight: 6oz/190g (1/2 pair)
Vegan-friendly (yay!)
Merrell Barefoot 2 construction for enhanced proprioception and stability during variable movement
TPU film heel counter for security
Mesh upper
Breathable mesh lining
Integrated insole
FLEXconnect® dual-directional flex-grooves in the midsole for enhanced ground connection
Vibram® TC5+
Cost: $100 MSRP (or, compare current price on Amazon)
What I Loved:
Here's what I love about the Merrell Bare Access XTR:
Toebox Width
I've joked for years that I have claustrophobic toes. But, over this same set of years I've also developed moderate sized bunions (thank you genetics!), and my forefoot really has begun to splay. So now my feet aren't only claustrophobic – my forefoot is legitimately wide. Which is a pain in the ass because the rest of my foot isn't wide. So finding a shoe that fits comfortably is a bit of a hassle.
Overall Fit: True to Size.
The Merrell Bare Access XTR has a comfortable and roomy toe box, but the shoe as a whole doesn't feel clunky or large. I'm a size ten, but I normally wear a 10.5 as I like a little extra room in my forefoot. I ordered a 10.5 in this shoe. It fits perfectly.
Lightweight – but Durable
It's hard to find a lightweight trail shoe that doesn't begin to disintegrate after the first 50 miles. But with durability, typically comes heavy, bulky materials.
Merrell seemed to have solved this problem in the Bare Access XTR by adding a bunch of printed overlay on both the medial and lateral side of the shoe (the "zig zag" pattern you see on the sides of the shoe). Further, while the mesh is indeed lightweight, it doesn't feel as flimsy or soft as most shoes.
Flexible
The Vibram sole is flexible and softer than most rigid trail shoes. The FLEXconnect® dual-directional flex-grooves in the midsole likely contribute to the flexibility as well. This, as well as the fact that the shoe has a zero drop offset, contribute to a great ground contact feel. It's definitely not "barefoot", but certainly far more natural feeling.
That said, to be completely transparent, I have not used this particular shoe on a very rocky trail. I'm not sure how well this flexibility and ground feel would hold up on such terrain, especially if you are used to a burly sole. There is not a rock plate in the forefoot of the Bare Access XTR.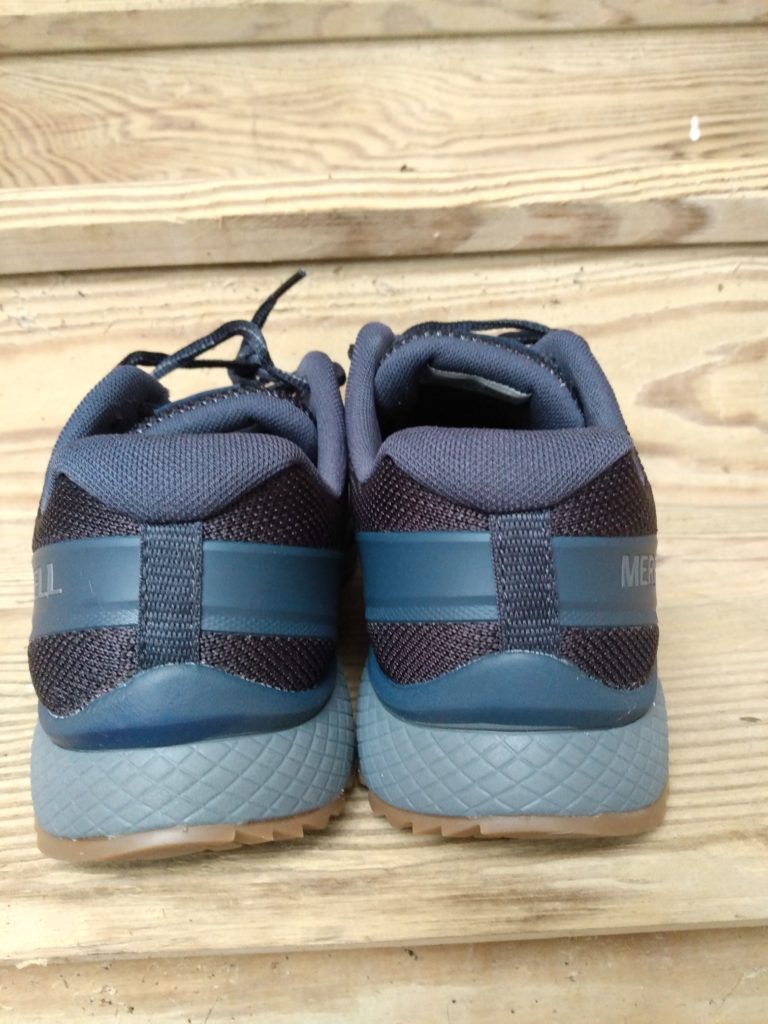 Price
The MSRP of the Merrell Bare Access XTR is $100. That's definitely on the lower end for running shoes, and makes my bank account happier. BUT – Merrell is almost always running sales, or offering coupon codes. Personally, I managed to get these for less than $60, as a combination of Black Friday sales AND the fact that this colorway was being discontinued.
(Note: as of publication date, there appears to be a couple of color schemes on sale for around $75).
My Only Complaint…
My one point of contention with this shoe is that the insole is not removable. For many, this is likely no big deal. In fact it may be a bonus that you don't have to worry about the sock liner slipping around. BUT, I've become a fan of my Superfeet insoles, and like to move them around between shoes. They don't fit in the Merrell Bare Access XTR because there simply isn't enough room with the non removable sock liner.
Again, this may or may not be an issue for others, but I felt it was worth mentioning.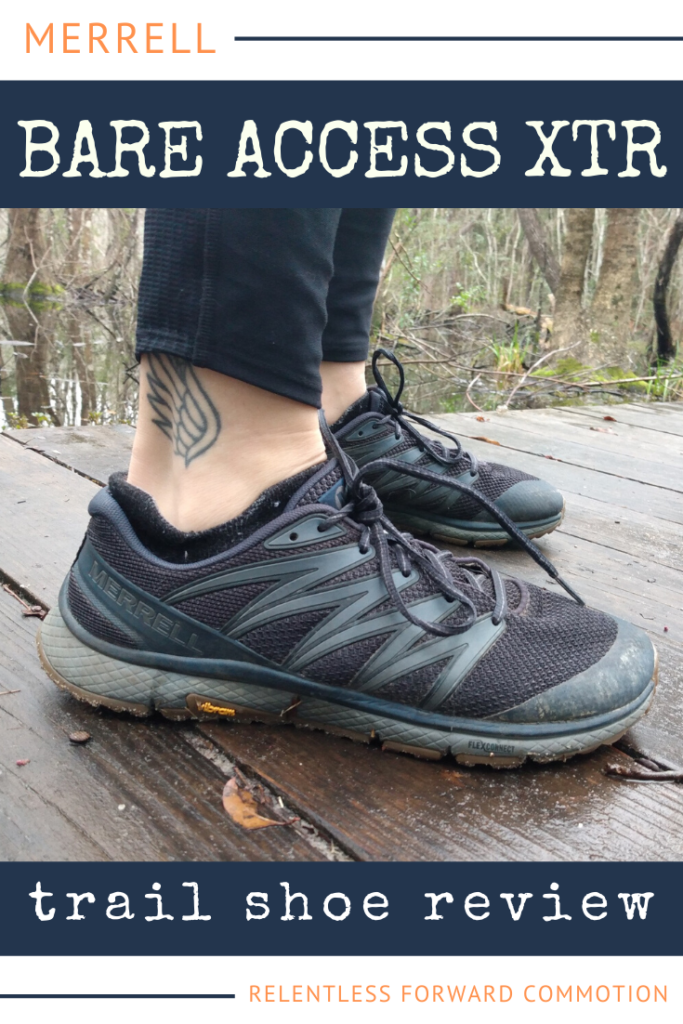 Summary:
The Merrell Bare Access XTR has become my go-to short distance running shoe (10K and under – which is pretty much all I'm doing these days). I also regularly reach for them for hiking, or outdoor time with the kids. I love this shoe, and I'm glad I bought it. The end.
Heather Hart is an ACSM certified Exercise Physiologist, NSCA Certified Strength and Conditioning Specialist (CSCS), UESCA certified Ultrarunning Coach, RRCA certified Running Coach, co-founder of Hart Strength and Endurance Coaching, and creator of this site, Relentless Forward Commotion.   She is a mom of two teen boys, and has been running and racing distances of 5K to 100+ miles for over a decade.  Heather has been writing and encouraging others to find a love for fitness and movement since 2009.