Last Updated on December 24, 2021 by Heather Hart, ACSM EP
40 is the new 30, orange is the new black, and ultras are the new marathons. It's true. Running 26.2 miles at one time is still a huge accomplishment, don't get me wrong. But seemingly more and more runners have their sights set on something even bigger: running their first ultramarathon.
Ultramarathon distances are incredible, terrible, amazing, horrible, and fantastic experience, all rolled up into a ball of aerobic activity, dirt, occasional hallucinations, and aid station snacks. I'd recommend running an ultramarathon to anyone and everyone who has the desire to try one. But how do you decide where to start? If you are one of those runners, and you're looking for a little guidance, here are my tips on choosing your first ultramarathon.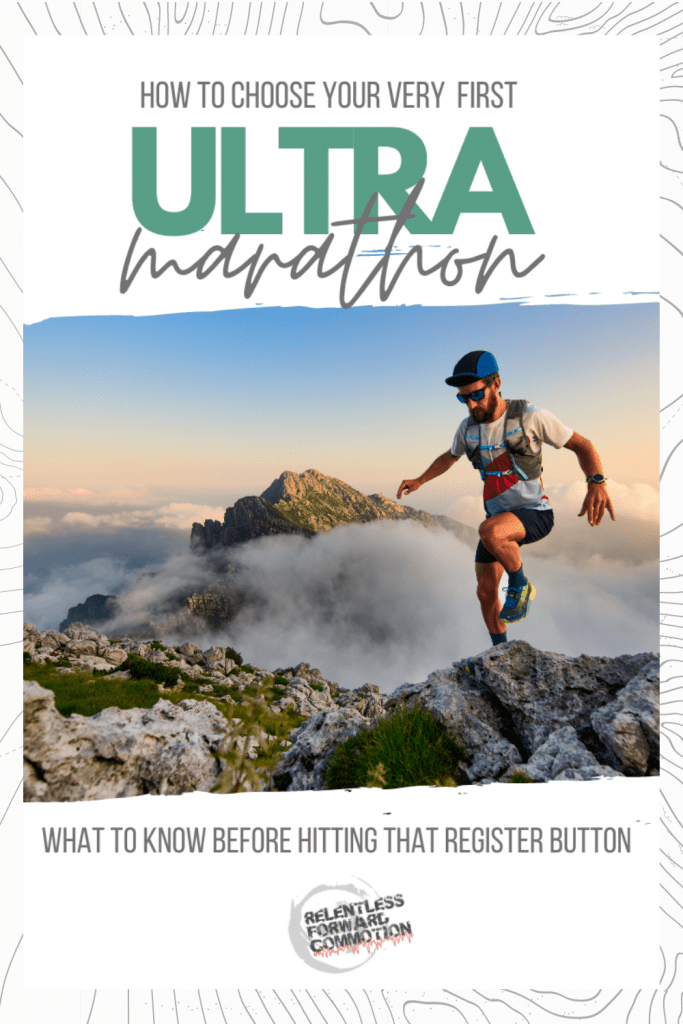 Choosing Your First Ultramarathon
There is no shortage of ultra distance events available to runners of all abilities and experiences, and the number of events continues to grow as the popularity of ultrarunning increases.
You'll find that there are ultras practically everywhere, from the rain forests of Hawaii, to the middle of the desert in Death Valley, to the South Pole (yeah, you read that right, 100K in Antarctica. You can practically race an ultra on any continent that your heart desires.
But before simply deciding where on this great green earth you want to run, there are a number of other important things to consider when choosing your first ultramarathon.
Decide on Your Desired Race Distance or Time
Arguably one of the most important factors in choosing your first ultra is deciding what distance you'd like to start with. As you likely already know, an ultramarathon is technically anything longer than a marathon distance (26.2 miles). Naturally, it makes sense to start your ultra journey with a 50K, however, there are no written rules saying that you have to progress through ultra distances in order. Let's consider the pros and cons of various distances for first time ultra runners:
Am I Ready for an Ultramarathon? 7 Questions to Ask Yourself.
50K (31 miles)
A 50K is always a great entry point into the world of ultramarathon, and arguably, not that much more involved than training for a marathon (of comparable terrain / vertical gain / etc).
Two notable differences in training may be:
Spending more time training on trails, if your ultra is a trail race
Back to back long runs
Of course, if trail running is already a regular occurrence for you, and you've already practiced recovery or other runs the day after marathon training long runs, these may not be a new experience for you.
The 50K distance is a great place for a beginner ultramarathoner to start. Not simply because it's the "shortest" distance ultra (distance, of course, being incredibly relative!) but because this distance is typically logistically less complex. You more thank likely won't need to worry about drop bags, crew check points, or overnight running.
50 Miles
If you really want to experience the world of ultra on your first try, a 50 mile event (or something close to that distance, such as a 40 or 45 miler) is your best bet. The 50 mile distance will truly give you a taste of what it feels like to run ALL DAY LONG, and physically push yourself to your limits, without having to run overnight or push through sleep deprivation, like in a 100K or 100 miler.
Before deciding on a 50 miler, I always recommend that athletes are beginning their training with a solid running base, feeling comfortable running long runs over 20 miles, and should be regularly running 35-40 mile weeks while remaining injury free. You should also be prepared to run upwards of 50-70 miles per week across five days of workouts. It's definitely a time commitment, so I always recommend that runners really take an honest look at their day to day life, and make sure that this volume of training will fit without causing unnecessary stress.
Note: because ultramarathons are typically held on trails, non traditional race distances, such as 40 milers, DO exist. This is often because it logistically makes more sense for the race to start and finish at locations that simply don't work out to an even 50K or 50 miles.
100K and Beyond
If you're really gutsy, you can dive right into the 100K or 100 mile circus. But as mentioned in the previously linked post "Am I Ready for an Ultramarathon?", there's something to be said about having the experience of 50 mile legs before going into a 100 miler.
As a running coach, I generally do not recommend that aspiring ultra runners choose something like a 100K or 100 miler as their first ultramarathon. I believe that ultramarathon is a sport in which experience lends to success, and building experience with shorter distances results in happier, healthier (uninjured) athletes. However, I will acknowledge that some runners do take the approach, of immediately jumping into longer distances, and do have success.
Ultimately, I believe that your running journey is your own, and only YOU know what your body is currently capable of.
(For demonstrative purposes: Here's the look of disapproval my husband gave me during my first ultra. I picked a doozie to start with. 2015 Infinitus 48 hour. )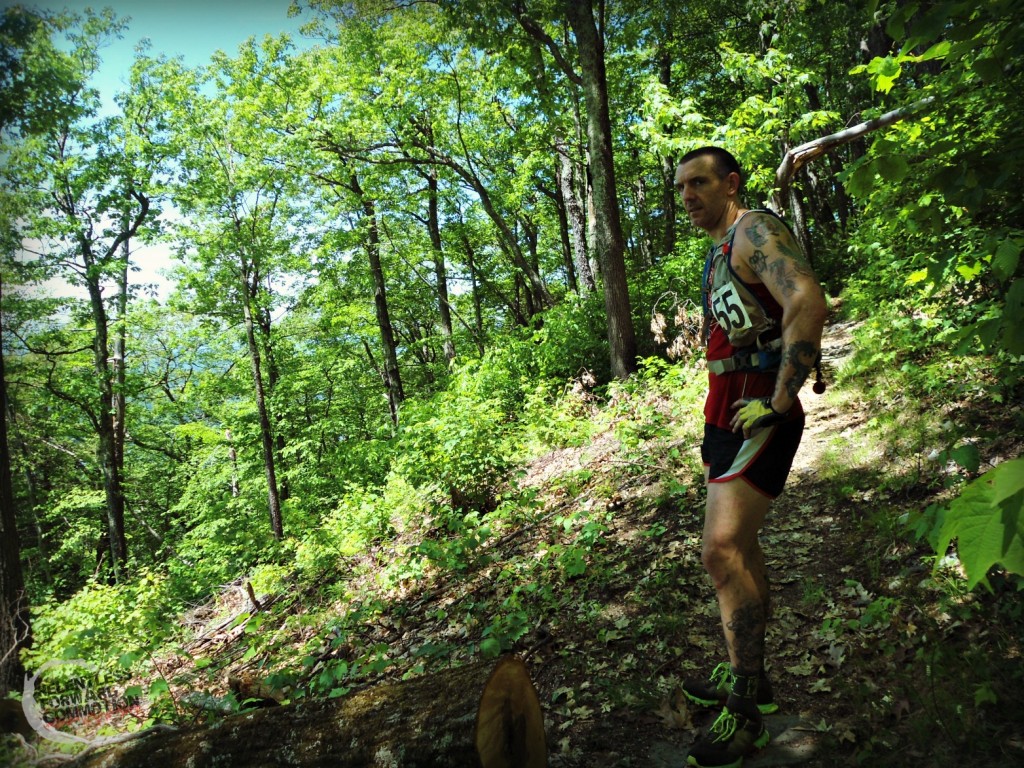 Timed Courses:
Many race directors offer timed ultramarathon events. Common "times" include 6 hour, 12 hour, or 24 hour events…but they certainly aren't limited to those time frames. These events are usually held on a shorter out and back or looped course, typically between 1-5 miles. The idea is that you run the course as many times as you can in that time frame.
This can be a great option for first time ultramarathon runners, as it takes away the pressure of completing an exact distance, or of completing that distance within a tight time frame (more on course cutoffs below). For example, a runner can use a 12 hour race to tackle their first 50K, without the pressure of an 8 or 9 hour cutoff.
Or, alternatively, if a runner isn't really sure how far their first ultramarathon should be, a timed event can let them push themselves to perhaps go a little further than expected, if they were feeling good (so maybe 40 miles instead of 31, etc.) This can give you a little wiggle room in deciding on an exact distance when choosing your first ultramarathon!
Course / Terrain Specifics
Now, my friends, it's important to know that not all ultramarathons are created equally! There are road ultramarathons and there are trail ultramarathons. There are 100 milers that barely cover any elevation gain or loss (such as the Daytona 100, with 887 feet of gain over 100 miles), and there are 50K's that seemingly never stop climbing or descending (such as the Barkley Fall Classic, with roughly 20,000 feet of gain, including a reported 1,700′ of elevation gain in a 1.2 mile section. I say "roughly" and "reportedly" because GPS watches are not allowed in this race.)
Point being, there are a number of course specific considerations you will need to think about, not only for race day, but for your training as well. Consider if you will be able to to train in similar:
Terrain?
Is your local trail flat as a pancake? Lined with gravel or smooth sand? But the race you want to train for is gnarly and technical, with tons of climbing over loose, wet shale?
It's not a deal breaker, but it's something to consider when choosing your first ultramarathon. Living in an area with zero elevation gain myself, I've spent more time than I care to recall on inclined treadmills and stadium stairs, trying to mimic vertical gain.
If you can't directly train for the terrain of your desired race, make sure you have an alternative training plan before hitting the register button.
Climate?
Compare the climate that you are going to train in with the climate that you are going to race in. For example, if you live in snowy Wisconsin, the idea of escaping to Florida for a March race may sound appealing. Ultrarunning spring break!
But, after putting in hundreds, maybe even thousands of training miles in the cold winter, you might find yourself absolutely miserable trying to race in the early spring heat and humidity of the South. On the other hand, if you live in a more tropical climate, jumping in feet first to a race that potentially may include snow or ice might not be the best idea for your first ultra.
Altitude?
Another consideration when choosing your first ultra is the altitude you currently live and train in, versus the altitude of your potential race. Living and training below altitude and racing at high (or simply higher) altitude can be difficult. Because of the reduced atmospheric pressure at higher altitudes, oxygen diffuses into your red blood cells more slowly. Therefore, less oxygen is circulating to your muscles than it would at sea level, making running more difficult.
Again, this isn't a deal breaker for many athletes, but is certainly something to be considered. From first hand experience I can tell you that training at sea level and racing at higher altitude can be done…but it isn't easy. Here I am suffering climbing a moderate grade somewhere around 9,500 feet.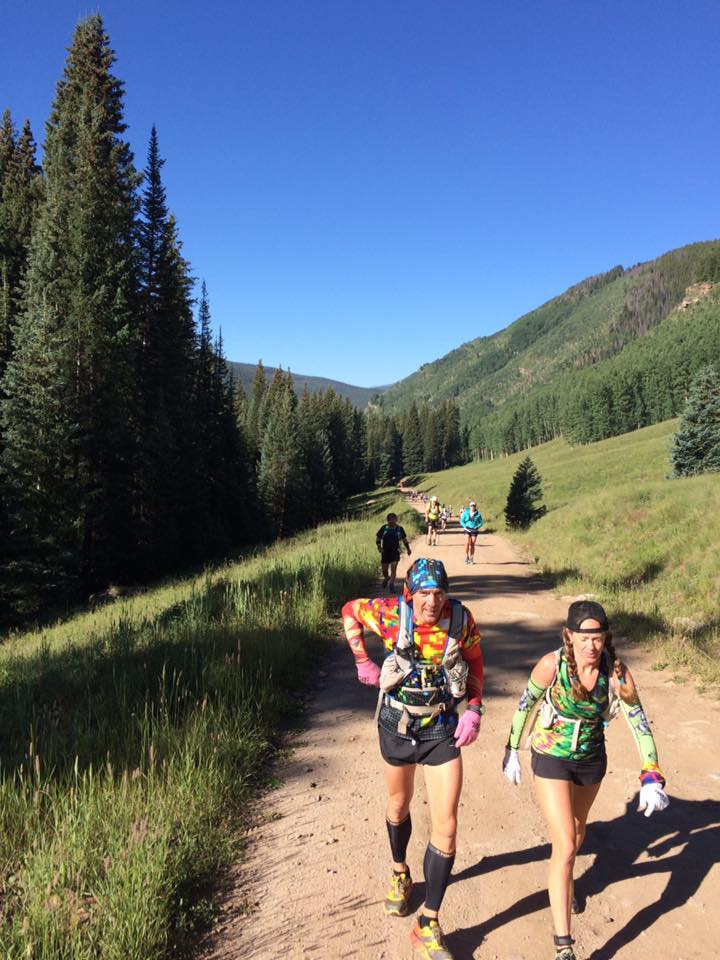 …but I made it to the finish line, none the less.
Race Type
Now, I'm going to throw another fun fact at you, my new, aspiring ultrarunner friend: in addition to widely varying terrain, ultramarathons come in a bunch of different formats. Such as:
Point to Point (A to B)
Out and Back
Single Loop
Multiple Loops
Lollipop Course
Distance vs. Timed (as we already mentioned above)
Backyard Elimination Style
Like anything in life, there are pros and cons to each format, and individual runners tend to have individual preferences. For example, I personally LOVE a short, looped course…I'll gladly run a two mile loop 50 times in a row. Other athletes may feel unmotivated by seeing the same course over and over again, and prefer a point to point race.
For more information on the different types of races and what they entail, check out: 7 Ultramarathon Race Formats Explained
Entry Process:
Look into the details of the entry process for races you are considering. Factors to keep in mind include:
Are there prerequisites? Some races will make it mandatory to prove that you've finished a race of a specific distance or within a specific time frame before signing up.
Is it a lottery, or first come first serve?
Does the race sell out quickly? If so, is there a waitlist available?
Does the race director require any sort of volunteer work in order to secure your spot?
Travel Considerations:
Do you want your first race to be close to home, or do you want to travel? The perks to staying closer to home involve not having to take time off from work, not having to worry about a possible disruption in your pre-race routine (sleep, meals, etc.) and not having to worry about travel logistics, such as booking hotels, flights, or rental cars.
The perks to traveling for a race include the excitement of traveling, and perhaps running in a "new to you" location.
If you choose a destination (or simply far away from home) race for your first ultra, here's a few other things you'll need to consider:
Timing?
How soon prior to the race can you – and will you – arrive?
Is there a pre-race check in or mandatory meeting the day before the race?
Will traveling too close to the start of the race cause you unnecessary stress (do you need a day or two before the race to act as a buffer?)
If altitude is a consideration, there are additional considerations as to timing your arrival for acclimatization purposes.
Gear?
While likely less of a consideration in the 50K to 50 mile distance, transporting your gear to and from the race may be of a concern. Especially for longer distances or more technical races, where more required gear, as well as drop bags, may be needed.
Crew?
Will you need a crew? If so, it's kind of like a destination wedding – it's a lot to ask. Be up front with your friends and/or family, are they willing to make the trip with you? If not, will you be able to connect with a crew there?
A crew isn't always necessary for ultra success – but it sure helps.
Related post: The Benefits of Having a Crew When Running an Ultra
Post Race Travel?
Time to take off the coach hat and put on my mom hat to hit you with this truth: driving yourself home immediately post super long and exhausting ultra is not only dangerous, it's pretty selfish. If you can barely keep your eyes open because that race kicked your butt, then you are driving impaired, and that's not cool.
SO – if you're choosing a race far from home, make sure you have travel arrangements, and accommodations if necessary, to make sure you get plenty of rest and arrive home safely.
Consider Cutoffs, Participant Field Size, & Other Details
Take into consideration other details that might matter to you for your first ultramarathon. For example:
Cutoff times: if you are concerned about your pace, look for a race with generous cutoff times.
Participant field size: do you prefer an event with TONS of other people, or are you OK with a small race?
Is the course well marked? If you get lost easily, make sure the course isn't hard to follow.
Race swag: do t-shirts and finishers medals matter to you? If so, make sure the race has them!
Spectator friendly: if you plan to bring friends or family, is the course conducive to having them cheer you on?
These are just a few examples, but give you a general idea of things to consider before signing up for your first race.
Race Reviews:
Lastly, read some race reviews from other runners who have participated in and completed the race you are considering. This can give you an even better idea if the race is indeed beginner friendly, or if it's the kind of event you are hoping to tackle for your first ultramarathon.
How to Find a First Ultra that Fits Your Criteria:
So, you've narrowed down how FAR you want to run, and how far AWAY from home you want to run it…how do you find a race that fits your criteria?
Ultrasignup
Ultrasignup.com is probably one of the most frequently used registration sites by ultramarathon race directors. There is a "Find a Race" option that allows you to input:
Location (and add a specific mileage radius)
Month of desired race
Distance or duration
Difficulty of race
Runsignup
Another website used by race directors to list registration is Runsignup.com. This site is not exclusive to ultramarathons, though there are certainly plenty listed on there. Similar to Ultrasignup, Runsignup has a search feature to help narrow down your choices based on your criteria.
Ask the Community!
There really is no better way to find race recommendations than through word of mouth from people who have run them before. Head to any social media platform and shout from the rooftops "Hey, I am trying to choose my first ultramarathon, here's what I need_____" and let the power that is the internet help you find suggestions.
Or…Choose Your Own Adventure
Ultimately, this is YOUR ultramarathon experience. If you've always dreamed of a completing a specific event for your first ultra, then hell, go for it. Life is short. But if you're not sure where to start, then I hope this post provided a little bit of insight on what to consider when choosing your first ultramarathon experience.
READERS: What was your first ultra? Was it a good choice? Would you have changed anything? Comment below!