40 is the new 30, orange is the new black, and ultras are the new marathons. It's true. Running 26.2 miles at one time is still a huge accomplishment, don't get me wrong. But seemingly more and more runners have their sights set on something even bigger: an ultramarathon. The popularity of ultras has increased exponentially, with races often selling out almost instantly. Often, prospective first time ultra runners will decide they want to run a specific distance long before they know how – and where – to choose a specific race. If you are one of those runners, and you're looking for a little guidance, here are my tips on how choose your first ultramarathon.
So You Want to Run an Ultramarathon…
Good. You should! The ultra distances are incredible, terrible, amazing, horrible, and fantastic experience, all rolled up into a ball of aerobic activity, dirt, occasional hallucinations, and aid station snacks. I'd recommend running an ultramarathon to anyone and everyone who has the desire to try one. But how do you decide where to start?
How to Choose Your First Ultramarathon
There are a handful of things you really should consider when it comes time to choose your first ultramarathon. Taking of my overly enthusiastic ultra fan hat, and putting on my coach hat instead for a second: the very first thing you need to do is make sure now is the right time to tackle an ultra.
Yes, I'm gonna be the buzz-killer for a second.
But ask yourself: are you truly ready to push towards the next distance, both physically and mentally? Do you have the time and support to train for an ultra? If you said yes…jump right on ahead to the next section. If you said "I have no idea…" read this post first:
Am I Ready for an Ultramarathon? 7 Questions to Ask Yourself.
Decide on Your Desired Race Distance
If you've decided that now is the time to tackle your first ultra, decide what distance you'd like to start with. A 50K is always a great entry point into the world of ultramarathon, and arguably, not that much more involved than training for a marathon (of comparable terrain / vertical gain / etc).
If you really want to experience the world of ultra, find yourself something a bit longer. Perhaps a 40-50 miler. If you're really gutsy, you can dive right into the 100K or 100 mile circus, but as mentioned in the previously linked post, there's something to be said about having the experience of 50 mile legs before going into a 100 miler. But again, it's YOUR circus, so do what makes you happy.
For demonstrative purposes: Here's the look of disapproval my husband gave me during my first ultra. I picked a doozie to start with. 2015 Infinitus 48 hour.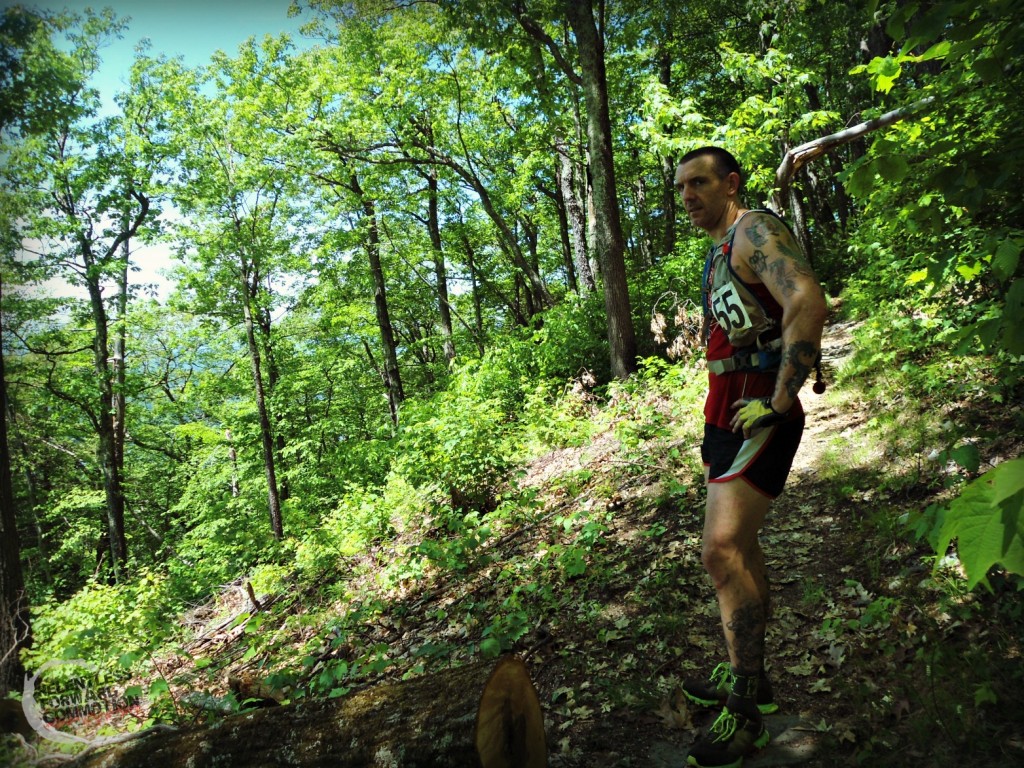 Where in the World Do You Want to Run?
Now comes the fun stuff…where on this great, green earth do you want to run your first ultramarathon? You'll find that there are ultras practically everywhere. From the rain forests of Hawaii, to the middle of the desert in Death Valley, to the South Pole (yeah, you read that right, 100K in Antarctica), you can practically race an ultra on any continent that your heart desires. That said, there are a couple of things you should consider before choosing your destination:
Will You Be Able to Train in Similar….
Climate?
Compare the climate that you are going to train in with the climate that you are going to race in. For example, if you live in snowy Wisconsin, the idea of escaping to Florida for a March race may sound appealing. Ultrarunning spring break!
But, after putting in hundreds, maybe even thousands of training miles in the cold winter, you might find yourself absolutely miserable trying to race in the early spring heat and humidity of the South. On the other hand, if you live in a more tropical climate, jumping in feet first to a race that potentially may include snow or ice might not be the best idea for your first ultra.
Terrain?
Is your local trail flat as a pancake? Lined with gravel or smooth sand? But the race you want to train for is gnarly and technical, with tons of climbing over loose, wet shale?
It's not a deal breaker, but it's something to consider when choosing your first ultramarathon. Living in an area with zero elevation gain myself, I've spent more time than I care to recall on inclined treadmills and stadium stairs, trying to mimic vertical gain.
If you can't directly train for the terrain of your desired race, make sure you have an alternative training plan before hitting the register button.
Altitude?
Another consideration when choosing your first ultra is the altitude you currently live and train in, versus the altitude of your potential race. Living and training below altitude and racing at high (or simply higher) altitude can be difficult. Because of the reduced atmospheric pressure at higher altitudes, oxygen diffuses into your red blood cells more slowly. Therefore, less oxygen is circulating to your muscles than it would at sea level, making running more difficult.
Again, this isn't a deal breaker for many athletes, but is certainly something to be considered. From first hand experience I can tell you that training at sea level and racing at higher altitude can be done…but it isn't easy. Here I am suffering climbing a moderate grade somewhere around 9,500 feet.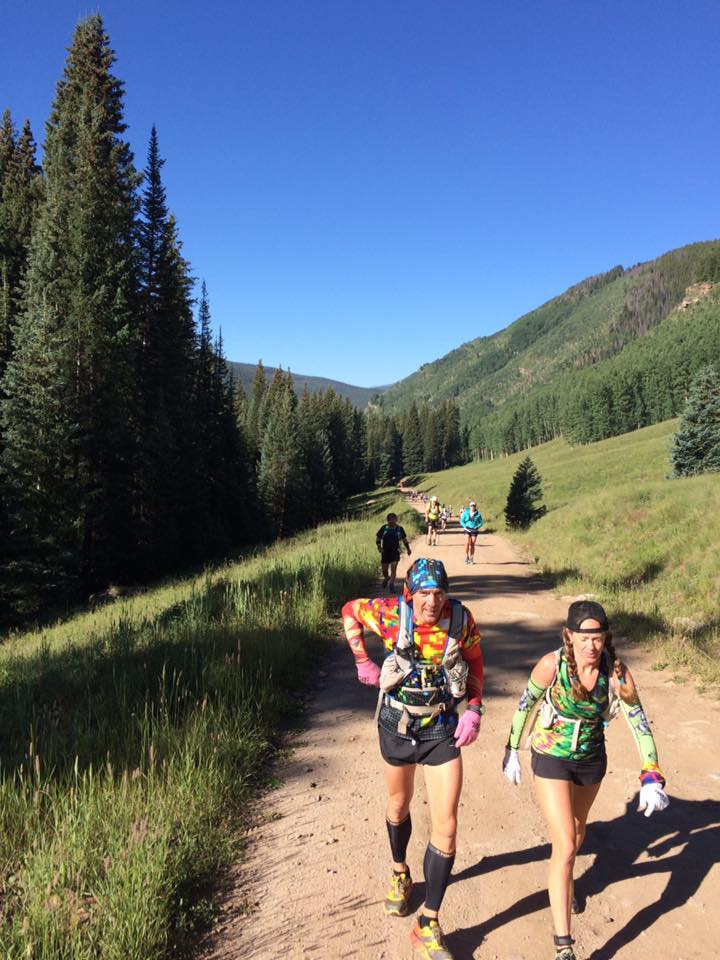 …but I made it to the finish line, none the less.
Travel Considerations:
If you choose a destination (or simply far away from home) race for your first ultra, here's a few other things you'll need to consider:
Crew?
Will you need a crew? If so, it's kind of like a destination wedding – it's a lot to ask. Be up front with your friends and/or family, are they willing to make the trip with you? If not, will you be able to connect with a crew there?
A crew isn't always necessary for ultra success – but it sure helps.
Related post: The Benefits of Having a Crew When Running an Ultra
Post Race Travel?
Time to take off the coach hat and put on my mom hat to hit you with this truth: driving yourself home immediately post super long and exhausting ultra is not only dangerous, it's pretty selfish. If you can barely keep your eyes open because that race kicked your butt, then you are driving impaired, and that's not cool.
SO – if you're choosing a race far from home, make sure you have travel arrangements, and accommodations if necessary, to make sure you get plenty of rest and arrive home safely.
How to Find a Race that Fits Your Criteria:
So, you've narrowed down how FAR you want to run, and how far AWAY from home you want to run it…how do you find a race that fits your criteria?
Ultrasignup
Ultrasignup.com is probably one of the most frequently used registration sites by ultramarathon race directors. There is a "Find a Race" option that allows you to input:
Location (and add a specific mileage radius)
Month of desired race
Distance or duration
Difficulty of race
Runsignup
Another website used by race directors to list registration is Runsignup.com. This site is not exclusive to ultramarathons, though there are certainly plenty listed on there. Similar to Ultrasignup, Runsignup has a search feature to help narrow down your choices based on your criteria.
Ask the Community!
There really is no better way to find race recommendations than through word of mouth from people who have run them before. Head to any social media platform and shout from the rooftops "Hey, I am trying to choose my first ultramarathon, here's what I need_____" and let the power that is the internet help you find suggestions.
Or…Choose Your Own Adventure
Ultimately, this is YOUR ultramarathon experience. If you've always dreamed of a completing a specific event for your first ultra, then hell, go for it. Life is short. But if you're not sure where to start or how to choose, then I hope this post provided a little bit of insight.
READERS: What was your first ultra? Was it a good choice? Would you have changed anything? Comment below!