Last Updated on February 3, 2023 by Heather Hart, ACSM EP, CSCS
Looking to find efficiency and speed while avoiding injury in training runs or races that involve long bouts of running downhill? Coach Lexi Miller has you covered. In addition to being a certified running coach, Lexi also specializes in coaching skiing (uphill, downhill, and nordic) mountaineering, backpacking, adventure racing, and general mountain athletes.
For many runners, the endurance needed for a strong ascent in a race is much easier to channel in training or racing than the bravery and agility needed for the descent. However, finding speed and power to master downhill running could be the key to crushing the competition or achieving a personal best.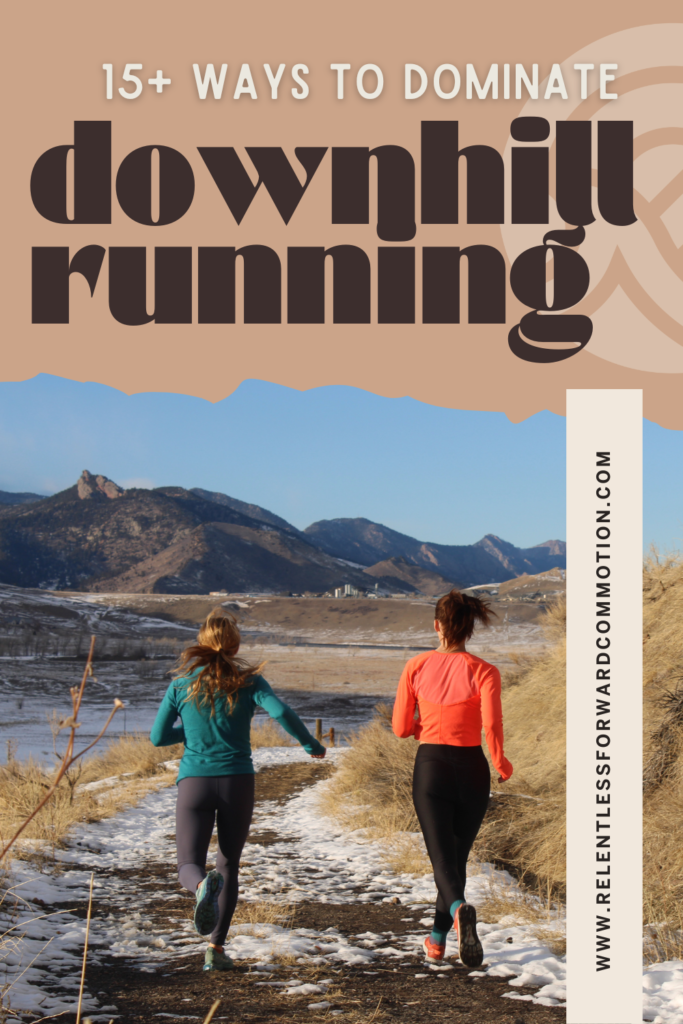 In this post we'll cover:
The differences between uphill and downhill running
Why long descents hurt so much worse the next day
How to master your downhill running form
Technique tips for various downhill terrain
How to strengthen your body for downhill success
How to incorporate downhill workouts into your training.
Uphill vs. Downhill Running
While runners often fixate on the vertical gain of a race, physiologically, the downhill might take more of a toll on the body.
Running uphill requires general fitness, strength and endurance. Downhill running, on the other hand, requires the body to fight against gravity and force the muscles to work eccentrically to slow the body.
While downhill running may require less cardiovascular effort, any runner who has participated in a net downhill road race (such as the Boston Marathon), or trail races with steep, sustained descents can assure you: downhills are difficult in their own right.
As the terrain gets steeper or the trail becomes more technical, downhill running also requires the athlete to develop refined skills not to slow down too aggressively.
The DOMS of Descending: Why Downhill Running Hurts
Delayed Onset Muscle Soreness (DOMS) is the soreness typically felt 24-28 hours after a hard workout, and is a common ailment among runners.
The reason extended bouts of downhill running often result in pain the day after a hard workout is due to the combination of eccentric loading of your muscles, the natural change in running biomechanics, and the impact of of the force of downhill running.
Eccentric muscle contractions occur when the force applied to the muscle exceeds the strength produced by the muscle itself. During eccentric muscle action, the sarcomeres (contractile fibers of the muscle) are forcibly lengthened to slow down or completely stop a movement.
Endless research demonstrates that eccentric muscle contractions generate high mechanical strain on the muscular system, resulting in greater damage to muscle fibers than that of concentric (shortening) muscle contractions.
The longer and steeper the descent, the more mechanical stress a runner is placing on their body, and the higher likelihood of that runner experiencing the discomfort of DOMS compared to a standard training run.
Pro tip: After a day where a lot of time was spent running downhill, it is best to elevate the legs, use compression as necessary, hydrate well, and increase protein intake. All of these actions will help recover fatigued legs sooner.
The Repeated Bout Effect
The good news is that runner's are not necessarily doomed to soreness after every single downhill race, thanks to a phenomenon known as the "repeated bout effect".
Following the initial "damage bout" (race or training run), a repeated race or training run of similar downhill efforts will likely result result in reduced eccentric damage. This protective effect is known as the repeated bout effect (RBE), and according to research, can last up to 24 weeks between bouts.
Meaning: the soreness from eccentric muscle actions should hurt a little less in subsequent downhill workouts.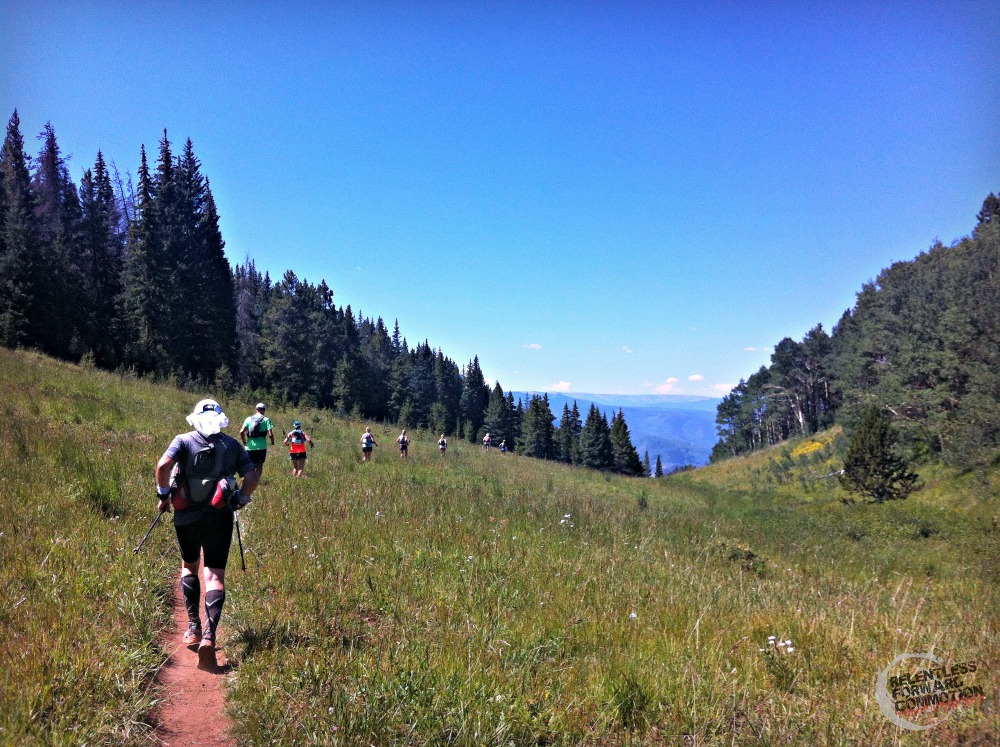 Experts aren't exactly sure why RBE occurs, but several possible mechanisms identified include neural adaptations, altered inflammatory sensitivity, muscle-tendon complex adaptations, and muscle extracellular matrix remodeling (3).
5 Quick Downhill Running Form Tips
Just as with downhill running, form starts at the toes and goes up to the crest of the head. Keeping that in mind, give these tips a try:
Stride length: As you run downhill, keep your stride concise. While a long stride might feel faster, it will require more breaking and wear and tear on the body.
Light, quick steps: Avoid a hard heel strike when possible, keeping the feet controlled but quick, and landing on the balls of the feet. It is helpful to minimize ground contact time and avoid breaking as much as possible, in order to not work against gravity. Short strides will help with this!
Forward Lean: Start your forward lean at the shins or ankles. It can feel natural to lean back or "into the backseat" while descending, but the most efficient form will be going forward. Take advantage of gravity, it will give you free speed!
Maintain center of gravity: Moving up the body, ensure no hinging at the knees, hips, waist, or shoulders. Keep shoulders in line with the knees while leaving your diaphragm open. Keep the shoulders relaxed, and the arms at a 90 degree angle. It might be helpful to move them slightly away from the body if the trail gets sleep and balance is needed.
Keep your eyes forward. Finally, keep the head up and look ahead at all times. The runner should focus on where they want to go, not at the obstacles. 
Downhill Running Technique Based on Varied Terrain
While road descents might have fewer technical aspects, they can still be a challenge. In road running, time can be banked on the downhill, as long as it is run efficiently.
Pushing the pace, while keeping the heart rate under control could lead to the next personal best. To do this, it is important to focus on good form and strength training and practice ahead of time.
Trail runners can assure you that running downhill on trails has its own set of challenges, from varying terrain, varying steepness of hills, and even physical obstacles such as rocks and roots.
If training for a mountainous race, make sure there is equal time spent training for the descents as there is training for the climbs. Preparing for technical trails and steep faces could be the key to a robust and healthy race.
Long Descents
Muscle and joint preparation are key in a net downhill race. Practicing with long descents during long runs or downhill intervals will prepare the body for the unique muscle contractions sustained while going downhill.
It is also important to have form dialed in before participating in net downhill races, ensuring that a healthy finish is in the future.
Descending Technical Trails
Finding flow is the most critical aspect of running a technical trail. To practice, slow down and focus on light foot placement. Look at the route through the rocks rather than at the obstacle.
Lead your body with your shoulders, pointing them gently at your course. Keep the eyeline up, looking ahead (rather than straight down at the feet) and focus your energy on the present. As time goes on, and the rhythm comes, speed will too.
Improving ankle strength (as discussed later) will be extremely helpful in preventing injury and building confidence when running down technical trails.
Running Down Steep Trails
A steep face, even if on a buffed out trail, can present it's own challenges to a runner. At a certain point, the forward learn will not be as safe or stable on a very steep trail.
During this time, it is still vital that the runner does not fall into the back seat. As strength is built, slow down and continue to work on short, fast steps keeping the body as upright as possible when running down steep hills. 
If the trail becomes too steep, the speed might slow considerably, and it may be safest to let the feet land slightly, pointing out to prevent slipping. Remember to focus on health and safety in training or races, as they will add to longevity in the sport. 
Pro Tip: Using trekking poles might be a good option for a race or training run with steep descents. They can help take some impact off the body and provide security. Just like any running tool, it is incredibly useful to practice with them before a big day out.
Strengthen Your Body for Stronger Downhills
As mentioned above, many runners experience increased pain while running downhill. The discomfort or potential injury is often due to a combination of muscle contractions and a higher impact on the body.
Fortunately, there are actions a runner can take to assist with managing exercise-induced muscle damage, minimizing discomfort, and reducing injury risk, while still crushing their descents.
Let's take a look at the major anatomical players in downhill running, and what you can do to help strengthen them.
Disclaimer: This article is provided for informational purposes only. If you are dealing with an injury or other health conditions, we recommend you follow up with a qualified medical professional.
Quadriceps
The powerhouse quadriceps often do the majority of the work when it comes to running downhill; not only are they propelling the body forward, but they are also contracting and breaking impact.
Unfortunately, this eccentric movement of the quad muscles, responsible for slowing and braking is challenging to practice, and often needs strengthening by the average runner.
How to Improve Quadriceps Strength:
As the name suggests, the quadricep group is made up of four muscles in the upper leg. Basic, compound strength exercises such as squats, lunges, deadlifts, and their variations, will help strengthen the quad muscle.
To engage the muscles in a way that prepares them for downhill running, using box jumps and step downs are accessible options that can be done almost anywhere.
Olympic Step Downs and Deep Squat Box Jumps are good exercises to start incorporating for quadriceps strength.
Calves
Similar to the quadriceps, the calves are responsible for much of the breaking in the downhill running gait. The calf muscle, being much smaller than the quadricep group, is likely to fatigue sooner.
How to Improve Calf Strength
Calf raises and drops are a great place to start in strengthening the calf muscles (make sure to do single-leg, as well as two-legged exercises), including jumping rope into strength training to prepare your lower legs for long downhills.
Knees
Steep downhill running can extra stressful on the knees.
A 2021 study published in the Sports Medicine and Health Science journal concluded that downhill running led to a prolonged increase in knee extensor muscle soreness, as well as reduced knee extensor isometric strength.
Researchers believe this is due to the significant change in the knee angle between foot strike and peak flexion angle compared to running on flat ground, resulting in more eccentric work for the knee.
Previous studies have demonstrated that runners alter their running strategy in a way that allows the knee to function in a more conducive way to absorbing energy and loads when running downhill. (4)
Preventing Knee Injury
While the posterior chain plays a slightly more minor role in downhill running, it is still vital. Ensuring that the glutes, hamstrings, and calves are all engaging will help prevent knee stress on steep downhills.
Knee pain from downhill running may stem from iliotibial band issues. ITB syndrome often stems from a weak hip-abductor area, so engaging in more lateral strength and resistance band work can help alleviate knee stress.
Similarly, muscle imbalances can cause stress on the knees. Taking time to do more single-leg activities and targeting specific muscles and groups will help prevent overuse stress.
Inflammation, especially in the quads and calves, is another cause of knee pain. Taking care of your body before and after runs is a great way to prevent injury. Foam rolling, compression, hydration, and even dry needling can all be helpful in preventing future pain.
As mentioned above, proper form and landing pattern will reduce the impact on the body. Slow down and perfect form before causing a lasting injury. Landing too much on the heel and for too long can result in knee pain; make sure to keep light on the feet.
Ankles
Ankle twists, rolls, and sprains are never a pleasant experience. While they can occur at any moment on a downstep, their likely hood increases on downhills.
Further, research demonstrates that the negative work (when the body moves in the opposite direction of the force being applied to it) done on the extensor muscles of the ankle during the stance phase (when the leg is in contact with the ground) of downhill running is greater than that of running on flat ground.
General fatigue and soreness can also take place in the ankles, especially after long descents, as they are taking a large amount of impact.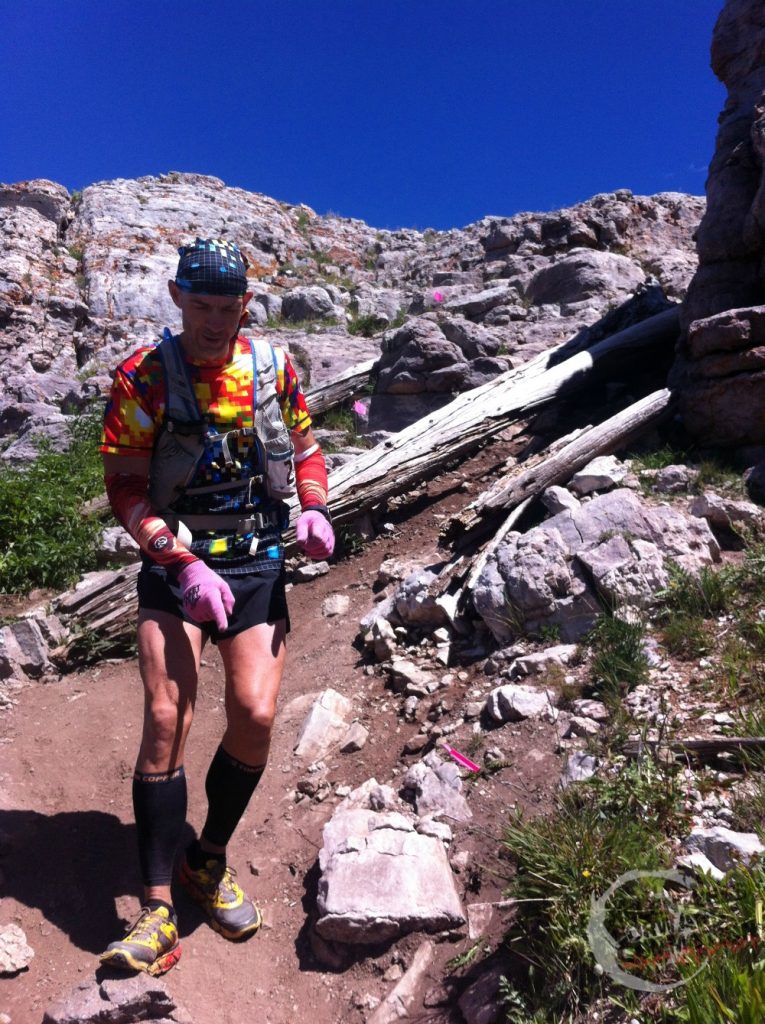 Preventing Ankle Injury in Downhill Running
As mentioned previously, the first preventive measure is to focus on good form and landing patterns. Preemptively an athlete can add more ankle-strengthening activities, such as doing a foot alphabet, resistance band activities, and jump roping.
Toes
The impact your body takes while running downhill starts with the feet, often giving the toes quite a jolt. A runner who has done a long descent, or a hilly race, is likely to have experienced bruised or lost toenails. This is caused by the feet sliding to the front of the shoes and making an impact with each step. The full weight of the person slamming down on every footfall is enough to leave a last impression on the nails and feet.
How to prevent black toenails from downhill running:
While beat-up toes are a common side effect from the rigors of descending, they are not a necessity. Finding properly fitted shoes that hold the feet in place will minimize the potential for toe impact.
Shoes that are too small will not give any space between the shoe and the tip of the foot, while shoes that are too big will allow the runner to slip and slide. Finding the right fit, where the arch is supported and there is enough gap for swelling feet, will leave the runner's toes largely unscathed.
Hips
Similar to the knees, hip pain from running can be related to form and muscular imbalances. However, as with the knees, mobility (or lack thereof) can also play a role in the pain experienced if the hip pain is persistent or comes on suddenly.
The latter could be a sign of a bigger issue (such as a tear or fracture) in which case, medical help should be seen before you continue training.
Preventing Hip Pain when Running Downhill
Like knee pain, form is the place to start when analyzing discomfort in the hips. Again, a likely culprit is landing too hard and too often on the heels, forcing a hard impact on the body.
Another potential risk is posture. If an athlete is leaning back too far and often during the run, additional stress is being placed on the hips. Slowing down and doing an inventory of stride is a great way to prevent injury.
It is also crucial to work on the muscular imbalances and lack of mobility that might contribute to downhill pain. Strengthening the hip abductors (outer part of the hip) with monster walks and clamshells can be a great way to grow strength, while deep squats and the pigeon stretch will help with mobility.
How to Incorporate Downhill Workouts in Your Training Cycle
As evidenced above, downhill running, if practiced correctly, can improve overall time in a race. It can also improve speed, resulting in faster paces, especially if a runner is training for a fast course or going down in elevation to race.
Practicing intervals downhill at a slightly faster speed and turnover than flat running will push the athlete to find a quicker cadence and develop efficiency at a faster pace.
For a runner going down in elevation for a race, training to run downhill will help them find their full potential in the event, as it develops speed and muscular strength that would be otherwise hard to find at the regular training elevation.
As with anything, there are diminishing returns with downhill training. As downhill workouts can be incredibly taxing to your musculature, they shouldn't be the focus of your training plan, even if you are training for a downhill course, or a race with significant downhill sections.
Rather, focusing on overall strength and fitness is the best way to help your body better withstand the rigors of downhill running, ultimately making you a better downhill runner.
Downhill Running – Final Thoughts
While, in theory, the effort of downhill running sounds easier than the inverse. In reality, it takes a higher toll on the body and demands the same respect in training.
Incorporating strength training, mobility, and practicing form through intervals and sustained running can all work to prevent injury and lead to strong overall racing and help you successfully reach the finish line.
What to Read Next:
If you enjoyed this post, you may want to read the following articles on trail running:
References
Buczek, F. L., & Cavanagh, P. R. (1990). Stance phase knee and ankle kinematics and kinetics during level and downhill running. Medicine and science in sports and exercise, 22(5), 669–677.
Chasland, L. C., Green, D. J., Maiorana, A. J., Nosaka, K., Haynes, A., Dembo, L. G., & Naylor, L. H. (2017). Eccentric Cycling: A Promising Modality for Patients with Chronic Heart Failure. Medicine and science in sports and exercise, 49(4), 646–651.
Hyldahl, R. D., Chen, T. C., & Nosaka, K. (2017). Mechanisms and Mediators of the Skeletal Muscle Repeated Bout Effect. Exercise and sport sciences reviews, 45(1), 24–33.
Park, S. K., Jeon, H. M., Lam, W. K., Stefanyshyn, D., & Ryu, J. (2019). The effects of downhill slope on kinematics and kinetics of the lower extremity joints during running. Gait & posture, 68, 181–186. https://doi.org/10.1016/j.gaitpost.2018.11.007
Rebound. (2013, October 10). Recovery from downhill running. Rebound Sports & Physical Therapy. Retrieved January 28, 2023
Ye, X., Benton, R. J., Miller, W. M., Jeon, S., & Song, J. S. (2021). Downhill running impairs peripheral but not central neuromuscular indices in elbow flexor muscles. Sports medicine and health science, 3(2), 101–109.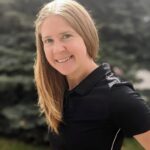 Lexi Miller is a UESCA Certified Run Coach and Endurance Sports Nutrition Coach, as well as a TrainingPeaks Level 2 Running Coach. She works primarily with distance runners (especially those focused on the marathon and ultramarathon distances.) Lexi also specializes in coaching skiing (uphill, downhill, and nordic) mountaineering, backpacking, adventure racing, and general mountain athletes.