Last Updated on March 13, 2023 by Heather Hart, ACSM EP, CSCS
Don't let the cold, snowy, winter months slow you down! In this post, Coach Lexi Miller brings you 5 in depth tips to help you stay safe on your next winter trail run. In addition to being a certified running coach, Lexi also specializes in coaching skiing (uphill, downhill, and nordic) mountaineering, backpacking, adventure racing, and general mountain athletes.
Winter trail running can be a soulful experience, as it challenges athletes with the reward of solitude and increased toughness. But, like any challenge, it also provides differing risks than a summer spent on the trails.
Nevertheless, with particular consideration and adaptations in gear and expectations, logging winter miles on the trails can get an athlete ready to take on their spring and summer races.
Winter trail running will look different depending on where the trail is located. I am located in Boulder, Colorado, where there is often a mix of mud, ice, and snow through the winter and spring months. Runners in southern or western states might experience more rainy weather, and those to the north might deal with frigid temperatures.
Before hitting the trails, it is essential to understand how your geographical location will impact your local routes. The apps Trail Run Project and AllTrails provides user reviews relating to the current conditions of trails.
While winter trail running is not equal in all areas, the following tips will help you stay safe and have fun, on the coldest and most extreme days of the winter months.
Tip # 1: Dress for Winter Trail Run Success
One of the biggest challenges to workout out during the winter is finding the best method for layering. While every person might differ in their comfort in cold weather, and windchill and humidity can affect how you dress, a general guideline is as follows.
Winter Running Clothing Guidelines
Here are some important tips to keep in mind to help you maintain your body temperature during winter trail runs:
Avoid Cotton, Embrace Wool
Cotton holds moisture, while merino wool wicks it away from the body. Whether it is from sweat or the environment, damp clothes will lower the body's internal temperature, making it harder for your body to perform.
A wool base layer will keep your body dry and warm as you run through the elements.
Keep in mind: this isn't the scratchy "wool sweater" from your childhood. Sport specific wool layers resemble and feel like other running apparel made from technical materials.
Warm extremities start at the core:
While it is tempting to keep layering your hands and feet in the cold, you will have more success keeping your body's core insulated. Once your body recognizes that your core is warm, it will send more blood to the extremities.
Putting too many layers on your hands and feet can cut off circulation and cause more chill.
Prepare for the elements:
While fleece material is a fantastic layer for the cold, a soft or hard shell layer might be a better option for a windy or snowy day, as it will keep the wind or water from penetrating the outer layers.
Cover Your Head:
Don't neglect the noggin! Protecting the face and the head are key to staying warm and comfortable. While it is unfounded that you lose more than 40% of your heat through your head (source), it is hard to deny that keeping your head and ears warm can be a game-changer for a cold day.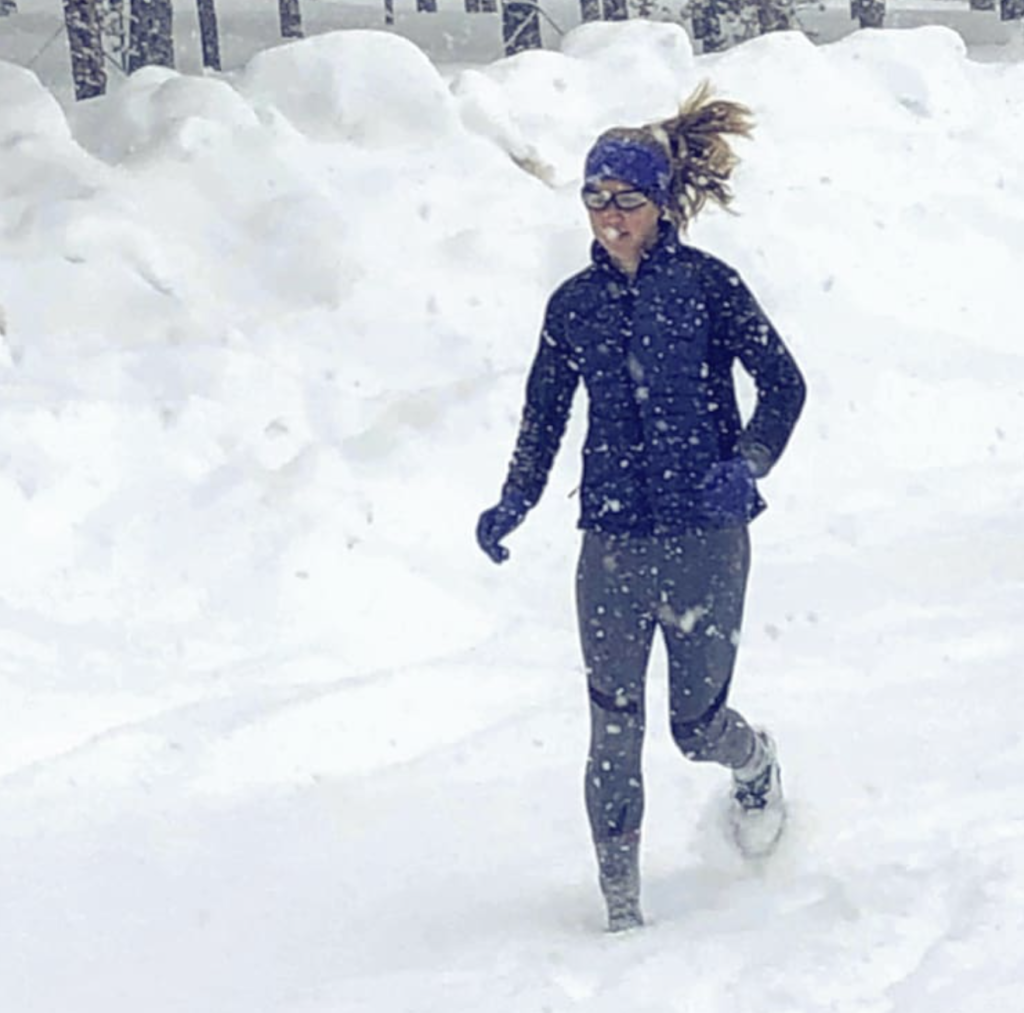 Similarly, when the temperature drops below 10 degrees Fahrenheit, you risk scaring your lungs or developing frostbite. Therefore, finding a wool or fleece face covering to protect your airways and face is helpful and necessary.
Be Bold, Start Cold
In a recent Skimo race, I showed up to the startline with the thermometer reading -2 degrees Fahrenheit and -20 with the wind chill. Recently, having gotten over yet another cold, I kept my puffy jacket on, despite being aware of the long climb at the start of the race.
Within minutes of the start, I had unzipped all my layers, trying my hardest to avoid soaking my baselayers in sweat. While my jacket made the race start cozier and less intimidating, it also hindered me from my best performance and likely led to the chills after the race.
By allowing yourself to be a little bit more uncomfortable at the start of a workout or race, you are setting yourself up for long-term success.
Have a Backup Plan
Another necessary precaution is carrying an extra or dry layer, especially while running on trails.
For example, suppose the trail you are running might be extra wet or snowy. In that case, spare warm socks can save some foot discomfort or blisters. Having an extra warm layer or emergency blanket in your pack could prevent hypothermia if you are forced to stop or slow down for an extended period.
Tip #2: Let there be Light!
No matter where you live, in the northern hemisphere, winter means shorter days. Therefore, if you plan on hitting the trail in the morning or afternoon, it is essential to plan your light source accordingly.
Make sure you have a change of batteries or a way to charge up your light device as needed. It is also important to invest in some reflective gear, even when running primarily on trails, helping others better see you.
Types of Lights
While running in the dark is not the most pleasant aspect of trail running in the winter, it is a great skill if you plan on running longer ultras over the rest of the year.
One of the most helpful ways to prepare is to find what kind of light source works best for you. Headlamps, waist lights, and flashlights are the three most common light sources. All three of these devices will be advertised with varies specifications (specs.)
Light Type: (how is light produced and emitted from the lamp)

Halogen bulbs are lightweight, easy to replace, and have an extremely long runtime. However, they are also the most sensitive to heat and cold, making them unpredictable in extreme conditions
High-Intensity Discharge (HID) bulbs will have a sharper light but are faster to burn out and expensive.
Incandescent bulbs will be the least expensive but also waste more energy and produce more heat while turned on.
LED bulbs are more able to spread light in multiple directions, are the most environmentally friendly, and run the best in extreme weather conditions; however, they are also the most expensive.

Performance:

Beam Intensity is usually measured in Lumens, a headlamp might have different intensity options, resulting in different run times. The ideal running light is usually 300-400, though being able to change the settings is a huge benefit.
Continuous runtime is the time the headlamp will produce light before the battery runs out. When choosing your ideal light source, it is helpful to consider how long you will use your headlamp at a given time. If it will be used for short amounts of darkness, you should not worry about a long runtime. However, if you want to use it for a full night of running, you may consider one that can go long periods at low light.
Maximum beam refers to how far the light will stretch on a clear night. Realistically, in trail running, you might be content with a slightly shorter beam unless you foresee yourself doing a lot of route finding in the dark.

Additional features to consider:

Battery source: rechargeable, disposable, solar powered
Red light feature
Light adjustment features
Weight
Water-resistant
Wide angle lens
Ultimately, you might decide on more than one headlamp option, as having an additional light source on colder days is always essential.
Related post: How To Choose The Best Headlamp For Trail & Ultra Running
Tip #3 Gear-Up for Winter Trail Run Conditions
Along with additional clothing and the correct light source, you should add a few new pieces of gear to your arsenal before hitting the trails during winter. While you might not need every piece of equipment on every run, prioritizing safety and logging more miles on the trail is worth having the right equipment.
The Power of Shoes
There are no shortage of options for winter trail running shoes, but it is essential to find what will work best for your primary running terrain. Here are a few things to consider when choosing trail shoes for a winter trail run: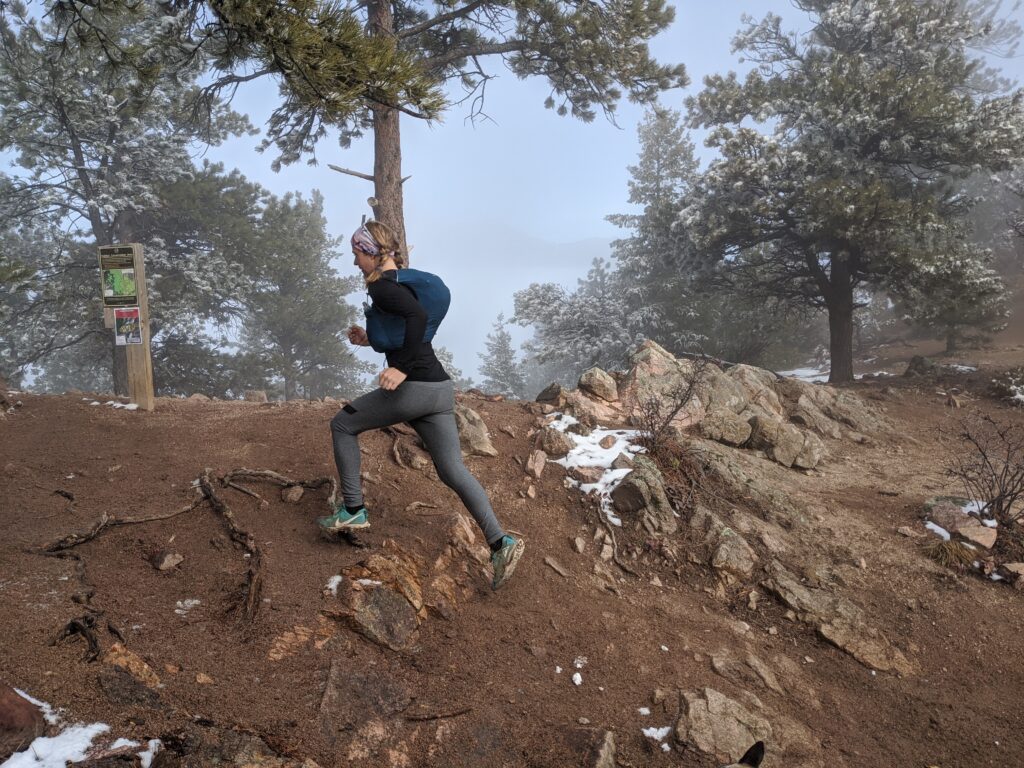 Gortex and waterproof: If you plan on running on a lot of wet, sloppy, slushy snow or frozen rain, waterproof trail running shoes could be a great option to keep your feet warm and dry. The important caveat to waterproof footwear is that no moisture in also means no moisture out. So if your feet become sweaty in the insulated shoes, your socks might get just as soaked as if you had not used the waterproof option.
High-Tops: If you plan to spend a lot of time running in deep snow, you might want to consider a pair of high-top running shoes. These are not ideal for daily use as they do not give full range of your ankles, but they can prevent snow from getting into your shoes.
Traction: If you plan on trail running on slightly more slick or slippery surfaces (mud or wet snow) additional traction can make a huge difference. Larger lugs on the bottoms of the shoes or anti-slip technology are features that can help prevent further slipping and sliding as you charge the trails.
Gaiters
Waterproof gaiters are a great way to prevent snow from getting into your shoes without committing to an aggressive shoe.
Gaiters can be sold in various lengths and heaviness, so you can find the right pair (or pairs) to add to your collection. 
Additional Traction
When it comes to ice or incredibly slick snow, more than built-in shoe traction might be needed. In this case, adding additional traction to your shoes can be helpful in maintaining good grip, which is a necessary safety precaution.
There are several traction options, and finding the right set can make a huge difference in your winter training. According to Trail Runner Magazine, the following traction devices are rated the highest for trail runners:
Eye Protection
Winter trail running brings an added element of additional eye protection. On a sunny day on the snow, the reflection from the ground can make a standard pair of sunglasses not as efficient. Polarized, wrapped, or glacier glasses can all be great options to protect your eyeballs from the surrounding sun.
If you are running on a darker day, with the added element of snow and wind in the air, you could also invent in a pair of glasses with either clear or yellow lenses. Keeping your eyes protected from the snow, wind, and cold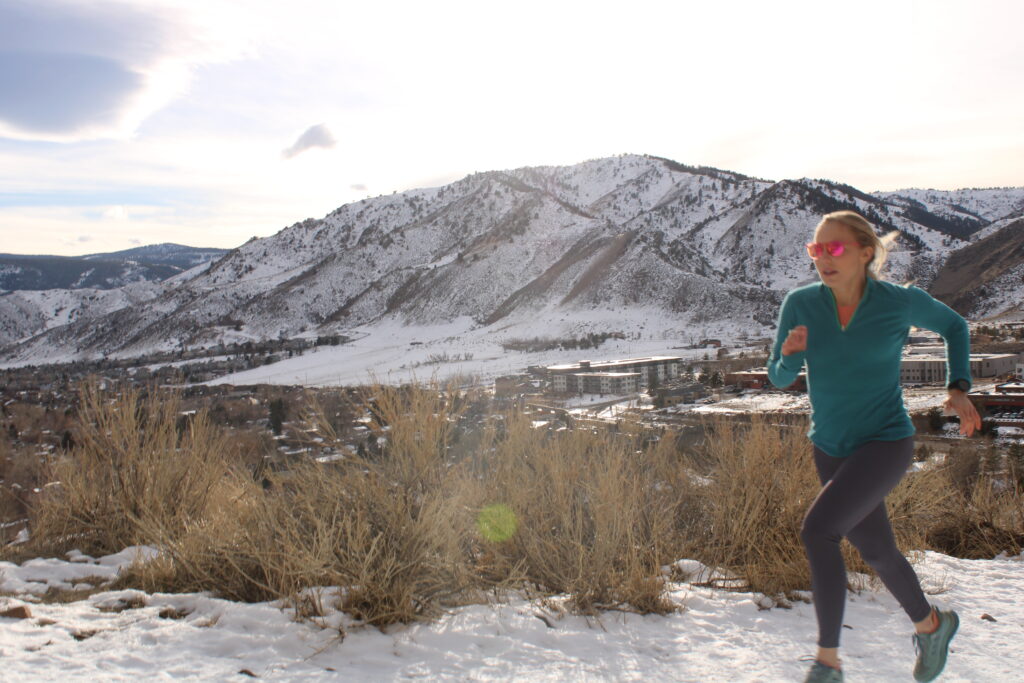 Tip #4: Be Prepared for Extreme Weather
One of the most challenging aspects of winter trail running is the unpredictable and extreme weather. Changes in air pressure, elevation, and quick-moving storms can leave a runner vulnerable to dangerous conditions.
In addition to checking the weather report before you head out for a winter run, ensuring you have appropriate gear on your person is invaluable to keep yourself safe.
When I am loading up my pack for a trail run, I ask myself, "what will I need if I have to walk or hide out for 24 hours?" 
While this might sound extreme, there are no shortage of stories of runners who have been ill-prepared for a sudden storm that lead to them losing the trail or having to unexpectedly camp-out. Consider some lightweight gear as an added element of safety in the event of bad weather.
Extra Food and Water: An athlete can burn up to 48% more calories per hour on a cold day than at a more mild temperature (source). For this reason, packing additional calories (especially carbohydrates and fats) is extremely helpful in keeping your body fueled. Additionally, if a person is at risk of hypothermia, a jolt of sugar can help the body produce more heat, making candy a helpful treat to have on hand.
Compressible Jacket: Having an extra compressible jacket, such as the Patagonia Houdini, will not take up too much space/ weight, while providing you with an extra layer if the weather changes or you have to slow your pace.
Extras: Whether it is due to precipitation or perspiration, having an additional base layer, hat, gloves, and socks can prevent falling victim to a deep chill. Remember, a dry body is a happy body, and it is crucial to keep yourself from getting damp, especially if you will be out for a long time.
Down jacket or emergency blanket: While it might seem excessive for a local run, throwing a survival blanket or down jacket into your pack could save your life if you have to hunker down for the night. 
Tip #5: Enjoy Winter Alternatives
The winter also provides fun alternatives to trail running, that may actually help improve your running.
Taking time to strengthen forgotten muscles, impact your body in a new way, and break up the monotony of training will benefit your training in the long run.
Some alternative winter sports to consider include:
Cross-Country Skiing: Whether classic or skate style, cross-country skiing is a great way to engage your hips, glutes, and upper body while keeping impact low.
Ski touring: Spending time on steep hills, especially with added weight, is a phenomenal way to build endurance.
Downhill skiing: While this is less of a cardiovascular sport, in requires more static strength than trail running. The practices of downhill skiing can greatly improve. Additionally, downhill trail running.
Snowshoeing: Running with big shoes, what could be better for mental and physical strength?
While many aspects of winter trail running can feel difficult or daunting, it can add to your overall fitness and build a stronger base for your races throughout the year. In addition, the challenge of winter trails causes them to be more desolate, rewarding you with a unique running experience of finding solitude in a wild place.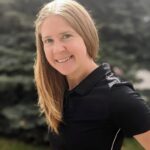 Lexi Miller is a UESCA Certified Run Coach and Endurance Sports Nutrition Coach, as well as a TrainingPeaks Level 2 Running Coach. She works primarily with distance runners (especially those focused on the marathon and ultramarathon distances.) Lexi also specializes in coaching skiing (uphill, downhill, and nordic) mountaineering, backpacking, adventure racing, and general mountain athletes.