Last Updated on September 26, 2019 by Heather Hart, ACSM EP
Your finger hovers over the computer mouse as you hesitate to hit the "register" button for another race.  You know you are capable of covering the course distance, whether it be a 10K, marathon, or even 100 miler.  But it's the elevation profile and vertical gain listed on the race's website that's holding you back.  There's a ton of climbing over the course of this race, and you live at sea level…or somewhere else that puts the saying "flat as a pancake" to shame.  Can you possibly prepare to be successful at a "hilly" course, when you are training in a place where there are no hills in sight?
The answer is yes.
First things first, let's distinguish the differences between elevation and altitude, because a lot of people get these mixed up.   Rightfully so: if you look up the definitions of both, they will both be described as the height of an object or point in relation to sea level or ground level.  For the sake of this post, we are going to consider both terms in relation to running (training, racing, etc.).
Elevation is a cumulative measurement of how many vertical feet you will climb over the course of a race or workout.  When you see a course that says it includes 5,000 feet of elevation gain, that does not necessarily mean that you will end up at 5,000 feet above sea level, rather, that you will climb (or gain) a total of 5,000 vertical feet over the course of the race.  It could be the cumulation of a number of smaller climbs, or it could be one big climb.
Altitude is height of any given point above sea level.  "High altitude" is considered any point beginning at  4,900 feet (1,500 meters) above sea level.   At this point, and as the altitude increases, atmospheric pressure decreases.  Why does this matter for endurance athletes?  As the atmospheric pressure decreases,  the partial pressure of oxygen reduces, affecting humans and athletic performance.  In short: it's harder to breathe at high altitude.
In the endurance world, elevation and altitude often go together, but you can indeed have one without the other.   For example, there's a race in Vermont that covers 29,029 feet in vertical elevation gain (the height of Mt. Everest).  However, the summit of Stratton Mountain peaks at 3,940 feet…this is not high altitude.   Alternately, you could run a 5K around the track at Leadville, CO high school, which sits at 10,152 feet above sea level (definitely high altitude) and never gain a single foot of elevation.
In this post, we will not be discussing altitude.  Training to be successful at high altitude when you live at sea level (and do not have regular access to higher altitude) is a different can of worms, and slightly more involved.   Instead we'll be discussing how to train for vertical gain when you have zero "hills" around you.
Vertical Training for Flatland Runners: What to Do When You Don't Have Hills
Here are examples of ways you can train your body to become stronger at running up…and down…hills, even if you have zero actual hills (never mind mountains) to run on.
Plyometrics 
Running up hills requires a lot of power, or, the ability to generate as much force as possible, as quickly as possible. Plyometrics help build the explosive, fast twitch muscle fibers, which in turn will help you power up shorter hills without missing a beat. Consider incorporating plyometrics in the form of HIIT training once or twice a week.  A few of my favorites include, jump squats, power lunges, broad jumps, skaters jumps, high knees, and box jumps.
Focused Strength Training for Climbing Up Hills
Strength training is an important aspect of any training cycle that, in my opinion, every runner should be doing.   All of your standard lower body exercises can certainly help with climbing strength: squats, deadlifts, calf raises, kettlebell swings, glute work, etc.  However, I also like to think outside of the box. Some of my favorite exercises help strengthen the glutes, hips, hip flexors, quads, and hamstrings while mimicking the same biomechanical movement of running or hiking up a hill.  A few examples include prisoner getups (in video below), and box step ups (also in video below, hit the white arrow on the white side of the video to scroll).
View this post on Instagram
Eccentric Strength Training for Downhills 
If you've ever run a very long downhill course, you might have found yourself incredibly sore the next day with a gnarly case of DOMS.   This is due to the eccentric contractions of the quadriceps muscles.   Eccentric contractions of the muscles occurs when tension is applied to a muscle as it lengthens. When running down a hill, your quadriceps are absorbing the weight of your body as they lengthen.   Think of them as your body's personal shock absorbers.  And when they do that for an extended period of time (like a long, long downhill) you end up doing a lot of damage to the muscle tissue.
Many of your standard leg day exercises can be done with a focused eccentric phase, to help prevent so much damage on your next long downhill.  Squats, straight leg deadlifts, calf raises, good mornings can all be modified by shortening the concentric phase to one second and extending the eccentric phase to at least three seconds or more (benefitting not just downhill, but those uphill muscles as well!).   For example, the next time you squat, lower slowly to a count of four, then stand back up with a one to two count.
Stairs
Chances are no matter where you are located in the country, you are within reasonable driving distance from a high school with some sort of football stadium.  If you're lucky, you have a bigger stadium with upwards of 50 or so stairs to climb, but even a smaller staircase will do.  You can also find a public building (or access to a private building) with a large number of flights of stairs.   Stadium stairs are something I began incorporating into my own training this year, and they have made a world of difference in my climbing strength.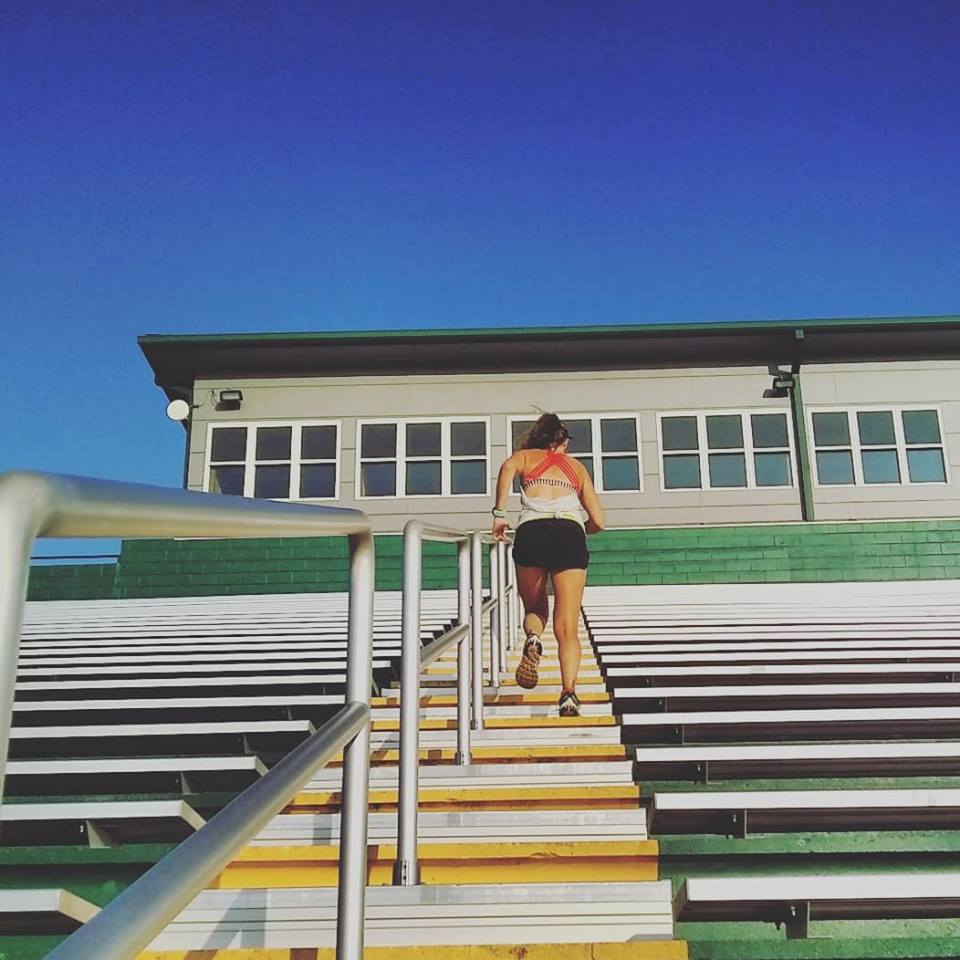 Personally, I alternate between running up the stairs, or hiking with a weighted ruck to increase the resistance on my legs.  The great part about stairs: you get to practice running DOWN them as well as up (just watch your step!)  The exact workout you choose to do depends upon your personal training program and fitness level.
Treadmill Inclines
I know, I know, treadmills, blech.  Many of my readers are trail and ultra runners, and consider the treadmill a source of blasphemy.  Part of the reason we run is to spend time outdoors, to become one with nature.  I absolutely agree, however from a training perspective I prefer to view the treadmill as "work with what you've got" tool.  Here in Myrtle Beach, we have no hills.  But we have thousands of treadmills, all of which can give me a steady, consistent, 15% incline to train on.  Further, the constant pace teaches my body how to continuously move forward up a hill while resisting the urge to slow down.
There are a number of beneficial workouts that you can do on the treadmill.  You can run uphill(obviously).  You can also practice power hiking uphill, which is something many ultra runners will do to conserve energy.  Recently, a friend challenged me to the following workout: set the incline to 15%, power hike for 0 .25 miles, then run 0.10 mile.  Repeat for an hour.   It was brutal.  (Thanks Jeff S.)  Of course, your workout will vary depending on your training schedule, but do not write off the benefits of the treadmill.
The negative to training for hills on a treadmill is that you only get to practice the uphill, and not the downhill, which requires a lot of eccentric
Bridges or Overpasses
Short hill sprints are no match for long, brutal climbs, but they are still beneficial.   Not only can you work on your explosive power and strength, but even the shortest of bridges with an incline will allow you to work on proper up and downhill running form.
Parking Garages
I've heard of a number of runners utilizing the long climbs in parking garages for their hill training.  Here in Myrtle Beach, we have no shortage of parking garages on Ocean Boulevard near the hotels.  However, I've personally developed a healthy fear of distracted tourists driving with their faces in their phones, and have avoided running garages at all costs.  But, it's a way to practice up AND downhill running, so it's definitely worth mentioning.
______________________________________
In short, nothing will ever be an exact substitute for the real thing: regularly running and training on hills and mountains.  But these training tips can certainly make the most of a flatland running situation, and successfully prepare you to run a hilly course. Don't write off a race with a significant amount of vertical gain just because you live at sea level, or in another place where the elevation map resembles a flat line.  Get creative!