Last Updated on January 30, 2022 by Heather Hart, ACSM EP, CSCS
Gym etiquette is one of those things that unfortunately, isn't always taught, and doesn't always come inherently to most. So if you've found yourself here, reading this article hoping to gain insight to gym etiquette for beginners, let me give you a virtual high five for being pro-active.
Personally, I joined my first gym at the ripe young age of 14.   My freshman season of high school soccer had just ended, and a friend convinced me we should get a head start on the spring soccer season by lifting weights.   We lucked out that we joined the right gym at the right time…specifically between the hours of 2:30 and 4:00 pm when the facility was very slow…and thus we were fortunate enough that a few of the gym employees took my friend and I under their wings and showed us the ropes. 
Over the coming months I was taught the ins and outs of the gym, from proper gym etiquette to how to make all of those machines work.   Because of the personal attention I received 18 years ago (woah),  I've never once walked into a health club since and felt out of place or uncomfortable.
Unfortunately, this is not the norm.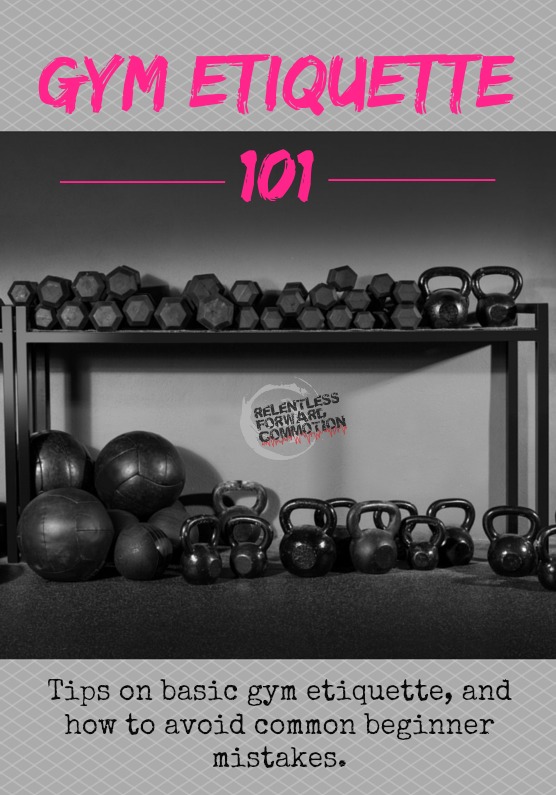 I recently read an online discussion (OK it was a Facebook thread) that took a far different direction than I expected.  The initial poster made a few lighthearted wise cracks about the impending "gym-pocalypse" with the New Years resolution crowd.  A few others chimed in and vented their frustration at the newbies (we all know how I feel about this matter). 
But then, person after person commented that one of the reasons they feel uncomfortable at the gym is NOT because they fear people watching them, instead they fear they might do something wrong.  An unknown gym "faux pas" that might anger the grumbling regulars.
As a fitness professional and long time gym employee, it made me sad to read this.  Health clubs should be welcoming places, and what's more, the staff should give a thorough introduction and orientation to every new fitness seeker.  But clearly, this isn't happening.   So I figured I'd do what I sometimes do best: bring it to the internet.
Gym Etiquette for Beginners  
There really are only a few basic etiquette rules when it comes to working out at the gym.   It's actually quite like kindergarten, I'm not kidding.  Most are common sense, though some are more specific rules and suggestions that you might not have been aware of.  And that's OK, we were ALL beginners once. 
My hope is that these tips will give beginners the confidence they need, and realize the gym is not that scary after all.
1. Use the equipment safely &  appropriately.
This tip feels obvious, right? Except that as I mentioned early in the post, not all gym knowledge is inherent. And so I've seen gym members using equipment inappropriately or unsafely not on purpose, but because they simply didn't know better. So that said:
Please do not be afraid to ask for instruction.
Here's a secret not many beginners seem to believe: no one at the gym is watching you. I'm serious. Most people are so preoccupied with their own workout, they aren't going to take the time to observe what you are doing. So don't feel embarrassed because you don't know how to use something, instead, ask a friendly gym staff member for instruction. That is their job, and safety should be their priority!
Use equipment for what it was intended for.
Your classic example: if the gym is full, please don't use the squat rack for doing bicep curls.
Ask for a spot!
Don't ever be embarrassed to ask for a spot. Safety is #1 in the gym, this is truly non-negotiable. If you aren't comfortable asking other members, find someone on gym staff to spot for you.
Use those clips!
Nothing gets my mom-heart racing more than seeing these young kids put up more weight than they should be lifting on the bench press without using clips (clamps/collars, they have a number of names).  
If you lose your balance, even temporarily, a plate could come crashing off.  As a result, now your entire bar is uneven and you will likely start dropping plates off the other side as well. It's a terrible domino effect, and incredibly dangerous.  Just take the extra ten seconds to put the clamps on.
(Note, some trainers suggest NOT using clips when benching solo, as this will allow you to bail on the lift if you cannot complete it. For the sake of this being a beginner conversation, I would suggest never lifting that heavy alone in the first place.)
2. Clean up after yourself.
This should be so obvious, but you'd be AMAZED at how many grown adults tear through a gym like a toddler through a toy room. Proper gym etiquette includes leaving the gym exactly how you found it so others can also enjoy the gym. So let's go over the basics:
Re-rack your weights (neatly!) .
If you take dumbbells off of the rack, please put them back where you found them.  EXACTLY* where you found them, in other words, don't put the 10 lb dumbbells in the 25 lb dumbbell slot on the rack.  (*note: if you found them on the floor because someone else was too lazy to put them away, then don't put them back exactly where you found them, put them back where they belong.  You know, common sense and stuff).
If you use a machine, bench, or bar that requires weight plates, please remove them when you are done.  This is required for two reasons.  One, it keeps the place neat and clean.  But more importantly is reason number two: not everyone can lift as much weight as you can.  Leaving hundreds of pounds of weights on a machine may prohibit the next person from being able to use the machine because they simply can't take all of that weight off on their own.  So please, when you are done, leave the bar empty.
Wipe down the machine after you use it.
 I'm a mother with a science degree.  In other words, I've cleaned up explosive poop, projectile vomit, and I've dissected things such as sheep eyes and sharks with rotting herring in their guts.  Not much grosses me out.   But sitting down on the leg press only to nearly slip right out of it because of the previous user's butt sweat is disgusting. 
Further, gyms are similar to airports and daycare centers: there are germs everywhere and you touch EVERYTHING.  So do your fellow members a favor, and wipe down machines you use when you are done using them.   It doesn't have to be a full scrub, but a quick wipe with the likely provided towels and sanitizing spray on the machine seat *and* handlebars should be sufficient.  Basically, if your body touched it, wipe down that part.
Put back what you use.
Brought the ab roller into the stretching room? Awesome! Put it back where you found it when you are done. Brought a stretching mat over to the free weight section so you could super-set some situps between your squats? That's great! Please put the mat back when you are done. Stack of magazines accompanied you to the treadmill? Please make sure they find their way back to the magazine rack when you are done. You get the idea.
Everyone is entitled to use all of the equipment at the gym. Don't ever, ever, EVER let a "regular" grumble that you are using "their" machine. It's not theirs, it's everyone's (and that's bad gym etiquette on their part!). But that said, no one, beginners or regulars alike, should be monopolizing a piece of equipment. Here are some basic guidelines to keep the peace:
Cardio equipment.
Follow the rules posted regarding cardio equipment. Many gyms will set a 20-30 minute time limit on machines WHEN the club is busy. Please keep this in mind. When you reach that time limit, if people are waiting, move to another piece of equipment and offer yours to someone who has been waiting (often there will be a sign up sheet). If no one is waiting, then you can continue using the machine.
Take appropriate rest breaks.
Thirty seconds to a minute or two of rest between sets on a machine is standard.  Sitting on your smartphone checking facebook messages for five minutes between sets on a machine is not (see "cell phones" section below).  
The same goes for carrying on a conversation with friends or other gym patrons.  Please be aware at all times that other people might be waiting to use the machine or bench you are on, do not unnecessarily waste time.
Taking extra long breaks? Let others work-in.
"Working in" means another person will share the machine with you, and you will alternate sets.  For example, you do your set of 10 reps on chest press, and when you are resting, a friend or fellow gym member will do their set, and vice versa.  
This works extremely well as a time saver when working out with a friend, or just as friendly gym etiquette with a stranger during busy gym hours.  "Working in" is typically done on a machine that uses pins, versus a bar that takes weighted plates, as it is far easier and faster to change the weight between users with a pin loaded machine.
Super-set courteously.
"Super-setting" means instead of a rest break between sets of exercises, you simply alternate exercises.  For example, someone may do one set of preacher curls immediately followed by a set of triceps push-downs, and repeat for however many number of sets their routine calls for.  This is indeed a time saving technique and also works really well at fatiguing the body (our ultimate goal). 
The problem with super setting as far as gym etiquette goes is that you are now essentially occupying two pieces of equipment at once.    The even bigger problem lies when you super set with two pieces of equipment that are on opposite ends of the gym (it happens).
4.Cell phones
Believe it or not, this is a huge source of tension in gyms and health clubs everywhere. Welcome to the 21st century! We are SO plugged in as a society that many of us can't make it through an hour long workout without checking our smart phones at least 50 times. If you must bring your phone into the gym with you, please keep the following in mind:
Have an important phone call, email, or text message?
Please take it to the lobby, or outside. Please don't take it from the seat of the pec-fly (or any other piece of equipment), where other people are waiting to use the machine. (see the "sharing" section above)
NO PHOTOS.
For the love of all things, DO NOT TAKE PICTURES OF OTHER PEOPLE!  I might chuckle if I see  you taking a flexed selfie in the mirror, but the truth is you aren't hurting anyone else. 
However, taking photos of other, unsuspecting people without their permission is absolutely intolerable.  People are at the gym trying to better themselves, they don't want to have to worry about becoming the next feature on "Awkward Gym Moments" (it's like the "People of Walmart", but for the gym).   Be nice. End of story.
Follow specific facility rules regarding cell phones.
Believe it or not, many simply don't allow them, specifically in places like the locker rooms. I'm sure you aren't a locker room creeper trying to take photos of unsuspecting people, but none the less, follow the rules and don't bring your phone where it isn't welcomed.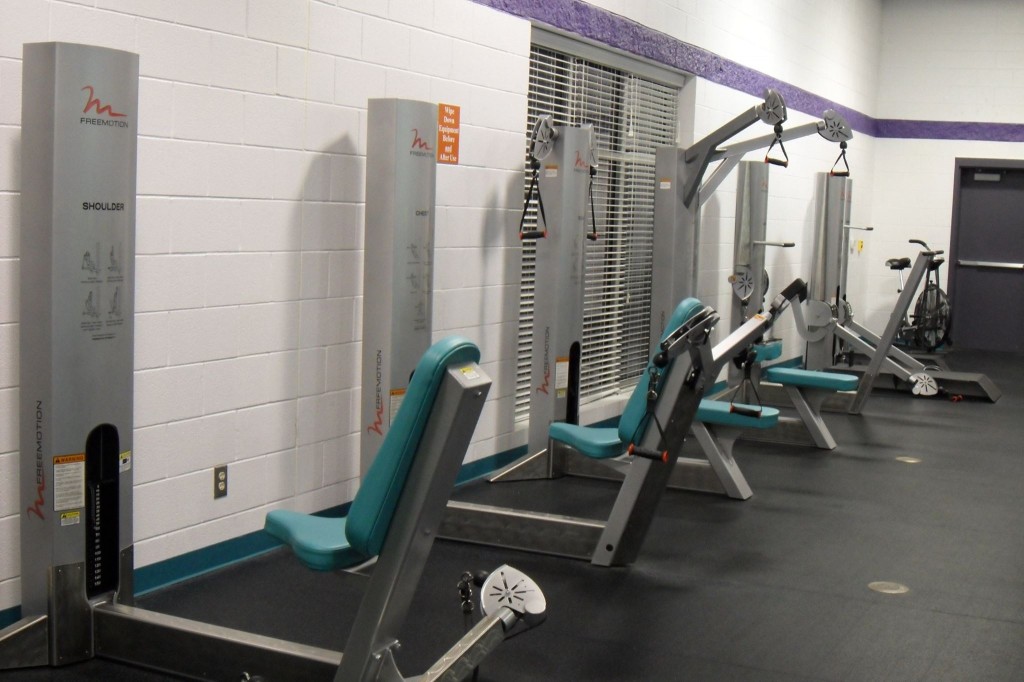 5. Personal Hygiene.
Be smell-sensitive.
Let's get straight to the point here. Please don't be the smelly gal/guy. We all sweat, that is the point of the gym. But please wear deodorant, and don't overdo it on the cologne or perfume (or strong lotion, aftershave, etc). Many people become hyper sensitive to scents when they are working hard. Try to keep your scent "neutral" as best as possible.
Attire.
No one expects you to strut into the gym wearing hundreds of dollars worth of lululemon yoga clothes. But please be sure your clothing is gym appropriate. Clean, workout friendly attire and clean sneakers are ideal. Leave the jeans and workboots for the street please. If nothing else, these types of clothing can ruin equipment; buttons on jeans and workpants can tear the fabric on benches, and dirty street shoes can ruin cardio equipment and floors.
6.  Be nice.
Simple enough, right? I honestly think this is the most important piece of gym etiquette I could offer. Watch your language, be polite, don't "oogle" or stare at others, and respect the fact that while some people are more than happy to be social at the gym, others are on fixed time schedules, or simply want "alone" time while they break a sweat. This isn't rocket science, this is simply being a good person with basic manners.
I hope this post didn't sound too pushy or condescending, my "mom voice" sometimes comes out when I'm tending to the regulars that should know better than to leave their weights strewn about. The truth is, the gym really is not a scary place, it can actually be a wonderful community to be a part of.
Final Thoughts:
The bottom line with gym etiquette is simply remembering that you are sharing the gym, and equipment, with dozens (if not hundreds) of other people. You don't have to tip-toe around as a beginner, fearful that you will make a mistake. Rather, remaining respectful of the equipment, the space, and other gym users is what matters the most.
And as always, if you have any questions at all about how to use equipment, or where something may belong, please do not hesitate to ask a gym staff member! They will be more than happy to help out!
Have any gym etiquette questions?  Or any suggestions I forgot?  Please leave them in the comments section below!
Heather Hart is an ACSM certified Exercise Physiologist, NSCA Certified Strength and Conditioning Specialist (CSCS), UESCA certified Ultrarunning Coach, RRCA certified Running Coach, co-founder of Hart Strength and Endurance Coaching, and creator of this site, Relentless Forward Commotion.   She is a mom of two teen boys, and has been running and racing distances of 5K to 100+ miles for over a decade.  Heather has been writing and encouraging others to find a love for fitness and movement since 2009.