Last Updated on April 6, 2022 by Heather Hart, ACSM EP, CSCS
Some women want jewelry or a gift certificate to the spa for the holidays, others want $200 lighting systems so they can see where they are going as they run hundreds of mindless miles through the forest…for fun. The latter is how I came into possession of the Kogalla RA Adventure Light.
More specifically, I saw mutterings of the Kogalla RA in trail and ultrarunning groups online, and told my husband I wanted one. He gave me the normal "you want to spend how much money on a light?" runaround, and then surprised it with me for Christmas (he's a great adventure-spouse).
Now that I've owned and used the Kogalla RA lighting system for well over a year (I got it for Christmas of 2019), I'm ready to share my full, honest review. Spoiler alert: it's a love/hate relationship.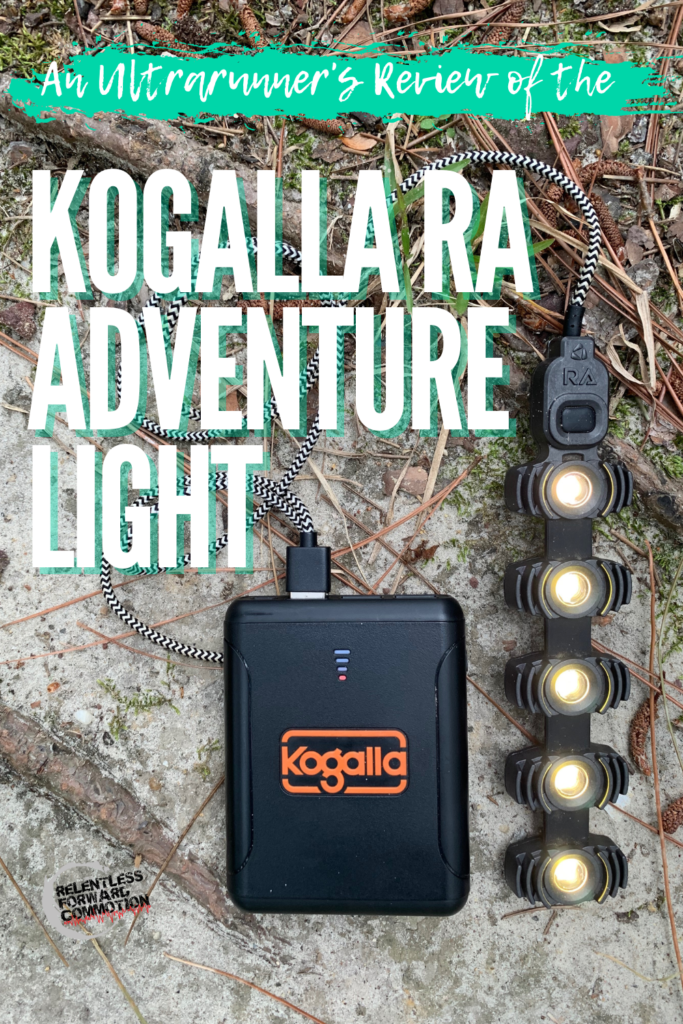 Part one of this post covers all of the technical aspects of the Kogalla RA Adventure Light, and part two covers my thoughts, specifically. Let's dive in:
What is the Kogalla RA Adventure Light?
The Kogalla RA Adventure Light is a versatile lighting system designed for outdoorsy, adventure types, like trail and ultrarunners, hikers, and more. I say "and more" with the disclaimer that I tried to use it on my mountain bike once, but it didn't pan out so well. Rather, I'd suggest the "and more" being anything on foot. Canyoneering? Dog walking? Midnight orienteering? You get the idea.
The Kogalla RA is unique in that instead of having a single light, it has five lighting modules mounted on a flexible, stainless steel strap. The result is that the Kogalla RA provides a flood of light, instead of a single spotlight.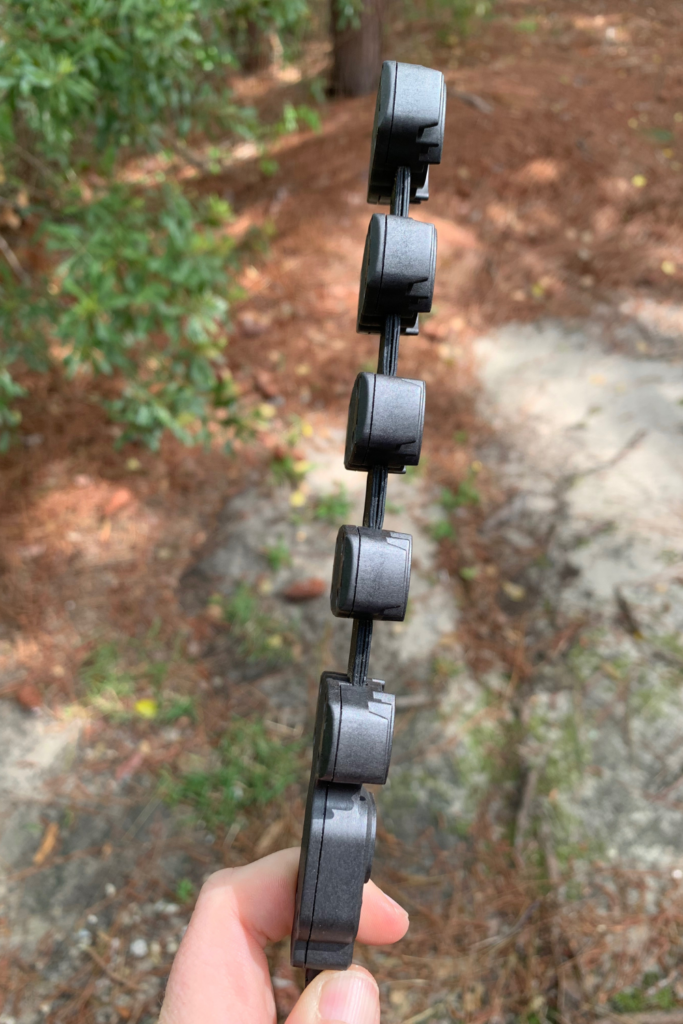 The Kogalla RA (fun fact: it's pronounced "rah" instead of "R.A.", incase you were wondering) started as a kickstarter project back in 2018. It was initially known as the "Zitony", and quickly raised $305,350 by 2,502 backers, well over the initial $15,000 goal.
Clearly, the people wanted a hands free strap light alternative to traditional headlamps.
Kogalla RA Adventure Light Features:
The Kogalla RA features 5 separate Cree LED lights that can be adjusted over 20 different brightness settings, from 15 lumens to 800 lumens. Kogalla explains that they used 5 lights in order to keep the LED's below their safe operating temperature limit, as well as to maximize efficiency.
The RA light features lenses designed to spread light uniformly so there's no bouncing hot spot or halos to interfere with your vision and cause motion sickness. On their website, Kogalla explains that by spreading uniform light in a wide pattern, the RA supports how the eye integrates with the brain, complementing the human vision system.
Further, the wide 120⁰ conical light pattern illuminates the peripheral vision which is important for maintaining balance and reducing mental fatigue especially when moving through complex environments.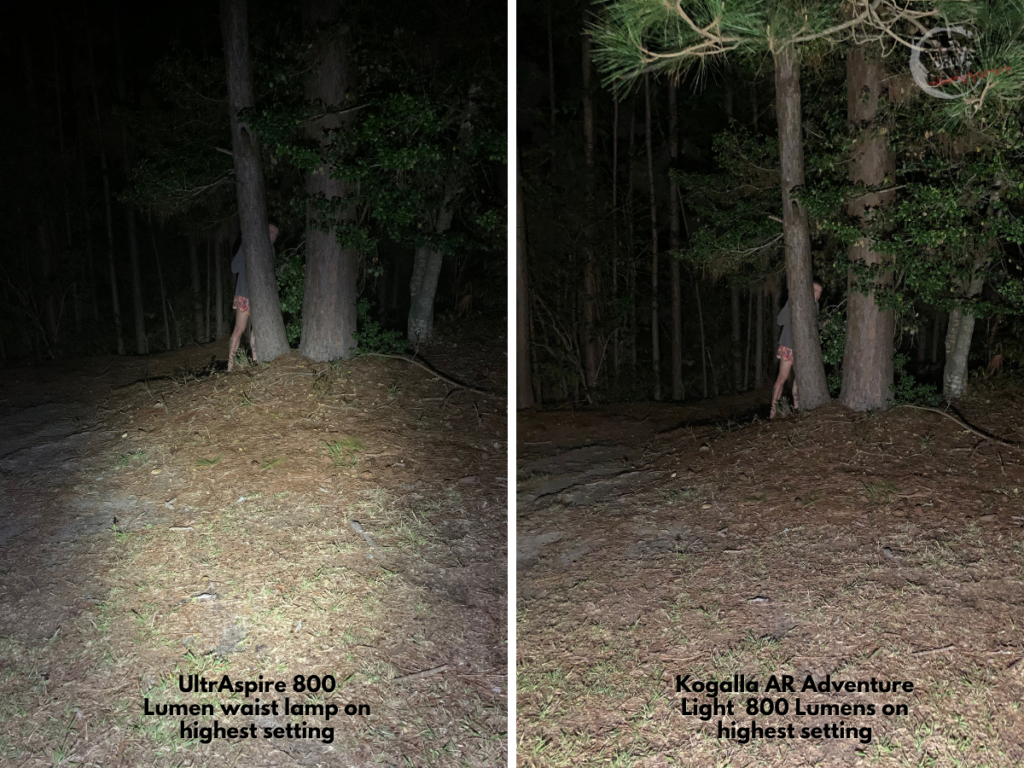 Kogalla RA Adventure Light Technical Specs:
Min Lumens: 15
Max Lumens: 800
# Light Settings: 20
Weight of the RA Light: 3.6 oz
Weight of the BatPak: 4.6-13 oz, depending on the pack
Battery on Low: 3 -9 days, depending on the battery pack option
Battery on High: 3-9 hours, depending on the battery pack option
Waterproof: The RA is rated IPX7 which means it can be submerged in water up to one meter for 30 minutes. The battery packs are NOT waterproof.
MSRP: Starts at $114.99 for just the light, increases based upon battery pack option
What Does the Kogalla RA Adventure Light Come With?
Adventure husband of the year (he wins that every year) purchased the Kogalla RA Single Pack 2. This kit retailed for $209.97 , and came with the following:
RA Adventure Light
BatPak 2 – Rechargeable lithium-ion 6-hour/6-day 13,400 mAh triple USB battery bank.
MagBack – Flexible magnetic backer makes it easy to attach RA to clothing or gear.
D-Ring Strap – Provides RA with rigging points for clips, carabiners or paracord.
Velcro Roll – used to fasten the RA adventure light to…whatever you want to attach it to.
Zippered Hard Case – to keep everything together.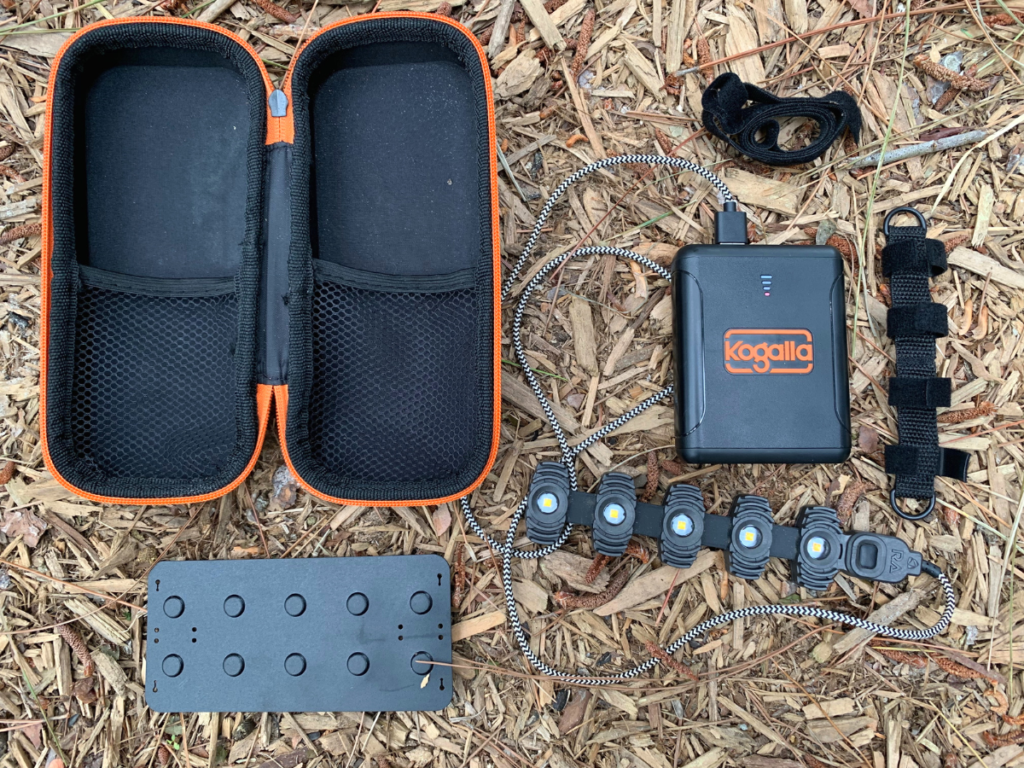 How Long Does the Kogalla RA Battery Last?
The Kogalla RA light will last between 3-9 hours on the high setting, and 3-9 days on the low setting, depending upon battery pack you are using, (the BatPak 1, 2, or 3) and how many RA lighting systems you are running at once.
These times will obviously vary greatly depending upon which lighting setting you are using out of the 20 available. Here's a handy chart from Kogalla:
Can I Use Any Battery Pack to Power the Kogalla RA?
According to Kogalla, a standard battery pack or power bank will work to power the RA at higher settings, but not at lower settings. This is because most power banks are designed to shut down when they detect a current draw below a certain level (as it assumes the device is fully charged)
Kogalla BatPaks are designed to always stay on until they exhaust the power of the battery.
The BatPak 2 & BatPak3 are both triple USB battery banks, meaning they have three USB ports on the single battery. This way, you can not only plug in more than one Kogalla RA, but you can use the BatPak as a traditional charging bank, to charge things like your phone or GPS watch during your race. (Note, the BatPak 1 only has a single USB port).
How Do You Attach the Kogalla RA Light?
There are a number of ways to attach and wear the Kogalla RA Adventure Light, but my top choices are either around my waist, or on the chest pockets of my hydration pack.
Chest Mounted:
A popular way to wear the Kogalla RA among the running crowd is on the front of your hydration vest or pack. You can do this simply by using the MagBack magnetic plat the Kogalla RA comes with.
This isn't my favorite setup, because I found my arm swing – especially on more technical trails – would cross the beam of light creating crazy shadows. But, the benefits of this mounting approach is that you can keep the cord wrapped up tight and close to the light itself, and tuck the battery pack into a pocket of your fest.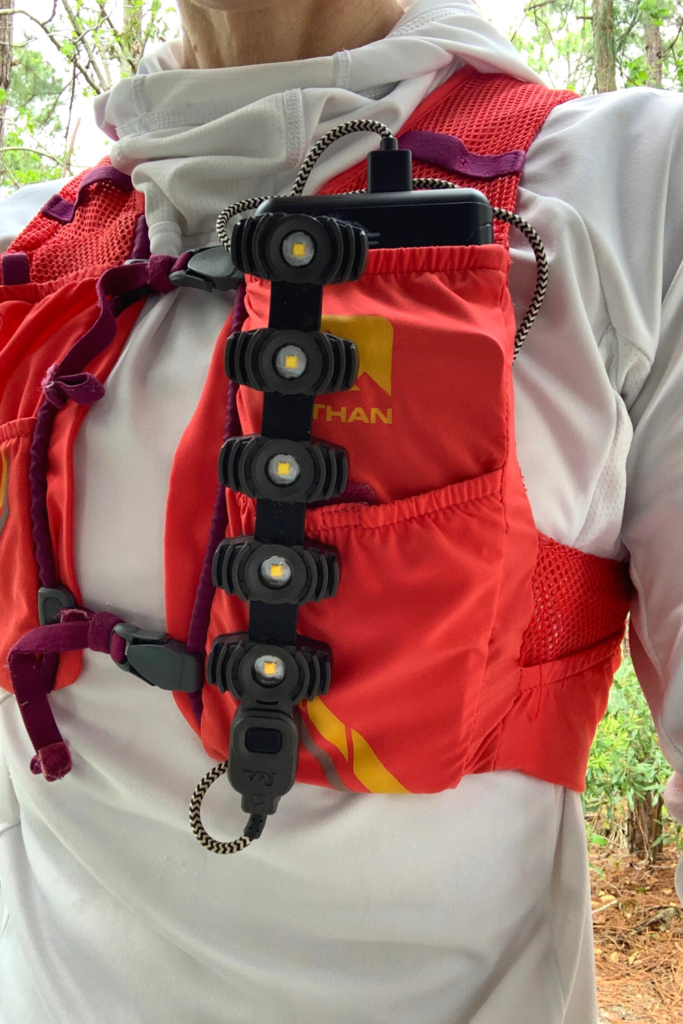 Waist Mounted:
My preferred way to use the Kogalla RA is to mount it to a SPI-Belt using the D-Ring strap that comes with the light. You could substitute any sort of racing belt for the SPI-Belt, such as a race number belt
Benefits of the Kogalla RA Adventure Light
Hands free, head free lighting. Head free may sound silly, but headlamps give me a headache and/or vertigo.
Powerful, full lighting area. The 120 ° conical light pattern really does light up EVERYTHING around you. You don't even need to use the brightest setting to really see what's going on – not just on the ground, but at eye level.
Battery life. This light will get you though the entire overnight of an ultramarathon, no problem.
Cons of the Kogalla RA Adventure Light
Weight of the battery pack: It's heavy and it takes up a lot of space. There really is no way around that.
Cord is bulky and cumbersome: even wrapping it up a with a bread tie, there's still a lot of cord. Plus, if you wear it around your waist, but keep the battery in your hydration pack, you have to fumble with the cord every time you take off your pack, or need to remove the waist belt.
You won't make friends on an out-and-back course. The Kogalla RA is SO bright that it tends to blind other runners heading at you in the opposite direction.
Not intuitive: It took me A LOT of practice to figure out the 20 different modes. In fact, the first real overnight race I used it for was the Country Mile 100 in April of 2021. I got so mad at the Kogalla that I quickly traded it for some hand held Nathan lamps instead.

Ironically, writing this post has helped me really, FINALLY, nail down the settings. But I cannot promise that I'll remember exactly what to push, when, in the middle of the night when I'm exhausted on a trail.
Kogalla vs. UltrAspire: Which is Better?
Comparable and popular waist belt to the Kogalla RA are the UltrAspire Lumen waist belts. Unlike Kogalla, the UltrAspire Lumen waist belts come in a variety of models. We own the UltrAspire 800 Multi Sport waist light, and in our opinion, the Kogalla RA is better. Here's why:
The UltrAspire offers a much narrower field of light. On technical trail, you need to point the light down towards the ground in order to ensure you don't trip on any rocks or roots. But in doing so, you limit the field of vision at eye level. This means you might easily miss a trail marker or turn.
The Kogalla RA on the other hand, lights up the trail to the extent that people running with you probably don't even need lights of their own. I'm not even kidding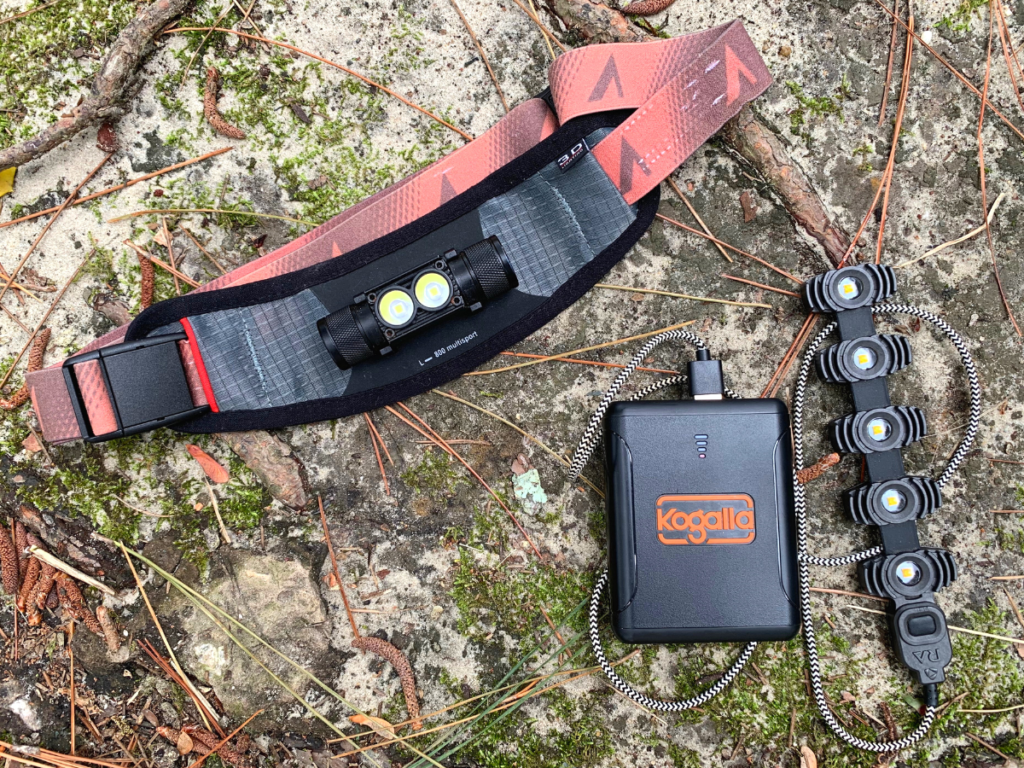 Is the Kogalla RA Adventure Light Worth the Cost?
For the peace of mind knowing that I'm not going to be stranded in the dark on a trail in the middle of an ultramarathon with a light that is either too dim, or completely died, yes the Kogalla RA is absolutely worth the cost.
Figuring out how and where to wear or attach the RA is a bit of a hassle, but once you finally figure out what works for you, it's no longer a problem.
Plus, I enjoy the fact that having the Kogalla RA's powerful battery power bank in my hydration pocket already means that I can charge my phone or my watch during a longer event.
You May Also Enjoy:

How to Overcome the Fear of Running in the Dark

8 Tips for Trail Running at Night

Do You Sleep During a 100 Miler? Ultramarathon Sleep Strategies Explained
Heather Hart is an ACSM certified Exercise Physiologist, NSCA Certified Strength and Conditioning Specialist (CSCS), UESCA certified Ultrarunning Coach, RRCA certified Running Coach, co-founder of Hart Strength and Endurance Coaching, and creator of this site, Relentless Forward Commotion.   She is a mom of two teen boys, and has been running and racing distances of 5K to 100+ miles for over a decade.  Heather has been writing and encouraging others to find a love for fitness and movement since 2009.