Last Updated on October 5, 2022 by Heather Hart, ACSM EP, CSCS
Two things I don't necessarily enjoy: technology that doesn't work the way it's supposed to, and not being able to see where I'm going while running on a trail at night. Put the two together with a frustrating to use or low quality headlamp while running an ultramarathon, and I'm throwing a 3 am ultra-temper-tantrum like a toddler (low blood sugar is likely also to blame).
But, in the last decade of racing and training as a trail and ultrarunner, I've found that lighting systems are another one of those "what works for one runner, might not work for another" situations. So rather than selling you on specific models, I'm going to tell you WHAT to look for to find the best headlamp for trail & ultra running – for YOU.
Have no fear – we'll still share some of our favorites. This isn't another post only featuring stock photos and technical specs you could find on the manufacturers website. Nope, these are reviews from actual ultrarunners who have first hand experiences putting these headlamps, waist lights, and hand held lamps through the rigors of overnight trail and ultrarunning.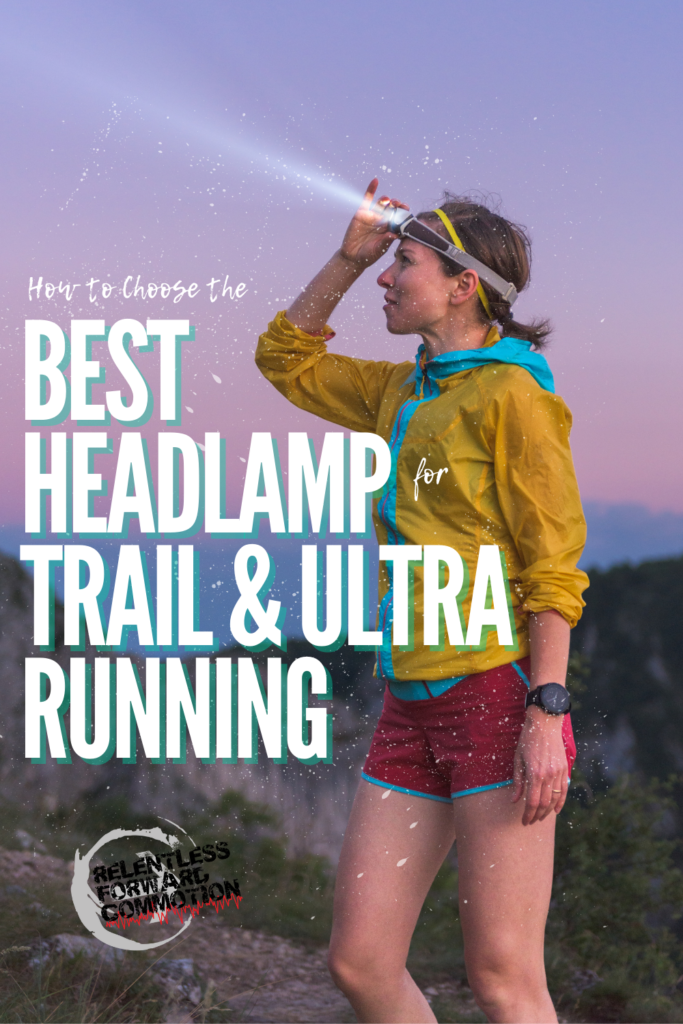 10 Important Features to Consider When Choosing the Best Headlamp For Trail & Ultra Running
Not all headlamps (or head torches, as many of our friends outside of the USA say) or lighting systems are created equally. And when you are shopping specifically for a headlamp for trail and ultrarunning,
1. Lighting Type
Determine what type of lighting system you want: a headlamp, a waist or chest lamp, or handheld lights. While I've used the term "headlamp" in this post many times already, the truth is, your lighting system doesn't need to be on your forehead.
In fact, many runners – myself included – find that headlamps over long ultramarathon distances can be more of a hindrance than helpful.
For me, headlamps become uncomfortable after many hours, and the bouncing of the light with the natural oscillation of running makes me dizzy. I personally prefer handheld or waist lamps, while other ultrarunners still prefer traditional headlamps.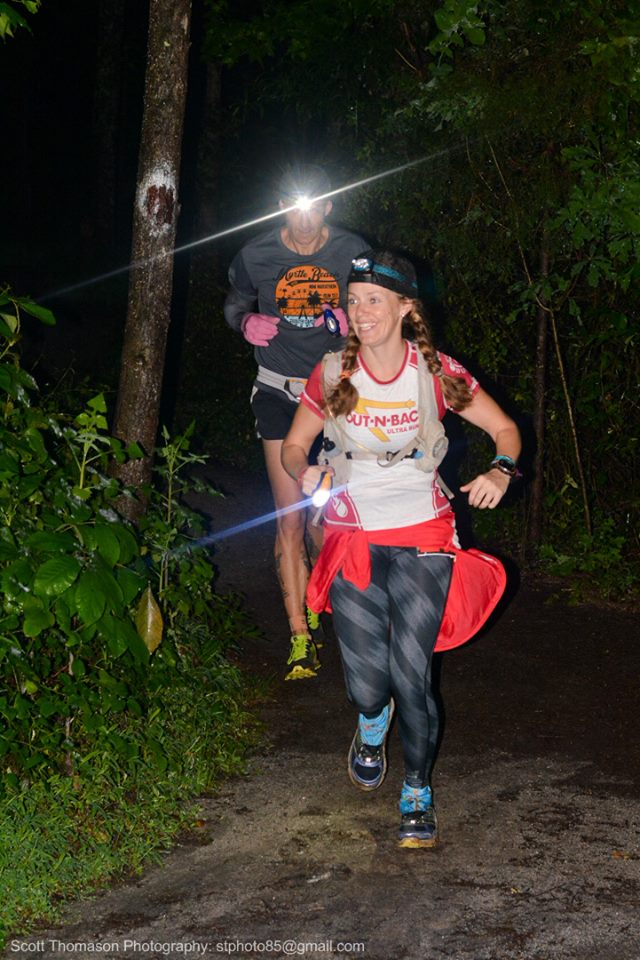 There is no right or wrong, but know that there are options available other than headlamps.
2. Battery Life
Ultramarathons last much longer than a simple post-work night run around the neighborhood. Ideally, you'll want a lighting system with a long battery life (also known as burn time or run time) and with battery power saving options.
While a fast burning, super powerful headlamp may be fine for trail runners who are only using the lamp for short distances, a headlamp that requires new AAA batteries every hour will get frustrating, quickly, during an ultramarathon.
3. Battery Type
Equally as important as battery life, is the type of battery your lighting system requires. Consider if you want a lamp that has a built-in rechargeable battery, or if you want to be able to replace the batteries on the go?
If you choose a rechargeable battery, is it the kind you can charge on the go with a USB charger pack, or do you need a special adapter and wall mount to do so? Can you swap out an extra rechargeable battery or rechargeable battery packs, or is the battery built into the device?
When you're running through the entire night, chances are your headlamp battery won't last the entire time. So knowing how you will replace or recharge the batteries while on the go is important.
4. Light Output
The light intensity – or lumens – your lighting system is capable of putting out is extra important in trail and ultrarunning. While road running tends to offer ambient light from street lamps or buildings, running down trails through deep forests can be incredibly dark, especially on cloudy, starless nights.
How many lumens do you need for trail running?
For trail running, look for a headlamp or lighting system that has at least 300 lumens as a setting option. Personally, I find having a lamp with many brightness settings is the best, as it allows you to use less lumens on a clear, moonlit night, and more lumens when you really need them.
How many lumens do ultrarunners need in a headlamp?
For an ultramarathon that covers technical trails through deep, dark woods, a minimum of 500 lumens is recommended. This gives you the option to have a brighter light when you are more exhausted in the overnight hours of an ultra, and might be struggling to see where you are going.
Further, when you're exhausted because you've already been running for 12 or more hours during an ultramarathon, it's extra important that your light is bright enough to help you see where you are going in order to avoid tripping on a root, or missing a turn.
For both trail and ultra runners, I recommend a lighting system that offers multiple brightness levels, so you can adjust the amount of light based on your immediate needs.
5. Field of Vision
The field of vision of the beam of light, as well as the beam distance, both matter almost as much as the brightness or number of lumens in the lamp.
A narrow beam (sometimes called a spot beam) creates a small, isolated, but very bright spot light. This can be useful on the trails, as it will really light up and highlight tripping hazards such as rocks or roots.
A wide beam (sometimes called a flood beam) creates a large, wide path of light covering a tall vertical and wide horizontal area. A wide beam increases peripheral vision. This is extra helpful if you are on the lookout for trail markings, a fork or turn in the trail, or just want a better idea of what sort of things are creeping around in the woods around you.
Ideally, you find a light that allows you to switch between narrow and wide beams, depending on your needs at any given point during your run or race.
6. Rear Light / Red Light / Safety Features
There are a number of safety modes on headlamps or running light systems that can be useful for runners.
Strobe Mode: If you run in an area that is highly trafficked – whether it's by cars on a road, or by other trail users off road – a strobe light mode will allow others to see you coming from far away.
Red light mode: In addition to white light, find a headlamp that had a red-light mode. Red light allows you to still see your surroundings, however, our eyes are less sensitive to red light. Therefore, running using the red light mode on your head lamp can help preserve your night vision.

Meaning: if you have to turn your lamp OFF, you'll be more likely to better see your surroundings instead of feeling left in the dark (put totally intended).
7. Weight
Consider the weight of the headlamp compared to how long you will be wearing it. For a shorter trail run, or an ultramarathon where you will only be using the lamp for a short period of time, weight might not be a huge concern. But if you're wearing the lamp for the entire night, mere ounces can start to feel heavier and heavier with time.
Pro tip: a lightweight headlamp comes at the cost of a smaller battery, and thus a shorter burn time. Therefore, utilizing more than one light source (such as a headlamp and a handheld light) simultaneously may be a good option
8. Simplicity
Let's be honest: a great headlamp is useless if you can't figure out how to use it. So, when considering a lighting system for trail and ultra running, an important feature to consider is the ease of use. Is there a single button or multiple buttons required to switch between different modes? Does the order of the lighting modes make sense?
During an ultramarathon, you're likely going to be mentally fatigued, which can make the simplest of tasks become difficult. Having a dozen light settings can hinder more than it helps, if trying to figure them out while running becomes confusing.
While you may find that you need multiple light modes (such as the safety options mentioned above) make sure that switching between modes isn't complex, and the lamp as a whole is easy to use.
9. Comfort
A comfortable headlamp matters more and more with each passing mile. If you're going to be wearing or carrying it for a long time, you want to make sure you're not hating the lamp and wanting to toss it into the woods before the sun comes up.
10. Durability
Trail and ultra runners will want a durable headlamp for a multitude of reasons. First, trail and ultra running often puts you in gnarly, muddy, wet situations. While you don't necessarily need a waterproof headlamp, you'll want at least a water resistant lighting system that can withstand these elements.
Second, you may find that you carry your lamp in your hydration pack for long periods of time during a race or long run. You'll want peace of mind knowing that your light can bounce around in your pack for hours on and, and still function properly when it's needed.
The Best Running Headlamps (and other lighting systems) according to Team HSEC:
Now, for a brief rundown of our team's personal favorite running headlamps, handhelds, and waist lights.
Best Headlamp For Ultra Running
Our pick for the best headlamp for ultramarathon distances is the Biolite 750 Rechargeable Headlamp. This headlamp features a running time of 150 hours on the low setting, 7 hours on high, and 8 hours RESERVE, making it perfect for lasting the duration of the overnight of an ultra.
In total, the Biolite 750 headlamp has 8 different lighting settings, and "on the fly" recharging, meaning you can plug it into a battery pack and charge it while the lamp is still running.
Max Lumens: 750
Weight: 5.3 oz
Rechargeable Battery: Yes (Micro USB)
Battery type: Built In
# Light Settings: 8
Battery on Low: 150 hour
Battery on High: 7 hour
MSRP: $99.95
Benefits of the Biolite 750 Rechargeable Headlamp
The pros of the biolite 750 headlamp, according to those on our team who use it, include:
Brightness
Comfortable, minimal bouncing, adjustable
Excellent battery life
Charges quickly
Can be charged while running
I like all the settings for various levels of brightness, so if I'm on the roads I don't blind drivers— but if I'm in the trails I can actually see! I also have a tiny head and like how adjustable it is. It's very easy to charge too. It's a bit heavy, but once it's on it's comfortable- though I DO prefer it to sit over a beanie or fabric headband because it fits better." – Sally Conway, HSEC client and ultrarunner
Cons of the Biolite 750 Rechargeable Headlamp
For those who prefer simplicity, the Biolite 750 might not be for you. The only complaint we heard from our team was that this lamp had too many options, and was not initially intuitive to use.
*Update: the Biolite 750 is no longer being made, and is being replaced with the HeadLamp 800 PRO. Stay tuned for a full review!
Best Headlamp for Trail Running
HSEC client and ultrarunner Alex C votes the Bushnell TRKR 250 as the best headlamp for trail running. However, it appears Bushenell no longer makes the TRKR 250 (a testament to it's durabilyt, the fact that Alex is still using it), so we're going to cover the specs of the Bushnell TRKR 325L Multi-Color Headlamp instead.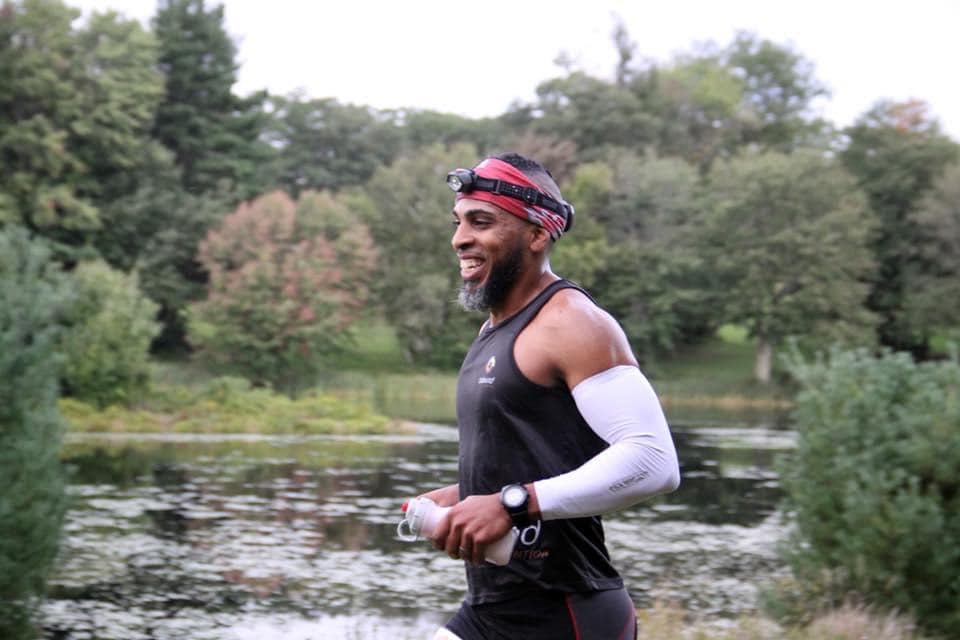 Benefits of the Bushnell TRKR Headlamp
According to Alex: "This is my go to headlamp. I love it because of the shape of the lens. It gives me a very wide picture of what is in front of me at night. I first used it at Vermont 100. The brightness of the beam is incredible for an 18 dollar headlamp"
Max Lumens: 325
Weight: 5.3 oz
Rechargeable Battery: No
Battery type: AAA
# Light Settings: 4
Battery on Low: 67 hours
Battery on High: 6.5 hours
MSRP: $29.99
Cons of the Bushnell TRKR Headlamp
We listed the Bushnell TRKR as a great choice choice for trail running – and not long distance ultrarunning- because of the following "cons", according to Alex:
"The headlamp takes 3 AA batteries that sit in a compartment behind your head. It can hurt after more than a few hours…"
Best Waist Light for Trail & Ultra Running
The Kogalla RA Ultra Trail Light gets our vote for the best waist light for trail & ultra running, because it's as bright as the headlights on a jet plane, and incredibly versatile.
The Kogalla RA is such a powerful light, it's been given mixed reviews by ultrarunners. On one hand, they love it because they can see everything in their path. On the other hand, if you are passing runners going in the opposite direction, you'll probably blind them.
It's really that bright.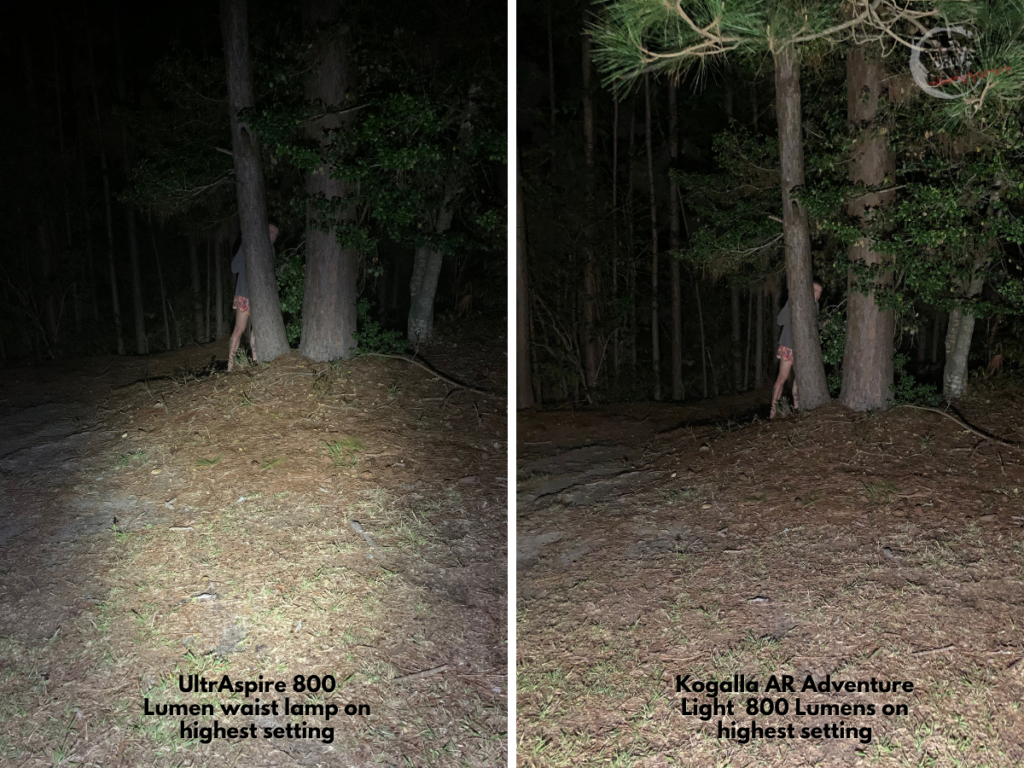 Pros of the Kogalla RA Ultra Trail Light
The rechargeable, powerful battery pack means that the light will last an incredibly long time, making this an ideal light for overnight portions of an ultramarathon.
There are 20 – yes, TWENTY – different light settings on the Kogalla. The lowest setting is 15 lumens, and the maximum brightness is 800 lumens. This gives you endless options for brightness depending on your running situation.
Max Lumens: 800
Weight: starts at 8.2 oz, increases with battery pack options
Rechargeable Battery: Yes
Battery type: External battery pack
# Light Settings: 20
Battery on Low: 3 -9 days, depending on the battery pack option
Battery on High: 3-9 hours, depending on the battery pack option
MSRP: Starts at $114.99 for just the light, increases based upon battery pack option
"Kogalla RA single pack 2 is amazing! Headlamps give me a headache and are a pain when you wear a hat. I used mine for the Custer Lean Horse 100. I Velcro the light bar to a small waist pack and the battery pack fits in the zippered pouch." – Christina Matthews, HSEC client & Ultrarunner
I love it because headlamps usually give me a headache. They also bounce. This is super bright! It also is a magnet to my vest pocket. I hardly notice it is there. I used it during the Haliburton 50 miler, with super rugged and gnarly terrain, and lots of elevation. It lasts 8+ hours, the battery pack it comes with is awesome! – Mary Hulme, HSEC Client & Ultrarunner
Cons of the Kogalla RA Ultra Trail Light
The cons of the Kogalla RA lighting system, in my opinion, are the weight of the battery pack, there are too many settings, and the fact that you need to figure out how to wear the light, as it really is JUST a light.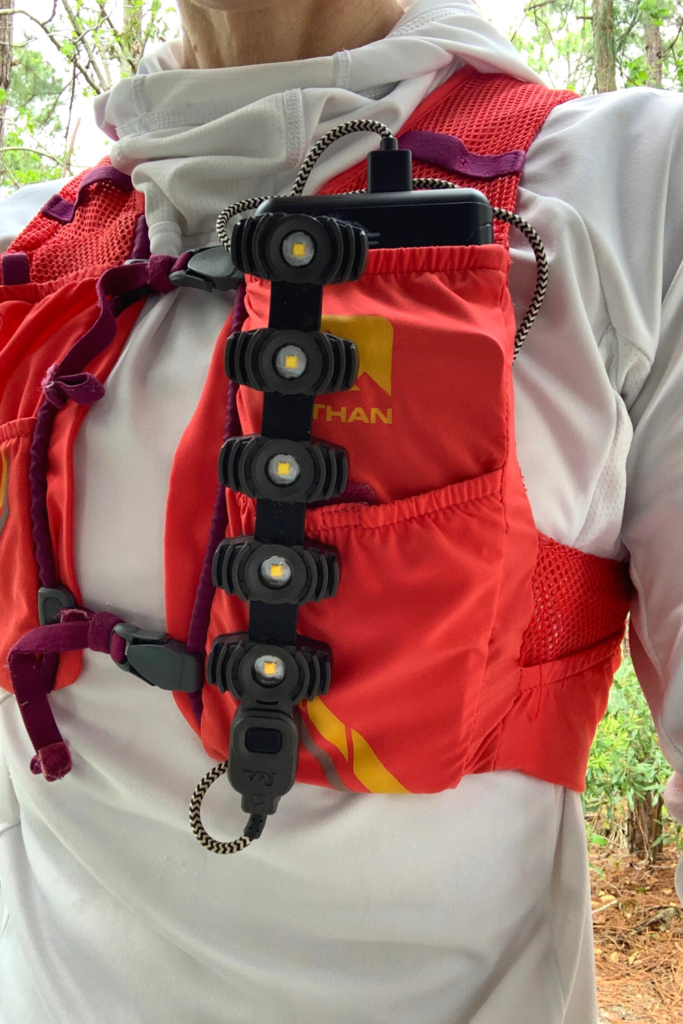 There is definitely a learning curve to the Kogalla RA Adventure Light, but once you figure it out, it's worth it for situations when you absolutely NEED to be able to see where you are going.
Click Here to read the full Kogalla RA Adventure Light Review
Best Handheld Light for Trail & Ultra Running:
Our pick for the best handheld light for trail and ultra running is the Nathan Terra Fire RX 400 Hand Torch. Previous versions of this handheld light include the Nathan Zephyr Fire iterations, which is what we currently still own and use. Nathan just stopped making them, so we're listing the most updated version: the Terra Fire.
Max Lumens: 400
Weight: 6.1 oz
Rechargeable Battery: Yes – micro B USB port
Battery type: internal
# Light Settings: 4
Battery on Low: 12 hours
Battery on High: 5 hours
MSRP: $60
Pros of the Nathan Terra Fire Hand Torch
The Nathan hand torches feature a 24-degree angle of light, allowing you to really focus on the ground in front of you. While that may seem like a small field of light, the best part about a hand held light is you can quickly and easily point it in whatever direction you need.
The lowest setting is almost always plenty bright enough for me to run with, which helps conserve the battery.
The Terra Fire (and previous Zephyr 300) have a loud safety alarm built into the light. This is a great feature if you are running alone, or in a neighborhood with dogs that love to chase runners. The piercing alarm definitely makes you jump.
Lastly, the back of the light features a rear strobe light (in red light) for improved safety in low-light conditions.
Cons of the Nathan Terra Fire Hand Torch:
Unfortunately, a handheld torch means your hands are now occupied. If you're trying to use trekking poles, need to tie your shoes or open a gel, you'll struggle a little bit.
The aforementioned alarm? The put the button right next to the on/off button for the light. I've lost track of the number of times I've inadvertently hit the alarm button, causing both myself and those around me to jump.
Lastly, the strobe light feature is highly distracting for those running behind you on a trail. To the extent that we actually covered ours with electrical tape to block the light .
Other Running Headlamp / Light Tips
I asked our Hart Strength and Endurance Coaches to chime in with some of their lighting tips. Here's what they had to say:
Final Thoughts:
As already mentioned once in this post, what headlamp or lighting system works for one runner, might not work for another. So don't be afraid to try different types of lamps out to find what works best for YOU.
You May Also Enjoy:
8 Tips for Trail Running at Night
Do You Sleep During a 100 Miler? Ultramarathon Sleep Strategies Explained
Ultrarunning and Caffeine: Pre and Post Race Day Supplementation Strategies Explained
Heather Hart is an ACSM certified Exercise Physiologist, NSCA Certified Strength and Conditioning Specialist (CSCS), UESCA certified Ultrarunning Coach, RRCA certified Running Coach, co-founder of Hart Strength and Endurance Coaching, and creator of this site, Relentless Forward Commotion.   She is a mom of two teen boys, and has been running and racing distances of 5K to 100+ miles for over a decade.  Heather has been writing and encouraging others to find a love for fitness and movement since 2009.