Last Updated on September 3, 2019 by Heather Hart, ACSM EP
The majority of runners I know are early birds: putting in their miles as soon as the sun rises. In fact, most races, from 5K's to marathons and beyond, start first thing in the morning . So it's no surprise that there is an inherent fear of running in the dark and at night among runners: because they simply don't do it. But if you've got an overnight ultramarathon or relay race coming up, the reality is: you're GOING to be running in the dark. And possibly even during the wee hours of the morning.
So how do you conquer this fear?
Listen I get it: the dark can be scary. Even worse, the woods at night can be terrifying. I'm still afraid of the Blair Witch Project, and I've only seen the movie once, TWENTY years ago. The truth is, there is an evolutionary reason why we are afraid of the dark. According to scientists, this fear is a form of anxiety that stems from a time when humans were prey, and our predators hunted predominately at night (source). Further, the dark presents an element of the unknown: we can't see what's going on. When one of our senses – in this case, sight, is taken away, other senses are heightened, making us question every little sound we hear.
How to Overcome the Fear of Running in the Dark
In this post, most of my references are about running in the dark on trail. If it's your first time here, welcome: I'm a dirt loving trail runner. That said, every single one of these tips can absolutely be applied to road running as well. However, if you're on the roads in the dark, please do me a solid favor and make sure you can be seen. Wear reflective gear, blinking lights, basically anything that makes you look like a moving Christmas tree, so drivers will see you. Alright, mother hen lecture aside, let's get to it:
Invest in a Quality Lighting System
The first, and most important step to take to get over your fear of running in the dark, is to invest in a quality light. A headlamp or handheld light designed specifically for running with a minimum of 150 lumens (though I'd recommend something closer to 300).
Lumens are essentially the measurement of brightness. Your average, cheap handheld flashlight is going to be between 25-50 lumens. Perfect for helping you prevent tripping over your cat in your house during a power outage, not so great for traversing the woods at night. Brighter is definitely better – but it's important to know that the higher the lumens, the faster the battery will invevetably die. Most running specific lights will give you multiple lumen settings, so you can stick to the lower lumens for preserving battery, but quickly switch to a brighter setting if you need it.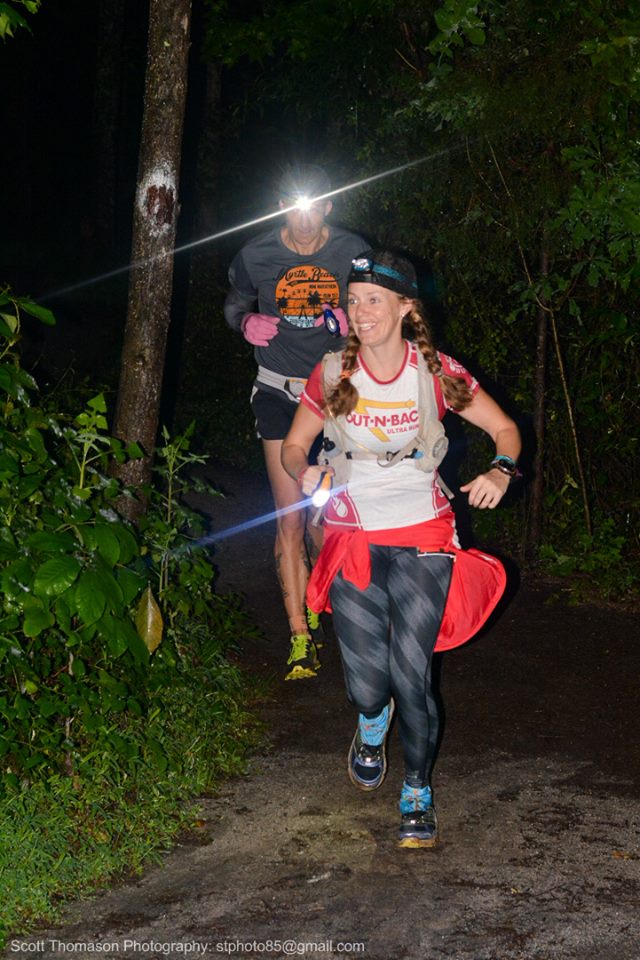 Further, a running specific headlamp or handheld is also going to give you a wider field of vision. Being able to see where you are going – and what's going on around you – helps calm the fear of being in the dark.
If you are looking for recommendations, I run with the Nathan Zephyr Fire 300 handheld (affiliate link) and highly recommend it.
Face your Fear with a Group Run
Once you have a quality lamp, find a group or a couple of running buddies to tackle the nighttime miles with. Safety in numbers, right? The Chupacabra can't catch you ALL at once.
I'm kidding.
On a serious note, having others around you can help calm your nerves. Further, company will help distract you from over analyzing every noise you hear in the woods.
Start at Dusk
Transition into running at night. Start your run at dusk, while it's still light enough to see your surroundings. Over the course of your run, you'll transition into night time which will make it seem less intimidating than starting off in the dark.
Here's another great thing: as you run, your body releases chemicals, such as endorphins, norepinephrine, dopamine, and serotonin, all responsible for the elusive "runner's high". These feel good hormones will help you feel more confident, and hopefully, less nervous while the sun begins to set.
Research What's REALLY Out There
Stop and take a look at what exactly you are afraid of happening while running at night. Then, do a little research to see if statistically, there is any greater concern for these fears at night over running during the day.
Wildlife:
The truth is, many of the animals humans fear are indeed nocturnal hunters. This includes mountain lions, bears that live in heavily human populated areas, boars, and even alligators. But what are the chances you are going to get attacked:
Let's break it down by numbers:
In the past 100 years, there have been fewer than two dozen fatal mountain lion attacks in North America (source).
Since 1900, there have been 158 fatal bear attacks in North America.
How about wild boars? One study suggests your risk of a fatal attack is one in a million.
Alligators may be your biggest concern, if you have them near you: from 1948 to August 1, 2004, 376 injuries and 15 deaths have been reported in the United States as a result of encounters with alligators (source).
Sure, these numbers may seem high. But when you consider the current population of North America hovers somewhere around 579 million people, it puts into perspective that these wildlife attacks are actually incredibly rare.
Crime:
According to the U.S. Department of Justice, the number of violent crimes committed by adults increases hourly from 6 a.m. through the afternoon and evening hours, peaks at 9 p.m., and then drops to a low point at 6 a.m. In other words, more violent crimes occur during the daylight rather than the night.
Now, none of this is to say you should let your guard down, but rather to demonstrate that if something bad is going to happen to you, whether it be an attack by an animal or a human, chances are just as likely that it could happen during the day. Take safety precautions. Know the actual risks of where you are going to run (not simply the ones in your head), and always be sure to let someone know where you are going.
Run at Night.
The antidote to fear is familiarity. So in short, in order to get over your fear of running in the dark, you've got to run in the dark. I promise you that over time, the fear transitions to slight anxiety, and eventually you'll discover how fun it can be to fly through the trails in the dark.
Have any tips to add? Leave them in a comment below!