Last Updated on April 18, 2019 by Heather Hart, ACSM EP, CSCS
Speed.  Whether you are an elite athlete or a weekend warrior, the road running world seemingly revolves around how fast you can run. Tell someone you ran a marathon, they'll ask you how long it took. Sign on to any running forum, and people will be discussing PR's (personal records) mile splits, tempo runs, you get the idea. Speed seems to matter, a whole lot. But the truth is, runners often get burnt out on the excessive focus on speed and time.
Enter: ultramarathons.
I've heard countless runners say that one of the reasons they wanted to enter the world of running ultras is because they are sick of having their running dictated by their GPS watches.  They are frustrated with constantly having to run specific paces, and feeling disappointed when they don't make the pace cut.  They are tired of chasing PR's, and they are sick of the pressure that comes with the clock.
They just want to run for fun.
Believe me, I get it. I often joke that I'd rather run 100 miles than try to break my 1:40 half marathon PR ever again.  (The truth is: I'm not really joking. That's freaking fast for me, and I don't like fast.)  One of the appeals of the ultramarathon world is that instead of focusing on time, the focus is more concentrated on distance.  Often, really, ridiculously far distances.   And in order to achieve those insane distances, runners have to slow waaay down.
Or as I often say to my clients "ridiculously, uncomfortably slow."
In fact, when it comes to training for ultramarathon distances, for the average runner around 80% of your weekly mileage should be done in the aerobic training or aerobic recovery zone, in other words, an "easy" effort pace (65-80% of your max heart rate).   And for some of the even longer distances, yes, there's a significant amount of walking.  So it's easy to understand why many runners assume that ultra running is one happy snail parade fueled by candy and potato chips.  Well, Coach Heather is here to burst your bubble:
You still need speedwork.
Why should an ultramarathon training plan include speedwork?
Simply put, an ultramarathon training plan should include speedwork for the exact same reasons any other distance training plan includes speedwork.  Here's the thing: it's not always to simply make you faster.  Regularly incorporating speedwork into your training can help with the following:
Running Economy & Aerobic Capacity
These two get a little technical, so bear with me.   Running economy refers to the relationship between oxygen consumption and running velocity (speed), while aerobic capacity refers to measure of the maximum amount of oxygen your body can utilise during intense or maximal exercise (also referred to as your VO2 max).
Speed work can help improve aerobic capacity (VO2 max), therefore improving our bodies ability to utilize more oxygen with every breath we take.  Similarly, speed work can help improve our running economy, meaning our bodies learn to become more efficient, requiring less oxygen at a given pace.
In short: speed work helps your body not only become better at using oxygen, but becomes more efficient at how much it needs while running.  This is a good thing.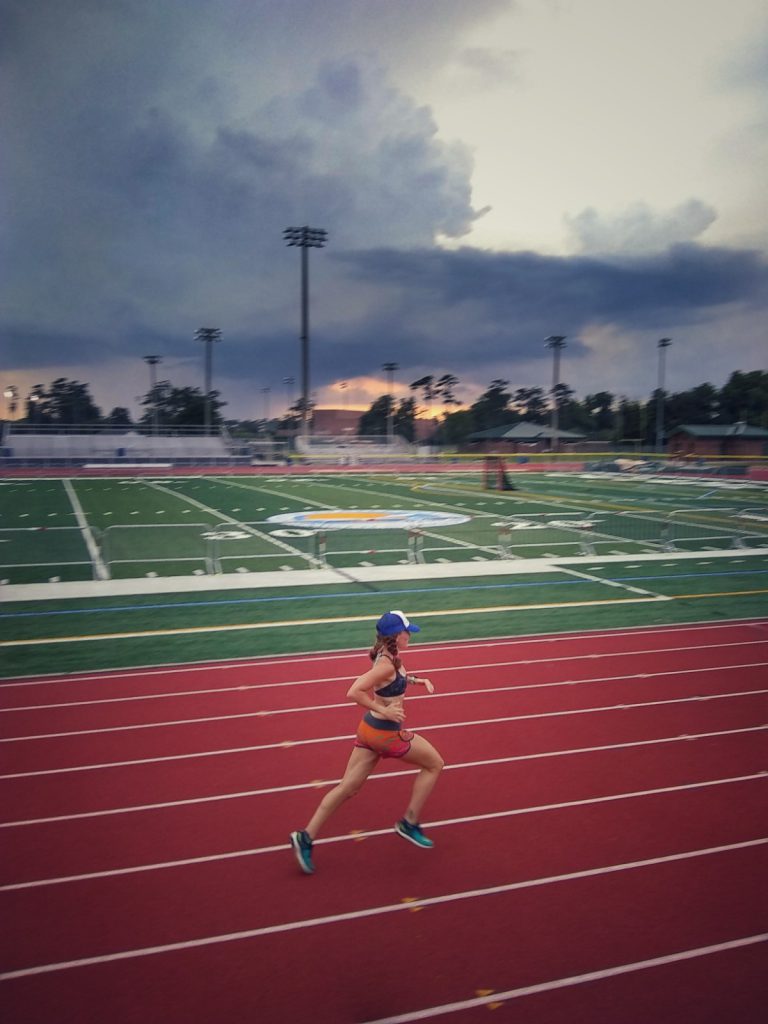 Injury prevention
Speed work can actually help you avoid many common injuries that plague runners.  For two reasons:
First, speed work utilizes and trains the fast twitch muscle fibers that are often ignored in the slow, long runs that accompany ultra training.  Stronger muscles = less muscular imbalance = less incidence of injury.
Second, speed work, like faster strides or sprints,  forces your muscles through a fuller range of motion, improving flexibility, which can also help ward off potential running injuries.
It is important to note, however, that you can also injure yourself by jumping right into aggressive sprints, especially if you are not well versed in speed training.  Be sure to always include a thorough warm up, and ease into more difficult speed workouts as you gain experience.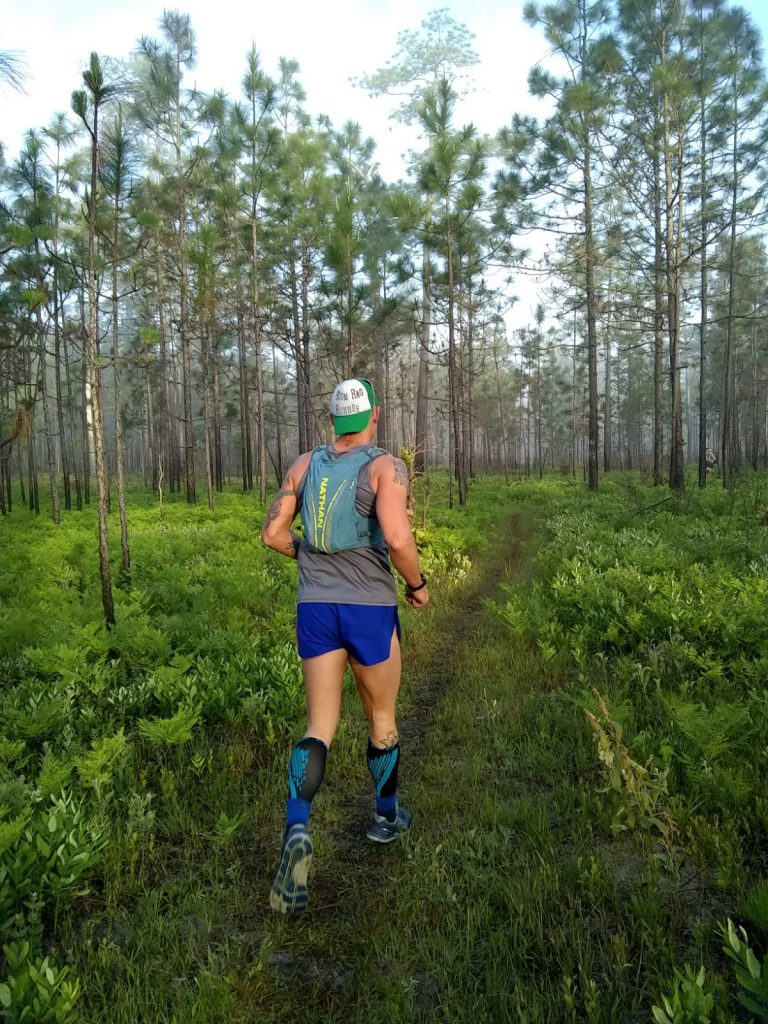 Help prevent "junk miles"
I'll be honest, I don't necessarily love the term "junk miles".  Perhaps it's my rose colored glasses, but I like to think that all miles can be happy miles.  That said, from a training perspective, there are workouts that make you stronger, there are workouts that help you recover, and then there are some workouts that end up not only being somewhat useless, they can actually be hindering.  Those, my friends, are junk miles.
Having specific speed workouts to help account for the 20% of workouts that should be done at a harder effort (remember, 80% are done at aerobic effort) can help runners avoid that grey zone of not necessarily helpful workouts.
What does speedwork for an ultramarathon look like?
Let's face it: much of the ultrarunning world is non traditional, and speedwork for ultrarunners is no different.  Now, 100 meter sprints on the track are fun, but they don't necessarily make sense to incorporate into an ultramarathon training plan, where the idea is to get the runner's body used to undergoing stress for multiple (sometimes two dozen or more) hours at a time.
Examples of these types of workouts include:
Longer speed intervals (such as half or full mile repeats)
 Fartleks or intervals within a longer run, using longer recovery periods to gain distance
Tempo runs
Hill repeats
Some will argue that this does not represent "true" speedwork in the running world, however, it is significantly more applicable to the end outcome for ultrarunners.
How often should ultra runners do speed workouts?
Earlier in this post I mentioned that when training for ultramarathon distances, for the average runner around 80% of  weekly training mileage should be done in the aerobic training or aerobic recovery zone, in other words, an "easy" effort pace (65-80% of max heart rate).  Another rule of thumb is to have no more than 2-3 hard effort workouts a week.  Keep in mind, long runs – even when done at a lower effort – are considered a hard effort.  Therefore, I typically program my clients one day a week of focused speedwork (or hill work), and for more advanced athletes, incorporate shorter periods of faster/harder efforts within another longer run on a second day per week.  
In short…
Do you NEED to do speedwork to successfully complete an ultramarathon? No. You do not.  But the benefits of incorporating speedwork regularly into your training program can make your ultramarathon experience that much more enjoyable, and potentially even more successful.  As with all new things: start small.  Try incorporating some shorter speed workouts every other week to see how your body adapts.  Always begin with a thorough warmup, and finish with a thorough cooldown, before and after every speedwork session.
Do you have more specific questions about how to incorporate speedwork into your training program?  Feel free to comment below, or send me a direct email, [email protected]
Heather Hart is an ACSM certified Exercise Physiologist, NSCA Certified Strength and Conditioning Specialist (CSCS), UESCA certified Ultrarunning Coach, RRCA certified Running Coach, co-founder of Hart Strength and Endurance Coaching, and creator of this site, Relentless Forward Commotion.   She is a mom of two teen boys, and has been running and racing distances of 5K to 100+ miles for over a decade.  Heather has been writing and encouraging others to find a love for fitness and movement since 2009.