Last Updated on January 22, 2022 by Heather Hart, ACSM EP
Though you'll still hear the occasional old-school runner who swears that "back in my day, all we used was a $5 wrist watch", it seems that today GPS watches and running are nearly synonymous in the endurance community.  Like any piece of technology, however, there is no denying that there are pros AND cons to the very common use of GPS watches for runners.
Elite athletes and weekend warriors alike are tracking their every move via their person global positioning system conveniently perched on their wrist.  From pace, to distance, heart rate to training effort, quality of sleep and even the amount of time spent on port-a-potty breaks, this little computer will track it all.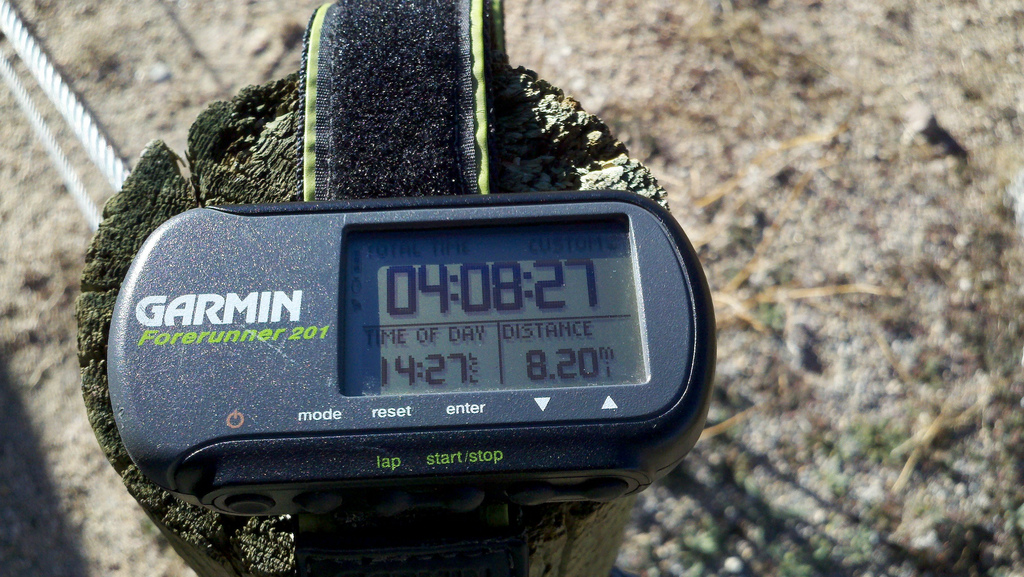 Anyone remember this gem? One of the earliest Garmin forerunners.  photo credit: Michael Dorausch, flickr.
The original Garmin Forerunners (such as this 201, above)  were released in 2003, targeted towards the running and endurance community, allowing them to track overall distance, pace, and time of training runs and races.   These Forerunners held on strong until the 205 and 305 models were released in 2006.
When I started seriously running in 2007, it seemed having a GPS watch was a luxury, and not a common practice.  But soon after, many other companies hopped onto the wearable GPS watch bandwagon, and with more choices available on the market, GPS watches became more prevalent on runners wrists.   Timex, TomTom, Suunto, Polar, Fitbit,  all offer not one, but numerous models of endurance sport specific GPS watches.  And that's just to name a few companies.    
Head to any foot race, road or trail…or even triathlon, and I would be willing to bet you would see a GPS watch on the wrist of 90% of the participants.  (And if they aren't wearing one, chances are the GPS app is loaded to the smart phone they are carrying.) 
So if every runner has a GPS watch, they must be useful, right?
Sort of.
The Pros and Cons of GPS Watches for Runners:
 While there are numerous benefits to training with a GPS watch, there are also some negative aspects that may harm a runner's training and progress.  In this post we will discuss a little bit of both sides of this argument.   Though many of you may be hopeless GPS converts already,  I hope that this post will provide a little insight to the pros and cons of this wearable technology to the beginner running crowd, or anyone considering purchasing a GPS watch to assist with their training.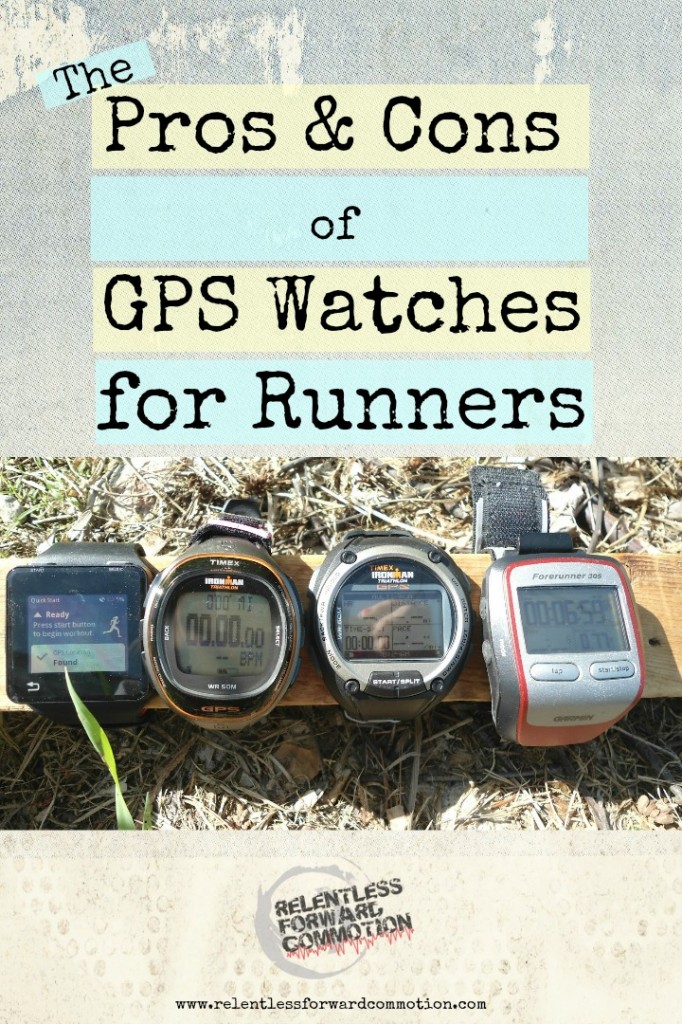 The convenience of GPS watches cannot be denied.
Let's say you are training for a race, and you have a specific time goal.  Maybe it's a Boston Qualifying time, maybe it's simply to run faster than your last personal record.  Regardless, when training for a specific goal there are often many requirements that accompany most training plans, such as necessary distance, mile splits, and overall pace just to name a few.
Having access to a device on your wrist that can monitor these measurements at any given time avoids having to do any sort of difficult or confusing calculations mid run, and make it far easier for a runner to maintain a steady pace.   It also allows you to avoid the act of mapping out your local neighborhood using the odometer of your car.
Further, many models of GPS watches allow the runner to set various alarms, such as pace alarms, time, or distance intervals. Doing so allows runners to focus on their running, instead of worrying if they have yet reached their specific time or distance interval, and prevents the necessity to constantly overanalyze their pace.   Don't have a local track to run Yasso 800's on?  No problem! Pre program the workout into your GPS, and it will let you know exactly when you've reached 800 meters, and also when your rest interval is over.
All of this information is stored within the watch, and can often be uploaded to a computer. This allows the runner to track and analyze their training and racing over time, which can help to determine where a runner may need to make improvements to their training.
But this of course, can backfire.
Technology dependence.
While having access to all of this data can certainly be helpful, it can also become detrimental. Many runners rely on the numbers on the screen of their GPS watch to determine their running pace, instead of listening to their bodies and running by feel. Relying on these numbers may prohibit a runner from being able to physically interpret the difference between their race pace, tempo pace, aerobic pace, and so on. A runner who is constantly trying to determine their pace based on the GPS screen may become easily distracted, frustrated, and unable to complete their desired workout as prescribed. Further, technology is not always accurate, and the GPS signal may be delayed at times. As a result, a runner may speed up or slow down their workout based on an inaccurate GPS reading, and therefor not reach their goal. Learning to pace based upon feel, and only relying on the GPS as a backup, will result in more consistent, successful workouts.
And speaking of dependence, let me ask a question: have you ever delayed or skipped a run because you forgot to charge your GPS watch and the battery is dead?  You can admit it, I'm guilty as well.  But if you have come to rely on your GPS for your ALL of your workouts, finding out that you cannot run with the GPS  for whatever reason may become frustrating, or even detrimental, to your training. Taking frequent runs without your GPS watch will ensure that you can still enjoy your workout and the act of running without the constant data feedback.   Distance (from your GPS) makes the heart grow fonder.
Motivation or too much pressure?
Sometimes how fast (or slow) we think we are running and the actual pace we are running are two vastly different numbers.  Knowing your exact pace, as shown by a GPS watch, may be incentive to push harder and run faster, ultimately helping improve your running pace.
But then there is the case of recovery runs.  Easy workout days are prescribed for a reason; they allow your body to actively recover between more intense workouts. Now, endurance athletes tend to be slightly obsessed with numbers, and hate seeing a pace much slower than what they know they are capable of.  Yes, that is a vast generalization, but the running crowd knows exactly what I'm talking about.   For some people, knowing their pace at any given moment may cause them to push harder than they should for that specific workout. Leaving your GPS at home on easy runs will allow you to relax and focus on your pace based upon listening to your body.
Cost 
Point blank: GPS watches aren't cheap.   The starting price point of a GPS watch hovers around $100, and can easily surpass $500 (like the Garmin fēnix 5S Plus, currently $749).  The cost varies greatly dependent upon the features included in the watch.  A basic distance and overall pace system is going to be significantly less expensive than a waterproof, multi-sport, fully programmable option that gives you exact pace and location at any given time, as well as answers your text messages, plays MP3's, and connects directly to social media.
Ease of Use
Some of these GPS watches are difficult to figure out at first, or may have far too many options than you require.   If you are seriously considering purchasing a GPS, be realistic about what you hope to use the watch for.   In other words, don't opt for a multisport option simply because that model is on sale or offered in a color you like if you are never going to swim or ride a bike; the extra options may simply cause frustration.
If cost is an issue, start small with a smart phone app, such as MapMyRun, that give you similar GPS features and feedback, at a fraction of the cost (or in some cases, free).   Or use a regular wrist watch with a chrono and lap feature, as often mentioned by our running predecessors.
Enjoy the Run
It cannot be denied that the data provided by GPS running watches can be convenient and helpful to a runner's training. However, it is important to keep in mind that the data provided is not always entirely accurate, and that in the end, the GPS watch should be a helpful tool, not a hindrance.  Constant numbers and data feedback can indeed be helpful, but it may become incredibly frustrating to some runners, especially if they are struggling to meet a prescribed workout pace, or a perceived pace based on how fast they think they should be running. This frustration not only takes the joy out of running, but may lead to mental burnout in some runners.
Remember why you started running.  Was it for the joy and love of the sport, or simply to see bigger and faster numbers on a screen on your wrist?  Solve potential GPS burnout (and obsession) by leaving your GPS watch at home from time to time to simply enjoy the act of running.  I promise the world won't end if you don't have those miles to log into your dailymile or Strava accounts.
_____________________________________________________________
Input from the running community!  Do you train with a GPS device?  Has it been helpful or a hindrance?  Do you opt to train without it from time to time?
_____________________________________________________________