Last Updated on October 25, 2021 by Heather Hart, ACSM EP, CSCS
"Nope! You better stop with that negative talk. If you tell yourself you can't do it, you're not going to do it. You know that." It's maybe two o'clock in the afternoon, I've been running for about 5 hours, I feel like hell, and my friend Eric is lecturing me. I do know he's right, of course. I gave this exact same "self-fulfilling prophecy" motivational speech (about sports, no less) to my 15 year old just the other day.
But while refilling my water bottle at the start/finish of yet another loop, Eric had asked me how I was doing. And the truth was, in that moment I wasn't doing so well. I had set myself a distance goal for this 9 hour ultramarathon, and the hilly, grassy, constantly cambered course set on a gorgeous vineyard hillside was kicking my ass. That, combined with the fact that I didn't feel like I could properly fuel or hydrate my body no matter how hard I tried, left me feeling defeated.
It just wasn't my day.
But as Eric dished out a well deserved portion of tough love and reminded me to check my attitude, I realized he was right. And promised myself I would change my attitude, right then and there. Besides, I only had about 4 hours left. What's the worst that could happen?
________________________________________________________________________
TROTTING FOR TATAS – PROLOUGE:
Geoff and I signed up for the first ever "Trotting for Tatas" 3, 6, or 9 hour race sometime last spring. (note: the 2022 race is slated to be a 2,4, or 8 hour course. This year, though, it was 3,6,or 9) Race director Matt Hammersmith of Upstate Ultra likes to price these races ridiculously cheap for the first 24 hours. I think we paid $20 each to register for the 9 hour. (I'm fairly certain if he could let everyone register for free, he would.) So needless to say, this race kind of fell onto my calendar as one of those "too good to pass up" but, also "we'll worry about it when it gets closer" type of situations. In other words: not necessarily a goal race, but something I was looking forward to nevertheless.
So, the spring and summer passed quickly, as they tend to do. Once October hit, Geoff and I went back and forth at least a dozen times about whether or not we'd actually attend this race. You see, we adore the Upstate Ultra community, but we don't adore the 4.5-5 hour drive to get to them. And we're coming off of two of the busiest travel and racing months of our year, and we're exhausted.
Eventually, we decided it had been far too long since we saw this crew (since Country Mile in April), so we packed our bags and headed north.
Turns out, we'd pack horribly – forgetting to bring camping and racing basics like the ground tarp for our tent, and – I kid you not – water or post race dinner. But nevertheless, we made it to Parker-Binns Vineyard in Mill Spring, NC, the location of the first running of this event, around 4 pm on Friday afternoon.
After a successful 9 ish hours and an overall win at Stede Bonnet a few weeks prior, on what I consider to be a relatively difficult course (not a lot of places to really open up and run), I figured that running through "fields" on a Vineyard would be easier. Therefore, I set the following goals for myself:
A goal: 45 miles in 9 hours
B goal: 40 miles in 9 hours
C goal: 35 miles in 9 hours
Again, I thought for sure these would be attainable goals based on the fact that I assumed this course would be much more runnable than Biggin Creek. I pictured all of the same things we experienced at Country mile. Grass! Dirt roads! Long stretches of flat running through fields of crops (in this case, grapes).
But, my friends, after over 15 years in this sport, I still haven't figured out that I need to stop making assumptions.
FRIDAY NIGHT
Once we arrived to Parker-Binns, we began setting up our sleeping tent and easy-up/race day space with the help of Matt & Vica's adorable and super enthusiastic toddlers. Between wrangling the toddler energy, Matt mentioned that he wasn't sure if he wanted to keep the 1.35 mile loop course in the direction it was currently marked, or if he wanted to reverse the direction. I, having just spent 5 hours in the car and desperately needing to move my body, offered to run a loop in each direction and provide feedback.
And that, my friends, is when I realized I had greatly underestimated this course.
Now, it's a running joke among the Upstate Ultra crew that when Matt says a race is "flat", it's most definitely not going to be flat. Matt had certainly provided the info beforehand that this course had 85 feet of elevation gain per loop. For what its' worth, my COROS measured 138 feet of gain per loop, in both directions. Either way, negligible, right? These aren't the French Alps, after all.
Well, except when you consider that probably 90% of that gain is over a single quarter mile climb. Which for me (and every other coastal dwelling runner) is considerable.
Now again, I fully recognize that I'm the flat land, sea level, doesn't have a single "hill" to climb unless I do bridge repeats, Myrtle Beach runner. So while many of you might be saying "I'm not sure why she's even bothering to mention that", please know that on our regular (and really, only) trail here in town, I'm lucky if I get 138 feet of gain TOTAL in a full 5 mile loop. Never mind almost 138 feet all in one single climb.
Point being, during this warm up run, I definitely resigned myself to focusing on goal B: 40 miles, and reminded myself that I cannot be mad at myself for that. The terrain I have to train on is the terrain I have to train on, and further, my goal 100 miler this January contains about four feet of gain per ten mile loop.
FOUR. FEET.
Anyway, I reported back to Matt my perceived pros- and cons for each direction, and ultimately decided he should keep it the way it was currently. So naturally, he switched directions.
RACE MORNING
The format of this race is one I've never experienced before, and one I hope to see more of:
The 9 hour race started at 9 am
The 6 hour race started at 12 pm
The 3 hour race started at 3 pm
(There was also a 5K that started 11 am)
This format meant that everyone in the 9,6, and 3 hour events would finish together. As no stranger to perpetually choosing the longest distance/time race available (I am my own worst enemy) I am no stranger to seeing the course at the start of the race very full, both of excitement and people, and the later half or finish line quiet as a ghost town.
Further, a 9 am start time meant I could wake up in my tent, crawl out of my sleeping bag suit (I love you, Selk'bag), and ease into breakfast on my own schedule. No alarm clock to worry about (other than my internal alarm clock, that never fails to wake me up between 6 and 7 am regardless). I ate my normal pre-race breakfast of a Clif Bar (seasonal at that, it's the most wonderful time of the year) and sipped on a bit of caffeine in the form of a chemical laden energy drink.
It was a bit chilly – again, for me at least. In Myrtle Beach (home) it's still regularly hovering between 70-90 degrees on any given day, despite the fact that it's late October. So race morning's mid 50's definitely left me dancing around a bit, and antsy to get started.
Finally, the 9 hours line up, and after Jay Baker (photographer extraordinaire and right hand man to Mr. Hammersmith) gave us some pre-race pep talk (that I don't remember), we were on our way.
TROTTING FOR TATAS – THE RACE REPORT
Loops 1-5 (ish):
Miles 0-6.75
In typical small race field (I think Matt said there were 45 of us in the 9 hour) but long race distance fashion, once we're told "GO", no one really wants to be the first to "GO". We all know that we've got a long day ahead of us, and there's zero sense in sprinting off of the start line
Ultrarunners aren't always the smartest athletes, but we've all certainly learned plenty of lessons in the past that we tend to not more than once.
So a group of about 6 or 7 of us take off the lead, casually running through the first bit of the 1.35 mile loop. We talk about previous races of Matt's. One guy mentions that is racing New York City in a few weeks. Someone else says "what race?" to which guy #1 answers "ummm…New York City Marathon" and we all have a good laugh over that. At about 0.4 miles into the loop, we turn the corner and hit the previously mentioned quarter mile long climb.
Everyone in this pack of runners, and even a handful of runners behind me, take off running up the hill. It takes absolutely EVERYTHING in my being to check myself and walk. Could I run up that hill? Of course I could, I did it the night before. I could probably run up this hill for the next 10-15 laps if I wanted to. But would running up that hill now, or the next loop or even the next, be the most appropriate way to start off a 9 hour race, especially considering, as mentioned, my current hill training is essentially non-existent? Nope. Not at all.
So I have to shut off the condescending side of my brain that immediately starts berating myself for not being a stronger athlete, and instead remind myself over and over again that walking up this hill makes me a smart athlete, knowing what I want out of this race, and knowing, based on my current fitness, how to set myself up for success.
So I walk up the hill.
And once I get to the top, I run around the corner, the back down the much longer downhill. In a race where I'm trying to hit 40 miles or more, I'll typically adapt some sort of run/walk interval. This course wasn't really conducive to a run/walk interval, so instead it went a little something like this (perfected, of course, over the first half dozen loops):
Run the first 0.4 miles from the start/finish to the big climb (with the exception of a maybe 50 foot short but steep climb on a paved road somewhere in the middle of that)
Powerhike up that b*tch of a hill
Run the backside/top of the hill
Run the downhill (about 0.3 miles of downhill – slightly longer and less steep than the previous climb)
Run the bottom flat of the hill
Walk a short 50 feet or so steep punch back to the paved section
Run back into the start/finish area
Distance wise, it was certainly far more running than walking during the 1.35 mile loop, but time wise, the longer climb took a solid 4-5 minutes.
Please enjoy this Microsoft Paintbrush annotated GPS map of the course (we're super high tech over here):
Loops 6-10 (ish):
Miles 6.75-13.5
I spent much of these laps trying to do math, which, as any runner can tell you, is a hilarious thing to attempt. You see, many running coaches (self included) might explain to you that while running, your body will divert blood flow (and thus oxygen) away from the less important bodily functions to the more important ones. And because of this, one of the first things to be affected is your digestive system (as your gastrointestinal tract is at the bottom of the priority totem pole, under things like your muscles). In reality, I'm fairly certain the part of your brain responsible for solving math problems is actually the first thing to completely stop working.
Nevertheless, the previous night, race director Matt, who knew of my 40 mile goal, told me I had to completely 30 full loops to hit my goal. So I tried to break the course into quarter goals with loops (since they were easier to track than miles): I had to have 15 loops done in 4.5 hours, or 7.5 loops done every 2.25 hours.
So when 2.5 hours passed and I already had 10 loops done, I was pleased.
But not for long, because naturally, shit hit the fan.

(Of course it did…)
Loops 11-20 (ish):
Miles 13.5-27 (ish)
Those of you who have been following along with my blog already know that the last few months have included a handful of big upheavals in my life. GOOD, positive upheavals, but massive life changes never the less.
One of them is that I started taking prescription medication for ADHD. And from a mental health perspective (as well as work productivity and simply feeling like a contributing member of society), it's been an incredible experience.

However, seemingly zero pharmaceuticals come without side effects, and this is one of them.
My appetite and thirst have been essentially non existent when I'm medicated. Hell, just now I looked at the clock (it's 2:00 pm) and I realize that I haven't eaten or had anything to drink since breakfast, at 7 am. When you are an endurance athlete, proper fueling and hydration are everything. And lately, I've been doing an incredibly poor job at both.
Now, I don't take my meds on race days or long run days, but nevertheless, hopping into a 9 hour race after a week of under-fueling and underhydrating is never a good thing.
Somewhere around mile 14 this all hits me like a freight train. I've been hydrating and eating from the start of the race in my normal fashion: around 100 calories of SIS gel every 50 minutes, supplemented with snacks off of the aid station table (with the goal of around 200 cals an hour total), plus about 20 oz of water an hour. And despite being on top of this, I have this overwhelming feeling of emptiness.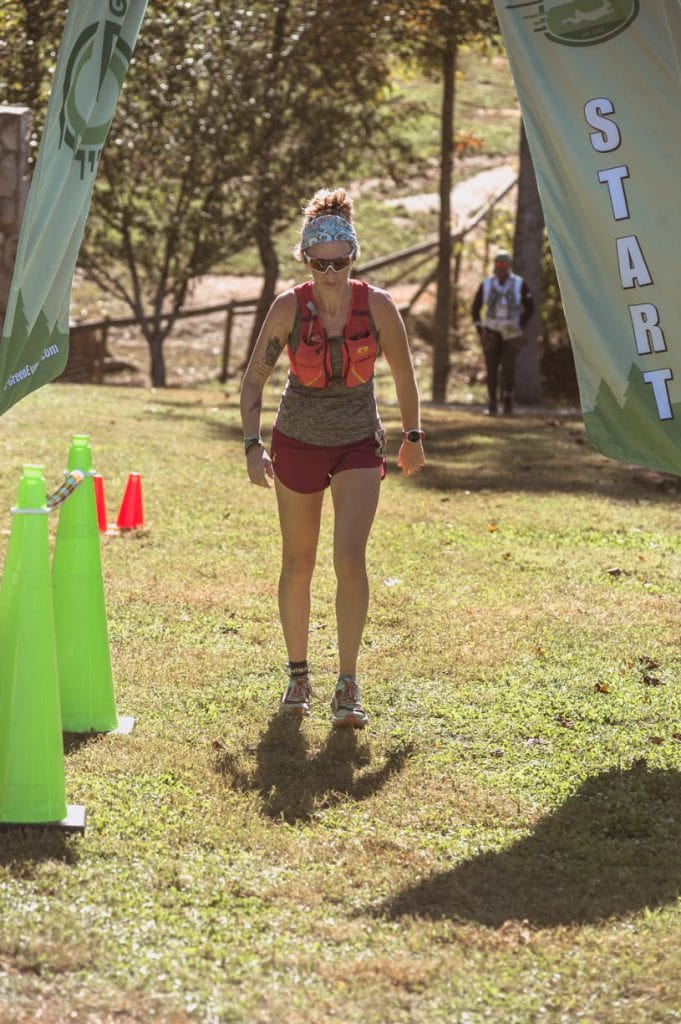 Not in the emotional sense, of course, I'm happy as a clam to be out there. But physically, it feels as if I am empty and completely dried out, and my body is eating itself from the inside out. It's not terribly hot out – likely in the mid to upper 70's (not bad for us), but I'm sweltering. I do NOT feel good, and I'm barely 3 hours into the race…which is a bad sign.
So I start double loading my nutrition – eating 100 ish calories of endurance specific fuel (gels, stroopwafels, etc.) every 30 minutes, and refilling my 20 oz bottle every two laps (30 ish minutes). I'm also taking extra Endurolytes pills, and diving into the caffeine even though it's only been about 3 hours and I'm not feeling drowsy or emotionally tired. I figure this is either going to bite me in the ass with some GI distress or fix what ails me. And I'm desperate, so I try it.
To no avail – either way, fortunately.
My GI system doesn't seem to bat an eye at this new nutrition approach, but I can't shake this empty feeling. So many times in races I have said that my lungs and heart rate have felt great, but for whatever reason, my legs couldn't keep up.
This time, my breathing is labored, my heart rate is soaring (my watch data shows I spent about 56% of this race in Zone 1 & 2, the other 44% in Z3, Z4, and Z5. Obviously not 100% accurate, but definitely demonstrates my body spent a lot of time working harder than it should have) but my legs just keep going.
It surprises me, but they do. My body just keeps putting one foot in front of the other, moving at a relatively consistent pace, despite the fact that the rest of me wonders how much longer we can do this.
And perhaps it was because I thought that breaking point was inevitable, but I never stop during the race. I never stop to re-lube my feet or change my socks. I never once sit down (save for only one single port-a-potty stop, yep, I was dehydrated). I never spend time chatting, telling Heather stories, or hanging out, I just keep going. I don't stop.
My previous ultra-math told me that I had to hit 15 loops in 4.5 hours. I hit it in just a few minutes past four hours. I'm happy with this – but still absolutely certain that my body is quickly approaching it's breaking point.
So when I come into the start/finish line to find my friend Eric and my husband Geoff hanging out, and they ask me how I'm doing, I don't lie. I'm not doing well. I tell Eric that my initial goal had been 40 miles, but I didn't think it was possible at this point. There was no way I had enough of a buffer to make my goal, especially considering how I felt, and how I fully anticipated my pace to come to a screeching halt very soon.
Eric, however, is having none of my pity party. "Nope! You better stop with that negative talk. If you tell yourself you can't do it, you're not going to do it. You know that."
He's right, and I know it. I gave this exact same "self-fulfilling prophecy" motivational speech to my 15 year old just the other day. And I don't mean to be so negative, but I've been fighting this feeling of total fatigue for hours now, and if I haven't come out of the physical low yet, I'm not sure I'm going to at this point.
But, as Eric continues to lecture, I do recognize that, for me at least, a physical low is sure as hell easier to push through than a mental low. One foot in front of the other, Heather. At least you're enjoying a beautiful day, and not crying on the side of the trail because you can't open your snack wrapper (thanks again, Eric G, a different Eric, for saving my Frozen H3 100. Clearly, I'll never stop thanking you for that one).
So I keep going.
At some point, I catch one of the women who was a full lap ahead of me. I know for a fact that she, and one other female runner, were a full loop ahead of me (as in, they had lapped me). But I have no idea who else is ahead of me. At that first climb, I vowed to put my head down and focus on my own race. I have no idea what place I'm in.
She's walking. And then a few loops later, I catch her again, now putting me ahead of her. I feel bad for her, of course, I've certainly had my own race days that quickly changed directions and did NOT turn out the way I had planned. But now I'm beginning to wonder if, perhaps, my internal suffering and my current performance in the race as a whole perhaps aren't lining up the way I assumed they were…
Loops 21-25:
Miles 27-33.75 (ish)
I struggle through loops 21 – 25. I don't remember much, other than occasionally stopping for a kiss from my husband. Every time he would tell me I was looking strong, I would respond with "thanks, but I'm definitely slowing down, I feel like shit".
And while, yes, I did slow down a bit, I still hit my 3/4 of the race distance goal. I had to hit 30.3 miles in 6 hours and 45 minutes.
I hit it at 6 hours and 15 minutes.
I also remember at some point, standing over the food table at the start/stop feeling absolutely – confused- by everything. Not appalled. Certainly not enthusiastic. Just…confused. Both Matt and Jay looked at me and said "What can we get you?"
"I don't know." I reply, honestly feeling defeated by all of the delicious sugary and salty snacks I'd usually love.
"What have you been eating?" Matt asks.
"Gels" I respond.
"We don't have any gels" Matt replies.
"Good, I definitely don't want anymore gels" is all I can say. I point to some fruit snacks, and Jay takes them from me, opens them, puts them back in my hands, and sends me on my way.
The final group of runners, the 3 hour race, have joined in on the course. It helps somewhat, but I'm still simply astonished I'm still moving.
At about 6 hours and 40 minutes into the 9 hour race, as I cross the start/finish line of about loop 24, I dare ask Claire, who is helping execute the race that day – how well I'm doing in the overall standings.
"I'm not sure. I can't imagine anyone can be ahead of you except for Deanne (an Upstate badass runner)."
"Oh Deanne is DEFINITELY ahead of me" I reply, as I already knew she was one of the women who had lapped me long ago.
"I'm not 100% sure, but I'll ask Matt and let you know next loop." Claire told me, as I passed through to start my next loop.
Good enough for me. And just like that, while my body is still struggling, my brain is 100% back in this game.
Loops 26-28
Miles 33.75 – 37.8
I run the next loop with a little more enthusiasm, feeling happy that if nothing else, my 40 mile goal might actually be attainable after all. When I finish loop #26, Claire confirms that I am indeed in second, with Deanne ahead of me. But that she was going for a "wine loop" and was done running.
I just had to catch up to her, and pass her, and I could secure 1st.
I set off on that next loop feeling energized at the prospect of potentially winning, when not long ago I didn't even suspect I was close to a top -three spot at all. But, someone must have told Deanne that I was hot on her tail, because shortly after I saw her walking back to the start/finish from the winery's tasting room, she was back on course.
And she wasn't done running.
It was at this point, that obnoxious competitive side of me decided to make an appearance at the race.
I come through the start/finish again and hear Matt tell Jay "Heather's in 2nd", and then tell me "Deanne is just ahead of you, go get her!".
Now, to give Deanne credit, she is an absolutely incredible athlete who can leave me in the dust any day of the week (I've seen her at other races, and of course, just creeped on her ultrasignup results, because that's what we do in the ultra-world). But on this day, maybe she didn't have the goal of running hard or attempting to win this race. I can't speak for her. But regardless of her intentions, she took some time off of the course, while I kept going.
And so sea level, flat land leg Heather was coming for her.
The next time I come through the start/finish, Matt and Claire tell me something I'm not quite understanding…but that's almost certainly due to my wonky blood sugar and the fact that I've been running for over 8 hours at this point. Something about how Deanne and I are on the same loop, but I'm ahead of her, but she's physically ahead of me. I don't really understand it, but I look at the timing screen and sure enough she's just finished loop #26 and I just finished #27.
I'm ahead. I'm in first.
But I don't trust it at all. Because frankly: I'm delirious and redlining at this point. So I haul ass with an effort I didn't realize I had left, determined to catch Deanne, and on the big climb of loop #28, I pass her.
Loops 29- 32
Miles 37.8- 43.2
"Hold the f*ck on" is the only way I can describe the last handful of loops. I moved like I was being chased, because I felt like I was (again, I can't actually speak for Deanne and her race day intentions, but she defintiely didn't let up).
I am convinced the timing board and computer system are both somehow wrong, and that if Deanne catches me (and yeah, I can definitely see her no less than 50 yards behind me at any given time) I'm going to drop back to 2nd place.
When I hit loop #30 and my 40 mile goal, I keep going.
When I finish loop #31, and see I still have 20 minutes left, I keep going.
When I finish loop #32, at 8 hours and 49 minutes (and 13 seconds), can't see Deanne behind me, and know that putting another 1.35 miles in with only 11 minutes left was virtually impossible on my legs, I called it.
Actually, I don't even think I called it, I just remember being handed a medal, and telling my husband that I desperately needed water.
EPILOGUE
I really have no idea how the hell I pulled this one off.
Truly.
Between showing up under-fueled, under-hydrated, and definitely undertrained (my week day runs have been pretty much non existent. Plus: hills, haha) I would have been thrilled to hang on to "goal C", of 35 miles.
But I hit 43.2 miles (with about 4,600 feet of gain, more than I anticipated pre-race), first place female, and third place overall. Proving, once again, my theory that you can never, ever, ever assume the outcome of an ultra by the first half. Or even the first 3/4 of the race. Because you never know who is going to have a good day, who is going to have a bad day, or who might take a short break to go grab a bottle of wine. All you can do is focus on your own race, and keep f*cking going.
Let me end this (long) post with some sincere thank yous to the following people/things:
Matt / Jay / Claire: Thank you for putting on another fun, fantastic race. The course was absolutely beautiful, there wasn't one thing I would change about it. Except, maybe, put the mini-donkey closer to the course so I could pet him as I run by.
Upstate Ultra courses always challenge me physically, and of course I love that (despite my constant complaining about our differences in opinion over what constitutes "hilly". But I digress.). But more so, the UU environment and community is so incredibly fun, supportive, and welcoming, I always end up leaving these weekends feeling like I got the chance to reconnect with old and amazing friends.
Eric B: you called me out, right when I needed it. And it worked. That is truly what ultra-friends are all about (that, and looking amazing in our matching Selk'bags, but I digress). Thank you.
Courtine / Melanie: The BEST "awkward ultra cheerleaders" ever. Whether you were on course or off of it, you never failed to cheer LOUDLY for me as I passed, and it always made me smile (even that last loop where I literally did not have the mental or physical capacity to even acknowledge you…sorry about that!)
Deanne: whether you meant to or not, you put some serious pep in my step for those last 5 loops! It's been a long time since I've dug deep like that, and so I appreciate the motivation!
Sobriety: As of the day I write this post, I'm 59.5 days sober. I can't say that it's the magical solution to all of my shortcomings and problems. I can't say that's always been easy. But I can say that Trotting for the Tata's marks my fourth 1st place finish in those 59.5 days (with Dirt Dash 13.1, Go for the Goat 4K kayak race, and Stede Bonnet 10 hour) and I have zero doubt that a body that is physically recovering more and more each day (as well as not racing with hangovers) absolutely has something to do with it. I can't wait to see what the heck I might be capable of when I finally get around to combining sobriety with actual training. (Soon, soon).
And lastly, of course:
Geoff: one of my favorite things about racing with you there – either as a fellow athlete participating in the race, or as crew – is that when things are going well for me, you just get a big proud smile on your face every time you see me. And you may not necessarily say anything specific in the moment like "you're crushing it", but rather, I can see it in your face. And that never ever fails to give me the biggest physical and emotional boost.
Thank you for my post race french-fries. Thank you for picking up my shoes I could not reach, even though they were literally two feet in front of me. Thank you for dealing with me when I feel like I got run over by a rusty dump truck 24 hours after giving my everything in a race that wasn't even close to a goal race, just because that's the "Heather" that showed up that day.

Thank you for always believing in me.
Heather Hart is an ACSM certified Exercise Physiologist, NSCA Certified Strength and Conditioning Specialist (CSCS), UESCA certified Ultrarunning Coach, RRCA certified Running Coach, co-founder of Hart Strength and Endurance Coaching, and creator of this site, Relentless Forward Commotion.   She is a mom of two teen boys, and has been running and racing distances of 5K to 100+ miles for over a decade.  Heather has been writing and encouraging others to find a love for fitness and movement since 2009.