"Miserable" is perhaps the first word that comes to mind when asked to describe the woods of the Swamp Fox Passage in the Francis Marion National Forest.  It's notoriously hot, humid, and buggy, as swamps typically are.  The trail itself is deceptively difficult, with knobby roots and grass covered holes just waiting to turn an ankle, making sure you can never truly open up and run the endless flat expanses.  At least SOME of the trail is underwater.  And every section seemingly looks exactly like the last, making you wonder if you've covered any ground at all.  It's almost as if you are trapped in some sort of trail runner's version of Groundhog Day, repeating the very same mile over and over and over.   Yet, despite all of the reasons I should highly dislike the Swamp Fox Passage…
…I keep going back for more.
Saturday morning Geoff and I lined up at the start of the 2018 Wambaw Swamp Stomp.  As proud $30 Club members of Eagle Endurance, we had both signed up for this race months in advanced, but forgot what distances we registered for.  It was sometime after I saw race director Chad Haffa mention something along the lines of "move your ass and finish the race distance you signed up for" on Facebook that I realized I was signed up not for the 50K option, but instead the 50 miler.
And clearly, I had to move my ass and finish the race distance I had signed up for.
It's been a long time since I tackled any distance of substance.  I declared after Frozen Hell Hole that I needed a break from the longer distances, and I meant it.   I've spent the last few months lifting, cross training, and running much shorter distances, and the time off did exactly what I hoped it would: reignited the spark to want to suffer for hours (days) on end.
So I figured, what the hell: let's give the 50 miler a shot.  Afterall, the course was a 15 mile out, 15 mile back, with a short half mile out and back for the 50K runners.  50 milers would continue back out on the exact same course and run 10 miles out, and 10 mile back.  Worst case scenario: I call it a day at the 50K mark…I had to go past it anyway.
Wambaw Swamp Stomp began on the section of the Palmetto Trail directly across the road from the Witherbee Ranger Station.  Fun fact: this is the exact same location where Geoff had dropped out of the Swamp Fox 100 in the fall.  Turns out the Wambaw course would be the last section of the Swamp Fox course…the section my pal Mikie and I got woefully lost on.
So, this should be fun.
After a few quick words from RD Chad (including a public calling out for getting lost at Swamp Fox, oops) the 50K and 50 mile runners take off.  We enter the woods and I am immediately taken aback by how gorgeous it is.  The last three times I've been in these woods have been November, November, and January, respectively.   But now it's May, and the forest is simply glowing with the neon green leaves of spring in the early morning sun.  It's simply stunning.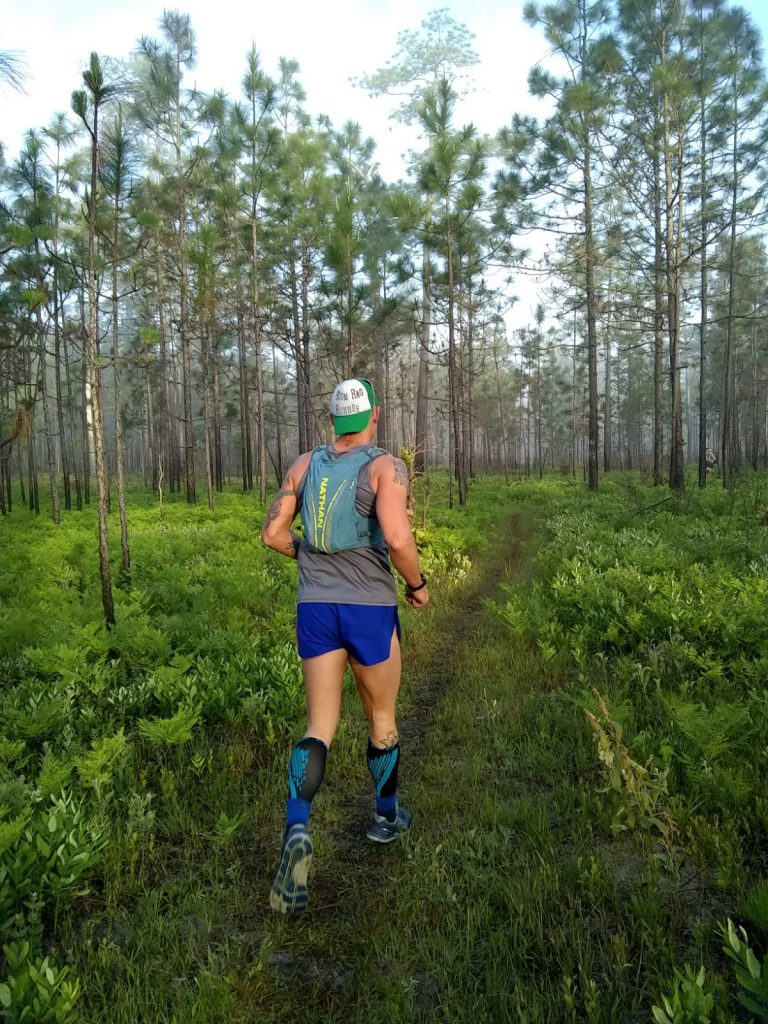 Geoff and I, current non-distance-runners, decide to take an incredibly conservative approach to our day with a 3 minute run/1 minute walk split.  The forecast was calling for warm weather, so we knew it would be best to conserve energy from the start.  I won't lie, even though I know this sort of approach is not only sound, but also often wildly successful for me, I still have a hell of a hard time with it in the beginning of a race.  Nothing takes more mental willpower than stopping to walk at the beginning of a race, when you don't physically need to, and allowing dozens of other runners to pass.  But it's part of the plan and almost always pays off…and would once again pay off on this day too.
As mentioned, the Wambaw Swamp Stomp course is a series of out and backs, depending on your race distance.  There is an aid station at mile 5, mile 10.9, and mile 15. You then turn around and hit the first two aid stations again on the way back, and then once again on the last 20 mile out and back.  So essentially, you have an aid station every 5 miles for the entire course.    Geoff and I hit the first aid station in what felt like no time at all.  I had eaten more than my normal protein bar for breakfast, so I opted to skip nutrition for the first 5 miles.  Normally, on a race of this distance I'd start fueling from the get-go, but knew my stomach was full of all the calories it currently needed.  We stopped, Geoff hit the port-a-potty, and I filled my handheld bottle with Berry Tailwind.
Onward.
Though I didn't remember the first section of trail from Swamp Fox (it really does all look the same), the second section of trail I recognized as the beautiful open area that came just BEFORE Mikie and I got lost.  Geoff and I spotted some pitcher plants on the side of the trail, and I promised to get pictures of them on the way back through.   Though we are still cruising along at our conservative run/walk pace, we're already starting to pass runners one by one, and I don't want to hold up the train by stopping for a photo shoot.  There will be plenty of time for that later.
Around mile 8 ish, we pop out of the woods to a dirt road crossing.  Except the trail on the other side of the road is blocked off with probably 50 yards of bright orange tape.  I should note that the entire course is very well marked, but this spot? Overkill.
Turns out, this is the Cane Gully reroute, the exact detour that Mikie and I somehow missed, and ended up trying to shimmy over a log across a pond thinking it was trail.  So, I'll take the blame for the excessive taping.  Thank you, Chad, for making sure I didn't get lost (and potentially go swimming) again!!
The detour consists of a long stretch of dirt road, followed by a stretch of pavement on a main road, to aid station #2 at 10.9 miles.   A quick refill on my Nathan VaporHowe hydration pack (which I love), a refill on the tailwind in my Nathan Exodraw handheld (which I hate..the cap on this thing is the WORST), and we are headed back into the woods again.  We are running the 5 mile out and back (10 miles total) section that we'll only have to cover once.
This section I recognize from Swamp Fox as the exact place I stopped having fun.  The trail is uneven, knobby, and makes lots of random 90 degree turns.  It's not the easiest to run on, but thankfully unlike Swamp Fox, it's dry.  For that I am eternally grateful…and on this day, still having fun.    It's during this section that we start seeing the front runners coming back in the other direction.  Though I swear I'm not there to be competitive, I start counting the females ahead of me…specifically those with a red dot on their bib indicating "50 miler".  First, second, and third are all WELL ahead of me.  First place female is one of the very first runners, male or female, and even third has to be a good 2 miles ahead of me.  So I quickly write off the thought of being able to place.
After a few minutes we climb a small bridge and start running a very narrow causeway between the swamp. It's single track at best, with a two to four foot drop on either side straight into the swamp.  The trail is covered in roots and is wildly technical.  As such, a slew of people ahead of us slam on the brakes.   Coastal Carolina isn't known for it's trail running, so it's no surprise that at events like this we see a lot of road runners, or runner's with limited technical trail skills. I can't say that I blame them, as there aren't a ton of technical trails to run out here.   But I take this opportunity to bring out my inner "I grew up in Vermont" mountain goat legs, and fly past everyone when given the chance.
We hit the mile 15 aid station and we're met with familiar faces (hi Karen N.!).  The volunteers at Eagle Endurance races are always the best.  We refill our packs, grab some snacks, and head back out the way we came.  For the first 15 miles, I led the way for Geoff and I, but promised he could lead for the second half.  He takes off in front of me for our 3/1 intervals, and I immediately realize I'm tailgating in the worst way. I keep trying to back off, but keep ending up right back where I started (on his butt).  After maybe the third interval, I put on my sweetest voice and asked:
"Hey honey?  Please don't get mad at me for asking, but do you think it might at all be possible to just maybe…run a little faster?"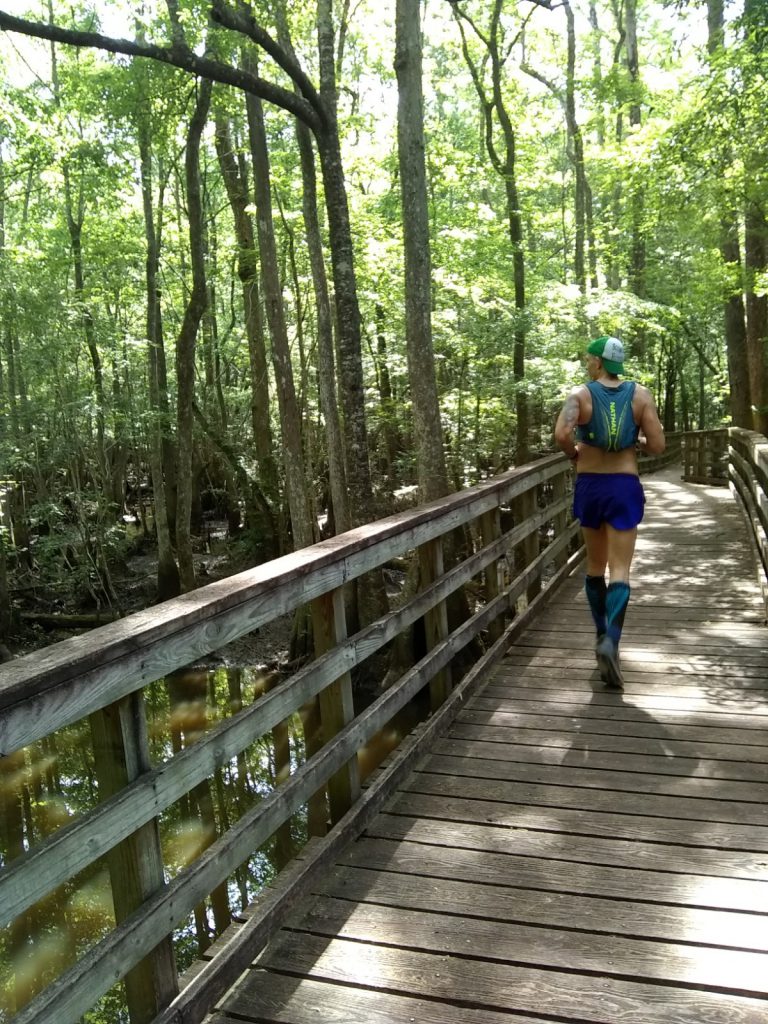 Geoff looks back at me, steps aside, and motions for me to take the lead. I don't argue, and immediately bring our pace about 30-45 seconds faster, the same "happy pace" we were in for the first 15 miles.  We cruise back down the causeway, cheering on the runners coming towards the turnaround in the opposite direction. I reiterate a few times how I'm glad we don't have to do this section again (the footing is gnarly), though there are some gorgeous stretches of bridges.
Before I know it: we're back at aid station #2 (mile 20).   I quickly refuel, and then stand on the corner to wait.
And wait.
And wait.
Geoff is taking his sweet time in the port-a-potty and then at the aid station table, and I know deep down that even though he hasn't said anything…he's starting to bonk.   But I wait patiently (I'm not racing, remember?) and bite my tongue as hard as I can to prevent saying something snarky like "WE'VE BEEN AT THIS AID STATION FOR 5 MINUTES AND 13 SECONDS NOW, GET A MOVE ON GRAMPS!" (I really need to quit with the old man jokes).  Eventually, Geoff heads over towards the road and we take off.
The paved section has a slight downhill followed by a slight uphill.  I'm still feeling incredible, but I do notice that Geoff's breathing is starting to sound labored.   Therefore, I wasn't surprised in the slightest when we hit the corner of the dirt road and Geoff said "Give me a kiss honey, have a great race."  I knew exactly what that meant: go on without me, you're running strong and I am not.  I ask him the running safe word (in other words: the code that you REALLY MEAN "go on without me"and aren't just having a dramatic moment.)  He says the word, I give him a kiss, and I take off.
I do feel bad, but I also feel strong, and I appreciate the fact that he's letting me go before we start bickering…me because he's going "too slow" and him because he's starting to bonk.  Hey, we're a running couple, these things happen.
I take off down the road, still at my happy pace, and slowly pick off runner by runner, while still sticking with the 3/1 run/walk split.  I'm baffled as to why everyone looks so miserable.  Sure, it's warming up…but I'm feeling good.  Every walk break I force myself to take one generous pull of water from my hydration pack, and one sip of tailwind (finishing a bottle per hour).  I've also been taking a Hammer Endurolyte at the top of each hour.   And so far, it's working.
I practically frolic back down the dirt road, and hop back on the single track into the woods.  Now alone, I really take the time to absorb the beautiful scenery around me.  Hell, I take time to stop and take pictures.  The contrast between recently burnt (controlled, of course) trees against the bright green ferns and new spring growth was simply stunning.
I'm enjoying where I am, both physically on that trail and in my head, when something ahead of me catches my eye.
It's the 3rd place female.
I'm shocked, she was at least two miles ahead of me not that long ago.  I look down at my watch and realize that I really haven't picked up the pace, so my consistency was clearly paying off.   I remind myself that I am NOT RACING and tell myself to hold steady…if you pass her, you pass her, but you aren't going to go out of your way to do so.
Inner competitive Heather shouted louder and said "that's bullshit, pass her."
I find a happy medium between the two, pushing the pace only slightly faster than what I had been holding all along, and still forcing myself to take the walk breaks.  It takes three intervals before I catch her with plenty of time to pass.   I pass…and put the hammer down.  I realize this is a foolish time to pick up the pace, 24 miles into a 50 miler, but I want to put some distance between the two of us.
Of course at this point I pass those pitcher plants again, the ones I was supposed to take pictures of on the way back through.   I yell to the pitcher plants "catch you on the next loop" and continue on.
(I don't run with music. I do talk to plants.  You've got to entertain yourself somehow.)
I hit the first aid station (now mile 25) and quickly refill my Tailwind and hydration pack.  There are a bunch of spectators at the aid station, including three little dudes, maybe ages 5-7.  As any little kid would be, they are enamored by the aid station and all of the bowls of brightly colored junk food.  As I stand there, I say "hmmm what do I want to eat?"  Three excited little voices start shouting at me:
"HAVE SOME SKITTLES!"
"TRY THE GUMMY BEARS!"
"DON'T YOU WANT SOME…hey guys is this a banana?"  (No, it's potato) "NO this is DEFINITELY BANANA.  HAVE SOME!"
Their enthusiasm made my heart smile, but as soon as I looked back the way I came, I saw 3rd place/now 4th place girl running in towards the aid station, so I high tailed it out of there, hoping she'd spend a lot of time at the stop.
At some point over the next 5 miles, I realized I was becoming less and less immune to the creeping sun, heat, and humidity.  It was now Noon, shade was becoming more and more scarce, and the gentle breeze of the morning had all but disappeared.  Like a lightswitch had flipped inside of my body, I went from having a great day to feeling pretty gross.  My stomach started sloshing.  Had I drank too much fluid?  I HAD stopped to use each port-a-potty every 5 miles.  Was this new (to me) flavor of Tailwind upsetting my stomach?  Was it suddenly 80 + degrees for practically the first time all year, and my body was just now realizing it's not acclimated to running in it?
All of the above?
As I get closer to the start/finish line, the voice inside my head that always wants to take the easy way out started creeping in to my mind.
"It's hot out here, no one will mind if you stop at 50K."
"You haven't really been training for distance, 50K is still an accomplishment."
"You don't really NEED a finishers coin anyway. And who cares about a DNF on ultrasignup? That shit doesn't even matter in the real world."
"Geoff's done at 50K, you can spend the afternoon in the hammock lounging with your husband…doesn't that sound nice?"
Yes brain, yes it does sound nice.  But on this day, pride started shouting louder than the call of hammock.  I reached the 30 mile mark (the start/finish), checked in, grabbed my flashlight just incase I was out there longer than expected, gave my car key to Krista at the timing desk to give to Geoff,  and headed back out on trail.
It was hot.
The first few miles I constantly passed people coming in the opposite direction, and welcomed the distraction.  Cheering other people on and saying hello to friends distracts you from the impending misery you are about to face.  Three quarters of a mile out, I pass the 4th place female.  I realize that means I have about a mile and a half buffer on her, and I'm content with that.  About a mile and a half back out, I see Geoff from a distance.  "MY HUSBAND!" I shout as he yells something equally as loud and obnoxious back at me.  I ask him how he's feeling, and he says fine.  He asks me how I'm feeling and I respond "like puppy shit. I feel like puppy shit.  But here I go…"  He kisses me twice, tells me he loves me and he's proud of me, and I'm off.
Aid station #1 (now approximately 35 miles) feels like it's never going to show up.  When it finally does, I sit my sorry ass down in the shade under the tent under the premise that I'm "stretching" my hamstrings.  It was a lie, I just wanted to sit in the shade.  I'm pretty sure no one would have questioned nor argued my need to sit, but I think I was truly just trying to fool myself.  I refill my hydration pack, not because I have run out of water, but because the icy cold water fresh from the cooler feels incredible on my back.  I choose not to refill my Tailwind, and make a mental note that this makes the second aid station where I avoided the tailwind.  So I force myself to take a handful of snacks for the trail: two baby pickles, a handful of pretzels, and some orange slices.  I have no idea how many calories that adds up to, but know it's not enough.   We are definitely in the "compromise" zone, my stomach and I.
I head back out.
The 3 minute run/1 minute walk is starting to become a struggle.  Not because my legs are tired, but because running for 3 minutes straight makes my stomach queasy.  I force myself to do it anyway, promising myself that at the 40 mile turnaround I can switch up the intervals if need be.  But not yet.  Despite the upset stomach, I take tiny sips of water knowing that dehydration is a real possibility out here today.  I use more of the water on my back, neck, and chest trying to cool myself down.
I pass the pitcher plants for the 3rd time, but feel too nauseated to be bothered to stop and take pictures.  So I press on.
In what feels like FOREVER, I'm finally on the dirt road, then hit the paved road.  I can see aid station #2 (now 40 miles) and feel my heart flutter.  It's all "downhill" from here, right?  Sort of.  Porta-a-potty, hydration, fuel, go. As I leave the aid station,  I make note of the exact mileage I'm at…incase I see 4th place (I was at 41.4 miles, the 5 miles between aid stations is approximate).  I'm hoping I've gained more distance on her, but want to know for sure.  So imagine my surprise when almost immediately, I see her heading in to the aid station.  She's just barely over a half mile behind me…she's GAINED on me.
And I'm struggling.
I spend the next hour battling with the internal struggle of coming to terms with being passed by her, and thinking "hell no, don't let her get by you" and pushing forward.  I'm starting to move slower and slower, though somehow I'm still passing people …and no one is passing me.  Each person I pass tells me I'm looking strong. I thank them, but realize that's just the standard cheer you give fellow athletes.  In reality, I'm sure I look like I'm knocking on death's' door.   My face is bright red, my braids completely disheveled. I'm queasy, and a bit dizzy.  And every time I finish a run interval, I spend about 1 full minute making the awful "DO NOT PUKE" gagging face.  At some point, maybe 43 miles in, I realize that tired legs can be normal.  Queasiness can be normal. Dizziness? Not OK.  I needed to fix that if I was ever going to make it the next 7 miles, and I need to fix it NOW.
I stop dead in my tracks (no one is around) and start dissecting my hydration pack. I pull out an applesauce pouch and eat it. I grab the last two chews in a packet of Honey Stingers and eat those. And despite my hesitation, I take a big pull of Tailwind.  I wash it all down with water, and take a deep breath.
And I walk.
I allow myself to walk as long as I need to.  I stumble upon the pitcher plants once again, and I finally stop to take their picture.
When the dizziness starts to subside, I run again.  The intervals are ticking by when out of the corner of my eye I catch sight of aid station #1.  I'm pretty certain I yelled "YAY" out loud to noone in particular.   As I approached the aid station, I yelled out my number one last time "FIVE FIVE FIVE!" and was suddenly painfully aware of a) the girl behind me, and b) how close I was to the finish.  I wanted to sit there all day. I wanted to relax in the shade, eat some food, chat with the volunteers.
But I also wanted this race to be OVER.
So I grabbed a handful of pretzels and said "I'm rolling through.  Thank you guys!" and left.   As I take off, I realize that I barely saw anyone on this second out and back, which only leads me to believe everyone either took DNF's or called it a day at the 50K.  I'm unsure if I'm jealous of their wise decisions, or proud of myself for sticking it out.  This close to the end of a very rough race, I choose to focus on the latter.
I push through.  Run 3 full minutes when I can, walk, breathe, don't puke, look over your shoulder to see if 4th place is gaining on you, repeat.  As I continue this sufferfest, I realize how far I've come as an athlete over the years.  There was a time when a really tough race like this would have made me very emotional.  It's frustrating as hell when things don't go the way you planned them to.  It's upsetting when your body is protesting the one thing you want it to do.  No one likes feet so sore you swear you can feel each individual bone.  No one likes the aches of screaming quads and cramping calves.  No one likes feeling like they may simultaneously throw up and/or poop their running shorts at any given second.  But do you know what? You CAN push through that.  The mind is incredibly powerful, and the body is capable of so much more than it wants you to believe, if only you can learn to harness both.
And for whatever reason I've yet to understand…this misery is part of why I love this ridiculous sport.
The last section seems to drag on forever, but I find slight reprieve in the slowly cooling temperatures and a gentle breeze that has finally returned.  Each run interval seems to get easier, likely a combination of replenished blood sugar levels and the cooler temps.  Despite the increased performance, I'm still convinced that 4th place is going to catch me at any moment.  And wouldn't that be equal parts heartbreaking and epic, to steal a podium spot in the last few miles of a 50 miler?
Now's the part of the post where I tell you that Chad Haffa's races are NEVER exactly as far as advertised, they are usually longer.  To give him credit though, he told us that this race would be between 52 and 53 miles.  After beeping at me 4 times to signal a low battery, I was stoked to catch an exact 50 mile time on my watch before it finally died.   I knew I only had a few miles to go, so I started counting paces.  150 running paces, 50 walking paces.
Over and over and over again.
The finish line finally in sight, I ran in hard with an exhausted smile on my face.  "DON'T YOU DARE STOP BEFORE THE ACTUAL FINISH LINE!" Chad yelled, as he always does. I ran THROUGH the finish line barriers, then turned to receive my finishers coin.
"FINALLY!" I declared as Chad handed me the coin.  It's been a long six months of DNF'ing his courses.  It felt really kickass to not only finish a race, but finish a difficult race that more than HALF (true story, not exaggerating) of the field either dropped down to a shorter distance mid race, or dropped out completely.
I sat down on the ground right there at the finish line, and began to process what the hell just happened. I asked where everyone went…the finish line was empty.  Everyone told me that the majority of people quit or called it at 50K, and then went home.   I said that I didn't blame a single one of them.
I pulled off my shoes, socks, and starting pulling ticks off of my legs (gross) as Chad came over and handed me some serious 3rd place shwag.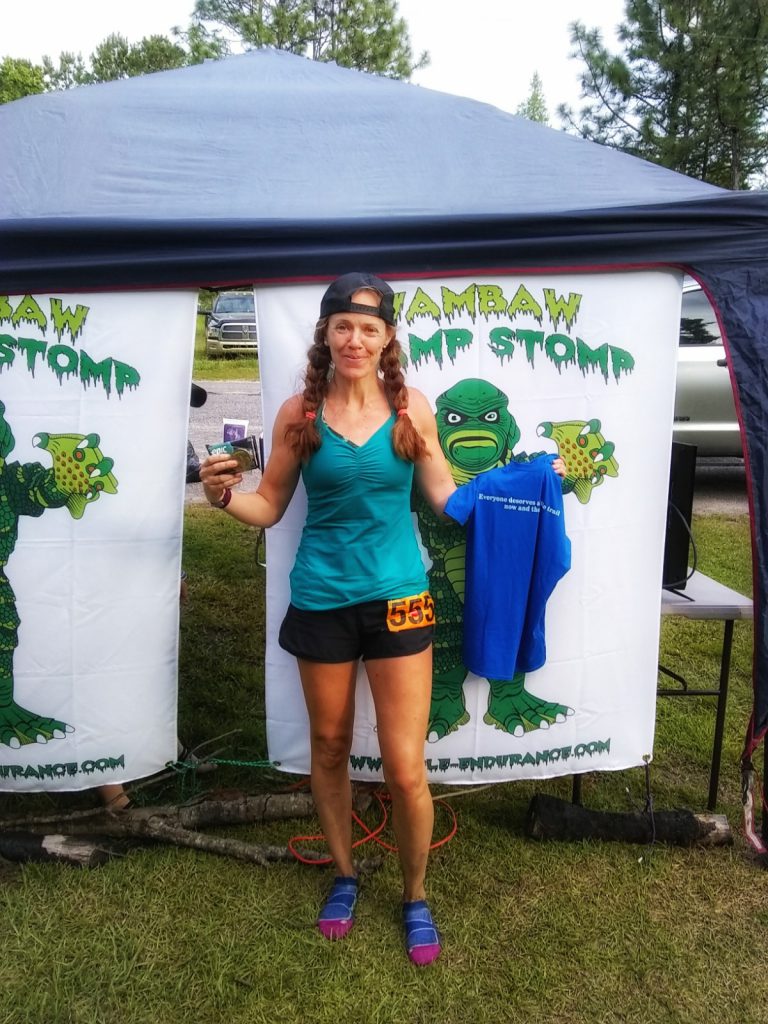 Geoff and I stuck around for about an hour to cheer in some more runners.  I officially met "4th place" after she finished, who turns out to also be named Heather, and said the Wambaw Swamp Monster reminds her of Old Gregg.  Instant friendship right there, folks.
via GIPHY
Nothing about this blog post has been short, but here we are at the end.  This time, I have no "a-ha" moments to share, no poetic prose about what running means to me.  In short (except it wasn't): the 2018 Wambaw Swamp Stomp was hot.  Miserable.  Difficult.  And absolutely everything I hoped it would be: a long freaking run.
It's good to be back.
A huge thank you to my awesome husband for supporting me both from one foot behind me on trail, thirty miles away.  I am stronger every race because of your support (and probably because of those chocolate donuts.)
Thank you to Chad, Krista and the rest of the Eagle Endurance family, volunteers and runners alike.  You guys make this swamp feel like home.  See you in June…
p.s. I won a sombrero.  The end.