Last Updated on November 29, 2022 by Heather Hart, ACSM EP, CSCS
If you've recently been to any endurance race, or even just a large group run, chances are you've seen some runners wearing brightly colored, knee high socks.
They aren't just a fashion statement in the running world: compression socks for running have become a popular trend among elite athletes and weekend warriors alike.
No longer just for your grandma and her varicose veins, compression socks and compression sleeves have swept the endurance racing community over the last decade for their touted mid run performance and post run recovery benefits.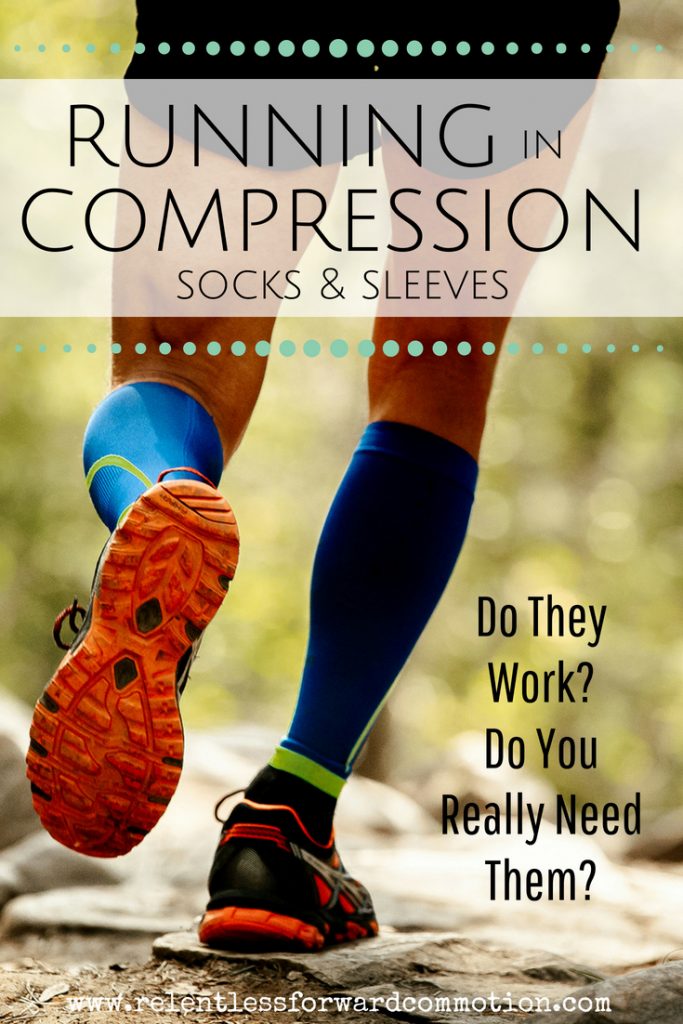 The claims made by compression sock manufacturers are lengthy, including but not limited to:
the promises of faster recovery time
decreased muscle fatigue
prevention of cramps.
Sound too good to be true?
In this post we'll discuss everything you need to know about compression socks for running, including:, do they actually work, do you really need them, and how to find the right compression socks for your needs.
What Do Compression Socks Do?
Compression wear – which can include socks, sleeves, stockings, pants, shirts, and more – was initially designed to increase blood flow in people with poor circulation, or to help encourage blood flow (and thus, recovery) in post-surgical or bedridden patients.
Which brings us back to your aforementioned Grandma: because the compression does indeed help increase blood flow, doctors have recommended them for years to help prevent pooling of the blood in legs, or worse, blood clots.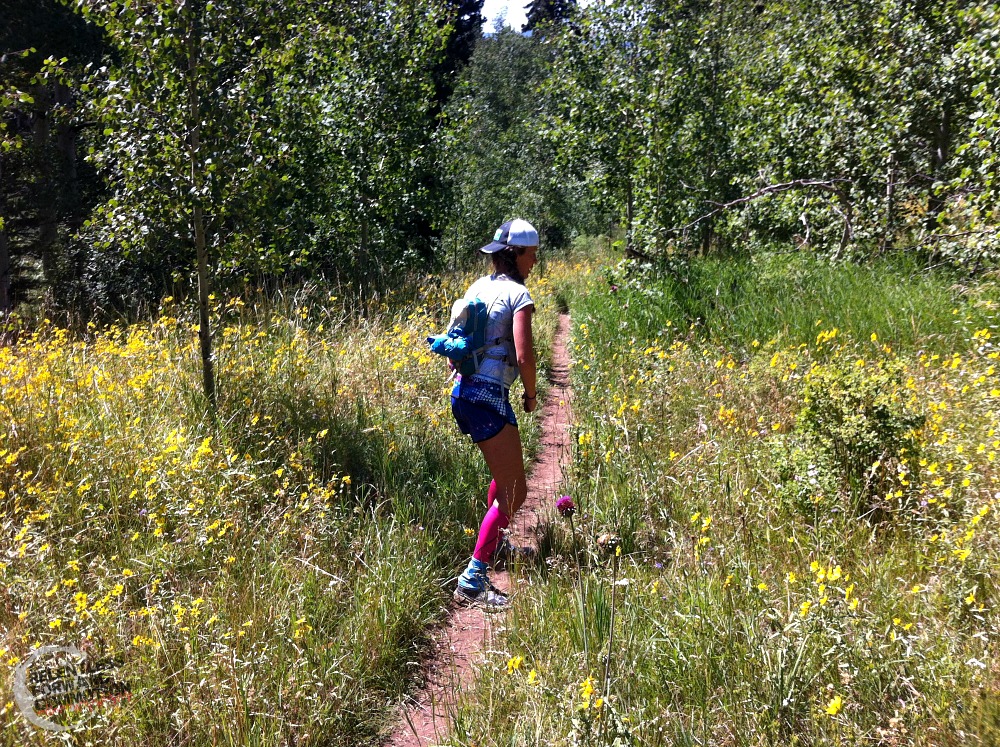 How Do Compression Socks Work?
Compression socks work by providing graduated compression (tighter at the bottom, lessening gradually towards the knee) through the tightly woven fabric of the sock. This acts as a gentle massage to your muscles, squeezing veins and helping to promote and increase blood flow through a positive pressure system.
In normal, healthy individuals, your muscles already do this job on their own. Muscle contractions in the lower legs put pressure on surrounding veins, which forces them to push blood back to your heart, as well as prevent fluids from pooling.
However, in individuals who are bedridden or limited in their ability to move – due to illness, injury, or even extended travel (like an incredibly long flight) – these muscle contractions are limited.
The lack of movement can increase the risk of pooling blood and fluids, which at minimum, can cause swelling and discomfort. Worst case scenario, this can lead to things like blood clots and pulmonary embolisms, which can be life threatening.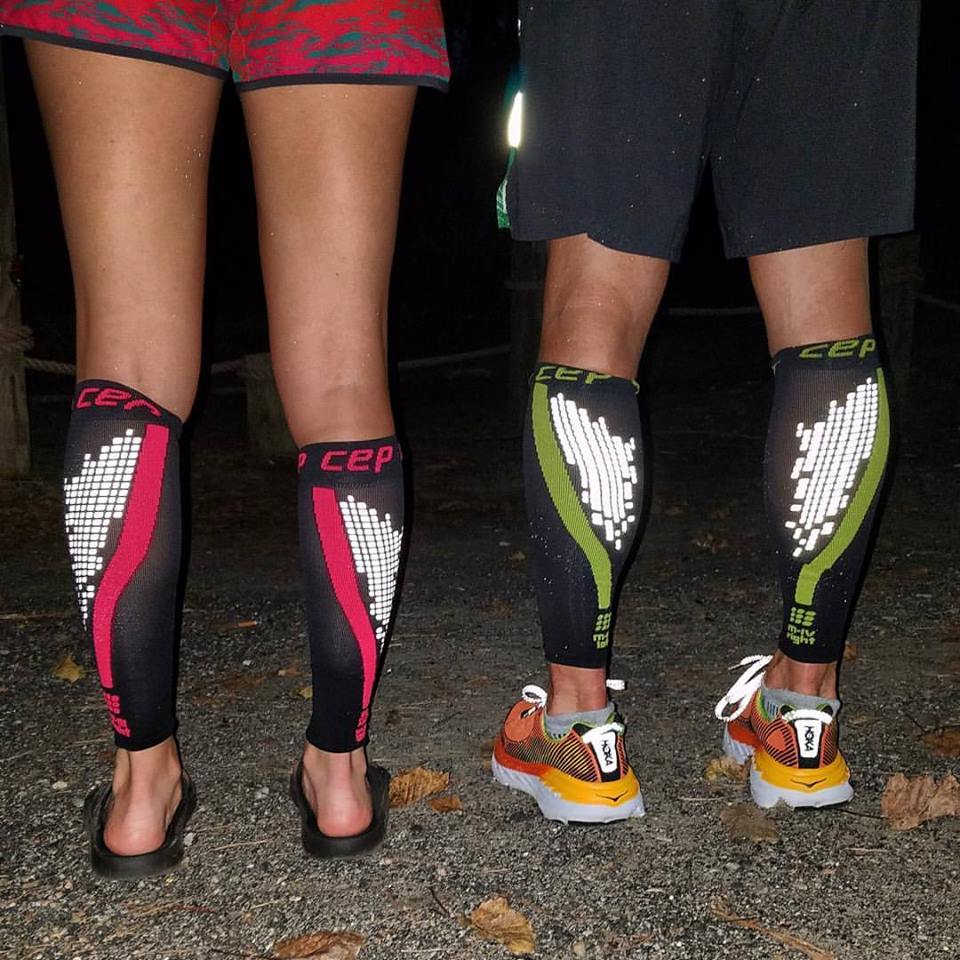 Do Compression Socks Improve Running Performance (According to Research)?
With increased blood flow comes increased oxygen delivery to the muscles, which sounds promising to runners, whose running performance relies heavily on the body's ability to deliver oxygen to the working muscles.
But, what does current research have to say?
Well, the results are still up in the air as to whether or not compression socks live up to the claims that the sock manufacturers make for athletes.
A 2020 systematic review of 21 research studies investigated the effects of wearing below-knee compression socks on exercise and sport performance, as well as associated physiological and perceived indicators.
The review stated that wearing compression socks during exercise or sport only improved performance in a small number of the studies analyzed.
There was some evidence that wearing compression socks may lower muscle fatigue and muscle soreness immediately after and hours after exercise. But ultimately, they state that sports medicine professionals should "consider the individual responses for performance and a potential placebo effect."
Let's look at some other studies:
It's very important to note that all of the above research features very small sample sizes, and most of the studies were performed on well trained athletes. A lot more research needs to be done regarding the effectiveness of compression socks on running performance.
But for now, it's pretty safe to say that the overwhelming evidence points to the fact that researchers simply aren't sure whether or not compression socks truly with running performance.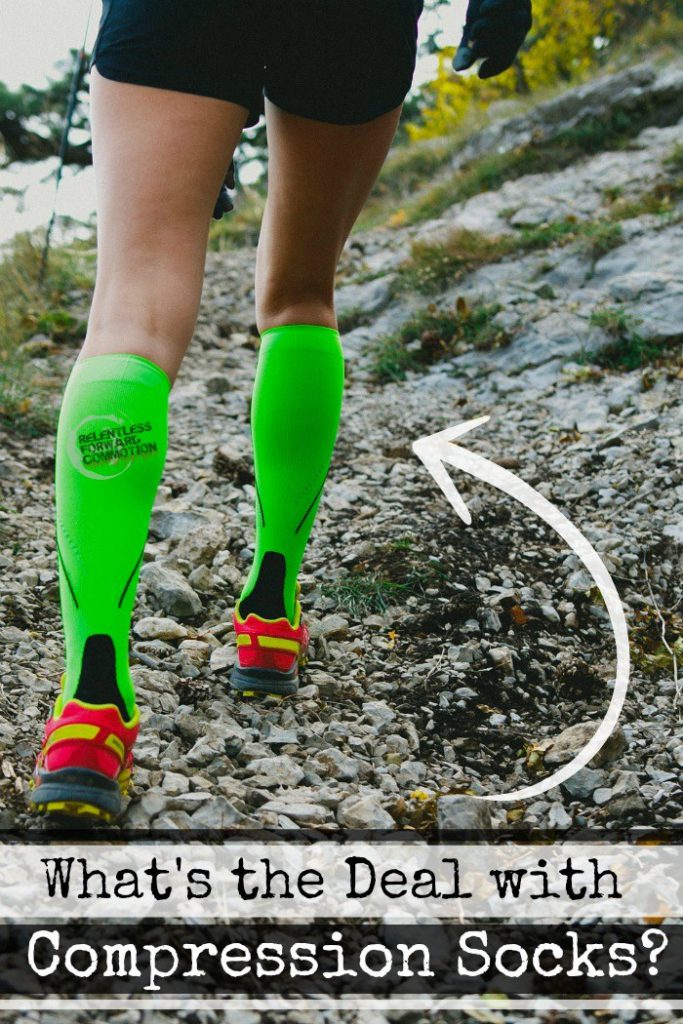 Do Compression Socks Improve Recovery After a Run or Race?
Current, available research is far more promising when it comes to the benefits of compression socks for improving recovery after a tough run or a race. And this is because increased blood flow to the muscles does more than just deliver oxygen – it also helps carry hormones to damaged tissue to help stimulate recovery, as well as carry waste products and fluids away from damaged tissue.
A 2015 study published in the Journal of Strength and Conditioning Research found that runners wearing compression socks for 48 hours after running a marathon improved their performance on a 2 week post race graduated treadmill test by 2.6 percent.
7 Benefits of Compression Socks for Running
While proof of the effectiveness of compression socks in athletic performance is inconclusive, there are still a number of benefits of wearing compression socks both during, and after your training runs or races.
1. Compression socks can help to prevent DVT.
Deep vein thrombosis (DVT), or blood clotting in your legs, is a rare, but very serious condition that all athletes are susceptible to (some more than others). Believe it or not, when flying on an airplane, athletes are more susceptible to DVT.
Yes, you read that right, athletes are at a greater risk.
A combination of typically lower blood pressure and heart rate, combined with the possibility of dehydration (especially if traveling after a race), and of course, sitting still for long periods of time (as one typically does on an airplane) are a potentially lethal combination for developing DVT.
Are Running Compression Socks Good for Flying?
The simple act of wearing compression socks on your flight (or anytime you will be sitting for a long period of time, especially after a long training run or race) can help greatly minimize the risk of developing a deep vein thrombosis by promoting blood flow to and from your lower extremities.
2. Compression socks can help protect your skin
If you run trails, obstacle course races, adventure races, or other off-road events, compression socks can double as protection from poison ivy or other plants, bug bites, barbed wire scrapes, tears in your skin from prickers or thorns…you get the idea.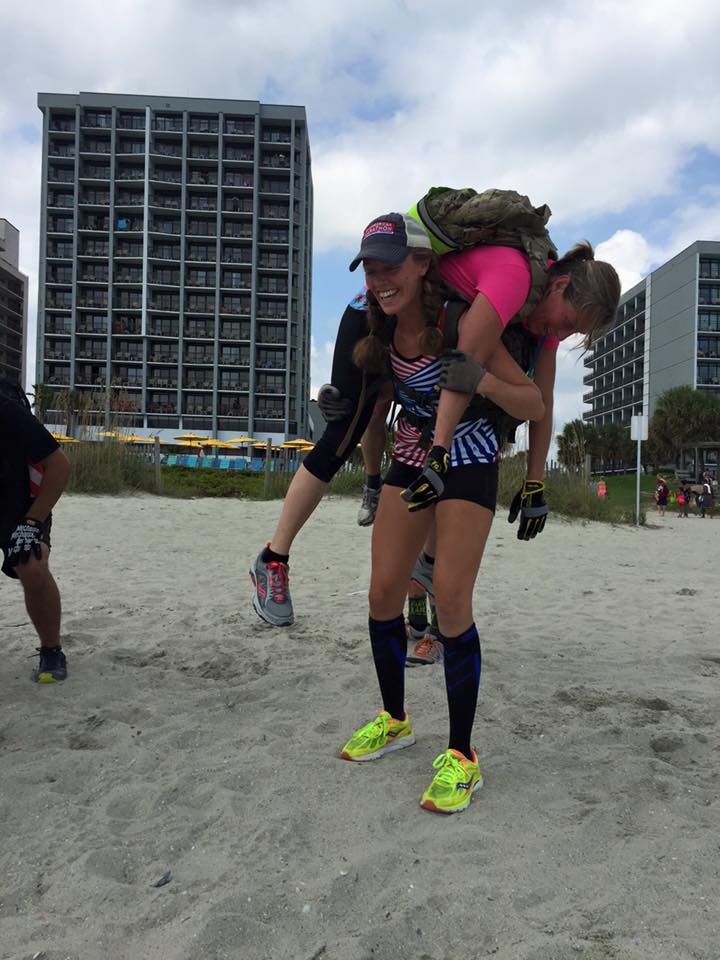 3. Compression Socks May Help Alleviate Shin Splits & Sore Lower Legs
The tight, supportive nature of compression socks not only feels good on sore lower legs, but they limit muscle oscillation, which may exacerbate discomfort in the shins and lower legs.
4. Compression Socks May Help Alleviate Plantar Fasciitis Pain
Plantar fasciitis is the term given to the aching and discomfort associated with micro-trauma of the plantar fascia on the bottom of your feet. Compression socks may help alleviate pain and swelling associated with plantar fasciitis by helping to alleviate inflammation, improve circulation, and reduce the mobility of your feet by providing support to arches and ankles.
5. Compression Socks May Help with Swelling
If you are prone to swelling in your feet, ankles, or lower legs, compression socks can help by squeezing these areas to prevent the buildup of fluid in the tissue.
It is important to make sure, however, that the swelling and fluid does not build up in the knee area due to overly tight compression socks, or in the ankle area if you are wearing compression sleeves.
6. An Extra Layer of Warmth
Take it from me, a runner who is perpetually cold: knee high compression socks are an extra layer of warmth.
7. The Placebo Effect Counts for Something
In the case of both running performance and improved recovery, the placebo effect might certainly be to blame. Many runners will swear, scientific evidence or not, that the compression socks help them either in running performance or recovery.
But…there's nothing wrong with that. If you feel like something is going to help you, chances are, it's going to help you. Go with it!
Finding The Right Size Compression Socks For Running
Unlike regular running socks, where shoe size is the determining factor for finding the right size sock, compression socks will take into consideration the following:
Shoe size
Circumference around the ankle
Circumference around the calf
Overall length from the bottom of your heel to the back of your knee
Every brand of compression sock will have it's own nuanced sizing suggestions, so be sure to check for the manufacturers recommendations when choosing your size.
How Is Compression Measured?
Compression in compression socks is measured in Millimeters of Mercury (mmHg). This is the same unit of measurement used in determining blood pressure.
Compression socks are given a range pressure, such as 20-30 mmHg. This means that at tightest point in the sock, near the ankle, you'll have a compression rating of 30 mmHg, gradually decreasing to 20 mmHg closer to the knee.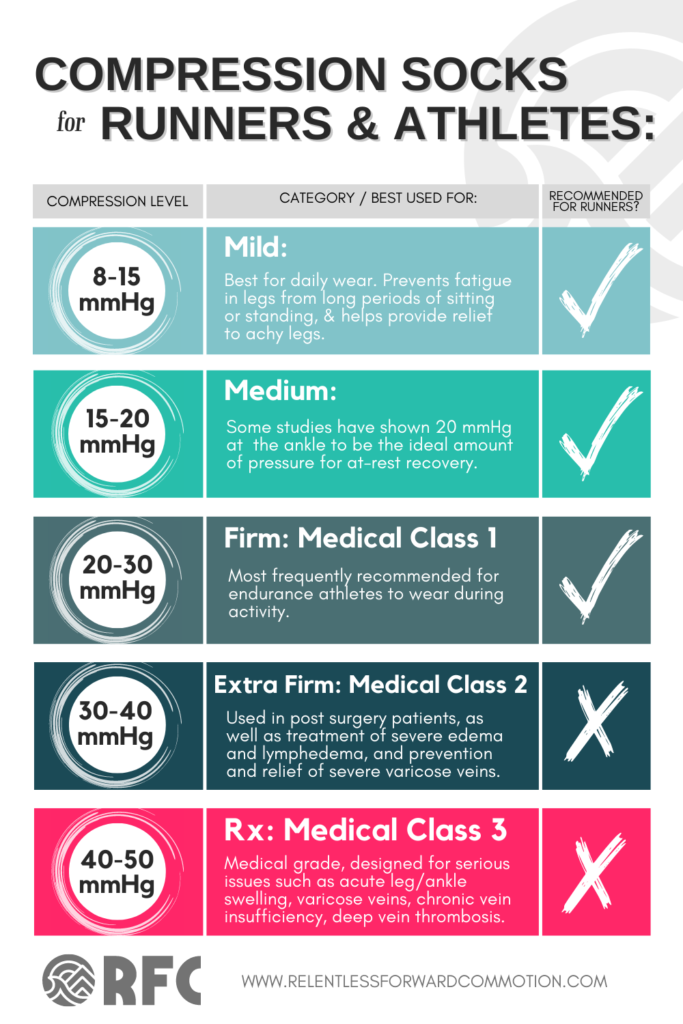 What Level of Compression is Best for Running?
Most sources recommend a compression sock rated 20-30 mmHg, or "Firm / Medical Class 1" for endurance athletes. In fact, the majority of companies that market compression socks specifically for runners only offer them in the 20-30 mmHg compression level.
However, the best level of compression for each individual runner will boil down to what feels the most comfortable. If a sock of 20-30 mmHg feels too tight, it will likely be more of a hinderance, rather than helpful, with running performance.
Runners with wide feet or wide calves may find lower compression running socks or sleeves, in the 15-20 mmHg or 8-15 mmHg to be more comfortable.
What Level of Compression is Best for Recovery from Running?
In general, 20-30 mmHg, or "Firm / Medical Class 1" rated compression socks are recommended for recovery from running and training. Again, some athletes may find slightly less or slightly more compression preferred for recovery purposes.
Compression Sleeves or Compression Socks for Running: Which is Better?
Ultimately, the choice between compression sleeves or compression socks boils down to personal preference.
I personally prefer compression calf sleeves while running, as this allows me to wear the running specific socks I've become accustomed to, that aid in blister prevention over ultramarathon length distances.
Plus, I feel compression socks really limit the movement of my foot and toes inside of my running shoes.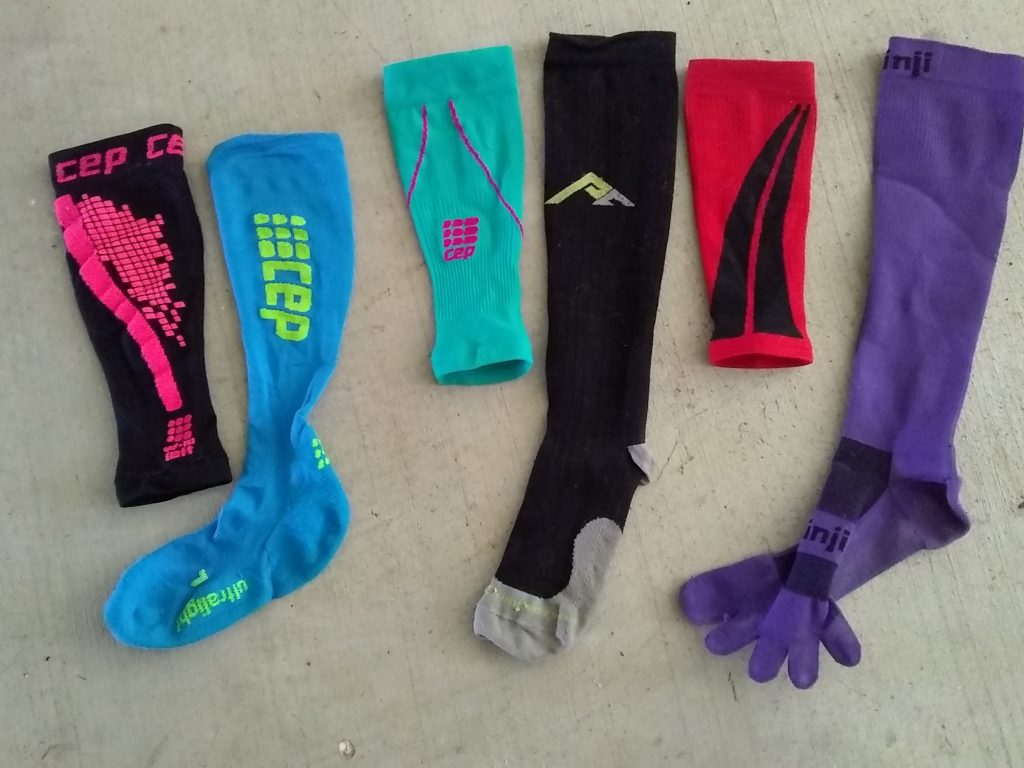 Other athletes may find that they struggle with swelling in their feet, and therefore prefer to have continuous compression throughout the entire foot and sock to help prevent pooling of fluids.
Do I Have to Use Running Specific Compression Socks?
The compression technology between medical grade compression socks and those desiged specifically for runners and athletes is the same.
However, running specific compression socks are going to be made of more durable, quick drying materials, such as polyester, nylon, spandex, or even Merino wool, and may be less likely to cause blistering or chafing.
Are compression socks safe for everyday use?
Compression socks were designed to be worn for long periods of time, and therefore, in healthy adults, are considered safe for everyday use.
However, it's important to be cognizant of any discomfort or swelling that may occur when wearing compression socks.
Final Thoughts:
Ultimately, whether or not you choose to run with – or recover in – compression socks (compression tights, compression boots, etc.) is a personal preference. While the science may be inconclusive, compression is undeniably a part of many runners racing and recovery routine.
The power of the mind is nothing to ignore. So, if you feel that compression is an integral part of your running, by all means stick with it. And if you're not sure if compression is right for you, give it a try! You may find you really enjoy compression wear, or, you may find that you don't enjoy it at all (in which case, you've saved yourself a good bit of money. Compression socks are not cheap!)
Resources:
Areces, F., Salinero, J. J., Abian-Vicen, J., González-Millán, C., Ruiz-Vicente, D., Lara, B., Lledó, M., & Del Coso, J. (2015). The use of compression stockings during a marathon competition to reduce exercise-induced muscle damage: are they really useful?. The Journal of orthopaedic and sports physical therapy, 45(6), 462–470. https://doi.org/10.2519/jospt.2015.5863
Armstrong, S. A., Till, E. S., Maloney, S. R., & Harris, G. A. (2015). Compression socks and functional recovery following marathon running: a randomized controlled trial. Journal of strength and conditioning research, 29(2), 528–533. https://doi.org/10.1519/JSC.0000000000000649
Azhan, M.H., Hasan, H., Misnon, M.I., Firhad, R.M., Azidin, R., Ismail, H., Azim, M., Azhan, N., Raja, & Firhad, M. (2020). Effect of Compression Socks and Smooth Socks on VO2max and Blood Lactate Concentration of Experienced and Novice Runners.
Berry, M. J., & McMurray, R. G. (1987). Effects of graduated compression stockings on blood lactate following an exhaustive bout of exercise. American journal of physical medicine, 66(3), 121–132.
Chang, L., Fu, S., Wu, S., Witchalls, J., Adams, R., Waddington, G., & Han, J. (2022). Effects of graduated compression socks on ankle inversion proprioception of half-marathon runners at different running distances. Journal of science and medicine in sport, 25(6), 529–534. https://doi.org/10.1016/j.jsams.2022.02.006
Mota, G. R., Simim, M. A. M., Dos Santos, I. A., Sasaki, J. E., & Marocolo, M. (2020). Effects of Wearing Compression Stockings on Exercise Performance and Associated Indicators: A Systematic Review. Open access journal of sports medicine, 11, 29–42. https://doi.org/10.2147/OAJSM.S198809
Rivas, E., Smith, J. D., & Sherman, N. W. (2017). Leg compressions improve ventilatory efficiency while reducing peak and post exercise blood lactate, but does not improve perceived exertion, exercise economy or aerobic exercise capacity in endurance-trained runners. Respiratory physiology & neurobiology, 237, 1–6. https://doi.org/10.1016/j.resp.2016.12.003
Zadow, E. K., Edwards, K. H., Kitic, C. M., Fell, J. W., Adams, M. J., Singh, I., Kundur, A., Johnston, A. N. B., Crilly, J., Bulmer, A. C., Halson, S. L., & Wu, S. S. X. (2022). Compression Socks Reduce Running-Induced Intestinal Damage. Journal of strength and conditioning research, 36(9), 2461–2464. https://doi.org/10.1519/JSC.0000000000003870
Zaleski, A. L., Pescatello, L. S., Ballard, K. D., Panza, G. A., Adams, W., Hosokawa, Y., Thompson, P. D., & Taylor, B. A. (2019). The Influence of Compression Socks During a Marathon on Exercise-Associated Muscle Damage. Journal of sport rehabilitation, 28(7), 724–728. https://doi.org/10.1123/jsr.2018-0060
Heather Hart is an ACSM certified Exercise Physiologist, NSCA Certified Strength and Conditioning Specialist (CSCS), UESCA certified Ultrarunning Coach, RRCA certified Running Coach, co-founder of Hart Strength and Endurance Coaching, and creator of this site, Relentless Forward Commotion.   She is a mom of two teen boys, and has been running and racing distances of 5K to 100+ miles for over a decade.  Heather has been writing and encouraging others to find a love for fitness and movement since 2009.