Last Updated on August 26, 2016 by Heather Hart, ACSM EP
Beaver Creek Stage 6: Vail to Beaver Creek
22.4 miles / 5,250 feet elevation gain
I feel somewhat silly admitting that as I sit here getting ready to write the final TransRockies Run recap, I'm sad.   Just like the race itself, I don't want this experience to be over.  Spending the last week recapping my adventures in Colorado has suppressed the post race blues, and I'm still not ready to admit that this event that I looked forward to for so long is actually over.   I apologize in advance to all of my local friends, because I'm certain the next 6 months worth of conversation with me will be full of endless stories that begin with the sentence "oh, and then this one time, at the TransRockies Run…"
Here we go: stage 6.
We wake up in Vail, Colorado shivering, per usual.  Except this time instead of just being cold, our sleeping bags are wet, and almost everything else in the tent is damp as well.  I love sleeping in tents, it is one of my favorite things to do, but I'd be lying if I didn't admit that at this point in our journey I was highly looking forward to sleeping indoors.
So just like every other morning, we get dressed, eat breakfast, and pack up our bags.   Stage 6 begins exactly where stage 5 left off: just a few yards away from our tents here in Vail.  There is a bittersweet feeling lingering in the air, and I know I'm not the only one who feels it.  People are excited for this last stage, they are excited to see their families,  to stop running for a day or two, to no longer sleep in a tent that smells like a gym locker room.  But despite all of that, no one seemed excited to get back to reality.  You see, TransRockies Run is partially advertised as running summer camp for adults, and that statement isn't far from the truth.  Our expectations as participants are as follows:
1) Show up to the start line on time.
2) Run anywhere from 13-24 miles through some of the most gorgeous terrain you've ever seen.
3) Eventually make your way to the finish line.
4) Hang out at "Chillville" for the rest of the day, where you are provided with endless good beer and delicious food, and you spend your time in lounge chairs, listening to music, and chatting with like minded individuals.
5) Repeat, for 6 days.
You can see why no one in their right mind would want to leave and go home. But all good things must come to an end, and sadly the 2016 TransRockies Run is no exception.
We hear "Highway to Hell" one last time, and we are off.   The start of stage 6 takes us back out and over some of the dirt road that we had ended on the day before.   But instead of switch-backing up the mountain, we head down towards Vail village…and run right through it.   It reminded me of running through Epcot during the number of Disney races I ran back in my pavement heyday.  Everything was bright, clean, and perfectly manicured, just as you would expect a posh ski resort to look during the sunny summer months.
We leave Vail and cross a bridge over a highway, then begin climbing a paved road through a residential neighborhood.  There is a condo with a window open, and in the window stands a little boy, maybe 2 or 3 years old, cheering as loudly and as enthusiastically as possible.   We all take turns waving back at him as we pass by.
Shortly past those condos, we take a left into a beautiful single track trail that carves its way up a grassy hill.  Or mountain, I'm really not sure what to classify these things as anymore.  We're climbing.   And the climb starts gradual, though quickly kicks into gear as the switchbacks get sharper, and the grade increases.   I'm feeling it, as I always do the first hour of the race.  Looking at the charts now, it looks like we climbed about 1,900 feet in about 4.5 miles.  Certainly not the steepest climb we've faced, but a climb none the less. But I put my head down and go, because if I've learned anything during this event, it's that every climb eventually ends, and I'm always rewarded with an amazing view.
But before the climb even ends, we are granted breath taking views.  We enter a forest of aspens, which Geoff and I still think are birch trees.
Somewhere in here, Geoff gives me the "Drink! Eat!" reminder that we've been yelling back and forth at each other for the entire 6 days.  I tell him I can't eat while climbing, my GU chews are solid from the chilly air, and I'm struggling to breathe.  He condescendingly replied "well you're going to have to figure that out."  To which I replied with a dirty look, and stepped off trail to eat a snack.   Take THAT!   Ooooh, what is this? Our first "fight" of the TransRockies Run?  Fortunately, this is typically the extent of fighting in our relationship, period, and is almost always blamed upon low blood sugar or lactic acid flowing coursing through our veins.
15 second fight over, and calories in my belly, we continue up and out of the aspen (not birch) forest.

Eventually we hit check point 1 / the first aid station. I truly don't remember too much about this stop, except for the fact that "Homeward Bound" by Simon & Garfunkel is playing loudly out of the truck sitting next to the food tables.  Of course this song is stuck in my head for the next 10 or 15 minutes.  I laugh to myself, because unlike the lyrics that Paul & Art sing, I do NOT wish I was homeward bound.
I want to stay out here forever.
A frequent game Geoff and I like to play on the trail is "what song do you have stuck in your head now?"  I tell him that I've got the Simon & Garfunkel song stuck in my head, and he claims to have not heard it playing at the aid station. I'm not sure how he missed it, but we do often joke that his old man ears are starting to fail him.  He asks me if it was the song "We May Never Pass This Way Again", to which I remind him that song is sung by a totally different duo.   He replies "Well you should have that song stuck in your head instead.  It makes more sense anyway."
Indeed it does.   We may never pass this way again.  On these trails.  On this mountain.  In this town.  I may never be here again, so I better soak it all up.   Damn, did "never serious" Geoffrey just get philosophical on me?   Purposeful or not, it brings tears to my eyes, and I happily sing this song over and over in my head for the next few miles.
"So, I wanna laugh while the laughin' is easy
I wanna cry if it makes it worthwhile
I may never pass this way again
That's why I want it with you" – Seals & Crofts
We head down a long dirt jeep road, and suddenly it smells like livestock.   Geoff says maybe it's some sort of wild animal, and I remind him that I grew up in Vermont, I know the smell of hooved, domesticated, animal poop.  Gross, I know, but if you grew up going to county fairs for field trips, you'd know exactly what I mean.  The smell was from the sheep we had been warned about the previous night.    Apparently in the state of Colorado, it is legal to graze sheep on any public land, and this stretch of our race would be passing through prime sheep grazing territory.  We were warned that the large sheep dogs could become very territorial and protective of their sheep, and if they came our way we were to yell: "BACK TO THE SHEEP!" Evidently, the dogs were trained to respond to this, and would indeed go back to their sheep herding duties.    When told about these big, potential aggressive dogs the prior night, I found myself a little nervous.  But today, under the beautiful blue sky and in these giant green meadows, I truly hoped we would see the sheep.
Sadly, we never did.  Or fortunately, I guess, depending on the mood of the dogs that day.
Somewhere in here we reach the summit. I couldn't tell you where, because unlike every other stage, there was no obvious summit with sweeping views.   We just suddenly hit a point where we started to run downhill, and that was the end of that.   I was feeling great.   My body was tired, no doubt, but it was also feeling strong and able to endure.  And it only took me six days to find my descending legs.   Better late than never, right?  We ran swiftly and purposefully on this first stretch of downhill, making up a good bit of distance and passing a number of people .
Eventually we came across some course marshals who pointed us left onto a single track.   This would prove to be my most favorite part of the stage.  We cut through meadows full of wildflowers, back into gorgeous forests, and out again into more wildflower fields.    The trail itself varied from a wide, rocky single track, to an incredibly narrow "this was made for mountain bike tires, not feet" track, and everything in between.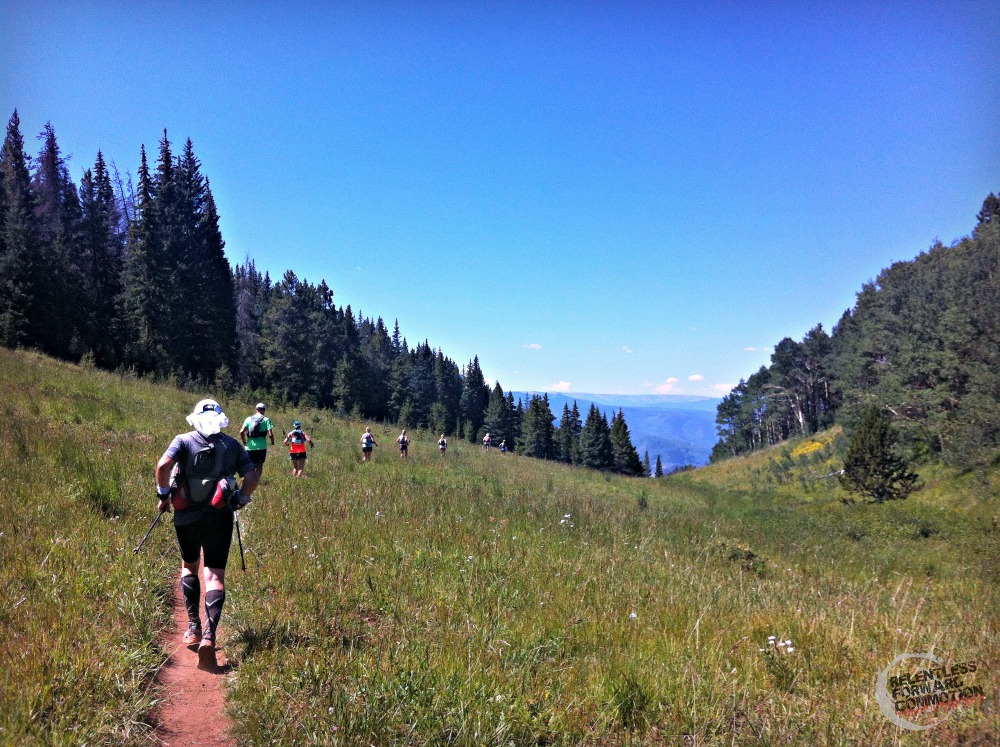 A long stretch of the trail was so overgrown with flowers and grass, that we'd actually have to slow down and walk, for we were completely unable to see what was hidden underneath.  And it wasn't worth taking the risk of potentially tripping and falling, because less than two feet to the left was a steep bank and a large drop into the woods far below.
The wildflowers in this section were astounding.  I only wish I could have captured their beauty with my camera, but of course the pictures I did take certainly do not do them justice. I did, however, have to stop for this picture with what I thought was a giant dandelions.  Turns out it wasn't a dandelion, but the picture is still fun.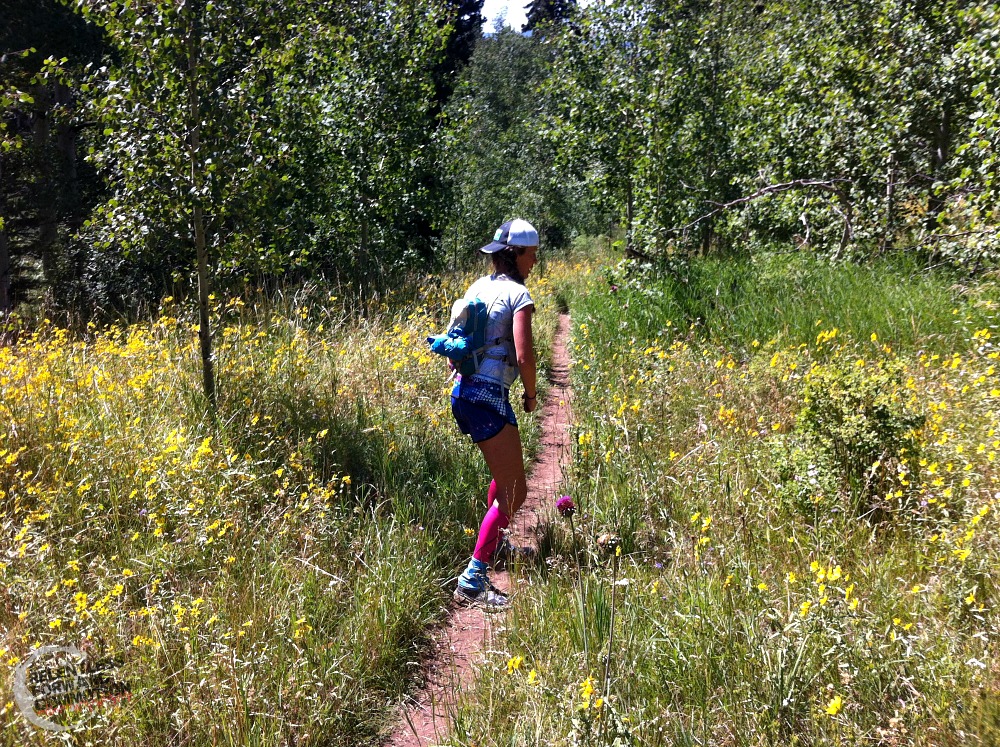 We come to the bottom of the trail and run straight into a huge storm drain culvert.  I giggle, as this reminds me of the type of shenanigans we'd encounter from our H3 running groups.  But instead of running through the water, there was a cement walkway to the left of the stream, so we were able to keep our feet dry.
We come out of the culvert and climb a small hill to check point/aid station #2.   Though it had only been 7.5 miles since the last check point, it felt like it was much further away.  It didn't feel that way because I was tired or hungry, however, it was more because we had passed through such a variety of trails and scenery, it almost felt like we had been out there all day.  In the good way.
We refuel at the aid station quickly and then take off down a long, loooong paved descent.  I'm usually the first to grumble at pavement. I stick by the Yeti Trail Runner's saying "I'm not anti road running, road running is anti me." But this asphalt hill is a huge invitation to open up and stretch out my legs, to run with big carefree steps and not worry about tripping on rocks or falling down cliffs.   I welcome the sight before me, and I run.
At the bottom of the hill we come to an intersection, and find ourselves in a legitimate, busy town (Avon, CO).  There are cars and streets and people everywhere.  TRR crew is set up at various intersections, helping us to safely cross a number of different roads, intersections, and rotaries.   We pass a 7-11, and the people standing at the gas pumps filling their cars curiously stare at us.  This is the most civilization I've seen since we arrived in Denver 8 days ago, and it feels odd being back in the hustle and bustle.
I don't like it.
Normally, leaving the woods and entering suburbia is a surefire sign that the end of the race must be near.  But this was not the case, we still had a 10K left.  And not just a 10K, but another 1,000+ feet of climbing to do over that 10K to run.     The sun is warming up the air quickly, and we are on exposed roads, with zero shade.  Fortunately, it's still significantly cooler than it is in Myrtle Beach, so Geoff and I are still comfortable.  We pass a wonderful lady sitting outside of a Walgreens with a giant bag of ice, and she graciously and excitedly puts ice in our hats as she rings a cowbell, cheering us on.
We circle around the town of Avon, and quickly enter Beaver Creek Resort.  There are only 2.8 miles between checkpoint 2 and 3, and I'm surprised to see it so quickly.  A feeling of excitement begins to bubble up, we are almost done!  But it is quickly squashed by the reminder that we still have that last climb, a climb others have warned me can be soul sucking at this point in the race.
We grab snacks and a popsicle to share, Geoff takes his now obligatory CP3 liquor shot.
And we're off up a hill. Another day, another ski slope to climb.
And climb.
And climb.
We started this climb feeling strong, and moving fast…so fast that I didn't stop for any pictures.  Sorry guys.   We seem to really be thriving in the heat, and quickly pass a number of people, and even two mountain bikers.  At one point we approach a couple who is loudly playing music over a cell phone.  Now, those of you who know Geoff are fully aware of the fact that he's kind of a music snob. Scratch that, "kind of" is not necessary, Geoff *is* a music snob, and will be the first one to admit it.   He's totally a jerk about music he hates.  So when we start to catch up to this couple who is blasting something from the current top 40 (even I don't know anymore, I'm getting old), Geoff grabs my hand and starts pulling me up the hill at a rate that is nearly a run.   I hang as long as I possibly can, but I'm tired.   I tell Geoff I need to walk, and he looks at me with almost fear in his eyes and says "NOT YET!" and continues to drag me behind him.
I don't know how we made it any further, but we did, until we were far enough away from the music that Geoff started to slow down.  Nothing like going anaerobic for the sake of my future husbands sensitive ears.  Heh.
And though this hill is tiny by the standards of the slopes we've climbed the past 5 days,  at this point in the race it truly feels like it will never end. I cannot even recall how many false summits we encountered on the trail.  Seemingly every time I thought "FINALLY, the top!" we'd turn a corner and climb some more.    Mentally, I'm starting to lose it.  We're about 20 miles into a 22 mile day, 118 miles into a 120 mile week having already climbed nearly 20,000 feet of elevation.  I'm loving this experience, I'm grateful for this experience, but all of a sudden, I want nothing more than to stop.  I don't necessarily want to go home, but I want comforts of the first world,  like hugs from my loved ones, a real toilet to sit on, and a long, hot shower.
I want to get to that damn finish line.
We come out of the woods, cross a gravel road, and I see what I've been waiting for all along: the downhill.  My desire to finish this race already is displayed in the ferocity with which I attack that descent.   My running form could only be described as "GET OUT OF MY WAY" as I barreled down the hill, passing people left and right.  Now, I've somehow managed to remain completely uncompetitive during this entire event. I mean, we were totally out of our league up here anyways.   But I won't lie, in this very last stretch I took great pleasure in passing other open-mixed teams.
I'm running downhill at a dangerous speed, one where I take flying leaps over divots in the dirt road (again, I think it was actually a ski slope) and I know that if I fall now, it's going to be ugly.  But it's a chance I'm willing to take.  We hit the bottom of the hill, cross a bridge, and take a sharp left.  Then BAM, the finish line.  Typically you can see the finish from so far away, but the course definitely snuck up on this one, to the point that I still don't think I had ample time to process what was happening.
We see Geoff's mom and sister, and we're almost immediately in the finisher's chute.
We crossed the finish line, hand in hand, and I lost it.  I'm not normally a finish line crier, but the tears escaped uncontrollably.  I was so happy to be at the finish line. I was incredibly proud that we had finished.  I was immediately overwhelmed and upset that the whole week was already over.  Every single emotion I had experienced over the entire week, from the engagement, to the brutal climbs, to the laughter, to the freezing cold mornings…all of it hit me at that very second.  It was overwhelming.
It was amazing.
We found our family, we hugged and cried some more.  We found friends old and new, and said thank you's and goodbyes.  I got my last cup of that disgusting chocolate recovery drink, and threw it back for old times sake.
At this point in my recaps, I've written 20,067 words about my TransRockies run experience…slightly more than one word per foot of elevation we climbed.   And yet still I do not feel as if I've put the actual experience itself into words.  I've written countless details of the event itself, but there's so much left to be said. I haven't properly conveyed how this truly was a life changing experience for me.   This is something I still want to do, something I feel compelled to do, so I will…
…just not quite yet.  Give me one more weekend to truly let the experience settle in.  That's right, 12 days hasn't been enough time to fully digest what just happened.   I can't thank you all enough for your support during the race, and over the last week as I've slowly shared my story.  But there is more to come.  Stay tuned…
__________________________________________________________
Incase you missed them:
TransRockies Run Preface
TRR Stage One Recap
TRR Stage Two Recap
TRR Stage Three Recap
TRR Stage Four Recap
TRR Stage Five Recap
__________________________________________________________
 A massive THANK YOU to Kahtoola, INC. for sponsoring our journey to the 2016 TransRockies Run.   Also a huge shoutout to INKnBURN  for our amazing outfits.!