Last Updated on January 16, 2022 by Heather Hart, ACSM EP, CSCS
Training for an ultramarathon may look a lot different than the training plans you followed running shorter distances in a number of ways. But one of the major differences is the very common training practice of back to back long runs.
This approach is exactly what it sounds like: the two longest volume (distance or timewise) workouts of the training week placed back to back in succession on a training plan.
Yes, long gone are the Sunday mornings when you would wake up, and somewhat sadistically bask in the feeling of accomplishment that accompanies the delayed onset muscle soreness from the previous mornings long run. Yeah, sitting down on the toilet or trying to climb the stairs hurt. But it also made you smile a little inside, knowing it was a hard earned soreness. You smugly feel like a bit of a badass, and every twinge of your quadriceps muscles only reinforces that feeling.
But now instead of smiling inside, the soreness may bring upon a tiny feeling of dread…because that quad twinge only reminds you that you've got to do it all over again. "Yeah, I know you are really tired legs, that's kind of the point here. Now suck it up and don't give up…we've got another two hours to run today." There's no doubt about it: ultra training definitely forces you to give yourself a stern internal pep talk every now an then.
While the thought of running a long run they day after you ALREADY ran a long run may seem seem intimidating at first, this training approach is an integral piece to the ultramarathon training puzzle, and I promise you that it does pay off come race day.
In this post, we'll dive into the "why" behind this training approach, and just as importantly, talk about all of the ways to maximize recovery between long runs, and make the most of long run #2.
The Purpose of Back to Back Long Runs for Ultrarunners
There are a few reasons why ultrarunners utilize the back to back long run approach.
Note: Not EVERYONE believes in the back to back long run approach. That includes some recreational runners and occasional real experts. There are certainly arguments for and against every type of training; back to back long runs as a method of ultra training are no exception. In my experience, both as an athlete and a coach, I've seen a lot of success with the back to back long run approach.
Physiological Adaptations to Back to Back Long Runs:
The whole purpose of training for any sport is to expose your body to a certain stress related to that sport, so it can make adaptations to that stress, and ultimately, make you BETTER at handling said stress.

Simply put: the more we expose our body to the "stress" of running in smaller increments, the better it becomes at running those small increments. Over time, you cotinine to increase the duration of exposure (longer and longer increments) so you get better and better at running longer distances.

But in the case of training to run an ultramarathon – especially longer distances, like 50 miles, 100K, 100 miles, etc. – we simply cannot go out and run long runs of 30, 40, 50 miles or more every weekend.
Why?

Well first of all, what sort of non-elite runner has that time? I know between family and life commitments, I certainly don't.

But more importantly, the majority of us simply cannot handle such a huge bout of physical stress without risking injury, or requiring HUGE amounts of recovery afterwards. We're talking durations of recovery that would hinder future training. So what do we do?

Back to back long runs.

The back to back long run approach gives runners a greater volume of mileage or "time on feet" applicable to training for an ultramarathon (i.e. greater exposure to "stress"), in a short amount of time, while minimizing risk and need for recovery (compared to trying to do this distances all in one shot).
Building Mental Strength & Ultra Specific Experience:
Many coaches in the industry will argue that "learning to run on tired legs" is NOT a valid reason why ultrarunners perform back to back long runs.
Personally, I disagree.
While the physiological adaptations are obviously our priority, there is a huge mental and emotional component to the sport of ultramarathon running, especially when you get into the much longer ultra distances.
Simply put: he second half of a 100 miler is physically and mentally exhausting. Your legs are tired. Hell, your whole body is tired. And if that "continuing to push forward while everything feels as heavy as cement" feeling is foreign to you, it can be hard to do…both physically and mentally.
But, when you head into race day with the experience of 20 or so weekends of running that second long run on tired legs and a tired body, you already know what you are in for. And more importantly, you KNOW that you are capable of pushing through.
Related Post: 6 Tips for Getting Through Lows During a 100 Miler (or Other Ultramarathon)
5 Tips for Surviving Back-to-Back Long Runs During Ultra Training
It goes without saying that these back to back runs can be physically grueling. But, there are a number of things you can do to make the second of the two long runs as enjoyable as possible.

Follow these 5 tips for back to back long run success:
1. Focus on Recovery Between Your Back to Back Long Runs
This one is huge, so I'm going to put it first. You've got to focus on the various aspects of recovery.
Nutrition:
Now, I get it, I like a cold brew post long run and a giant slice of greasy pizza as much as the next runner. Hell, give me seconds and thirds, please! Buuutttt…while recovery is important for all runners, I find it's even MORE important if I know I'm going to head back out the next day for a few more hours of running. So perhaps I'll skip the seconds and thirds of beer and pizza, and instead opt for more nutritionally dense options that will help expedite and promote recovery between runs.
Hydration:
Don't forget to drink plenty of water and electrolytes to replenish what your body lost during long run #1, and to ensure you are well hydrated for run #2.
Plus, water will help stimulate and promote the recovery process within your body.
Active Recovery:
Further, while rest is important, sitting still is my enemy. Active recovery: moving around to keep the blood flowing and preventing my muscles from totally tightening up, is key. If stretching, foam rolling, ice baths, or "the stick" are your thing, don't forget to do those. They will likely make your legs feel significantly happier when you take off for back to back long run number two.
Rest:
Lastly, get some sleep. Running for me is the ultimate sleep aid, so this is usually an easy one to do. But plenty of sleep will allow your body to get a head start on rebuilding everything you destroyed during your first long run…and everything you're about to damage on back to back long run #2.
2. Bring Friends
The greatest downfall to my training, even worse than a gnarly blister or incredibly sore legs, is my own head. If left to my own devices, I will thoroughly convince myself that it is more than acceptable to do only 1/4 of the prescribed distance or time for back to back long run #2. The competitive voices in my head that I speak so often of during races are actually quite lazy when it comes to training. I often cave to their laziness when there is no accountability.
But friends will hold you accountable for the workout.
What's more, friends who have fresh legs and aren't on their second long run in 24 hours will tell you to shut up, quit complaining, and keep running.
Friends are great. Even if you hate them for their fresh legs on day #2, they are great.
3. Take Run #2 Easy.
The point of long run #2 is to teach your body to function on tired, glycogen depleted, most likely sore, legs. When you are tired, or should I say, when I'm tired, my gait changes. I get slouchy. I get cranky. It can be hard to deal with myself. But practicing running when I feel tired and cranky makes me BETTER at running when tired and cranky.
I learn to recognize my lazy posture and gait, and correct it when it starts to fall apart. I learn how to mentally deal with the fatigue, and not be such a miserable person to be around.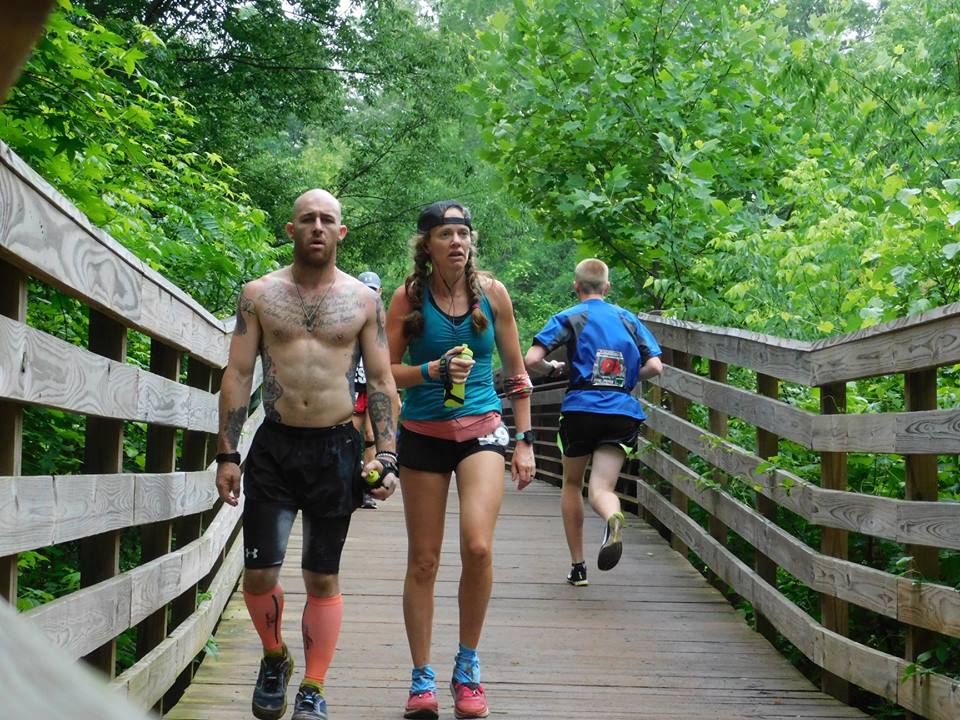 In my opinion, day #2 of back to back long runs is just as much about learning to suck it up and deal, just like you will have to do for the second half of your ultra, as it is about achieving the physiological training adaptations you need.

It's about learning how to most effectively run and walk when you are exhausted. Relentless forward motion. (And commotion, heh.)
So, in most cases, I suggest making Long Run #1 the longest of the two, and taking day #2 slow and easy if you need to (unless you are following a specific plan from a coach that tells you otherwise). Forget your pace, and hell, take walk breaks if you need to…chances are you'll be walking at the end of the ultra anyway. (It's OK, most people do.)
Related Post: 100 Mile Ultramarathon Training Plan & Guide
4. Listen to Your Body
Now, I know I just spent three paragraphs essentially telling you the point of long run #2 is to learn to "suck it up", but you also need to make sure you don't make stupid training decisions. Listen to your body. Acknowledge the difference between, tired, fatigued, sore legs, and pain. Pain is bad. Pain leads to injury. Injury means you don't get to run your race.
Don't run through pain.
Related article: Running Through Pain…and How it is a Terrible, Horrible, No Good, Very Bad Idea.
5. Remember – This is Part of the Ultramarathon Fun.
At the end of the day, it's important to remember why you signed up for and choose to train for an ultramarathon in the first place.
Ultras aren't supposed to be easy…they are incredibly difficult.
And by choosing to train for and complete one, you purposefully chose to push yourself to a new level as a runner, both physically and mentally.
Training for an ultramarathon is tough…but you are tougher.
So instead of focusing on how hard the particular workout you are in may be, focus on the accomplishment you are achieving by getting out there an putting in the work. Look at you, you're doing it!
Final thoughts:
I've been training for and racing ultramarathons since 2015 (and I've been coaching Ultramarathon athletes since 2017). For me, while physically the back to back runs have gotten slightly easier, mentally I feel light years ahead of where I was when I started training and racing ultra distances.

I know the second of the back to back long runs isn't always going to be "fun" in the "I feel fantastic, I could run all day!" type of way (though sometimes, it is!) , But I've slowly learned to laugh my way through the second back to back long runs, and enjoy them for what they are: a part of the process. They aren't always comfortable, but they aren't meant to be…and that kind of discomfort only results in growth.
And in a strange sort of way…I've come to look forward to those days.
Reader sound off: Have you done back to back long runs? Any tips or suggestions you would add?
Heather Hart is an ACSM certified Exercise Physiologist, NSCA Certified Strength and Conditioning Specialist (CSCS), UESCA certified Ultrarunning Coach, RRCA certified Running Coach, co-founder of Hart Strength and Endurance Coaching, and creator of this site, Relentless Forward Commotion.   She is a mom of two teen boys, and has been running and racing distances of 5K to 100+ miles for over a decade.  Heather has been writing and encouraging others to find a love for fitness and movement since 2009.