When training for an ultramarathon, a common method utilized is back to back long runs.  The purpose of back to backs is two fold. First, it teaches you how to run on tired legs, something you'll definitely experience during an ultramarathon. Second, back to back long runs to achieve a higher volume of mileage. For most of us, a 50 mile training jaunt isn't really feasible, so we make up that volume over the course of two days instead of one. 
Keywords being "most of us". 
I see some of you non-professional, everyday runners still posting the more-than-occasional "I went for a run and just kept going, I accidentally ran 50 miles, isn't that crazy?" instagram pictures.  Virtual high five.  I admire your inadvertent Forest Gump-ness.  But the rest of us have to try to squeeze in what-we-can-when-we-can, to keep both our bodies happy and maintain responsibilities in life (in other words, we don't always have the time). Here are some tips to help you survive back to back long runs during ultra training.
Note: Not EVERYONE believes in the back to back long run approach.  That includes some recreational runners and occassional real experts.   There are certainly arguments for and against every type of training; back to back long runs as a method of ultra training are no exception.  In my experience, both as an athlete and a coach, I've seen a lot of success with the back to back long run approach.
How to Survive Back-to-Back Long Runs During Ultra Training
Training for an ultramarathon looks a lot different than the training plans I followed running shorter distances. Yes, long gone are the Sunday mornings when I would wake up, and somewhat sadistically bask in the feeling of accomplishment that accompanies the delayed onset muscle soreness from the previous mornings long run.  Yeah, sitting down on the toilet or trying to climb the stairs hurt. But it also made you smile a little inside, knowing it was a hard earned soreness.  You smugly feel like a bit of a badass, and every twinge of your quadriceps muscles only reinforces that feeling.
But now instead of smiling inside, the soreness may bring upon a tiny feeling of dread. Ultra training definitely forces you to give yourself a stern internal pep talk every now ant then.  Because that quad twinge only reminds you that you've got to do it all over again.  "Yeah, I know you are really tired legs, that's kind of the point here.  Now suck it up and don't give up…we've got another two hours to run today."
It goes without saying that these back to back runs can be physically grueling. But sometimes the mental anguish is the hardest part to overcome.  Here's how I do it:
1. Focus on Recovery Between Your Back to Back Long Runs
This one is huge, so I'm going to put it first.    You've got to focus on the various aspects of recovery.
Nutrition:
Now, I get it, I like a cold brew post long run and a giant slice of greasy pizza as much as the next runner.  Hell, give me seconds and thirds, please!  Buuutttt…while recovery is important for all runners, I find it's even MORE important if I know I'm going to head back out the next day for a few more hours of running.   So perhaps I'll skip the seconds and thirds of beer and pizza, and instead opt for more nutritionally dense options…as well as a ton of water and electrolytes.
Active Recovery:
Further, while rest is important, sitting still is my enemy.  Active recovery: moving around to keep the blood flowing and preventing my muscles from totally tightening up, is key.   If stretching, foam rolling, ice baths, or "the stick" are your thing, don't forget to do those. They will likely make your legs feel significantly happier when you take off for back to back long run number two.
Rest:
Lastly, get some sleep.  Running for me is the ultimate sleep aid, so this is usually an easy one to do.  But plenty of sleep will allow your body to get a head start on rebuilding everything you destroyed during your first long run…and everything you're about to damage on back to back long run #2.
2. Bring Friends
The greatest downfall to my training, even worse than a gnarly blister or incredibly sore legs, is my own head.  If left to my own devices, I will thoroughly convince myself that it is more than acceptable to do only 1/4 of the prescribed distance or time for back to back long run #2.  The competitive voices in my head that I speak so often of during races are actually quite lazy when it comes to training. I often cave to their laziness when there is no accountability.
But friends will hold you accountable for the workout.
What's more, friends who have fresh legs and aren't on their second long run in 24 hours will tell you to shut up, quit complaining, and keep running.
Friends are great. Even if you hate them for their fresh legs on day #2, they are great.
3. Take Run #2 Easy.
The point of long run #2 is to teach your body to function on tired, glycogen depleted, most likely sore, legs. When you are tired, or should I say, when I'm tired, my gait changes. I get slouchy. I get cranky. It can be hard to deal with myself. But practicing running when I feel tired and cranky makes me BETTER at running when tired and cranky.
I learn to recognize my lazy posture and gait, and correct it when it starts to fall apart. I learn how to mentally deal with the fatigue, and not be such a miserable person to be around.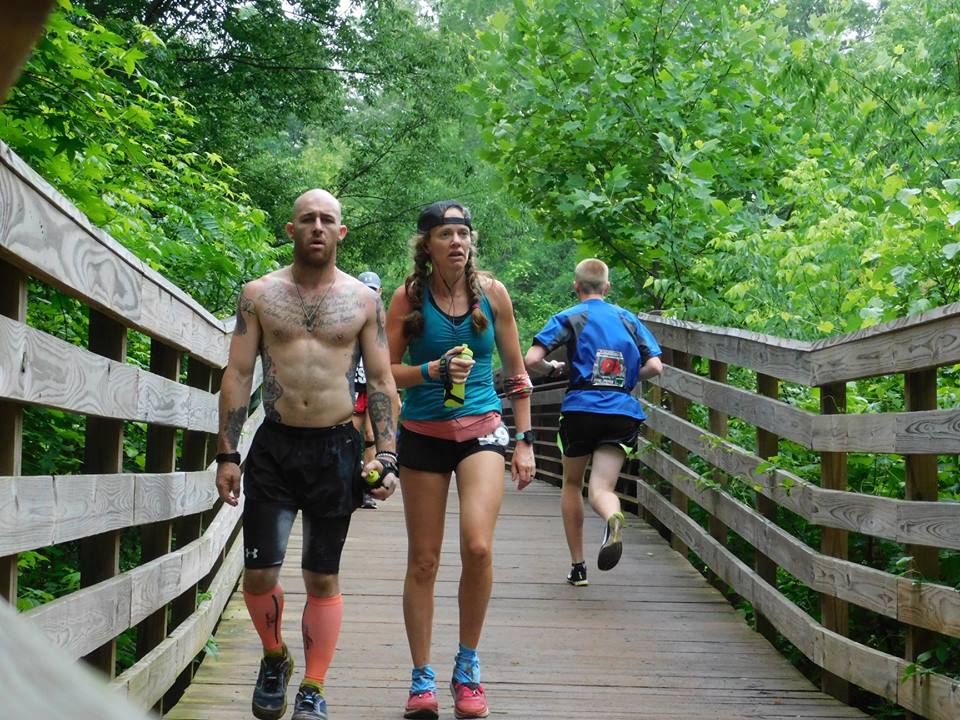 In my opinion, day #2 of back to back long runs isn't at all about gaining fitness or endurance, it's about learning to suck it up and deal, just like you will have to do for the second half of your ultra. It's about learning how to most effectively run and walk when you are exhausted. Relentless forward motion. (And commotion, heh.) That's not to say that there aren't physiological adaptations or gains happening, in fact whether or not there are is one of the big arguments behind the use of back to back long runs.
But, my point is this: take day #2 slow and easy if you need to (unless you are following a specific plan from a coach that tells you otherwise). Forget your pace, and hell, take walk breaks if you need to…chances are you'll be walking at the end of the ultra anyway. (It's OK, most people do.)
Related Post: 100 Mile Ultramarathon Training Plan & Guide
4. Listen to Your Body
Now, I know I just spent three paragraphs essentially telling you the point of long run #2 is to learn to "suck it up", but you also need to make sure you don't make stupid training decisions. Listen to your body. Acknowledge the difference between, tired, fatigued, sore legs, and pain. Pain is bad. Pain leads to injury. Injury means you don't get to run your race.
Don't run through pain.
Related article: Running Through Pain…and How it is a Terrible, Horrible, No Good, Very Bad Idea.
I've been training for and racing ultramarathons since 2015.    While physically the back to back runs have gotten slightly easier, mentally I feel light years ahead of where I was when I started ultra distance. I know they aren't going to be "fun" in the "I feel fantastic, I could run all day!" type of way (though sometimes, they do!) , But I've slowly learned to laugh my way through the second back to back long runs, and enjoy them for what they are: a part of the process.  They aren't always comfortable, but they aren't meant to be…and that kind of discomfort only results in growth. 
And in a strange sort of way…I've come to look forward to those days.
Reader sound off: Have you done back to back long runs? Any tips or suggestions you would add?