Last Updated on February 23, 2022 by Heather Hart, ACSM EP, CSCS
As a running coach, I've noticed over the years that athletes tend to assume that running through pain is simply a necessary part of this sport.
One time early in my coaching career, I was discussing a potential running injury with someone on our team  (injury on her body, not on mine).   She told me that the injury, and subsequent diagnosis were still in limbo, but she was continuing to run on it anyway.   She continued to tell me that another runner told her that it was probably a good thing to continue training, because running through pain will teach her to push through tough times, which is good practice for race day.
Woah. Back up (insert record scratching noise here).
I'm absolutely, 100% certain that the aforementioned other runner, the advice giver, truly had the best of intentions. I've never met a runner that didn't; even if their advice was very ill informed, it truly comes from a place of wanting to help other runners. Most of us in the running community are GOOD people, save for those that keep getting called out on Marathon Investigation, but I digress.
But is running through pain a good idea? Or is it a fast track to potential damage, or worse, an injury that forces you to be sidelined from running?
Running through Discomfort vs. Running through Pain
Before we get into the details of why running through pain is a bad idea, let's discuss the differences between "discomfort" and "pain". Whenever I'm working with a brand new client, either in the gym or a runner, I always make sure to distinguish the differences in these physical experiences.
Understanding Running Discomfort:
Discomfort when running is that icky feeling that creeps up when something you are attempting is more difficult than your current fitness level.  It may show up in the form of labored breathing, shaky muscles, or even perhaps a little nausea. 
Examples of Running Discomfort:
Feeling out of breath during harder workouts
Burning in your legs when running hard/up hills/etc.
Heavy, "lead" feeling legs at the end of a long workout
Feeling like you have no energy left
Nausea at the end of a hard interval or hard workout
It's not a good feeling, but for the most part, it's a natural reaction to the work we are putting our bodies through (assuming the workout is prescribed at an intensity to elicit such a response).
Should You Run Through Discomfort?
Yes, running through discomfort absolutely needs to be done occasionally in order to become a better runner. 
You need to learn to push through tired legs on long run days. You need to learn to push through the discomfort of screaming lungs and a creeping blood lactate level on speed work days or hill repeats. And you need to learn to push through the foggy brain that wants you to quit because you've been having a bad day.
These are good mental barriers to learn to overcome, and these will indeed help you both in your training and on race day.
But this discomfort should never HURT.
Understanding Running Pain
Pain, on the other hand, is usually sharp, comes out of the blue, and can often feel debilitating. As it should. Pain is our body's way of communicating to us that something is very wrong, and that we should stop what we are doing immediately in order to avoid further damage.
Pain is a giant red stop sign, a do not pass go, do not collect your $200 gym/running dollars type of situation.
Examples of Running Pain:
Sharp pain in your knee that comes out of nowhere and causes you to start limping
Sharp pain in your shins – like shin splints – that gets worse with running
An aching in your hip that causes you to change your running gait
An ache or pain in your foot that you notice with every single step
Should Running Hurt?
It often surprises my clients when I tell them that running should not hurt or be painful. Uncomfortable? Yes. Hard or difficult at times? Absolutely. But there should be not be any acute, sharp, pain associated with normal running.

(Unless, of course, you are somewhere around mile 92 of a 100 mile ultramarathon, but I digress).
I repeat: outside of extreme endurance attempts, running should NOT hurt. If it does, one of the following issues is likely at play:
You have an undiagnosed injury
You are pushing at a level/volume/intensity far beyond what your body has not adapted to that particular level of stress running is placing upon it (beyond normal overreaching)

because you likely haven't been consistent with, or trained properly for those distances/intensities

There is a structural imbalance, biomechanical weakness, or some other physical issue that shouldn't be happening.
SOMETHING ELSE IS WRONG!
Should You Run Through Pain?
I feel as though this section should be very obvious. But I also recognize that when it comes to runners, it's no secret that we are an incredibly stubborn bunch.
(Pot: meet kettle. Yeah, I'm guilty of it too.)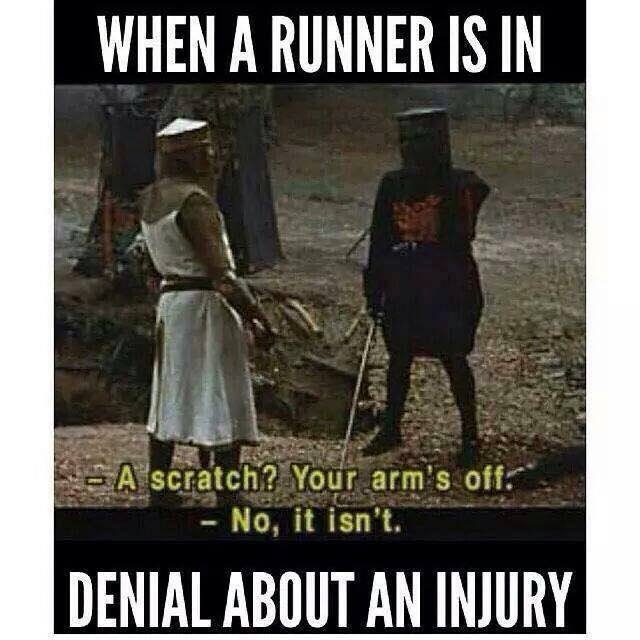 Again, let us remember that pain signifies that something is wrong in our body. Pain is typically a precursor to injury. Therefore, pain is your body's way of communicating (or even screaming, if you will) that you should stop what you are doing immediately before things get worse.
To put it in the simplest terms: running through pain can lead to injuries.
And then let's take it one step further. Pushing through injuries can lead to things like forced downtime ("6 to 8 weeks" feels like a life sentence to runners), a boot or cast, or even worse…the surgeons knife.
Trust me, once you wind up down this path, you will quickly regret every single second that you didn't listen to your body as it pleaded you to stop, and instead pushed through the pain.
Related post: 5 Non-Running Mistakes That May Be Sabotaging Your Running
Why Do Runners Push Through Pain?
Unfortunately, I think runners often run through pain because they believe that pain is a necessary part of running, and also they believe it will make them "stronger". I personally blame this on the fact that the endurance community as a whole likes to push the idea of "beast mode" and being "mentally tough", without appropriately differentiating pain versus discomfort. The end result? It's often not so great.
7 Steps to Take If You Experience Pain When Running:
You're out for your mid week training run, when all of a sudden you feel a sharp pain in your hip, or maybe your knee starts physically screaming at you. What do you do?
1. Stop running.
Hit the brakes! If you experience pain when running, stop running, and proceed to step #2.
2. Assess the situation.
Try to figure out what is causing the pain when you are running.    Is it something that can be immediately addressed and fixed? Is there a giant rock stuck in the glue wedged between the two layers of your Superfeet insole, and you can cease said pain by removing aforementioned rock? (true story, that happened to me last week.)
Or is it unexplained, internal pain? A sign that perhaps an injury is developing?
3. If the pain is not an easily fixable situation, see step #1.
If you can't find an obvious source of pain, and instead fear this may be a budding injury, stop running.
4. Rest
Previously, if you experienced pain when running, I would have told you to RICE an injury – rest, ice, compress, elevate. However, budding research shows that the RICE method (especially the ice portion) is outdated and not as effective as we once thought.
Previously, it was believed that the first step to healing an injury was to immediately quell inflammation (hence, the ice and rest). However, it is now understood that the immediate, acute inflammation post injury actually lends to recovery. Hindering or stopping that acute inflammation, as well as immobilizing an injury, can delay the healing process.
So what do you do instead? I suggest taking a day, or a few, off from running to see if the pain subsides. If you are in so much pain that day to day movement hurts, or, if the pain doesn't subside on your next run, move on to step #5: seek medical help.
5. Seek medical professional help.
If the pain you are experiencing from running does not subside with rest, seek help from a medical professional to diagnose and address the cause of your pain.
Do not ask Google to diagnose you.  Not your friends in the running group, either. You're going to need an actual, medical professional. The professional will also be able to give you a clear plan to help you on your path to recovering from the injury.
6. Address the Cause of the Pain
Is there a structural weakness or a biomechanical imbalance?  If so, the pain or injury will continue to happen until that weakness or imbalance is corrected. 
Are your shoes well overdue for replacing, and the blown out cushion is making your knees sore? Time to visit your local running store.
When the pain subsides, figure out WHAT caused the pain in the first place, and fix it.
(Side soapbox: injured or not, all runners should be doing preventative strength training and mobility exercises.)
7. When all of these steps have been addressed…Run.
(and, if you are under medical supervision, when the doctor says it's OK), THEN you can start running again.
What you should NOT do when you experience pain while running:
You should NOT continue running. End of story.
In short, running through pain is never worth it. As I told the athlete I mentioned in the beginning of this post: none of us are vying for Olympic Gold. None of us have our paychecks riding on a race finish.
(And if any of you reading this actually do, I'm humbled and honored that you are reading this lil ol' blog of mine).
There is absolutely no reason to continue pushing and setting ourselves up for disaster, or worse, this:
…simply for the sake of logging extra miles on Strava (or Garmin connect, or dailymile, or whatever the kids are using these days). Please listen to your body, and take care of it. It sounds cheesy, but it truly is the only body you've got.
Run smarter, not harder.