Last night I was discussing a potential running injury with someone on our team  (injury on her body, not on mine).   She told me that the injury, and subsequent diagnosis were still in limbo, but she was continuing to run on it anyway.   Then she told me that another runner told her that it was probably a good thing to continue training, because running through pain will teach her to push through, which is good practice for race day.
Woah. Back up (insert record scratching noise here). 
First let me say that I'm not calling out this one runner in particular.  Many of my runners approach me with very common questions and concerns that are not only great fodder for this blog, but material that I want to share with even MORE new runners.  So I'm going to address it here, for learning and sharing purposes.
Second, I'm absolutely, 100% certain that the other aforementioned runner, the advice giver, truly had the best of intentions.  I've never met a runner that didn't;  even if their advice was very ill informed, it truly comes from a place of wanting to help other runners.   Most of us in the running community are GOOD people, save for those that keep getting called out on Marathon Investigation, but I digress.
Whenever I'm working with a brand new client, I always make sure to distinguish the difference between "discomfort" and "pain".   Discomfort is that icky feeling that creeps up when something you are attempting is more difficult than your current fitness level.  It may show up in the form of labored breathing, shaky muscles, or even perhaps a little nausea.  It's not a good feeling, but for the most part, it's a natural reaction to the work we are putting our bodies through.
Pain, on the other hand, is usually sharp, comes out of the blue, and can often feel debilitating.  As it should.  Pain is our body's way of communicating to us that something is very wrong, and that we should stop what we are doing immediately in order to avoid further damage.
With my clients, mild to moderate discomfort is something we work through to become healthier, and stronger.  Pain is a giant red stop sign, a do not pass go, do not collect your $200 gym dollars type of situation.
Now, when it comes to the subject of runners, it's no secret that we are an incredibly stubborn bunch.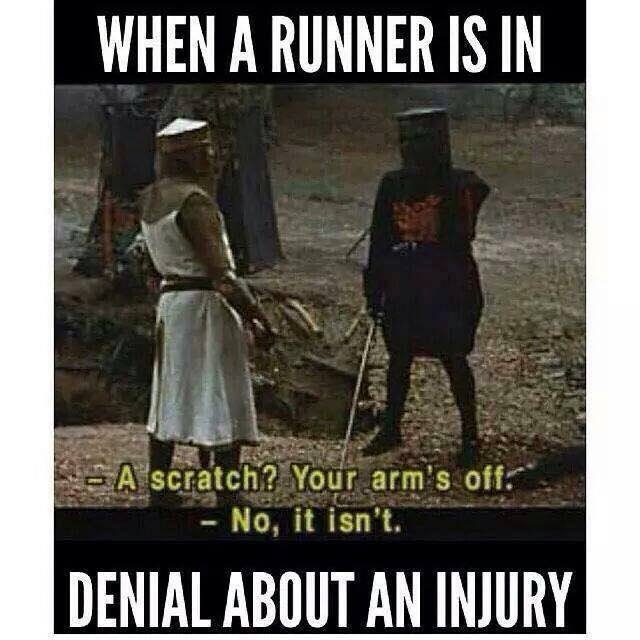 I suppose that is for good reason.  Running takes a lot of mental fortitude at times, especially while racing.
Now, it's one thing to learn to push through discomfort.  This absolutely needs to be done to become a better runner.  You need to learn to push through tired legs on long run days.   You need to learn to push through the discomfort of screaming lungs and a creeping blood lactate level on speed work days or hill repeats.   You need to learn to push through the foggy brain that wants you to quit because you've been having a bad day.  These are good mental barriers to learn to overcome, these will indeed help you both in your training and on race day.
What you should never do is push through pain, especially in training.
Never, ever, ever.  Never.
Again, let us remember that pain signifies that something is wrong in our body.  Pain is typically a precursor to injury.  Therefore, pain is your body's way of communicating  (or even screaming, if you will)  that you should stop what you are doing immediately before things get worse.
Running through pain can lead to injuries.
Pushing through injuries can lead to things like forced downtime ("6 to 8 weeks" feels like a life sentence to runners), a boot or cast, or even worse…the surgeons knife.   Trust me, once you wind up down this path, you will quickly regret every single second that you didn't listen to your body as it pleaded you to stop, and instead pushed through the pain.
The things you should do when you experience pain while running are as follows:
1. Stop running.
Just stop.  Proceed to #2.
2. Assess the situation.
What is causing the pain?   Is it something that can be immediately addressed and fixed? Is there a giant rock stuck in the glue wedged between the two layers of your Superfeet insole, and you can cease said pain by removing aforementioned rock? (true story, that happened to me last week.)
3. If the pain is not an easily fixable situation, and instead appears to be a budding injury, see step #1.
4. R.I.C.E.
Rest, Ice, Compress, Elevate, all of the good things medical professionals tell runners to do when we are injured.
5. Seek medical professional help to help diagnose and address the pain.
Not Google.  Not your friends in the running group. An actual, medical professional.
6. When the pain subsides, figure out WHAT caused the pain in the first place, and fix it. 
Is there a structural weakness or a biomechanical imbalance?  If so, the pain or injury will continue to happen until that weakness or imbalance is corrected.   (Side soapbox: injured or not, all runners should be doing preventative strength training and mobility exercises.)
7. When all of these steps have been addressed…
(and, if you are under medical supervision, when the doctor says it's OK), THEN you can start running again.
The things you should NOT do when you experience pain while running are as follows:
1. Continue running.
In short, running through pain is never worth it.  As I told my athlete last night, none of us are vying for Olympic Gold.  Non of us have our paychecks riding on a race finish.  (And if any of you reading this actually do, I'm humbled and honored that you are reading this lil ol' blog of mine).  There is absolutely no reason to continue pushing and setting ourselves up for disaster, or worse, this:
simply for the sake of logging extra miles on Strava (or Garmin connect, or dailymile, or whatever the kids are using these days).   Please listen to your body, and take care of it.  It sounds cheesy, but it truly is the only body you've got.
Run smarter, not harder.