Last Updated on February 21, 2022 by Heather Hart, ACSM EP
For all intents and purposes, running is a very simple sport.  In theory, you need nothing more than the power of your own two feet to go for a run.  For those athletes who take their running beyond than the occasional weekend jog, the sport actually gets a bit more complicated.  Carefully measured splits on GPS watches, scientifically engineered sports drinks and gels,  athlete specific compression socks, and more.  As a new runner, all of this gear and technology can be overwhelming.  What do you really need, what really works, and what can be left to the pros?  In this post we'll discuss running in compression socks and/or compression sleeves: what's their purpose, do they work, and do you really need them?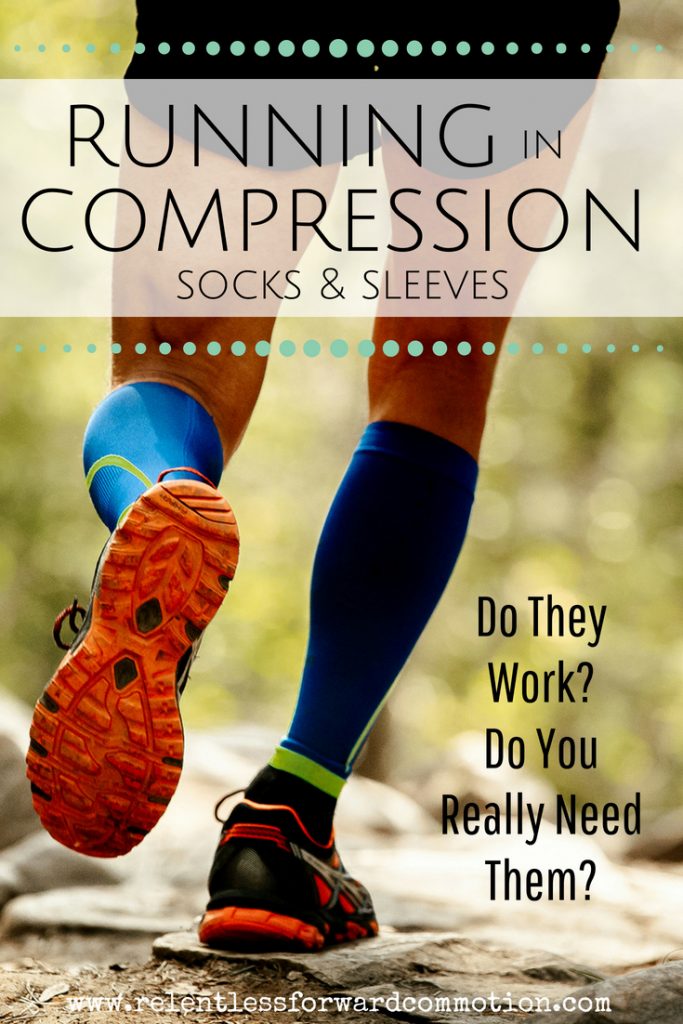 If you've recently been to any endurance race, or heck, even a large group run, chances are you've seen some runners wearing brightly colored knee high socks.  They aren't just a fashion statement: running in compression socks has become a popular trend among elite athletes and weekend warriors alike.   No longer just for your grandma and her varicose veins, compression socks and sleeves have swept the endurance racing community over the last decade for their touted mid run performance and post run recovery benefits.
The claims made by compression sock manufacturers are lengthy, including but not limited to: the promises of faster recovery time, decreased muscle fatigue, and cramping prevention. The idea is that the slight and sometimes graduated (tighter at the bottom, lessening towards the knee) compression of the tightly woven fabric acts as a gentle massage to your muscles, squeezing veins and helping to promote and increase blood flow. With increased blood flow comes increased oxygen delivery to the muscles, which in theory CAN assist with all of the promises mentioned above.  Further, the compressive nature of the sock or sleeve can help support the muscle, to prevent fatigue from muscle oscillation.
Which brings us back to your aforementioned Grandma: because the compression does indeed help increase blood flow, doctors have recommended them for years to post surgery or bedridden patients, or even those with varicose veins, to help prevent pooling of the blood in legs, or worse, blood clots. So there is no denying that compression socks work for something.
Do Compression Socks Work (According to Research)?
Well, the results are still up in the air.  The research is still out as to whether or not compression socks live up to the claims that the sock manufacturers make for athletes.  A quick internet search of scientific, scholarly articles will give you mixed results.  Take a look:
The available evidence does not clearly support or completely refute the use of graduated compression socks (GCS) for improving athletic performance. Based on the studies specifically looking at below-the-knee GCS, the evidence tends to refute any physiological benefits. – Stanek JM, 2017. (source)
The use of compression stockings did not improve running pace and did not prevent exercise-induced muscle damage during the marathon. Wearing compression stockings during long-distance running events is an ineffective strategy to avoid the deleterious effects of muscle damage on running performance. – Areces F et al.  2015. (source)
These data suggest that leg compressions do not alter Running economy (RE), rating of perceived exertion (RPE), breathing rate (BR), heart rate (HR) or VO2, during exercise. However, compressions may be beneficial for submaximal and maximal ventilatory efficiency while improving lactate clearance at VO2max and during recovery in trained runners. – Rivas E. et cal. 2017. (source) 
These are just a few examples.
4 Benefits of Compression Socks for Running
While proof of the effectiveness of compression socks in athletic performance is inconclusive, a few things are for sure.
1. Running in compression socks (probably won't) hurt you.
In the case of faster recovery and fresher legs, the placebo effect might certainly be to blame. Many runners will swear, scientific evidence or not, that the compression socks help them either in running performance or recovery. Personally, I always wear compression socks for runs that include steep climbs. The tightness of the socks feels like it holds my calf muscles and helps prevent cramping, and I really do notice a difference.
2. Compression socks can help to prevent DVT.
Deep vein thrombosis (DVT), or blood clotting in your legs, is a rare, but very serious condition that all athletes are susceptible to (some more than others).  Believe it or not, when flying on an airplane, athletes are more susceptible to DVT. Yes, you read that right, athletes are at a greater risk. A combination of typically lower blood pressure and heart rate, combined with the possibility of dehydration (especially if traveling after a race), and of course, sitting still for long periods of time (as one typically does on an airplane) are a potentially lethal combination for developing DVT. The simple act of wearing compression socks on your flight (or anytime you will be sitting for a long period of time, especially after a long training run or race) can help greatly minimize this risk by promoting blood flow to and from your lower extremities.
3.  Compression socks can help protect your skin
If you run trails, obstacle course races, or other off road events, compression socks can double as protection from poison ivy or other plants, bug bites, barbed wire scrapes, tears in your skin from prickers or thorns…you get the idea.
4. Compression socks can help with swelling
If you are prone to swelling in your feet, ankles, or lower legs, compression socks can help by squeezing these areas to prevent the buildup of fluid in the tissue.  It is important to make sure, however, that the swelling and fluid does not build up in the knee area due to overly tight compression socks.
In summary, the buzz surrounding the compression sock trend may simply be hype, or there may be some useful truth to it. I have found, in my experience, that many runners have very polar opinions about the benefits of compression socks.  Some love them, some can't stand them.   Do you NEED them?  Probably not.  But do they feel awesome after a long run?  I think so.
If you are interested in giving compression socks a try, here are a few helpful hints.
How to choose compression socks or sleeves:
 1. Compression Socks vs Sleeves
The main difference between compression socks and compression sleeves is that the sock covers your entire foot, while the sleeve ends at your ankle.   There are pros and cons to both: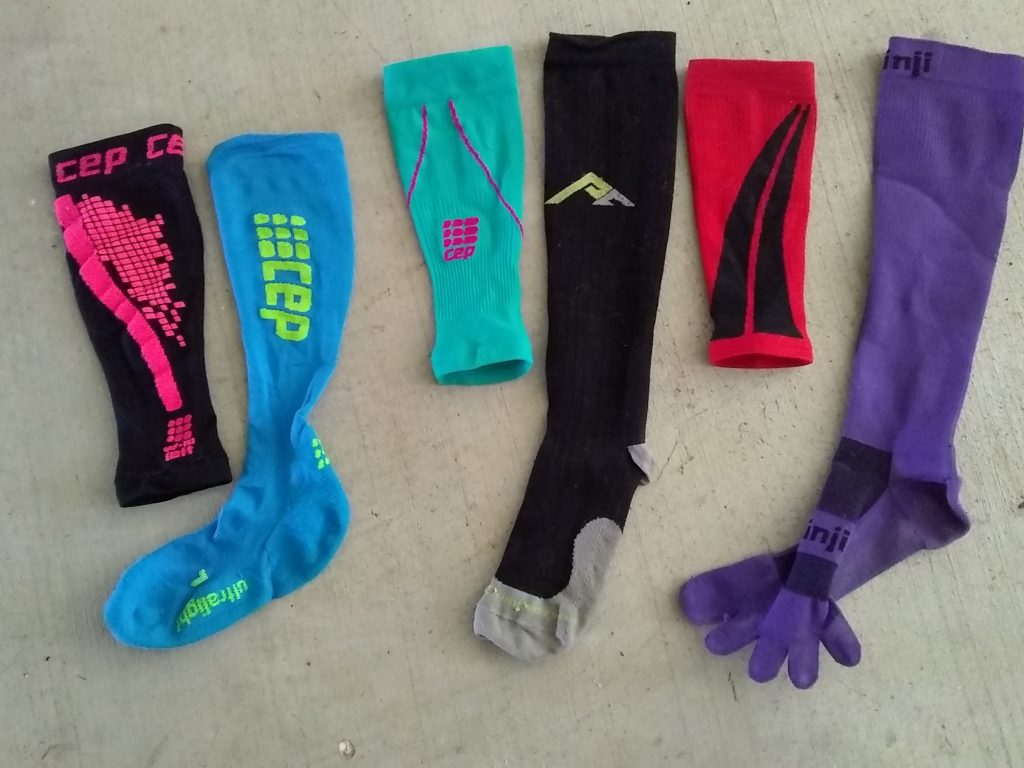 Sleeves allow you the ability to wear socks you are already comfortable with and know work for you in both comfort and blister prevention.  Sleeves also work great for recovery, if you decide to wear flip flops post race or run.   However, the compression stopping directly at the ankle can sometimes cause excess fluid to become trapped in the feet, and you may notice excessive swelling.  Most people prefer sleeves for the actual run, and socks for recovery.
Socks will give you full graduated compression from toe to knee, helping to avoid any swelling issues.  However, if your feet are prone to blisters, you might not enjoy the thinner material of compression socks underfoot.  Personally, I don't like running in full compression socks because I find the compression restricting on my toes, which can further encourage blistering.
2. Sport Specific Compression
Not all compression socks are made the same.  You are going to want to look for a graduated compression, with a rating of 22 – 32 mmHg of pressure.  Stick to the higher end for recovery, and the lower end for use during activity.  Further, look at the materials the sock or sleeve is made of: if you are going to be running in your compression socks or sleeves, make sure they are made of sweat wicking, tech material to help avoid chafing or blistering.
3. Size
Quality compression socks and sleeves will be sized differently, and may even be gender specific.  Many will come with specific calf, and sometimes even shoe and ankle measurements.  Make sure you are in the proper size, to avoid limiting circulation by having too much compression.  When in doubt, head to your local running store to have a trained associate help you find the correct size.
Compression Socks For Running:  Yes or No?
Ultimately running in compression socks boils down to personal preference.  Many runners swear by compression socks for both running performance and recovery, while others don't notice a difference.   Since research is still inconclusive as to whether or not compression socks truly have physical benefits for running, you'll have to give them a try for yourself!