Last Updated on December 19, 2020 by Heather Hart, ACSM EP
Hey non runners!  Do you wish that could be one of those people effortlessly gliding down the streets or across the trails?  Do you want to cross a 5K finish line, or hell let's dream big, maybe earn a 100 mile buckle?  But the idea of running to the mailbox currently has you intimidated? Trust me when I tell you that you aren't alone in that hesitation – but that you CAN become a runner. Yes, YOU. In this post, we'll cover all of the basics of how to start running, and everything you need to know to become a runner.
Listen, I know the running world can seem wildly intimidating at first.   People are talking about distances you currently can't even fathom running, using words that you've never even heard of.   There's constant discussion of PR's and negative splits, and concepts that seem so overwhelming, when you're just wondering how to put one foot in front of another without feeling like you might pass out.
Trust me, I get it.  Though it's been over a decade now (woah!) I too, was once a brand new "wanna be a" runner.  And since then, I've worked with countless brand new runners.   In this post I want to share all of the basics that you need to know to become a runner. Hopefully, it's not overwhelming, but just enough information to help get you out the door and on the road or trails.
How to Start Running:
We're going to begin with the most important thing you need to start running. If you read nothing else in this post, know this:
If you go for a run, YOU ARE A RUNNER!
That's it. That's the secret to becoming a runner. There's no test to pass, no minimum minute per mile threshold, or distance you have to run.  Nope.  If you want to be a runner, go for a run, and voila, you are in the club. Trail, pavement, treadmill, track, it does not matter.  Welcome, we're stoked to have you.
But, I'm sure you came to this post for more information than that. So, let's dive into some more tips that will help you get started with the awesome sport of running
Running Gear: What Beginners Actually Need to Start Running
Starting a new sport or activity can be exciting, and wildly overwhelming. When it comes to running, it may seem obvious: all you need is a pair of running shoes, right? Right (see below)
But then you start looking into available running equipment, or see what other runners are using, only to be bombarded with $180 lightweight sneakers, $200 hydration packs, and $750 GPS watches. But like any sport, there are the "must have necessities" and the "luxuries".
I recommend keeping it as simple as possible as you get started, to a) avoid feeling overwhelmed, and b) ensure you are going to stick with running before making large financial investments. And even if you do stick around (and we hope you do!) I assure you, you don't NEED to spend a ton of money to start running.
For now, stick to the basics:
Proper fitting shoes
Sweat wicking clothing
Running specific socks
Let's dive in a little deeper.
Running Shoes
So we've established that you don't need to spend a fortune on fancy running gear to get started.   That said, the one thing you really do need to invest in is the correct shoes for your feet.  
The key word here is your feet. 
What may work for your boss who is a multi decade veteran runner, or your friend who is super fast and qualified for Boston on her first try, might not necessarily work for you.  Further, those comfortable shoes you bought on sale at a department store two summers ago might not be cut out for the rigors of running.
We all have different foot strike patterns, levels of pronation (or supination) and other biomechanical quirks, not to mention different shaped feet, that need to be addressed on individual basis. 
So how do you know which shoe is right for you?  Invest time and money into your body: visit your local running store and let an expert check out your feet, and purchase high quality shoes designed for running.
Related post: 5 Running Shoe Mistakes You Could Be Making Right Now
 Sweat Wicking, Performance Clothing
Yes, you may have closet full of old t-shirts that seem suitable for running, but I'm going to let you into a little running secret: friction happens, and chafing hurts.  
Sometimes, when running even short distances, body parts, bra straps, t-shirts, ill fitting socks, you name it, rub across your skin over and over to the point that it feels like you've been hit with a searing hot branding iron.  If you don't notice the chafing immediately after the run, you'll definitely notice it the second you step into the shower, and believe me, it's not fun.
The good news is, you can easily prevent chafing with two important steps:
Wear running or sport specific exercise clothing.   They will typically be made of sweat wicking material and have less and/or flat seams, to help prevent chafing. And it doesn't have to be expensive: big box stores sell affordable performance gear for all body types.

Use an anti chafing lubricant, like

Body Glide

.  Body Glide works everywhere, including feet, thighs, underarms, nipples, even faces exposed to wind and cold (yes, unfortunately all of these places are prone to chafing!)
Running Specific Socks
Ask any runner what the key to running success is and they will tell you: happy feet. Comfortable feet can be the difference between a great run and a miserable one. No one wants the distraction of socks that are falling down with each step, seams that are digging into your toenails, or worst of all: blisters.
While the sticker shock (upwards of $15 for a pair of socks) of running specific socks may surprise new runners, I assure you, they are worth every penny. For more information on running socks, check out the post "5 Tips for Choosing the Best Running Socks for You".
Running Gear that Beginners Can Skip For Now:
An expensive GPS watch – instead, use a free phone app to track your mileage, such as Strava or MapMyRun.
A hydration system – instead, carry a small, reusable sports bottle. Or leave one at home, you don't necessarily need to carry water for short runs.
Endurance fuel (gels, drinks, etc) – you don't need these for runs under an hour.
Expensive compression gear – research is still out on their effectiveness anyway.
Sport specific recovery tools (foam rollers, massage guns, etc.)
Come up with a plan.
Story time! Back in November of 2006 I went for the very first run of what I consider to be my "running career".  Sure, I had run before…as a long time student athlete I had run plenty during soccer practice or at track meets.  But this was the first time I went for a run with the purpose of becoming a "runner". 
I headed out the door, ran one single mile, and thought I was going to die, it was so bloody hard.  The good news is (spoiler alert):  I didn't die. I did however, throw up twice and managed to wind up with a bloody, torn blister on the back of my Achilles tendon.   And then I sat there wondering what to do next.
Lesson learned (many years later)  at that time in my life, one mile was probably much too far to attempt to run.   Easing into the running world should not involve blood and puke (gross). 
Instead, your journey into running should be a realistic, approachable, and doable challenge.  For many, that may mean a combination of running AND walking, in specific intervals, until you begin to build up your cardiovascular strength and endurance.
Learn to Love to Run Program
If you are just getting started, please check out the "Learn to Love to Run" training plan. This plan was designed specifically for those wondering how to start running, and will help you safely ease into the sport.   Following a plan like this one, will not only give you a realistic timeline, but it will hopefully help keep you injury free by ensuring you build your mileage volume up slowly and safely.   It will also ward off possible frustration and mental burnout, by giving you appropriate and realistic running goals for each workout.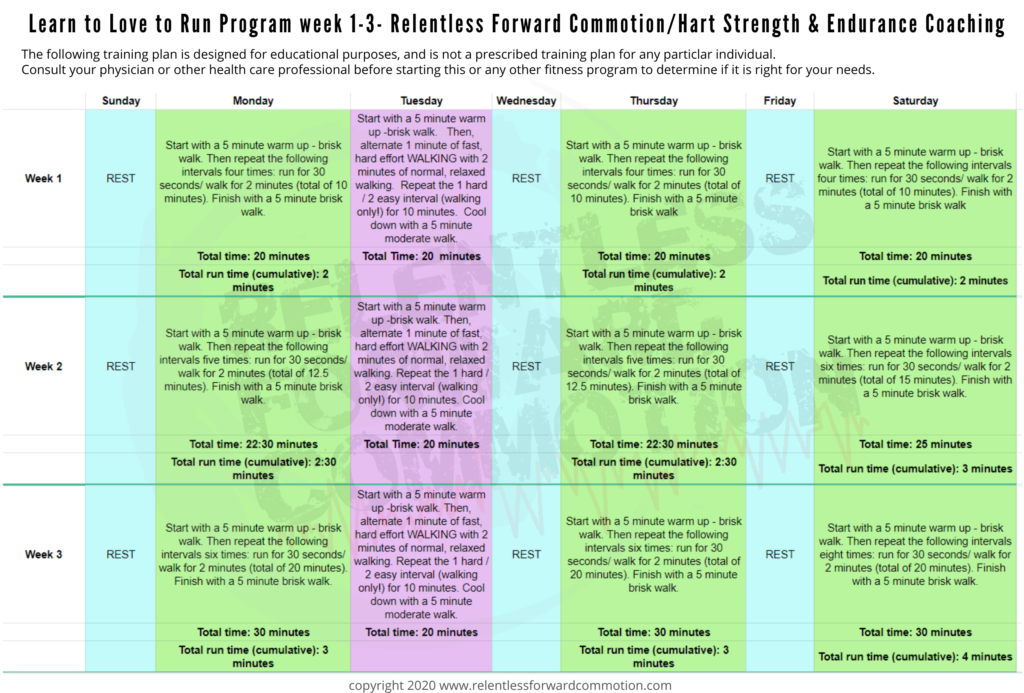 Other popular beginner options include the Couch to 5K plan, Galloway method, or reaching out to a coach for a personalized plan.
Related post: Couch to 5K: How to Know if this Training Plan is Right for You
GO RUN!
Now comes the fun part: RUN! It's probably the most obvious answer to "how to start running", but I realize it's taken us a while to get here. But now we are, so…go run! And while you're running, remember these tips:
Don't Overthink Form
My professional, but perhaps unpopular opinion on running form is that new runners shouldn't overthink it. Humans have an innate ability to run, we've been doing it since we were little kids. Now, that's not to say that every new runner will have perfect running form. But to start, it will likely be "good enough". Trying to overanalyze or overthinking your form may leave you frustrated, or worse, it may force you into an unnatural – for you – running gait that may actually CAUSE injury.
In the classic case of "if it isn't broke, don't try to fix it": just run. If your natural form DOES cause injury, then by all means, seek help in fixing your form. But to start, don't overthink it. Just run.
Your pace does not matter. 
I know if you go on Facebook or Instagram, or whatever social media platform other runners frequent, you will constantly see people posting their average pace time or mile splits for training runs. They might be accompanied by words of disappointment, or worse, words of contempt due to the pace. So I can understand why you might be fooled into thinking pace is the almighty determining factor of your worth of a runner. But it's not.
There will always be someone faster than you. There will always be someone slower than you. You will have perceived "fast" days, and you will have perceived "slow" days. And your "slow" day might be "fast" for someone else, and your P.R mile might be a warmup for someone else.
You get the idea.
Related post: Stop Apologizing for being a Slow Runner
Need Running Motivation?
So, you've started running, but the newness of the sport is starting to wane. How do you keep up the motivation?
Sign Up for a Race
Nothing will keep you lacing up your shoes and heading out the door for a training run quite like knowing there's a "deadline" looming in the form of a race. Try finding a beginner friendly, local race such as a 5K or 10K to train for.
Find a Running Group or Friend
Find a running group or training partner to help keep you motivated. It's so much harder to hit the snooze button when you know someone else is counting on you to show up, ready to run.
Remember that running is a lifetime sport. 
Here's an important word you need to know in the running world: "FOMO". It stands for "Fear of Missing Out", and it is a very common affliction among the running community. FOMO causes people to sign up for more races than they have time to train for. FOMO causes people to sign up for races beyond their abilities. FOMO puts the fear into your brain that if you don't do every single race everyone else is doing right now, you're going to somehow miss out.
Stop. Deep breath.
I've seen countless newer runners fall victim to the FOMO, and 9 times out of 10, either burn out emotionally, or worse, end up injured from trying to take on too much.
Remember that running is a lifetime sport. You have your WHOLE LIFE to complete all of these new exciting running goals. And as such, you want to treat your body with respect, building your endurance and strength gradually, to ensure that you will be running for your entire life. This is your journey…there's no need to rush it.
Related post: 3 Training Truths (for Everyday, Real Life, Runners)
So, there you have it: how to start running, in a (2,000 word) nutshell. No, it's not everything there is to know about running, but it's everything you NEED to know to get started. 
Get the right shoes, wear anti-chafing gear, start slow (and with a plan), be patient, and remember, you ARE a runner.  
Welcome to this amazing sport, I hope it changes your life just like it changed mine.
Have any beginner running questions?  Need to know something specific about how to start running? Please comment below, I'm happy to help!