Last Updated on January 7, 2021 by Heather Hart, ACSM EP, CSCS
Runners are always hunting for the best and most effective way to recover from hard workouts and races. And who can blame them? The ability to recover quickly means athletes can continue training hard, which in theory, means progression to becoming a faster, stronger runner. Naturally, when a new recovery technique or product hits the endurance community, it tends to go viral. Compression socks. CBD oil. Epsom salt baths. Percussion / vibration massage guns are no exception.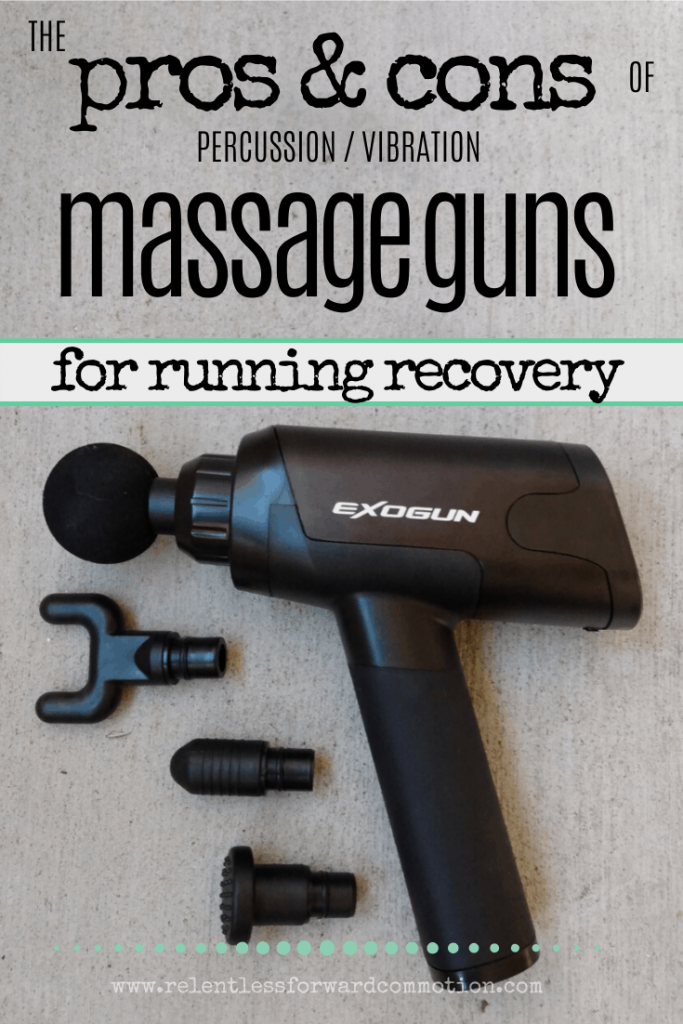 In fact, as I write this post, every advertisement that is popping up in my social media feeds is for a different brand of massage gun. Seemingly everyone is hoping on the bandwagon, from long established recovery tool brands, to companies you may have never heard of. So, what's the deal with percussion / vibration massage guns? Are they worth the hype? Do they actually work? Let's dig deeper.
10 Pros & Cons of Massage Guns for Runners
What is a Percussion Massage Gun?
A massage gun is a handheld tool that massages muscles by providing rapid bursts of pressure in concentrated, short-duration pulses. Think of a mini-jackhammer, but for your muscles.
The idea is that the impact and movement, known as vibration therapy, will help loosen up tight and sore muscles, similar to that of a massage, as well as stimulate blood flow to help increase recovery.
The massage guns are typically battery operated, and have various speed settings to change the intensity of the massage. Most of these massage guns come with interchangeable heads to target different muscle groups and parts of the body.
What are the Pros of Percussion Massage Guns?
Let's first discuss the positives of these massage tools for runners.
Decreased DOMS
Delayed onset muscle soreness, or DOMS, is a runners nemesis . For those unfamiliar with the term, DOMS is that sore, tight feeling that pops up anywhere from 24-28 hours after an intense workout or race. It's caused by microscopic tears that naturally occur in muscle fibers during exercise. DOMS is not only uncomfortable, but it can hinder future workouts by leaving you feeling either too sore to workout, or inhibiting movement patterns because of soreness.
And something as simple as changing your running gait because your hamstrings are sore can actually lead to further injury elsewhere.
According to a study in the Journal of Clinical & Diagnostic Research, vibration therapy is effective in prevention of DOMS when used before exercise. Essentially, the vibration therapy helps prevent mechanical overload of the muscle fibers, resulting in less of the aforementioned microscopic tears the the muscle.
Increased Performance
The same aforementioned study demonstrates that use of percussion and/or vibration therapy before exercise can help:
decrease tissue adhesion, therefore increasing range of motion
decrease accumulation of lactic acid in the blood, therefore decrease time until fatigue
may provide an early reduction of pain (source).
All of these factors may contribute to increased running performance.
Increased Blood Flow = Faster Recovery
When used post exercise, percussion massage guns can help temporarily increase blood flow to the muscle. Increased blood flow helps speed up the recovery process by helping to remove waste product from damaged tissue. Further, the blood provides nutrients and oxygen to the muscle tissue, which help stimulate recovery and regrowth of the tissue.
Pain Relief
Let's say you worked out or raced hard, and despite your best preventative measures, you still have super sore muscles. What have athletes turned to for sore muscles for eons? Massage. Simply put, percussion massage guns FEEL GOOD on sore muscles.
On a more scientific level, vibration therapy may help reduce the perception of pain through same mechanism of pain gate control theory. But what does that mean?
According to this theory, sensory neurons carrying pain sensation and sensory neurons carrying vibratory sensation both transmit signals to the same afferent neurons, which in turn sends information to your brain. The neurons activated by vibratory sensation inhibit the afferent pain nerves, thereby blocking or inhibiting the message sent by the neurons that sensed pain. In other words: the vibration from the percussion massage gun may close the nerve gates to painful input, preventing pain sensation from traveling to the central nervous system.
Provide More Pressure than Self Massage
I don't know about you, but I'm the worst at using self massage tools like "the stick" or even foam rollers. Why? Because I either can't physically apply the pressure needed, or I'm too chicken to try (because it hurts). The battery powered, mechanical percussion/vibration massage guns, however, do not hold back. They provide the intensity my sore muscles need when I can't …or won't…do it myself.
What are the Cons of Massage Guns?
Every single recovery tool has "cons", and percussion massage guns are no exception. Here's what you need to know about the downside of these recovery tools:
User Error
Do you know what you are doing? Are you trained in the science and execution of sport specific massage? Chances are the answer is no (it's OK, most of us aren't). And therefore, there's always a chance that you could end up using the massage gun incorrectly. Or, you could be massaging an area that is experiencing referred pain, and not actually targeting the area that needs help with recovery.
I reached out to someone who is trained in massage, and she agreed. " It (the massage gun) is a tool, so it's only as good as the user." says licensed massage therapist Michele Zeberlein. "If you know what to do and how, then it's a good tool. But it can also cause further issues is used in the wrong way. "
It's important to read the safety instructions that come with your percussion massage gun. And when in doubt if you are targeting the correct area to help with any pain you are experiencing, refer to your physician or massage therapist.
Exacerbating Injury or Chronic Conditions.
Massage guns used on injuries such as strain, sprains, broken bones, or even extreme swelling can potentially make your injury worse. They can further damage the injured tissue, or even increase swelling rate. This will only delay healing time, and may cause more pain.
Further, you should use extreme caution when using a massage gun if you have a chronic pain condition, such as (but not limited to):
Hypertension (high blood pressure)
Rheumatoid arthritis, osteoarthritis, gout, or fibromyalgia
Varicose veins
Autoimmune conditions ( lupus, scleroderma, multiple sclerosis, etc.)
Other conditions that affect your blood vessels (atherosclerosis, peripheral artery disease, deep vein thrombosis or arteriosclerosis)
Osteoporosis (bone degeneration)
Muscular dystrophy or other muscle disorders
As always, defer to your physician if you have questions about massage gun use and any injuries, chronic conditions, or other medical conditions such as pregnancy.
Bulky / Heavy / Noisy
While not the case for every percussion massage gun, SOME of them can be bulky and / or heavy. The first time I used one, I was taken aback by how much heavier it was than I anticipated (now, don't get me wrong, the HydraGun that we own is only 2.3 pounds. Still, I didn't anticipate the weight). It only makes sense, however, as the battery must be large enough to provide power to the motor that moves pretty quickly. (In the case of the Hydragun: up to 3200RPM).
Rely on a Battery
While almost all of the massage guns on the market right now are cordless, they still have a battery that must be charged. Unlike a standard foam roller or handheld massage tool that is human powered, a massage gun won't work without a power source.
So if you're taking your massage gun to a longer event – say an ultramarathon or stage race, you have to be aware of battery life.
Price Tag
This one is huge. I've seen percussion massage guns range from $49.95 all the way up to $1,200. Yes, you read that correctly – twelve hundred dollars for the limited edition, gold plated, G3PRO Theragun. The majority seem to hover in the $100-$300 range. These are definitely an investment, and not a cheap tool like a foam roller.
What Should I Look for When Purchasing a Massage Gun?
If you're like me, looking at the specs of a massage gun will initially leave you scratching your head. You'll be wondering what all of these acronyms mean – and why they matter. So, let me help.
Massage Gun Specs – Explained:
Stroke Length: This is also referred to as amplitude. The amplitude, by definition, is the maximum extent of a vibration or oscillation, measured from the position of equilibrium. In other words, how far will the head of the massage gun travel. Or, how deep will it go into your muscle. Percussion specific guns will typically have a higher stroke length than guns designed to focus on vibration.
RPM: Revolutions per minute. In other words, how many "percussions" (or times the head of the massage gun will hit your muscle) per minute. Typically, the guns come with multiple settings, and RPM ranges anywhere from 1200 – 3200 RPM's.
Stall Force: the weight you can exert on the device before it stalls and stops moving. In other words, how much pressure can YOU put on the gun before the motor stops moving.
Other things to consider:
Other factors to consider are truly going to boil down to personal preference. Consider what you need (and want) from a massage gun. Those factors may include:
Battery life and / or interchangeable battery packs
Weight
Design (is it easy to hold? Can you reach certain angles, such as your shoulders or back?)
Noise level
Attachment heads
So…Do I NEED a Massage Gun for Running Recovery?
The million dollar question – are these massage guns worth it?
Maybe.
The endless advertisements on my Facebook feed right now might be trying to convince me that these are the greatest things since sliced bread. But ultimately, massage guns are simply a tool . They will never completely prevent or solve sore muscles, and they will never guarantee decreased recovery time.
While there is plenty of research pointing to the effectiveness of percussion and vibration therapy for muscle soreness and recovery time, there is also available research that says otherwise.
My thoughts: if you are interested in purchasing a massage gun, first try using one from a friend or with a massage therapist. See if you enjoy the massage, and notice any benefits.
Then, read reviews.
There are countless brands of massage guns available on the market right now. The increased price tag doesn't necessarily correlate to a good product. Conversely, an inexpensive massage gun doesn't necessarily mean it's junk.
And lastly, make sure you actually LIKE the massage gun. Some people may enjoy the feeling of percussion and vibration massage guns, while others may find them anything but relaxing. And if you aren't going to use a recovery tool or method because you can't stand it (like me with ice baths) then naturally, it won't be very effective at all.
Heather Hart is an ACSM certified Exercise Physiologist, NSCA Certified Strength and Conditioning Specialist (CSCS), UESCA certified Ultrarunning Coach, RRCA certified Running Coach, co-founder of Hart Strength and Endurance Coaching, and creator of this site, Relentless Forward Commotion.   She is a mom of two teen boys, and has been running and racing distances of 5K to 100+ miles for over a decade.  Heather has been writing and encouraging others to find a love for fitness and movement since 2009.