Last Updated on September 22, 2020 by Heather Hart, ACSM EP, CSCS
New to running? Wondering how to choose the best running sock for you? I'm glad you asked – because believe it or not, socks are an important topic that can help make or break your running experience.
I mean it: ask any runner what the key to running success is and they will tell you: happy feet.  
Of course there is quite a bit more to the sport of running, but comfortable feet can be the difference between a great run and a miserable one. As any seasoned runner will tell you, having the best running socks specifically for your feet is as vital as having proper fitting sneakers. Unfortunately the importance of choosing running socks is often (and understandably) overlooked by new or inexperienced runners, who may view socks as a second-thought accessory.
5 Tips for Choosing Running Socks
Wearing the wrong socks can trouble a runner with a wide variety of ailments, from minimal discomfort to painful blisters. Over the years as a coach, I've received endless messages from runners wondering why their feet were constantly suffering blisters and abrasions, even after only a few miles. 9 times out of 10, the solution was simply investing in higher quality socks.
So, ready to find the best socks for you? Keeping the following tips in mind while choosing running socks will help keep your feet comfortable, and help ensure continued running success. Let's go: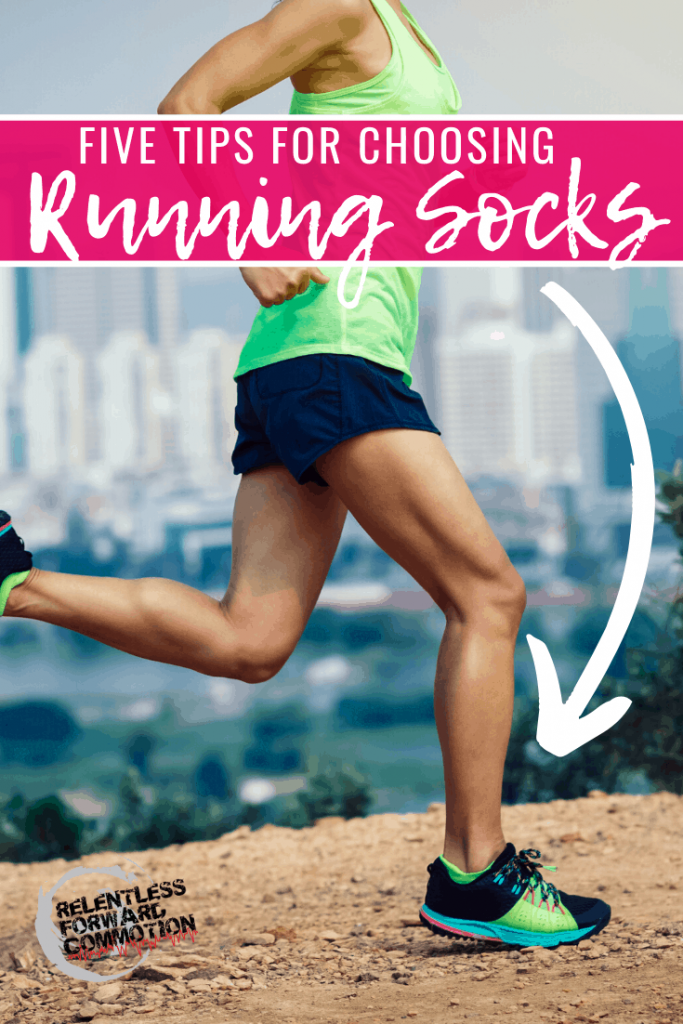 Sock Fabric
A common, sometimes painful mistake often made by inexperienced runners is wearing 100 percent cotton clothing, including socks.  Chances are you have tons of these socks in your drawer already, so it's easy to understand why one would reach for a pair of cotton socks first.
But here's the bad news: cotton clothing tends to absorb and hold moisture. And wet socks may result in painful blisters. No one wants to experience that.
When choosing a running sock, look for synthetic materials, such as acrylic, polyester, or other quick drying, sweat absorbing, technical materials. These materials will help wick sweat and moisture away from your skin, keeping your feet comfortable and helping to prevent blisters.
For cool weather runners, or simply those looking to go a more natural route, running specific wool blend socks, such as those from SmartWool or Darn Tough will also help wick away moisture while keeping the feet warm.
If you take nothing else away from this post, remember this: cotton is not a runners friend.
Sock Thickness
The thickness of your running sock is often a personal preference. While some may prefer a thin, minimal sock, others may prefer to have a significant amount of cushion.   Some socks, such as the brand Wright Sockoffer double walled thickness to, in theory, help prevent blisters. 
When deciding on what thickness you would like, consider the sort of activity you will be participating in. Some longer distance runners prefer to have some added cushion in their sock, while shorter distance athletes prefer a light weight sock. If you are running in a colder climate, having a thicker sock may help keep your feet warm.

Lastly, it is important you consider what sneakers you will be wearing with the socks. A super thick sock many not fit well in a minimal shoe. Conversely, a high volume shoe many need a thicker sock to help it fit appropriately. Try the socks on with your current pair of sneakers to ensure that the thickness does not compromise the proper fit of your sneaker.
Sock Style
While the style and length of a running sock again may boil down to a personal preference, there are a few other points to consider.
If you are running on trails with thick vegetation, you may want to consider crew length, or even knee high socks, to help prevent debris entering your shoe, scratches from shrubs, or even dangerous insect bites.
Running through snow? You might want to consider a sock that comes higher up on your ankle, to help protect your skin from the elements.
Consider the fit of the sneaker you will be wearing, and if there are any parts of the shoe that will be rubbing against your heel that you may want to protect with a taller sock. 
Have constant issue with blistering between toes?  Try toe socks, like the popular Injinji brand.
Or maybe you're on roads and treadmills all of the time, in which case, a low cut sock may be perfect for you.
Ultimately, the best running sock style for you will vary based on what you are using them for. If you are like me, you'll end up with a drawer full of socks of various styles, as you'll use them in different situations.
Size & Fit
Running specific socks are typically measured in shoe size. It is imperative that you wear a properly fitting sock. Wearing socks that are too big may lead to friction issues, which may lead to painful hot spots and blisters.
However, wearing socks that are too small may be equally as damaging, by constricting blood flow, toe movement, and potentially changing your running bio-mechanics. 
Not sure what size you should get? A local running store will be able to help suggest the right size sock based on your foot and your needs, and likely even let you try a pair on before purchasing them.
Compression
Compression socks are incredibly popular in the endurance community, and for good reason: the increased blood flow due to graduated compression may help with recovery or preventing issues such as muscle cramps and shin splints. 
However, compression socks may also become uncomfortable over time if the compression they provide causes the sock to become too tight. 
If you choose to run in compression socks, be sure to wear the correct size (see above) and test them out over shorter distances before completing long runs, as your feet may swell over the longer miles.
What is the Best Running Sock for You?
If you've come here looking for an exact answer to "what is the BEST running sock", well I'm sorry to disappoint you. The answer is, the best running sock for YOU is going to vary based on your needs. I can tell you that in the last decade (plus) of running, I've become quite fond of the following brands, and would recommend them as a great starting point:
Feetures!
Balega
Darn Tough
Smart Wool
But Coach Heather: Why Are Running Socks So Expensive?
By this point, you've likely searched up some of these brands, and perhaps had a bit of sticker shock at the pricetag. Believe me, I get it. Paying $15-$20 for one single pair of socks does seem absurd.
But trust me: it's worth it to avoid the discomfort that comes with running in the wrong socks. And, believe me when I tell you that these socks are high quality, and will last you thousands of miles or more.
Invest in your feet: you won't regret it.
While socks may seem like a small part of the running apparel equation, experiencing pain from uncomfortable feet might ruin an otherwise enjoyable run or race. Wearing the proper socks while running will help keep your feet dry and cool, help prevent blisters, and help prevent buildup of unwanted bacteria. Be sure to keep the above tips in mind when shopping for running socks, to keep your feet happy and healthy.
Heather Hart is an ACSM certified Exercise Physiologist, NSCA Certified Strength and Conditioning Specialist (CSCS), UESCA certified Ultrarunning Coach, RRCA certified Running Coach, co-founder of Hart Strength and Endurance Coaching, and creator of this site, Relentless Forward Commotion.   She is a mom of two teen boys, and has been running and racing distances of 5K to 100+ miles for over a decade.  Heather has been writing and encouraging others to find a love for fitness and movement since 2009.