Last Updated on December 19, 2021 by Heather Hart, ACSM EP, CSCS
When it comes to ultramarathon events, the possibilities of distances and course types are endless. If you're new to the ultra world, you might feel a bit overwhelmed by the variety. The truth is, the logistics of creating and setting up an ultramarathon course can often result in some creative course design for race directors. After all, it can be difficult trying to find a 50- 100 mile, uninterrupted trail for runners to traverse. Add in permitting for land use, aid stations, and other logistics, and it's no surprise that there are so many different styles of ultras, and a huge variety of actual distances offered
In this post, we discuss 8 different ultramarathon race formats, as well as common ultra distances. We'll talk about the pros and cons of each style or distance. Lastly, we'll hear from some ultra runners as to why they love – or hate – these formats. (That's right, I'm sharing more than just my own opinions this time…)
Common Ultramarathon Distances:
Let's start with the easy part: discussing the most frequently seen distances offered as organized ultra events.
As you probably already know, an ultramarathon, or an ultra for short, is technically any race longer than a marathon, or 26.2 miles. That said, most people will tell you that an official "ultra" starts at the 50K mark. So that 26.7 mile marathon – because you didn't run the tangents -doesn't count for ultra status.
I'm sorry. I don't make the rules.
Common ultramarathon distances include:
50K
31 miles. The "intro" ultra distance, but still downright terrifying when you remember how hard a full 26.2 marathon can be. Personally, I'll argue that a 50K on trail is significantly easier than a marathon on the pavement, but that just may be my dirt loving bias.
The 50K distance is a great place for a beginner ultramarathoner to start. Not simply because it's the "shortest" distance ultra (distance, of course, being incredibly relative!) but because this distance is typically logistically less complex. You more thank likely won't need to worry about drop bags, crew check points, or overnight running.
50 MILER
50 mile race. Or, 80.47 kilometers, which it is actually never referred to as, at least not here in the United States. I honestly can't begin to explain why some races are referred to in kilometers, others miles, in the ultramarathon world. We like round numbers, I guess.
If you really want to experience the world of ultra on your first try, a 50 mile event (or something close to that distance, such as a 40 or 45 miler) is your best bet. The 50 mile distance will truly give you a taste of what it feels like to run ALL DAY LONG, and physically push yourself to your limits, without having to run overnight or push through sleep deprivation, like in a 100K or 100 miler.
100K
62 miles. Long enough to be an insane accomplishment, but short enough to leave you with the terrifying realization of "I'd still have to run ANOTHER 38 miles if this was a hundred miler".
100 MILER
The "I don't even like to drive this far" distance. In the ultra world, the 100 miler is akin to the marathon for brand new runners. It's a seemingly out of reach, crazy, "I could never do that" distance…but secretly deep down you DO want to see if you could actually do it. Plus, when you finish you get a kickass belt buckle (more on that later).
200 MILER
Yes. People actually run this far. In fact, day by day it seems that the 200 miler is becoming the new 100 miler (and the 100 miler is the new marathon) as far as popularity goes. I foresee more and more of these popping up in the future. Maybe even one in my future (don't tell my husband).
OTHER DISTANCES:
Because ultramarathons are typically held on trails, non traditional race distances, such as 40 milers, DO exist. This is often because it logistically makes more sense for the race to start and finish at locations that simply don't work out to an even 50K or 50 miles.

Further, there are indeed plenty of races longer than 200 miles held as one individual event (not a stage race).
Types of Ultramarathon Race Formats:
Now that we've covered the most common distances offered in the ultramarathon world, let's discuss how race directors tend to spread out those ultra distances.
Note: the ultramarathon race formats and course designs listed below are the most commonly seen varieties, but they are certainly not ALL of them. Truly, a course design is only limited to the race directors imagination.
Point to Point (A to B)
A point to point course is an ultramarathon that starts in one location and ends in another location. The course never doubles back upon itself. An example of a famous point to point course would be the Western States Endurance Run 100 miler.
"I like the sense of getting closer to the actual finish line with each step. There is also a greater sense of accomplishment to know that you spanned that great distance, instead of the same distance over and over again. I also enjoy the change in scenery, in trail type, and just other experience that comes along in a long point to point." – David Pharr
Point to point courses are perfect for those who get bored seeing the same scenery. However, point to point courses certainly require more logistics. Where will your crew meet you? Will you need to leave drop bags at various aid stations to have access to your gear? If you've left your car at the starting line, how will you get back to it? Of course, most races and race directors have these logistics somewhat worked out for you, but it is still something to consider.
Related post: Preparing your Crew for an Ultramarathon – 9 Steps to Take
Out and Back (A to B to A)
An out and back course runs from the start, to a halfway point, then turns around and comes back to the start/finish on the same course. Some race directors will utilize a shorter out and back course for multiple distances. For example, a 25 mile out / 25 mile back course could be run once for 50 mile participants, and twice (out, back, out, back) for 100 mile participants.
From a psychological stand point, out and backs can be a blessing or a curse. The good news: once you hit the turn around, you have visual cues to let you know exactly where you've been and how much further you have left to go. The bad news: once you hit the turn around, you have visual cues to let you know exactly where you've been and how much further you have left to go.
" Mentally if I make it to the halfway point, I've GOT to make it back to the start. I use that (out and backs) for training runs to force myself to do a set distance too." – Eric Goodwin
My favorite thing about an out and back course is that I get to see – and cheer on – both the runners ahead of me and the runners behind me.
Single Loop
A single loop course starts and finishes at the same location. However, the course covers one giant loop, giving it the same "never see the same thing twice" appeal as a point to point race.
" If I can't see my car I'm less likely to want to get in ." – Andrea Webb
The great thing about a looped course is that you don't have to worry about the same start/finish logistics as a point to point. You start and finish in the same location.
Multiple / Short Looped Course
Multiple Loop courses can vary greatly in distance. I've run a looped 100 miler that consisted of 16 (ish) mile loops, and I've run looped ultra courses that consisted of 1.9 mile loops.
The benefits of shorter distance looped courses include:
Not having to carry a bunch of stuff
Seeing your crew frequently
Rarely is there any isolation, you're almost never alone
Ability to change gear frequently if necessary
The cons of shorter distance looped courses include:
Monotony
The potential to waste a ton of time
The temptation to stop often (especially when you see other people relaxing!)
"On the one hand, I liked being able to count down how many loops were left. Plus you could leave your stuff and have whatever you needed on hand every few miles. On the other hand, if you don't like your course then you're screwed for however many loops long. " – Rachel Frutkin-Beachler
Of all of the ultramarathon race formats, short looped courses are my favorite…though they aren't for everyone, especially if you get bored easily. Looped courses are great for newer ultra runners who may want to push their current barriers, but are timid about being "out there" for too long. Or for those, like me, who thrive on the energy of the start/finish line and your crew. A short looped course also gives you the opportunity to stop often, which can be both a blessing and a curse.
Related post: 6 Tips for Running Short Looped Ultramarathon Courses
TRACK COURSE
Believe it or not, ultramarathons of all times and distances are sometimes held on tracks. Yes, the same ones you see track and field runners competing events like the 100 meter dash on.
Track ultras are a fantastic opportunity for runners to try and set time PR's for specific distances, or beat their best distance covered in a timed race. In fact,
Lollipop Course
A lollipop course is a combination of an out and back and a loop. Essentially, creating the shape of a lollipop. You run out on the "stick", around the loop of the "lollipop" then back to the start/finish on the "stick". These can be run once or multiple times, depending on the course distance and the race total distance.
Distance vs. Timed
In distance specific races, you finish the race once you've completed the set distance/course. This is probably the most common racing format among all running races, not just ultramarathon.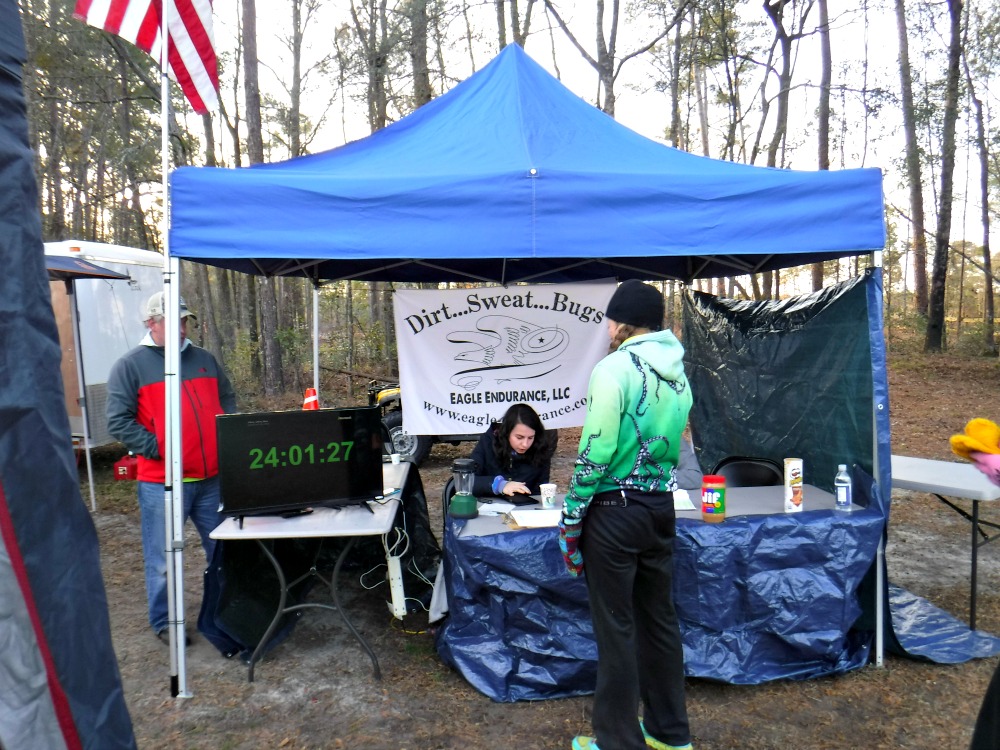 On the other hand, timed courses are quite popular in the ultra running world. The premise of a timed race is this: you are given a certain amount of time to complete as much distance as you can. Typically, timed courses are on short distance looped courses, or a short distance out and back. While the time provided can vary, you often see them offered in 6, 12, and 24 hour options.
" Timed loop events challenge you mentally but allow you to run light and do a lot of experimenting with food and hydration as a means to train for another event. Plus if you really want to bail you can just join your friends drinking beer and heckling from the start/finish . " – Jennifer Raby
Timed, short loops or short out-and-backs are a great opportunity to push yourself to see what you are capable of. As there is no specific finishing distance, each runner can decide how hard they want to push themselves to achieve specific goals. Some runners use timed, short loops to achieve a new distance goal with a huge time buffer (for example, 50 miles in 24 hours). Others will use it to squeeze absolutely as much distance as they can out of the entire time provided.
Stage Races
A stage race is typically a point to point race broken into specific, shorter segments to be completed over multiple days. Unlike a relay race (such as Ragnar or Hood to Coast), where participants share the overall distance as a team, stage racers complete the same distance as their competitors each day. Nights are spent at the same location resting, and everyone starts the next stage together the following morning. The winner is determined by fastest total time for all segments combined, rather than who gets to the ultimate finish line first.
The benefits of a stage race include being able to cover much larger distances, broken up into smaller, easier to achieve splits. Because the stages are almost always run during the day, you are able to experience more terrain / see more sights than you would running through the night and in the dark.
Plus? A stage race is like summer camp for runners. It's a TON of fun.
The cons of a stage race, of course, is that you are running large distances for MULTIPLE days on end, which can be physically and mentally exhausting.
Related post How to Train for a Multi-Day Running Event: Stage Race Survival Guide
Backyard Elimination Style
This style of race is inspired by the infamous "Big's Backyard Ultra". The concept is this: the race has no set distance or set time. However, every hour, ON the hour, runners must run a specified distance (to be a true "backyard" ultra, it must be 4.167 miles) in less than one hour. You MUST be present to start the next loop at the top of the next hour. If not, you are eliminated. If you finish your loop well before the hour is up, you can spend that time resting, eating, etc., but you cannot start running again until the top of the hour.
This continues for as long as it takes until there is only one runner left standing (the current record is 354.2 miles in 85 consecutive hours, set by Harvey Lewis in 2021).
This type of race is perfect for those who are competitive, and are not swayed by the idea that there isn't a set finishing distance. You could be running for 20 miles or you could be running for 200 miles!
Now, while an official "Backyard" ultra must be 4.167 miles on the hour, this time vs. loop concept is used for other races as well. For example, the Carolina Reaper Challenge in Greenville, SC offers a 50K, marathon, and half marathon, where you run a 2.62 mile loop every 40 minutes. It's not elimination style, the race is finished once you reach the specified distance (of course, if you miss the start of a loop, you are out). Winners of this style race are determined by the least cumulative running time for the specified distance.
_______________________________________________
While these 9 types of ultramarathon race formats are the more common types, there are certainly other formats available. Ultrarunners and ultramarathon race directors are constantly looking for new ways to push the limits of human running potential.
If you've run any of these ultramarathon race formats, share your pros, cons, and favorites in a comment below!