Last Updated on February 9, 2023 by Heather Hart, ACSM EP, CSCS
As a self proclaimed ambassador of trail running, it is my mission to make sure that all runners understand the kick-ass reasons why they should incorporate trail running into their training…at least some of the time.
There are numerous scientifically proven benefits of trail running that span across both physical and mental health, making it an ideal form of exercise or sport specific training for almost everyone.
But I wasn't always a believer.
In 2011 I was an avid road runner with my sights set on training to run a coveted Boston Marathon qualifying time. Trails? No thank you, they would only slow me down, and as I naively used to believe, put me at greater injury for things like goal-race-ending-ankle sprain.
But that same year I unexpectedly moved from suburban South Carolina to the Green Mountains of Vermont. It was there that I realized the local trails were more conducive to logging miles than the roads. I unexpectedly fell in love with trail running, and (almost) never looked back.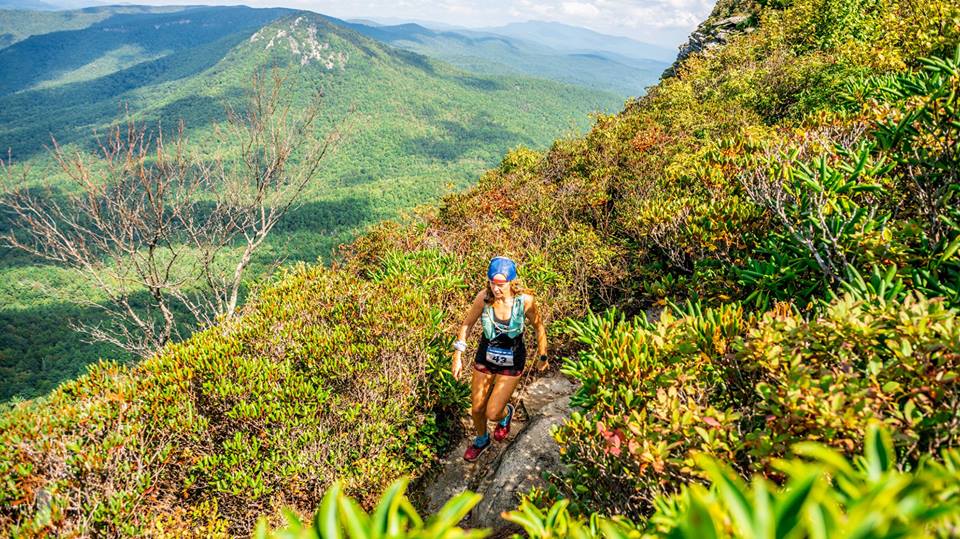 Over a decade later, I can confidently say that trail running has made me a better athlete, and a better human being.
And while I certainly don't mean to imply that every runner should ditch the roads and hit the trails (this is not a "which is better" debate of trail running vs. road running) as an exercise physiologist and a professional coach, I do believe that all runners can benefit from hitting the trails from time to time. And I'm going to tell you why.
In this post we'll cover:
6 scientifically proven physical benefits of trail running: This one gets a little in depth, covering common questions like "is trail running better for your joints?" and "what muscles does trail running work?".
6 research backed mental benefits of trail running: Yes, there's more to it than simply the fact that so many of us find it fun!
5 bonus benefits to hitting the trails: Lastly, incase the above reasons haven't convinced you to try trail running quite yet, I'll present you with my own personal bonus list of why trail running is so great.
Get ready to get dirty.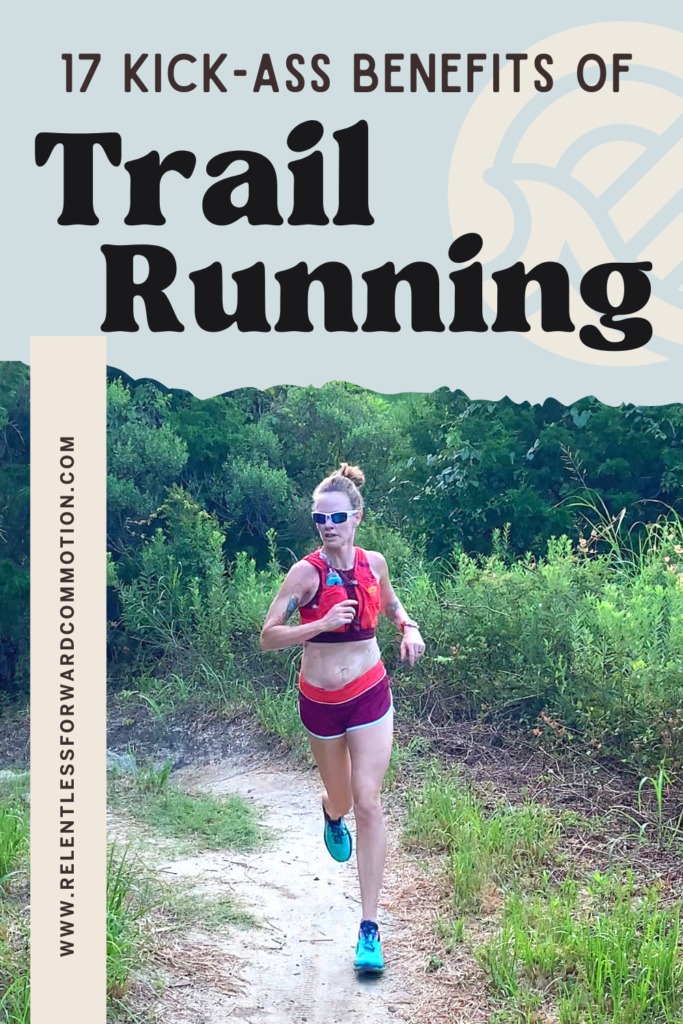 6 Physical Benefits of Trail Running
Want to get stronger, build endurance, or become a better athlete? Trails may help! Let's start by looking at all of the excellent ways trail running can help make you not only a better runner, but an overall healthier human:
1. Improve Balance and Coordination
Trails are often uneven and covered in obstacles and hazards, such as rocks, tree roots, mud, and even the occasional wildlife. Believe me, I've tripped over all of them many times.
In order to prevent stepping on or even falling over such hazards, a far greater level of bodily awareness is required than typically needed when running on paved roads. The greater bodily awareness combined with the constant shifting of your body weight to avoid such obstacles while running will help increase your overall balance and stability.
And while learning how to glide over trail obstacles as effortlessly as a mountain goat sounds amazing, improving coordination and balance is important for aging human beings in general.
Balance and coordination declines with age, for a number of reasons. But research shows that you can slow down that decline by challenging your balance and coordination through exercise.
A 20120 review published in the International Journal of Behavioral Nutrition and Physical Activity looked at 116 studies, involving 25,160 participants and determined that exercise programs that primarily involve balance and functional exercises reduce falls in older populations by 23%. (Sherrington,)
A common fear among newer trail runners is that they're going to trip and fall. It's true, there is always an inherent risk of injury when you run over surfaces littered with obstacles.
So I won't lie…chances are you probably will fall at some point. But the more you trail run, the better your balance and coordination becomes, meaning those falls become very few and far between.
2. Build Stronger Muscles
Trail running challenges runners to use their bodies and muscles in a completely different manner compared to road running, which can help athletes build stronger muscles.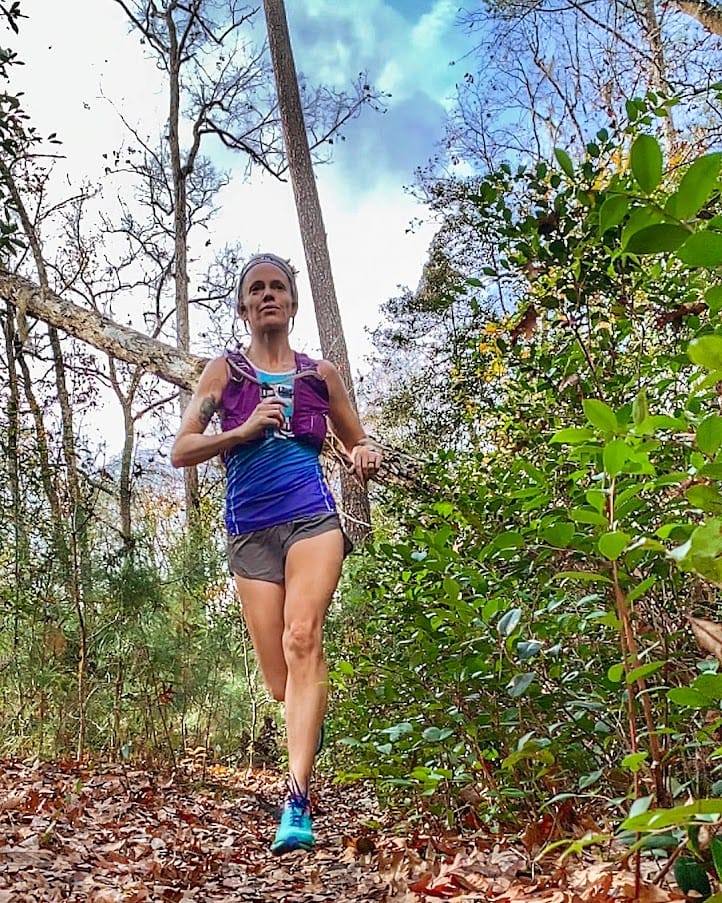 A 2022 study set out to compare the differences in strength, power, running economy, and biomechanics in elite road runners vs. trail runners. Researchers found that trail runners were stronger and more powerful when measured with a bike-sprint test compared to road runners, despite the fact that road runners reported to spend 81% more time training. (Saboteur)
The study was small, and the authors admit this warrants further investigation, but suggest the greater leg strength may be due to the fact that varied and constant uphill of trail running results in greater muscular strength and power.
How Does Trail Running Make You Stronger?
Anytime you place resistance against a muscle and force it to work at a level harder than it is currently accustomed to, you're going to build strength. But here's how trail running affects your body differently than road running:
To maintain that balance, more muscle groups are activated throughout your run to compensate for the constant shifting of your body weight and unpredictable foot strike. This includes smaller stabilizing muscles in your legs, ankles, feet, and even your core, that might not contribute as much to predictable road running movement
The aforementioned obstacles and unpredictability with foot placement forces trail runners to use more lateral movement patterns, compared to the predicable forward movement of running on roads.
The often steep grades of the climbs and descents you experience on trails forces your legs into greater concentric and eccentric (shortening and lengthening of muscles) muscle contractions, similar to that of strength training.
Because the softer terrain of trails absorbs more force and provides less rebound than pavement, the quadriceps, hip flexors and gluteus muscles are forced to work more in order to both provide forward movement, and stabilization, than they do on a pavement. The softer the trail (such as sand), the harder they work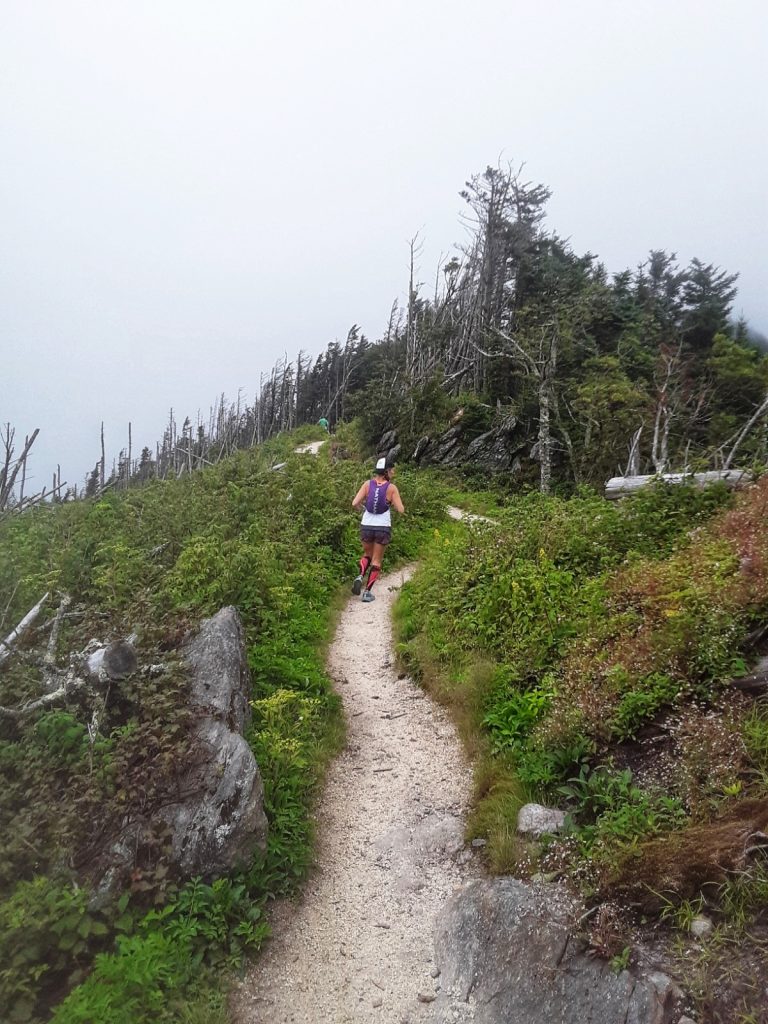 What Muscles Does Trail Running Work?
Trail running truly can be a full body workout, working almost all of the muscles in your whole body. However, the major movers in trail running are going to be that of your lower body. These muscles include:
Quadriceps
Hamstrings
Glutes
Hips (Adductors & Abductors)
Calves (Gastrocnemius & Soleus)
Feet
Abdominal
That said, if you utilize trekking poles, (or have to climb up and over big rocks!) the muscles of the upper body will be involved to see extent. These include:
Back
Shoulders
Chest
Triceps
Biceps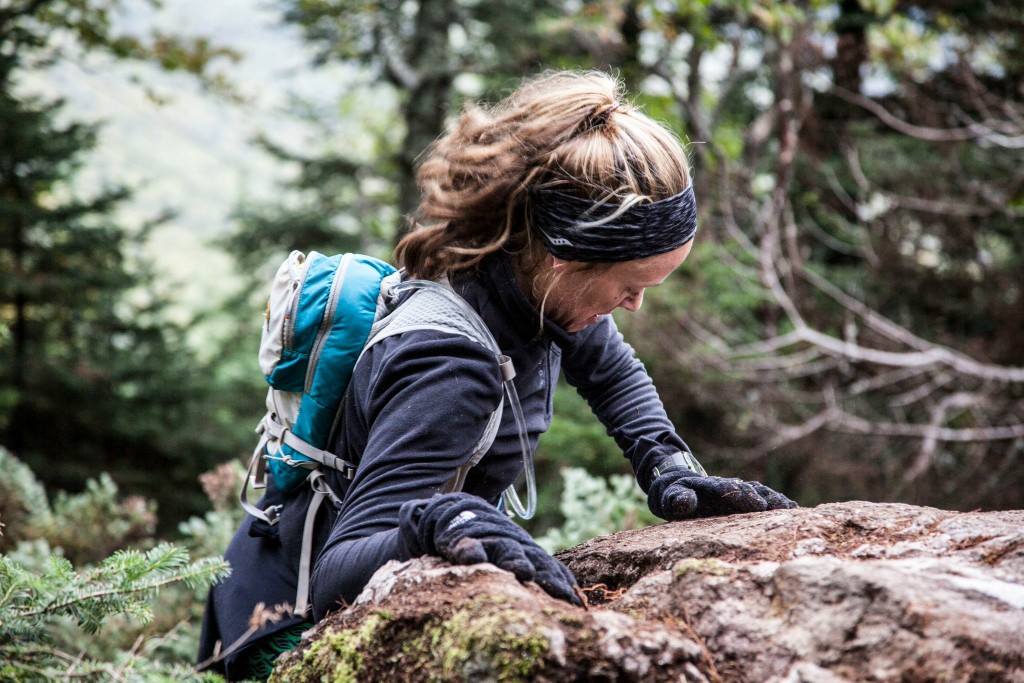 Does Trail Running Work Your Core?
The muscles in your core are vital for helping maintain balance and stability, and trail running will absolutely challenge them.
Remember, your core muscles consist of more than just your abs. The "core" refers to everything in your lumbar-pelvic (trunk) and hips area – which includes almost 35 different muscles! So think not only the rectus abdominis (the "6 pack"), but the other three layers of abdominal muscles, low back, hips, and glutes.
While trail running will work your core, adding core focused strength training into your routine will in turn help improve your trail running performance.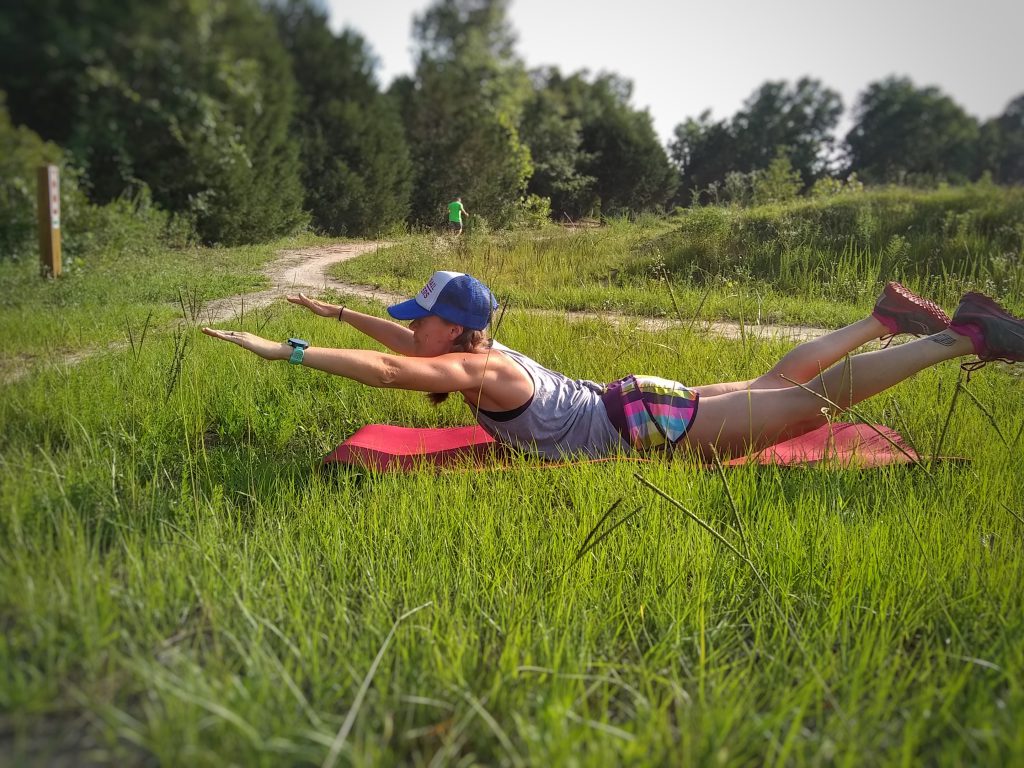 3. Increase Ankle Strength & Stability
So many road runners fear that hitting the trails will result in a sprained ankle from tripping on a root or rock, but the truth is, trail running can actually help increase ankle strength and stability in the long run!
As mentioned above, the varying terrain of trails combined with numerous obstacles forces greater proprioception (a fancy word for perception or awareness of the position and movement of your body in space at any given time) and muscle engagement, specifically stabilizing muscles, such as those in the foot and ankle.
You can't strengthen what you don't work, and often times the monotonous, one direction movement of road running leaves these stabilizing muscles and ligaments underworked. This is why as coaches, we typically see sprained ankles more often in road runners, versus trail runners.
4. Lower Impact On Your Body Compared to Road Running
Trail surfaces are typically softer than that of pavement or concrete. As a result, less force is being applied to your body from the running surface, specifically your legs, resulting in less impact and lower stress placed on the body compared to road running.
Varying the surfaces that you run on throughout your training may help prevent injuries that occur due to overuse and impact.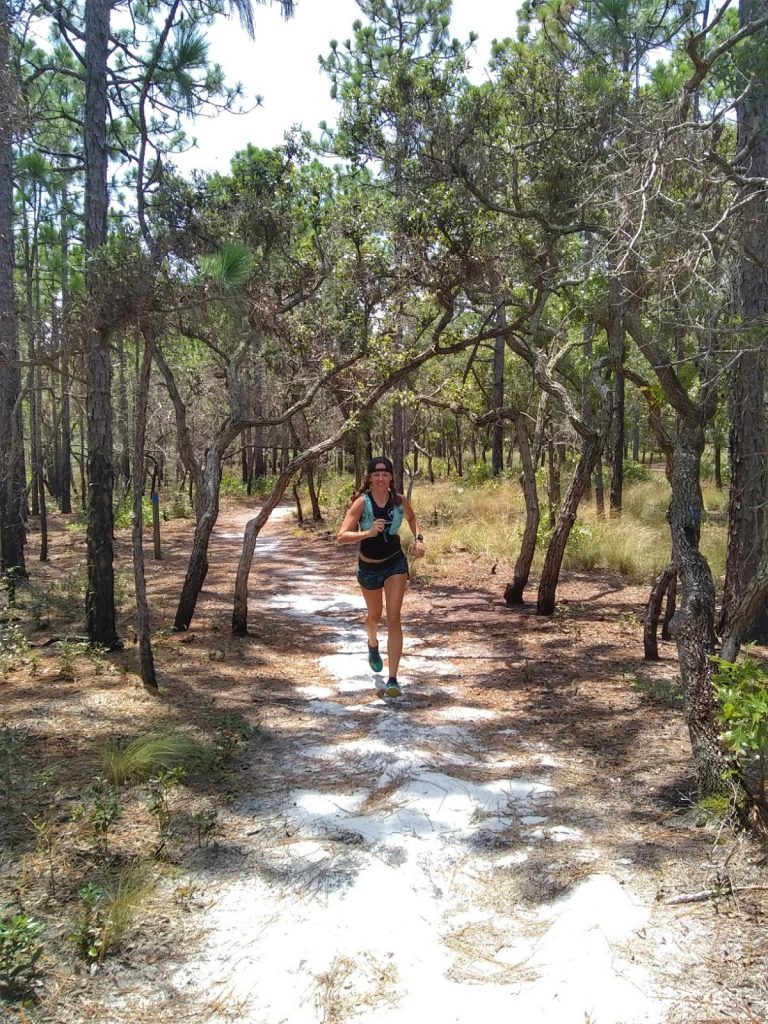 And trail running surfaces certainly do vary! You may encounter everything from soft sand, to hard packed dirt, to crushed gravel, to a trail so littered in rocks and boulders, you're not even sure exactly where the trail is.
Is Trail Running High Impact?
It's important to note that even though trail running is lower impact compared to running on pavement or concrete, trail running is still technically a high impact sport.
High impact denotes an exercise that requires both feet to leave the ground at the same time. No matter what surface you run on, both feet will be off the ground at some point during your running gait.
Is Trail Running Better for Your Joints?
While the idea that 'running is bad for your joints' is practically as old as the sport itself, research continues to prove this idea wrong.
A 2017 meta-analysis of 25 studies and 125,810 recreational runners found that the runners had a lower chance of developing knee and hip arthritis compared to nonrunners/sedentary individuals and competitive runners (JOSPT 2017)
But, if road running isn't as bad for joints as naysayers claim, are trails even better? Maybe! A 2019 study comparing the structural integrity of the Achilles tendon in road runners versus trail runners found that the trail runners as a whole had stronger Achilles, suggesting that running surface does play an effect on prevention of injuries (Dar)
If you find road running is uncomfortable, trail running may feel more agreeable to your body.
5. Improve Cardiovascular Health
Trail running is a fantastic way to help maintain or improve cardiovascular health.
The truth is that any form of exercise that increases both your heart rate and ventilatory (breathing) rate counts, and contributes to the minimum recommended aerobic exercise suggested by the most recent Physical Activity Guidelines for Americans.
(Which, if you were wondering, is a minimum of 150 minutes of moderate or 75 minutes of vigorous aerobic exercise per week. More is better.)
In fact, 2020 systematic review states that running is associated with a lower risk of death related to cardiovascular disease in both men and women (Pedisic,Z. et al, 2020)
Is Trail Running Harder Than Road Running?
Despite being lower impact and potentially "easier" on your joints, in may ways trail running is harder than road running. This is because of the wildly varying and unpredictable terrain, but also because the softer surface absorbs more impact with each landing, which means there's less energy return, requiring a runner to use MORE force to push back off of the ground with each step.
Between the energy absorption, and the fact that you naturally need to pay more attention to where you place your foot with each step, trail running is typically slower going and harder than road running.
Will Trail Running Make Me Faster?
Have no fear – the slower times and harder effort of trail running may correlate to faster road running times. The increased strength you build while trail running, added to the possible increased foot turnover while avoiding obstacles will leave you feeling like road running requires far less effort.
6. Dirt is Good for You
When you trip, fall, and wind up with dirt all over your palms, take comfort in knowing that it's good for you.
A number of budding research studies demonstrate ways exposure to microorganisms in dirt may have a number of health benefits, including:
boost immune system strength
lower risk of developing allergies or asthma
increased brain resiliency to the physical and behavioral effects of stress (Frank)
What are the Mental Benefits of Trail Running?
But wait, there's more! In addition to being really great for your physical well being, runners can reap the rewards of a number of psychological benefits of trail running as well!
7. It's Good for Your Brain
Heading off of the beaten path and spending time in green spaces can have an incredibly positive impact on your mental wellbeing. Studies show that spending time in nature while trail running can:
I'm not making it up when I say trail running makes you happy!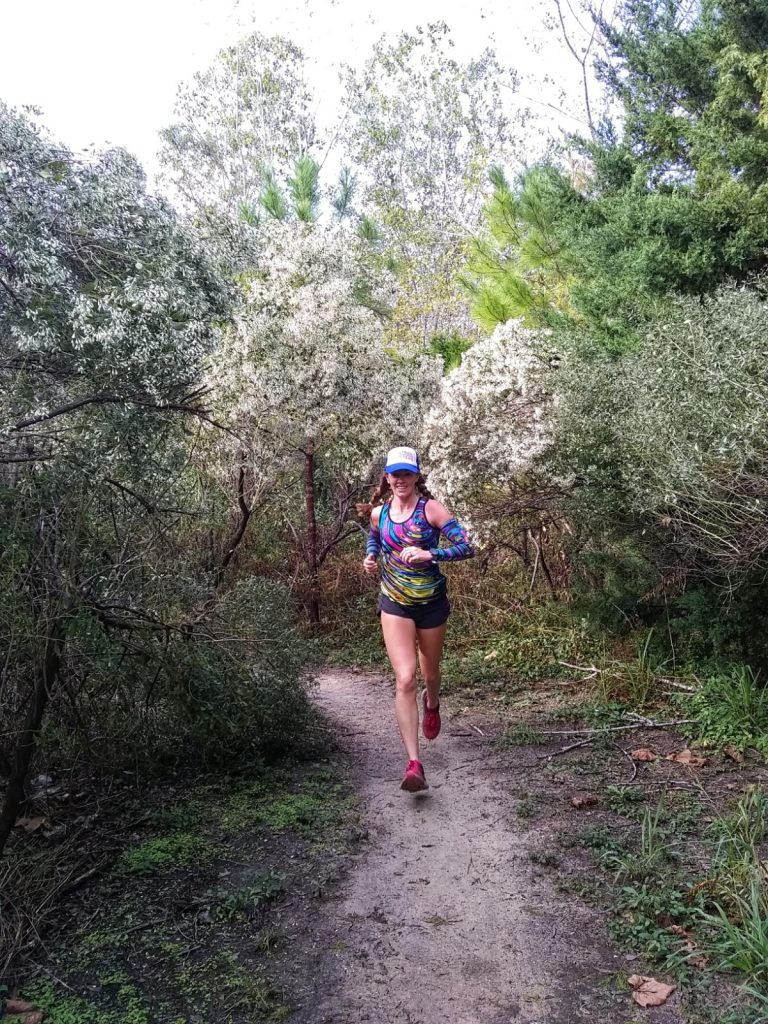 Further, because of all of the obstacles that need to be avoided, and making sure you stay on the right path and don't get lost, trail running certainly forces runners to stay more alert, exercising your brain as you run!
8. You'll Build Mental Strength
On the other end of the "happy" spectrum, trail running can be incredibly difficult at times, forcing you out of your comfort zone. The unpredictability of Mother Nature means that you may encounter less than ideal trail conditions, or trails that truly challenge your fitness and willingness to go on.
Learning to push through these sometimes unpleasant trail conditions (like shin deep water and soaking wet socks!) or bad weather (the wind ripping across a mountain ridgeline) increases your mental toughness.
9. Learn the Art of Patience
Trail running can often be MUCH slower going than road running, forcing runners to learn how to be patient. As already discussed, the slower pace is due to both the softer surface (more effort required), and having to slow down to navigate more technical terrain
You'll learn to value your workout accomplishment by so much more than just your pace, a measurement that is highly focused on with road running. Rather, you'll look at things such as how technical the trail was, how much vertical gain and loss you had, how you were able to overcome some difficulties to complete the workout…or simply by how much fun you had.
Trail running will make you realize it's not about how quickly you finished the run, but about the experience you had while you were out there.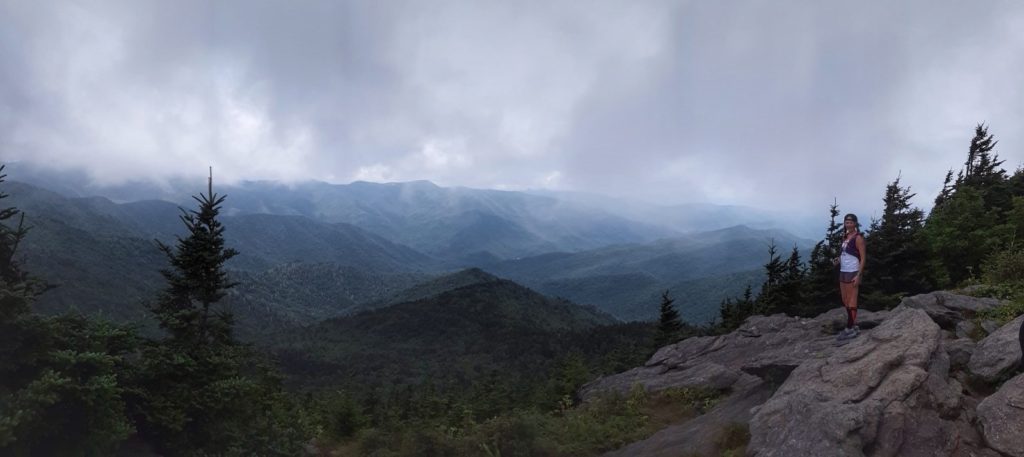 10. Adventure Builds Confidence
The very nature of trails provides an instant sense of adventure. Many love the primal thrill of being isolated in nature. Other's find it intimidating.
But mastering the art of navigating a trail while running can help you build confidence in your ability to tackle these difficult tasks!
11. Avoid Monotony
Forget the same old view of flat pavement and cookie cutter suburban homes. Trails are a constant adventure. The uneven ground and ever-changing terrain will keep you mentally engaged…in order to avoid falling.
And if you choose to participate in trail races, you're in for a real treat: no two are EVER the same. Forget trying to break your trail marathon PR between two different courses: one may be flat, but cover sections of knee deep water, while another may have 5,000+ feet of vertical gain you need to climb over the course.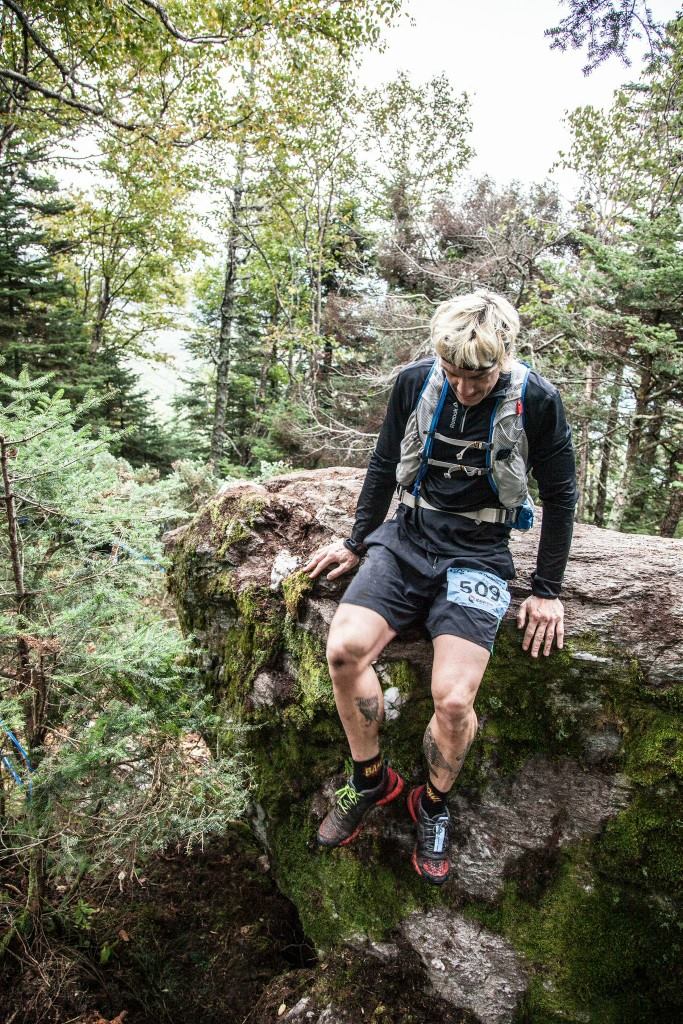 12. Experience a Runner's High
The Runner's High is a state of pure bliss induced by any given run of no particular difficulty or distance. The runner's high is definitely one of the reasons that runner's continuously keep coming back for more.
A runner's high is the result of your body releasing feel-good hormones, such as endorphins, norepinephrine, dopamine, serotonin, and endocannabinoids, during exercise.
I have absolutely no scientific proof to show that this happens more frequently while trail running versus road running. But anecdotally? I totally believe it to be true.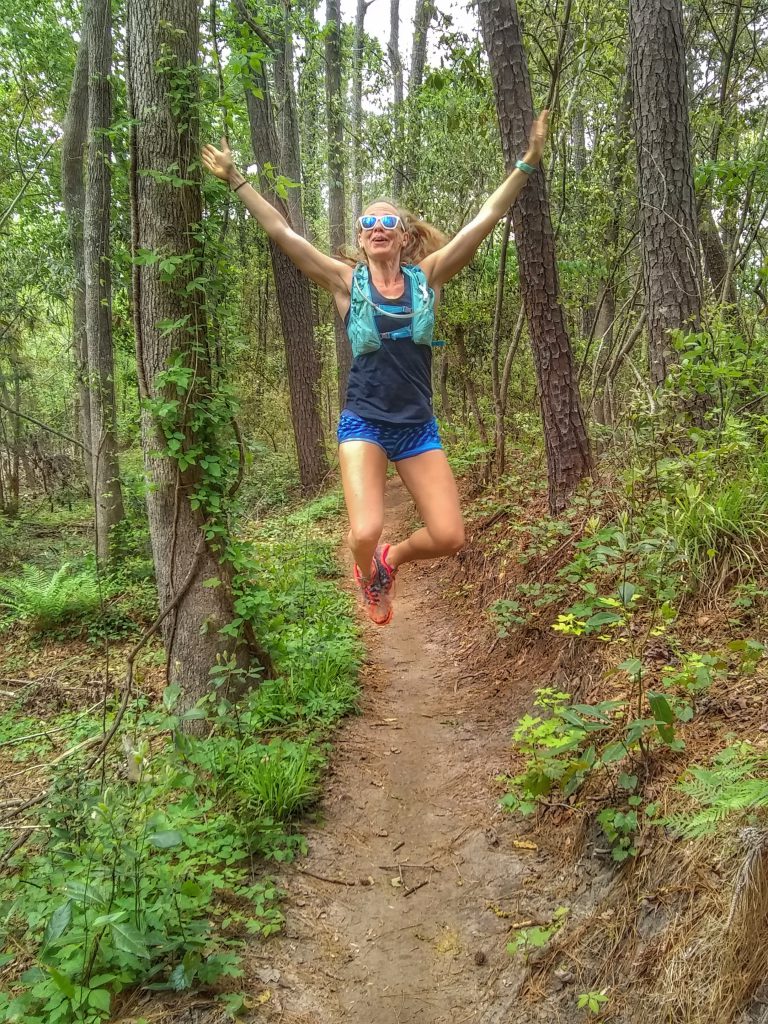 Bonus Reasons to Hit the Trails:
Need some more reasons to hit the trails? I've got them for your. Granted, the following reasons are highly subjective, but his is my post after all, so I'm going to share them.
13. You Get to Avoid Traffic
Even die-hard road runners will likely agree: drivers are terrifyingly distracted these days. I cannot remember the last time I was able to completely zone out during a road run, as I am constantly watching cars and anticipating their moves, for my own safety.
Sometimes I end a run feeling more stressed than when I began.
On the trails, you don't have to worry about distracted drivers. Snakes? Maybe. Mountain bikers? Occasionally. But fortunately, no multi-ton vehicles.
14. The Community is Awesome
Trail running is an excellent way to meet some kick-ass people.
I am certainly biased, but I believe that trail runners are some of the kindest, most adventurous souls out there. While I certainly love my road running friends, there is a completely different vibe among the trail community that should be experienced, at least once, by all runners.
15. You'll Feel Like a Kid Again
Trail running is akin to being a kid on a playground. There are puddles to jump in, streams to jump over, logs to cross, rocks to climb, and trees to duck under. And nary a "grown up" around to try and stop you.
16. You Get to Buy New Gear
Admit it, what runner DOESN'T love an excuse for buying another new pair of shoes?
While you don't necessarily have to wear trail specific shoes in order to run on a trail, most runners understand that having the right shoes for any given training or racing situation can be the difference between an enjoyable run and a bad one.
Plus, if you really want to dive in, there's hydration packs, trekking poles, gaiters…the gear list can go on and on, if you're looking for an excuse to shop!
17. It's the Gateway to Ultrarunning
Hey, don't get mad at me, I'm just the messenger.
Ready to Hit the Trails?
Now that you know all of the amazing benefits of trail running, I'm hoping you can't wait to hit the trails yourself. Check out the following related beginner friendly trail running posts to help you get started:
How to Start Trail Running: 10+ Tips to Transition from Road to Trails
Trail Running Gear for Beginners: What You Really Need (and What You Can Skip)
8 Trail Running Safety Tips Every Runner Needs to Know
11 Trail Running Etiquette Rules for Safety & Sustainability
References:
Atchley, R. A., Strayer, D. L., & Atchley, P. (2012). Creativity in the wild: improving creative reasoning through immersion in natural settings. PloS one, 7(12), e51474.
Berman, M. G., Kross, E., Krpan, K. M., Askren, M. K., Burson, A., Deldin, P. J., Kaplan, S., Sherdell, L., Gotlib, I. H., & Jonides, J. (2012). Interacting with nature improves cognition and affect for individuals with depression. Journal of affective disorders, 140(3), 300–305.
Bratman, G. N., Hamilton, J. P., Hahn, K. S., Daily, G. C., & Gross, J. J. (2015). Nature experience reduces rumination and subgenual prefrontal cortex activation. Proceedings of the National Academy of Sciences of the United States of America, 112(28), 8567–8572.
Dar, G., Waddington, G., Stern, M., Dotan, N., & Steinberg, N. (2020). Differences Between Long Distance Road Runners and Trail Runners in Achilles Tendon Structure and Jumping and Balance Performance. PM & R : the journal of injury, function, and rehabilitation, 12(8), 794–804.
Frank, M. G., Fonken, L. K., Dolzani, S. D., Annis, J. L., Siebler, P. H., Schmidt, D., Watkins, L. R., Maier, S. F., & Lowry, C. A. (2018). Immunization with Mycobacterium vaccae induces an anti-inflammatory milieu in the CNS: Attenuation of stress-induced microglial priming, alarmins and anxiety-like behavior. Brain, behavior, and immunity, 73, 352–363.
Pedisic, Z., Shrestha, N., Kovalchik, S., Stamatakis, E., Liangruenrom, N., Grgic, J., Titze, S., Biddle, S. J., Bauman, A. E., & Oja, P. (2020). Is running associated with a lower risk of all-cause, cardiovascular and cancer mortality, and is the more the better? A systematic review and meta-analysis. British journal of sports medicine, 54(15), 898–905.
Running and Osteoarthritis: Does Recreational or Competitive Running Increase the Risk?. (2017). The Journal of orthopaedic and sports physical therapy, 47(6), 391.
Sabater Pastor, F., Besson, T., Berthet, M., Varesco, G., Kennouche, D., Dandrieux, P. E., Rossi, J., & Millet, G. Y. (2023). Elite Road vs. Trail Runners: Comparing Economy, Biomechanics, Strength, and Power. Journal of strength and conditioning research, 37(1), 181–186.
Sherrington, C., Fairhall, N., Kwok, W., Wallbank, G., Tiedemann, A., Michaleff, Z. A., Ng, C. A. C. M., & Bauman, A. (2020). Evidence on physical activity and falls prevention for people aged 65+ years: systematic review to inform the WHO guidelines on physical activity and sedentary behaviour. The international journal of behavioral nutrition and physical activity, 17(1), 144.
Song, C., Ikei, H., & Miyazaki, Y. (2016). Physiological Effects of Nature Therapy: A Review of the Research in Japan. International journal of environmental research and public health, 13(8), 781.
Taylor, A. F., & Kuo, F. E. (2009). Children with attention deficits concentrate better after walk in the park. Journal of attention disorders, 12(5), 402–409.
Heather Hart is an ACSM certified Exercise Physiologist, NSCA Certified Strength and Conditioning Specialist (CSCS), UESCA certified Ultrarunning Coach, RRCA certified Running Coach, co-founder of Hart Strength and Endurance Coaching, and creator of this site, Relentless Forward Commotion.   She is a mom of two teen boys, and has been running and racing distances of 5K to 100+ miles for over a decade.  Heather has been writing and encouraging others to find a love for fitness and movement since 2009.