Starting a new sport or activity can be exciting, and wildly overwhelming. When it comes to running, it may seem obvious: all you need is a pair of running shoes, right? But then you start looking into available running equipment, only to be bombarded with $180 lightweight sneakers, $200 hydration packs, and $750 GPS watches. But like any sport, there are the "must have necessities" and the "luxuries". In this post, we'll break down the essential trail running gear for beginners, and explain which items you really need.
Trail Running Gear for Beginners: What you Should Invest in
The following are items that, in my experience, are worth investing in as a beginner trail runner. If you've already been running on the roads, chances are you may already own a number of these items.
The Correct Shoes for You.
To be successful as a runner (and by successful I mean: not miserable) you have to have the right pair of shoes. I'd argue that this is the most important piece of trail running gear for beginners and experienced runners alike. I'm often asked "well, what is the best pair of shoes?". The answer is…it varies from runner to runner. While feet aren't as unique as finger prints, there are many variables from person to person. Are your feet wide, or narrow? Do you overpronate, or supinate? Do you have collapsed, flat arches or high arches? (To learn more about these terms, check out the post 5 Running Shoe Mistakes You Could Be Making Right Now.)
Therefore, the best thing you can do is head to your local running specialty store and get fitted by a professional. They will make sure you're in a proper fitting shoe that is designed specifically for your needs.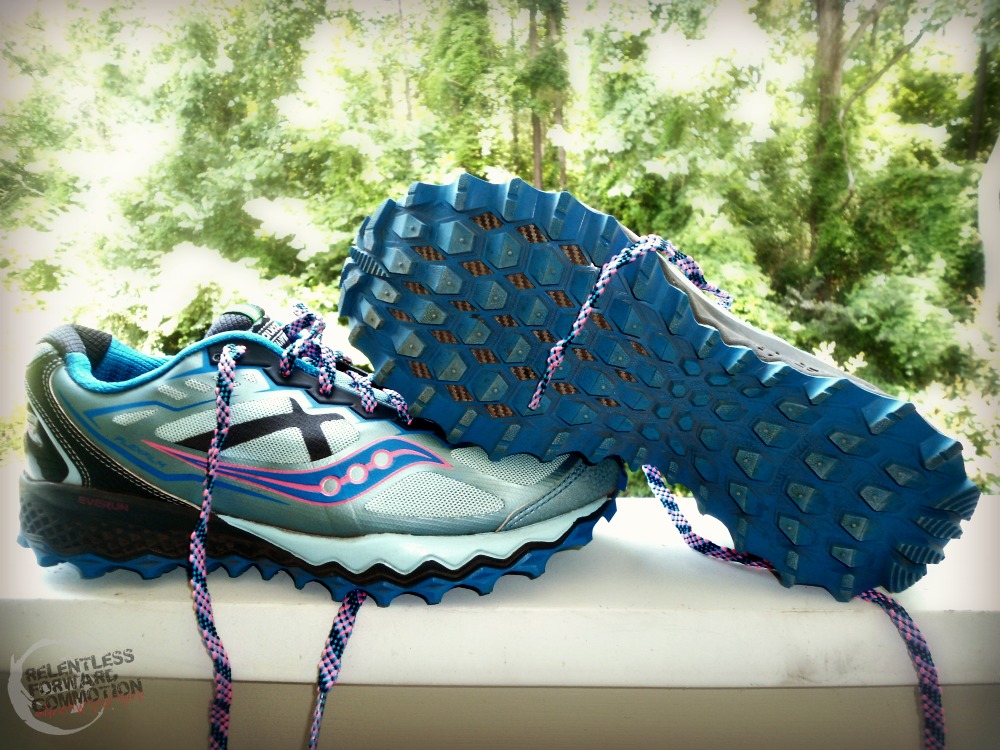 The next question is: do I really need trail running shoe? The answer is…maybe. What sort of terrain will you be running on? If you're starting out on relatively flat, smooth, carriage road type trails, you can probably get away with a road shoe. If you'll be tackling technical single track, you're going to want a rock plate and some aggressive tread. Again, your local running store should be able to point you in the right direction.
Quality Socks
Most runners know how invaluable good socks are, when it comes to keeping your feet blister free and comfortable. But when it comes to trail running, I'd argue that quality socks are EVEN MORE important. On trails, you are more likely to end up stomping through a puddle, or with debris in your shoes, or even sliding around in your shoe on climbs and descents: all things that can cause friction and hot spots on your feet. Investing in quality socks can make all the difference between a good trail run, and painful blisters.
Personally, I'm a fan of merino wool socks designed for runners, such as those from Darn Tough or Feetures! brand socks (affiliate links).  The wool naturally wicks water and sweat away quickly, while maintaining the fit and integrity of the sock.
Gaiters
Many trail runners may disagree with me on this one. But my philosophy is "happy feet = happy runner". Gaiters are an inexpensive piece of equipment designed to go around your ankle and over the opening of your shoes. They essentially are a "jacket" for your ankles that keep debris, like pine needles, small pebbles, sand, etc. OUT of your socks and shoes.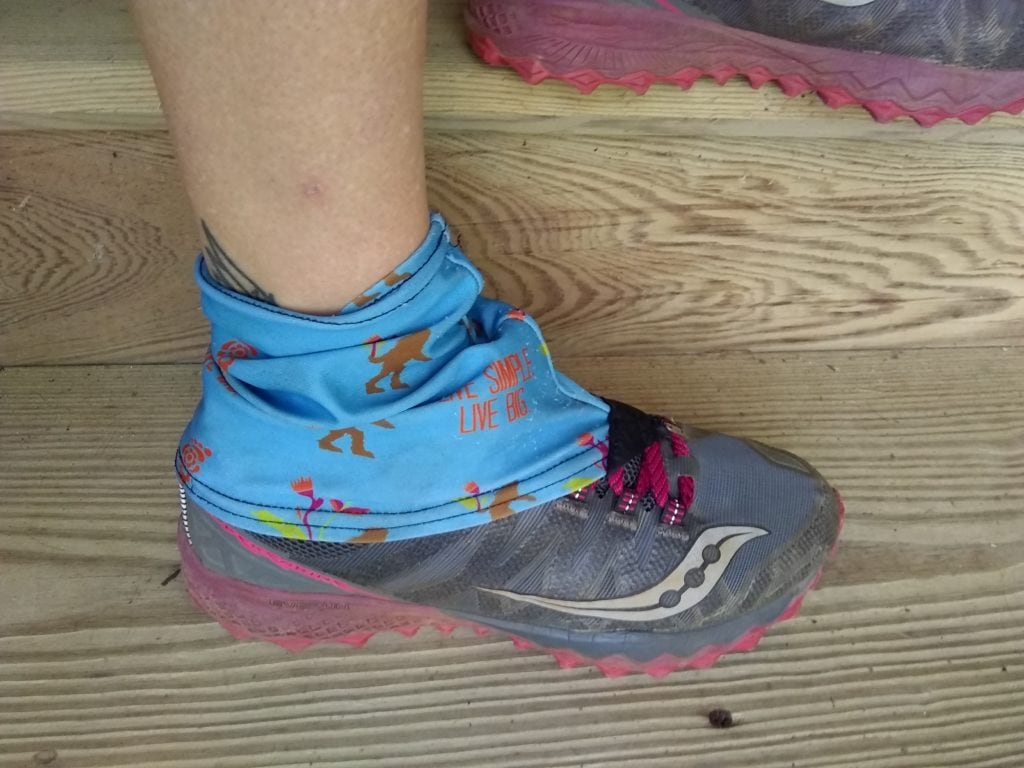 You can likely find gaiters at any run specialty shop, or you can check out the plethora of handmade, awesome fabric options from fellow trail runners like Dirty Girl Gaiters or UltraGam on Etsy. 
Durable Apparel
All runners are going to want lightweight, moisture wicking apparel suitable for the temperatures you are running in. When it comes to trail running, things can get a little more…messy.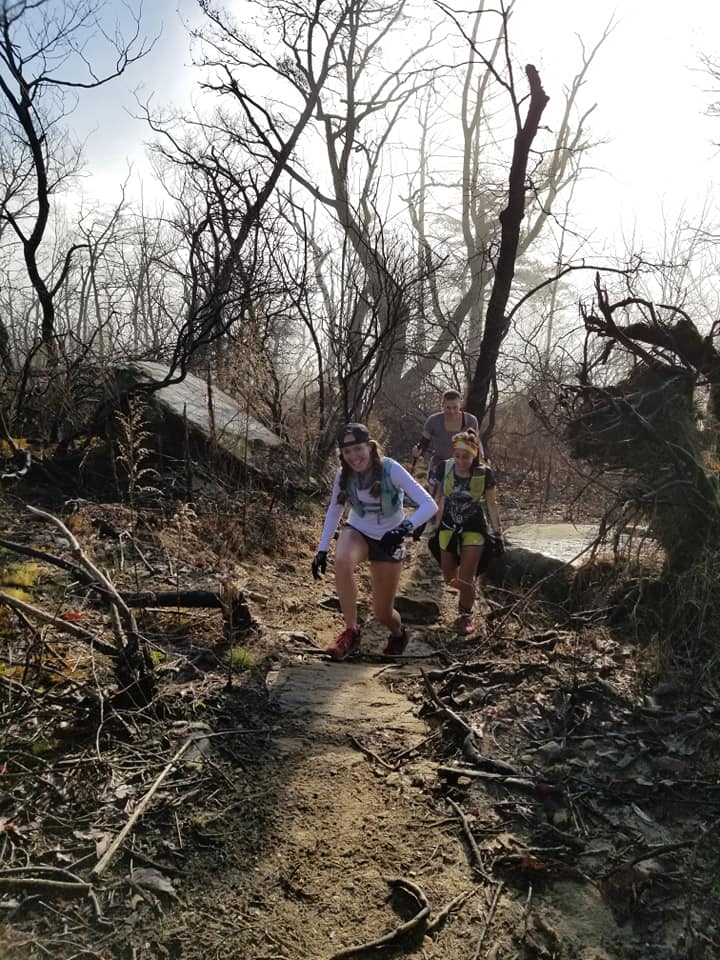 There's a higher potential to fall, run into vegetation that wants to tear at your clothing, or otherwise just get dirty. So personally, I leave my more delicate workout pieces for the gym, and use my durable apparel for the trails.
Handheld Bottle
Trail running can often take more effort than road running; your normal 4 mile time might take longer on trails. You're going to want to bring water (or some sort of hydration) with you. As a beginner trail runner, you likely won't be out for hours on end, and don't need an elaborate hydration pack.
Rather,  handheld water bottle that can hold upwards of 20 ounces of fluid should be adequate.  As a bonus, those designed specifically for running, such as this SpeedDraw from Nathan(affiliate link) feature a pocket that can store your keys, I.D., and cellphone.
Quality Headlamp or Light Source
If you're heading out on the trails at night, you are going to want a bright, quality headlamp or handheld light designed specifically for running. Keep in mind, it gets dark much earlier in the shade of the trees than you might expect, so "night" could be as early as 5 or 6 pm. Unfortunately, the good ones come with a price tag. This, however, is one that I recommend splurging on, even as a beginner. A good, quality lamp can make the difference between a scary and potentially hazardous night time running experience, and an enjoyable, safe run.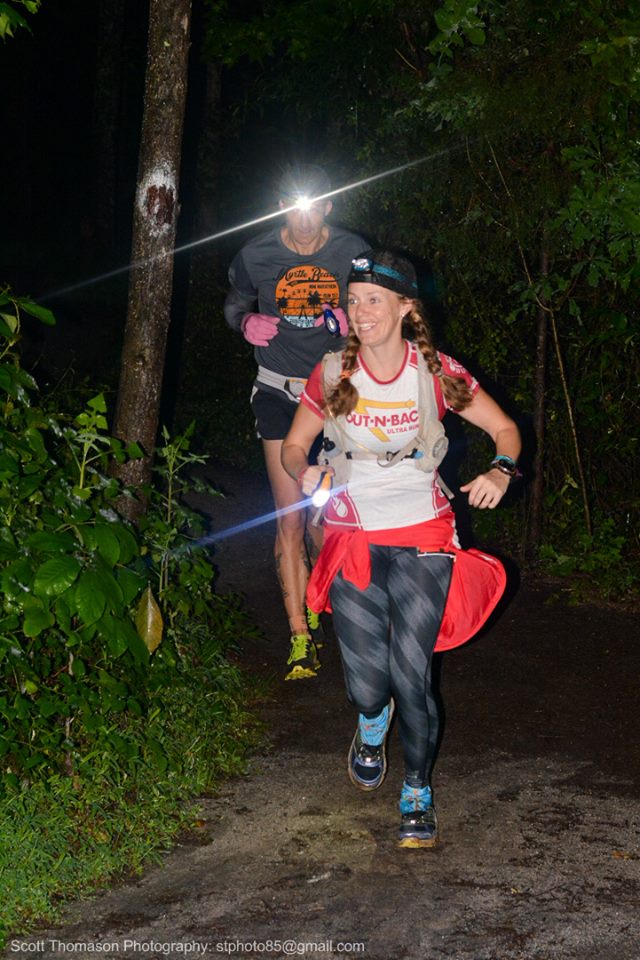 Trail Running Luxuries You can Skip For Now:
The following items are nice to have, but are definitely not necessary if you are just getting into trail running. These are items you can splurge on later when you fall head over heels in love with trail running.
GPS Watch
GPS watches are an incredible resource for runners. They can be as simple as telling you your current pace, distance ran, and time of day. Or, they can be as complex as laying breadcrumbs to retrace your trail, tracking altitude and elevation, and even analyzing your training load to see if it's been productive or not. Of course, the more complex watches definitely come with a price: some of the newer GPS watches can run anywhere from $300- nearly $1,000.
If you are brand new to running, and do not have a GPS watch yet: do not panic. There are a number of free apps you can download to your phone, such as Strava or Map My Run, that can use the GPS system already built into your smart phone to track distance and pace. Further, many well established trails include mile markers already on the trail, to let you know how far you've run.
Hydration Pack
A hydration pack is a more advanced system of carrying fluid on your runs. They are essentially a back pack with a built in fluid bladder than typically holds around 2 liters of water. Hydration packs are great, I absolutely adore mine.
However, hydration packs also come with a hefty price tag. They also come with countless options and fits, making the prospect of buying one somewhat overwhelming. I recommend that newer trail runners take time to research hydration packs, when the time comes that they want one. Fit is everything, so be sure to go into stores to try some on, or better yet, ask running friends if you can try theirs on for fit.
Related post: Running Hydration Vest – How to Choose the Right One for You
Trekking Poles
I'm sure you've seen pictures of badass trail runners summiting some gnarly mountain sides, with the aid of trekking poles. But the reality is: you're not going to need trekking poles for MOST runs, unless you live on the side of one of those gnarly mountains. Definitely save your money on this piece of equipment until you truly need them.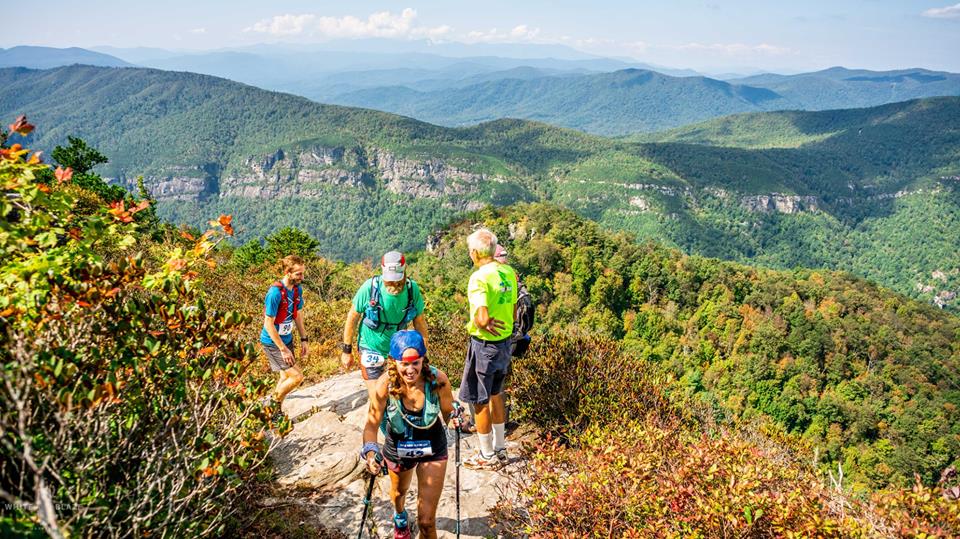 Related post: The Pros & Cons of Running with Trekking Poles
Have any questions about specific trail running gear, and whether or not it's worth the investment in the beginning? Feel free to leave a comment below!