Last Updated on March 11, 2018 by Heather Hart, ACSM EP, CSCS
Getting lost. Snakes. Twisting ankles. Bears. Trail Running fears: let's talk about them.
As a full time trail running evangelist (self declared) it is my calling to bring runners off of the pavement, and on to the trails.  I am bound and determined to help all runners discover how amazing trail running can be, either full time, or as a supplement to their road training.  But despite my best intentions, time and time again I'm met with resistance from non trail runners, usually paired with the following statement:  "I'd love to join you on the trail, but I'm afraid of ___________".
In this post, we're going to discuss six of the most common fears I hear from people all of the time.  They may be valid fears, or they may be highly irrational, but these fears certainly do exist, especially among new trail runners We'll acknowledge them, discuss ways you can possibly get past them, and then hopefully get you out there on the dirt.  And have no fear: there are no actual pictures of snakes in this blog post. Let's go!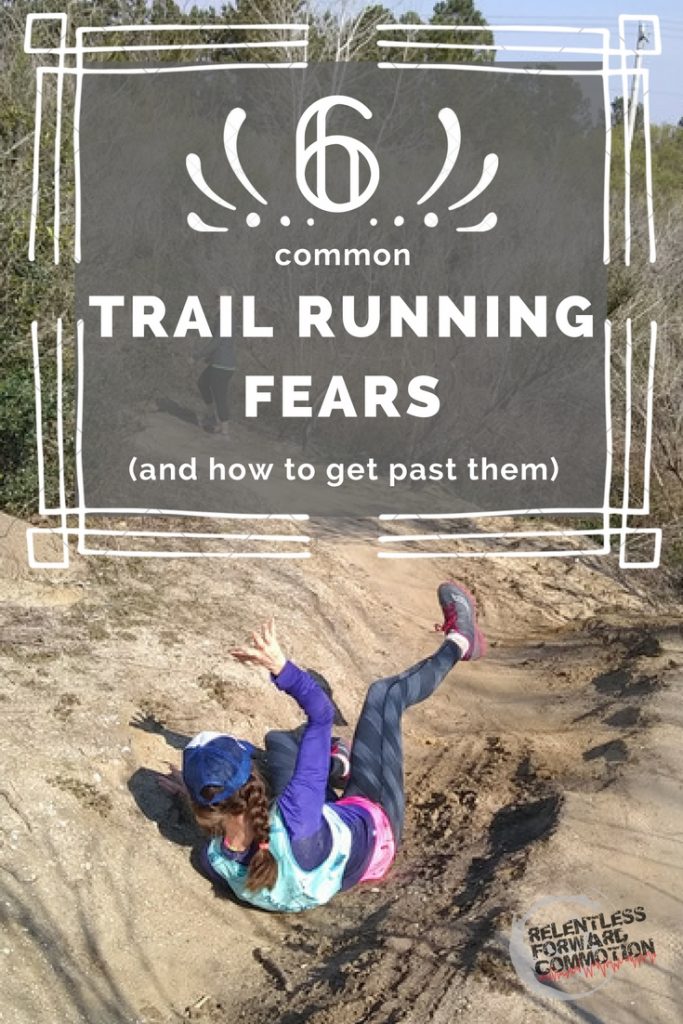 In no particular order, let me present you with:
6 Common Trail Running Fears (and How to Get Past Them)
1. Falling
Some trail running fears may be far fetched, but this isn't one of them.  There are certain fears that are simply ingrained in us as human beings, likely some sort of survival response from the time we were cave(wo)men  running from saber tooth tigers.  Falling is definitely one of those fears.  It's scary.  You lose control. You might get hurt.  You might get eaten by a  saber tooth tiger.
So let's get right to the point and not sugar coat this one: if you trail run long enough, you're going to fall.
Infact, moments after faking these "falling" photos above, I fell for real.  HARD.  Cut open my palm, tore my tights, and tore off some of the skin on my knee.  It wasn't pretty.  It temporarily knocked the wind out of me, and took me more than few seconds to gather myself and get back up.
At this point you are thinking "what is wrong with this woman? She's telling us how to get OVER our fears, but instead is only making them worse!" But before you declare "forget this, I'm staying on the roads" hear me out.  Everyone falls, but just like learning how to ride a bike…you get back up, you keep on going.  And after you fall a bunch, you stop falling as much. Your body learns how to react to instabilities underfoot much quicker (increased proprioception), and your balance increases, helping you stay upright more often than not.  Eventually the falls are few and far between (typically, only after mocking the trail and "pretending" to fall, like I did above).
Another important trick, of course, is learning how to fall the right way.  A "tuck and roll" method (first picture) tends to leave you far less beat up than landing directly on your knees or wrists (second picture)
2.  Getting Lost
The idea of being lost in the deep dark woods can evoke thoughts of hopelessly wandering in circles, shivering as you forage for berries to stay alive, "Into the Wild" style.  In a suburban neighborhood, there is seemingly always a passing car or a friendly neighbor you can stop and ask for directions or help, if needed.  But in the woods? You may go HOURS without seeing anyone.
This, again, is a legitimate concern on our list of trail running fears.  Fortunately, it has a simple solution:  start small.
There is no need to take your first trail excursion out into the deep, uncharted backcountry.  Instead, find a well traveled and well marked park trail, preferably a looped trail that will always bring you right back to where you started.  Better yet, tag along with a friend who frequents that particular trail, and let them show you the way.
One you become more comfortable on trails, you begin to recognize trail markers easily, and learn how to safely follow them.
3. Snakes (and other wildlife)
Do snakes make your skin crawl? Do you jump simply at the sight of one?  If you answered yes, you definitely aren't alone.  Ophidiophobia, or the fear of snakes, seems to affect many people, and since snakes live in the woods, that phobia naturally carries over as a common concern on the list of trail running fears.
Here in Coastal South Carolina, we have A LOT of snakes.  So many, that within my first year of running on the trails down here I went from being startled by snakes to barely batting an eye.   Depending on the time of year, the weather, how busy the trail is that day, or just pure luck, we may see zero snakes during a run or we may see ten.
So we've established the fact that snakes do exist on trails.  So do skunks, bears, squirrels, etc. The forest is their home after all. The thing to keep in mind is that the snakes and other wildlife typically want nothing to do with you. I promise.  They aren't chasing, stalking, or coming to check you out.  They simply want to be left alone, and are likely as startled by your presence as you are startled of them.   In fact, most of the time snakes and other animals can sense you coming and disappear off of the trail long before you see them.
So what do you do if you see a snake on trail?  Give it space.  Chances are it will slither away on it's own, but if it doesn't, sneak around the trail BEHIND it (so it doesn't feel threatened or trapped) keeping plenty of space between you and the snake.  Then continue on your merry way!
4. Twisting my ankle
Ankle injuries are the excuse seemingly EVERY road runner here in Myrtle Beach uses when we try and invite them out to the trail.  HERE'S THE THING: trail running actually makes your ankles STRONGER.  On the paved roads are run in a forward motion, with very repetitive movements and very little variation in direction. Rarely do you need to move laterally, therefore the ankles become weak to foot inversion or eversion.  This is often why we see so many road runners succumb to ankle injuries from stepping off a curb the wrong way, or unexpectedly hitting a pothole.  From experience, I can tell you that ankle injuries hurt.
On the trail, especially more technical trails, you are constantly shifting your foot strike, as you avoid roots, rocks, holes, debris, snakes (I'm kidding…maybe), you name it.   The terrain underfoot is uneven, forcing your foot to not only change placement forwards and backwards (plantar flexion/dorsiflexion), but laterally as well (inversion/eversion)…as well as likely a combination of all directions.  The more you challenge your balance through trail running, cycling through various unpredictable foot strike patterns, the stronger the tendons and ligaments in your ankles become.  End result? An unexpected turn in a pothole or off of a curb is far less likely to cause injury.
SO: choose your trails wisely in the beginning.  Opt for a nice, smooth, well traveled dirt trail, like the one pictured above, as opposed to an incredibly rooty, rocky, technical trail.  Save the crazy trails for later, when you're feeling more confident in your trail running abilities and the strength of your ankles.
5.   Being slow
Believe it or not, this is actually a very common fear expressed by many of my running acquaintances.  Runner's often display "Type A" personalities, and strive to run faster or do better each and every run.  Therefore the idea of a slower GPS reading on their strava account might be on the list of trail running fears.
If you are a long time road runner, but new to trail running, I suggest leaving your GPS watch at home.  Because inevitably, you are going to know you are pushing hard, look down at your pace, and be shocked to discover you are running at a much slower place than this exact same effort on pavement yields.
Do not fret.
Trail times are typically much slower than road times, for almost all of us. There are a number of reasons for this, including the fact that soft dirt provides less energy return.  With every foot strike, your force is absorbed into the softer substrate, resulting in more effort needed to push back off the ground and propel yourself forward.  Not to mention the fact that more technical, windy trails require more careful foot placement, which in and of itself will slow you down.  And hills?  Did I mention there are almost always climbs?
So take your time.  Enjoy the beautiful scenery mother nature has to share with you on the trails.  Enjoy the new and challenging terrain.  Have fun with friends.  Don't stress about pace.  I promise it will be worth it.
6. I may never want to run on the pavement again.
Well…trail running ruined my life too.  On the list of all possible trail running fears? This is the best one.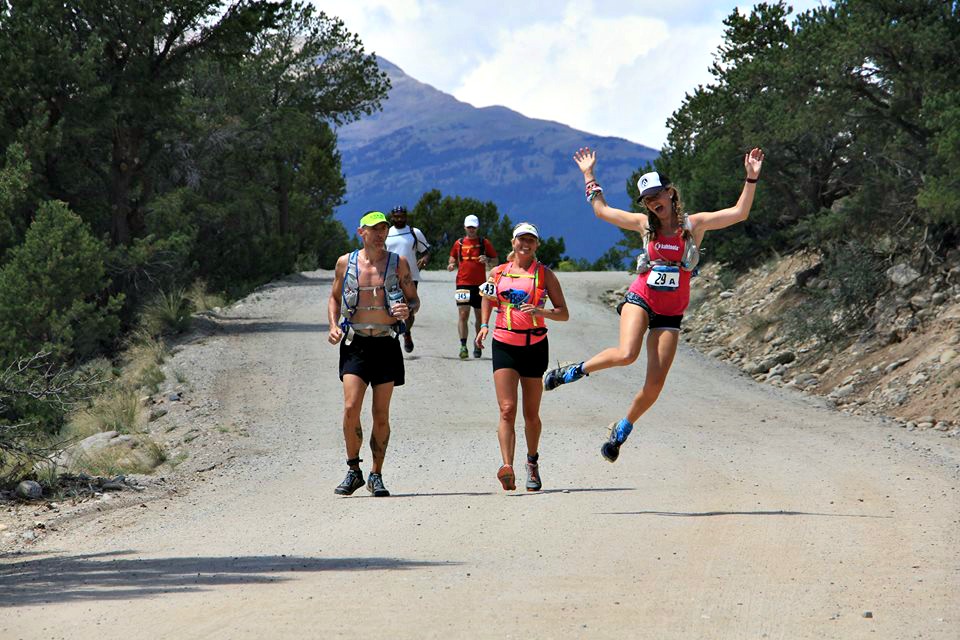 Happy trails, my friends.
______________________________________________
Let's hear from you:
If you are a regular trail runner, what were some of your fears when you first started?  If you are new, what are some trail running fears you may be currently experiencing? 
______________________________________________
Heather Hart is an ACSM certified Exercise Physiologist, NSCA Certified Strength and Conditioning Specialist (CSCS), UESCA certified Ultrarunning Coach, RRCA certified Running Coach, co-founder of Hart Strength and Endurance Coaching, and creator of this site, Relentless Forward Commotion.   She is a mom of two teen boys, and has been running and racing distances of 5K to 100+ miles for over a decade.  Heather has been writing and encouraging others to find a love for fitness and movement since 2009.