Last Updated on December 20, 2020 by Heather Hart, ACSM EP, CSCS
Wondering how to start trail running, and looking for tips on transitioning from road to trails? I'm glad you asked. You see, the majority of runners begin their running journey on the road, logging miles through neighborhoods or on well established, paved paths. The main reason for this is simply availability. Not everyone has access to trails, but almost everyone can step outside their front door and go for a run.
But, as a long time trail runner who started her career on the paved roads of my neighborhood cul-de-sac, I can tell you this: trail running and road running are not created equally. They both have their pros and cons, of course. And I for one, think all runners should have a chance to experience enjoying both environments.
But if you are looking to hit the trails for the first time, there are a number of trail specific tips that can help make your transition from the road a little more enjoyable.
How to Start Trail Running: 10+ Tips to Help Transition from Road to Trails
Ready for the "how to start trail running" secret? The best way to start trail running truly is as simple as finding a trail and running on it. It's really that simple.
Running is one of our most basic, primal instincts, and nothing feels more primal than running through the woods. (And if you aren't feeling the "primal urge" to run, just pretend there is a really fast bear behind you…).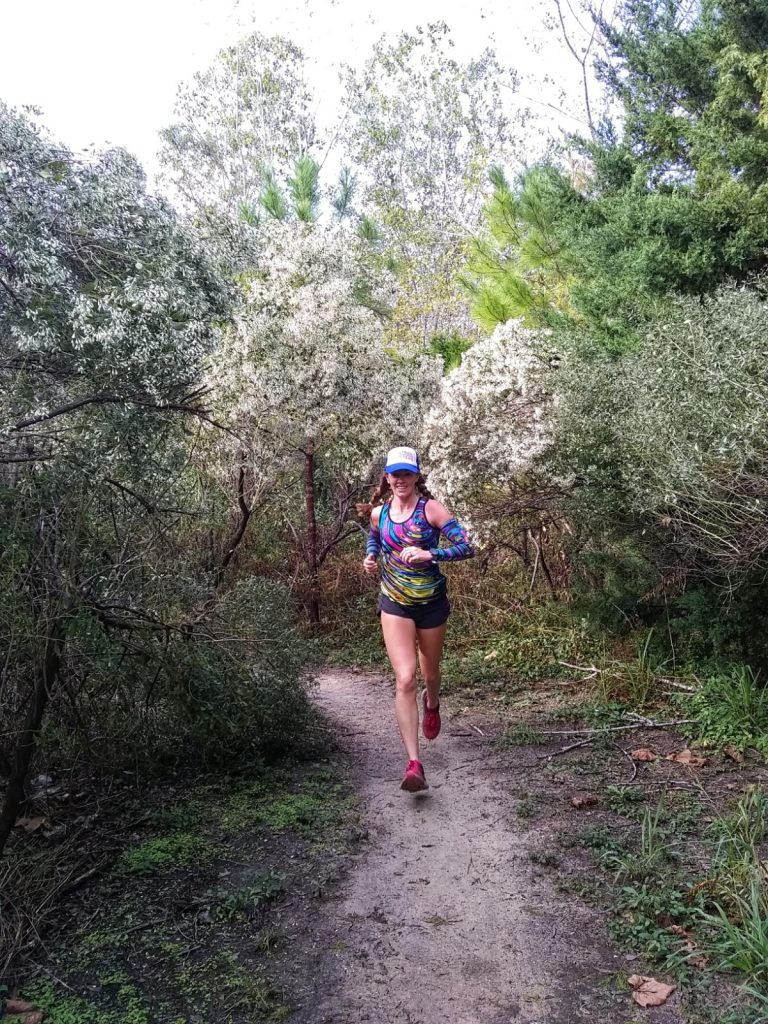 But, for the sake of this blog post, and making that transition a little easier, I've got some tips for those of you who are looking to make the transition between road and trail running. We'll cover:
The Benefits of Trail Running
Trail Running Gear
Choosing the right trail for your ability
Trail etiquette
How to actually trail run

Watch your step
Pick up your feet
Use your arms
Be prepared to fall

Trail running safety
What you can do to become a better trail runner

Strengthen Your Ankles
Strengthen Your Core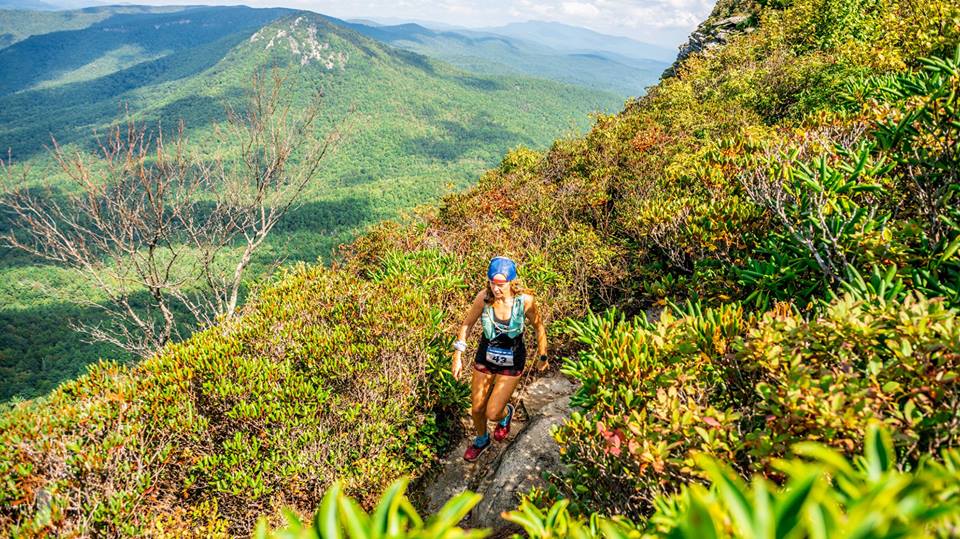 Ready to dive in and learn how to start trail running? Let's go!
The Benefits of Trail Running
One of my favorite things to do is to share my joy of trail running with others. But the best part of trail running is that it's not only fun, it's good FOR your. The benefits of trail running include, but are not limited to:
Increased balance
Stronger legs and core
Lower impact (compared to road running)
Increased ankle strength & stability
Even if you identify as a primarily road runner, hitting the trails from time to time can make you an overall stronger athlete.
Trail Running Gear for Beginners: What you Actually Need
If you're already running on the road or the treadmill, you are probably aware that the running industry offers no shortage of gear marketed to runners. Some of it is necessary, and much of it is luxury.
When you first start trail running, there's only one piece of equipment you REALLY need:
Invest in Trail Running Shoes
Can you run on trails in your road shoes? Of course. Especially flat, wide trails like these:
But if you are going to tackle something slightly more technical (i.e., rocky, roots, etc) like this:
…you are probably going to want a trail specific shoe. For two reasons: first the tread on the sole of the shoe is going to help prevent slipping on rocks, mud, slimy roots, etc.
Second, trail shoes are typically a little burlier, designed to withstand the abuse of a trail.  Some even contain what is called a "rock plate" in the sole of the shoe. This helps protect you from the rocks that try to tear up your feet, either when you land on them or kick them. And this happens a lot, especially when your legs get tired and your gait starts to transition from "perfect form" to something that resembles an awkward, newborn baby giraffe.
Water Bottle or Hydration Pack
Trail running can often take more effort than road running; your normal 4 mile time might take longer on trails. You're going to want to bring water (or some sort of hydration) with you.
Running specific handheld water bottles typically carry upwards of 20 ounces of fluid, and are easier to run with than a regular sports bottle.
As a beginner trail runner, you likely won't be out for hours on end, and don't need an elaborate hydration pack. But, they are handy in helping you carry your other gear (phone, keys, jacket, etc.)
For more information on this topic, check out these posts
Trail Running Etiquette:
I know, I haven't even told you HOW to start trail running yet, and I'm about to lecture you. But hear me out. With heading into the woods and onto the trails comes an entirely different set of rules, some of which are common sense, others which have a direct impact on the sustainability of the surrounding environment. 
Following basic trail running etiquette ensures an enjoyable experience for all trail users, as well as ensuring the integrity of the trail for future users. 
Follow all trail markings, and heed to signs
Stay on trail
Stay to the right, pass on the left
Yield to slower traffic
Leave no trace: carry out what you carry in
Leave wildlife alone
If you use music, keep it low
For a more in-depth explanation on trail etiquette – and why it's so important – please check out the post Trail Running Etiquette Tips.
Hit the Trails!
What you've been waiting for, how to ACTUALLY start trail running – gear, rules, and benefits aside!
Find the Right Trail for Your Ability.
If you are like me, you've got about 1.5 trail options within a 45 minute drive, so you take what you can get.  BUT…if you are lucky, you live in an area with a number of trails to choose from.
So be choosy in the beginning. Start with the less technical trails. 
As mentioned above, "technical" refers to, essentially, how much stuff is going to try and trip you on the trail. A flat, wide, hard packed trail isn't considered technical.
A single track trail with some rocks and roots is slightly technical.
A super steep climb covered in jagged boulders that you have to climb with your hands AND feet? Extremely technical.
Find a trail that suits your current ability.  If you are just starting your trail transition, and feel a little intimidated, start with a flat trail to get used to the sensation of not running on pavement. These types of trails are still really fun – but less likely to cause you to trip and fall.
Over time, work up to some mildly technical trails with some roots and rocks.  As you become more comfortable with finding the correct line to run down a trail to avoid obstacles (or hit them with precision), work your way up to more and more technical trails if you like.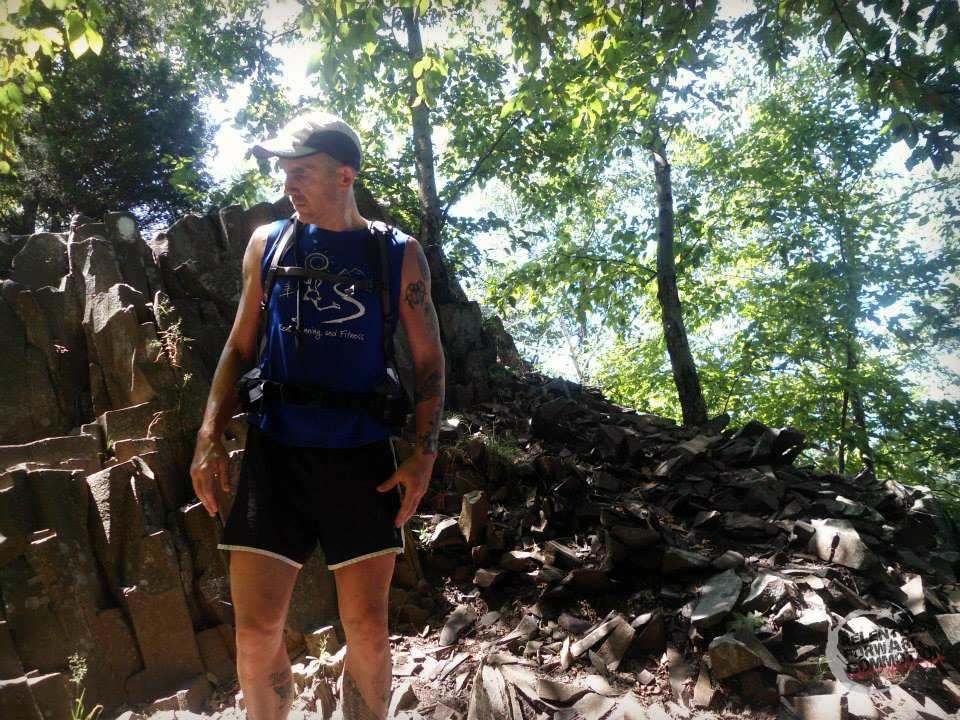 Ignore your pace.
In fact, leave your GPS at home, or at least change the screen so you can't see your pace. You absolutely CANNOT compare road paces to trail paces, for numerous reasons.
First of all, the terrain is typically much softer, which in and of itself will slow you down. Second, the terrain, such as hills, rocks, or even sharp corners can slow your momentum. Lastly, no two trails are the same. So you might run a 1:45 half marathon on a flat, wide open trail….but it takes you 3 hours to cover the same distance on a course that ascends a few mountain peaks.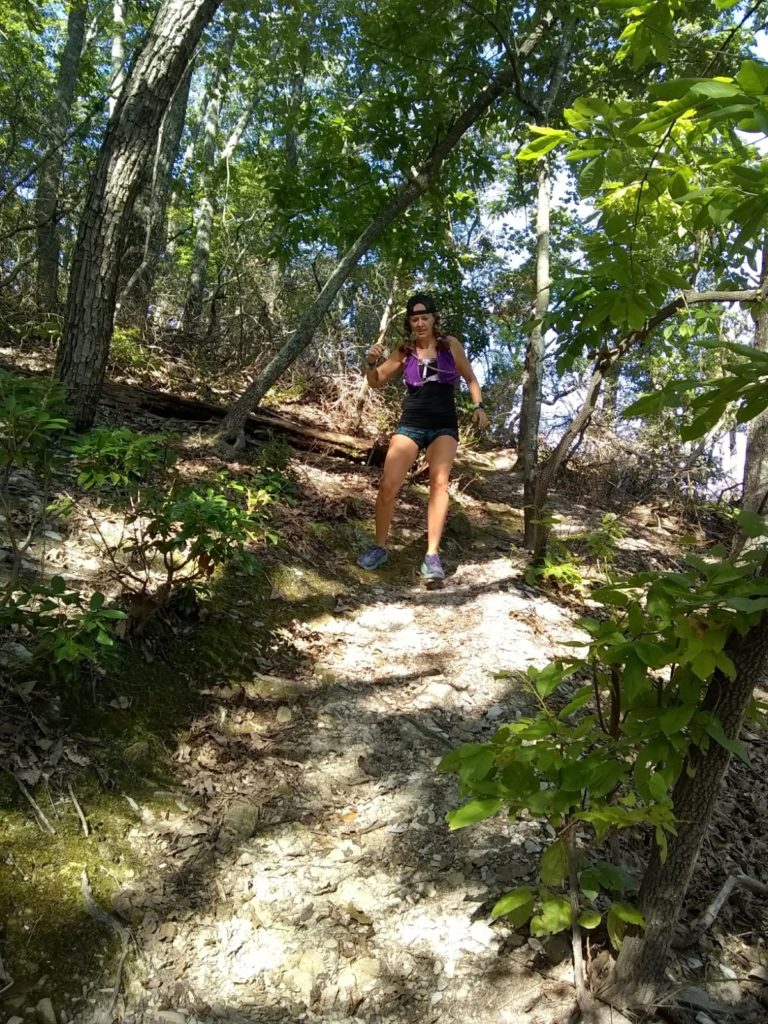 Never, ever, ever compare your road pace to your trail pace.  You will only frustrate yourself, and besides, trails are meant to be enjoyed.
Watch Your Step.
I remember during drivers-ed back in high school, our teacher told us that we must look far beyond the steering wheel and scan a half mile ahead while driving. At the time, that seemed ridiculous to me, it was all I could do to stare just past the front bumper of the car I was driving. But eventually it started to make sense. When you combine the speed of your car moving forward combined with your reaction time, you HAD to look that far ahead in order to be a safe driver.
Trail running is kind of the same. Of course, the distance you need to look ahead is far less than a half a mile, but the concept remains the same. If you are constantly looking down at what is directly in front of your feet, you may miss something beyond your range of sight…say a downed tree overhead or an oncoming cyclist. You need to scan further ahead to allow for proper reaction time.
And with practice, this becomes second nature: you see a big rock to the right of the trail ahead, so you subconsciously time your steps to land on your left foot to the left of the trail next to that rock.
Pick Up Your Feet.
The secret to avoiding falls in the first place? Pick up your feet! I think this is one of the hardest transition factors for many road runners. On the road you only have to look out for the occasional pothole. the treadmill? Nothing. You can shuffle all day, even as your legs get tired, with nary a worry but potentially scuffing the tread on your sneakers.
If you shuffle on the trail, however, you are going to fall.
But like I said, watching your step AND picking up your feet takes practice so…
Be Prepared to Fall.
It's going to happen, so you might as well just get over it now.
In the beginning, you are going to feel so incredibly awkward and maybe even fearful, and that is OK. (See related: 6 Common Trail Running Fears, and How to Get Over Them). Unfortunately the awkwardness often leads to clumsiness, and when you least expect it, a root or rock will jump out and trip you. Hell, sometimes even the most confident of us still fall. Sometimes the fall will end in maybe some dirty knees and arms, and probably a slight bruise to the ego…
…though occasionally there may be blood. (Blood warning for those of you who get queasy…)
When falling inevitably happens, I try to remember the wise words an equally as awkward 16 year old snowboard instructor once gave me during a snowboarding lesson: never fall on your hands (your wrists will thank you).
Tuck and roll as best you can. I promise in good time you will be bounding from rock to root to trail like a svelte and graceful deer, with only the occasional fall.
But until then, pick yourself up, brush yourself off, and keep moving forward.
Use Your Arms.
While road running, athletes often either use their arms to help propel them ahead, or let them hang completely limp at their sides, a-la the "flightless bird". Hey, I'm not judging, simply observing.
When trail running, using your arms as counterbalance can help you avoid a fall, especially when barreling down a hill or around a sharp corner. I've also been known to hang onto a tree to whip around a near 180 degree turn. While this arm usage will come naturally, it often feels UNNATURAL to road runners at first. Don't worry, flapping your arms around like a 6 year old running down a hill is 100% acceptable.
Trail Running Safety
Know your trails – or download a map to prevent getting lost
Tell someone where you are going (and when you expect to be back)
Check the weather
Wear appropriate and protective gear based on the weather and conditions
Bring plenty of water and nutrition
Be aware of your surroundings
For a more in-depth look at trail running safety and what you need to know, check out the post Trail Running Safety Tips.
How to Become a Better Trail Runner
When you first start trail running, you may be frustrated to find that you don't feel as confident or strong on the trails as you do on the road. And that's OK! You can and will get better with time and experience. But here are a few things you can do to help improve your trail running experience.
Strengthen Your Ankles.
Here in Myrtle Beach we have an amazing and large road running community. We also have one tiny, but decent, trail that is maintained by the county as a "running and cycling park". Yet despite this awesome resource, it is like pulling teeth to get any of my road runner pals to join us out there. Why?
They are all scared to "twist an ankle".
Here's the thing: the MORE you trail run, the STRONGER your ankles get. When road running, you are almost always going in one direction: forward. Perhaps there is the occasional hop off of a sidewalk or dip to the left to avoid someone who stopped short for water at an aide station.
While trail running, however, there is often a ton of lateral (side to side) movement, which can lead to stronger ankle ligaments and tendons. Further, as you become a more experienced trail runner, and your reaction time significantly decreases, your proprioception increases, and you learn to hop out of a potential ankle roll really quickly.
So what do you do in the beginning? Work on strengthening your ankles. My FAVORITE exercise, and one I make all of my runners do (even road runners) is single leg balance on the Bosu ball. The instability created by the Bosu forces ALL of your ankle to engage in every direction possible. 30 seconds each side, three times, is my go-to.
Don't have a Bosu? That's OK! Simple PT exercises like "spelling" your name or the alphabet with your feet will help.
Strengthen Your Core
A strong core – which includes not just your abdominal muscles, but also your hips, glutes, and lower back – can not only help prevent injuries, but can make you a stronger, more efficient, faster runner that can run longer before experiencing fatigue.  On the trail, core exercises will also help improve your balance, stability, and kinesthetic awareness.
Need an uncomplicated, at home core exercise routine? Check out the post "8 Core Strengthening Exercises for Trail Runners – No Equipment Necessary".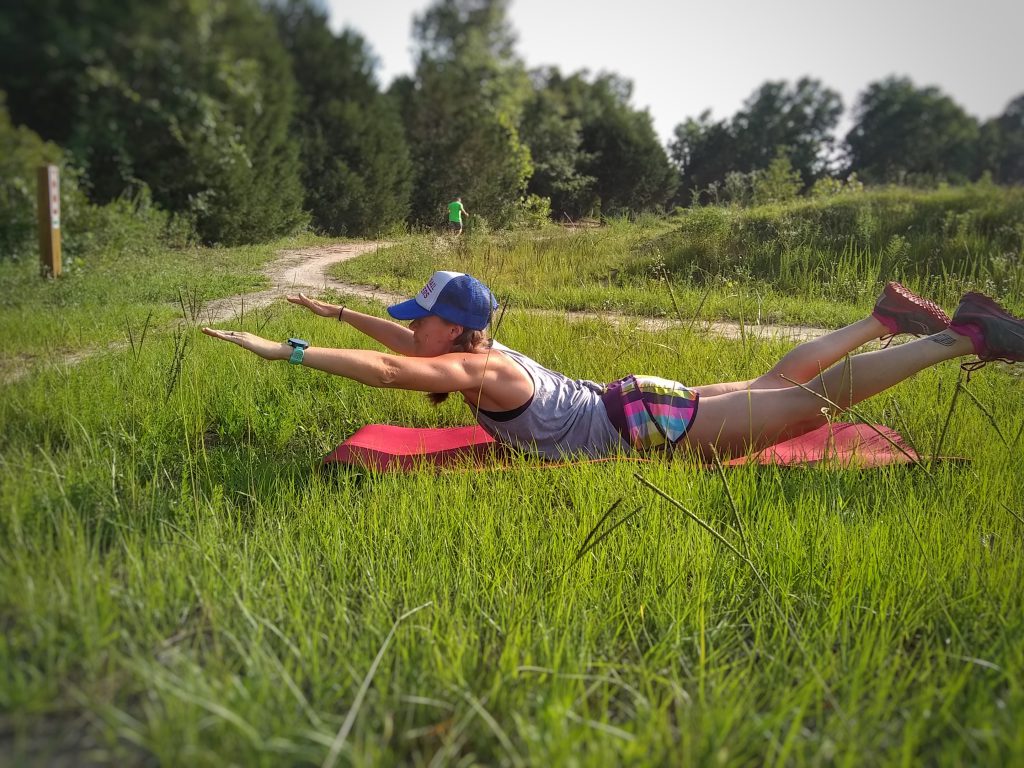 In Conclusion: Just Start Trail Running
Whew, that was a lot of information. Hopefully you aren't overwhelmed, and rather, feeling more prepared to transition from the road to the trails.
Trail running, for me, is simply a ton of fun. The sheer enjoyment factor is why I encourage EVERYONE to give trail running a shot, even if it is just supplemental to your regular road running routine.
Have any questions that weren't covered in the above posts? Please comment below!  Have any tips to add? You can comment below too!  Want to tell me a knock-knock joke? Comment below!
Happy Trails, my friends!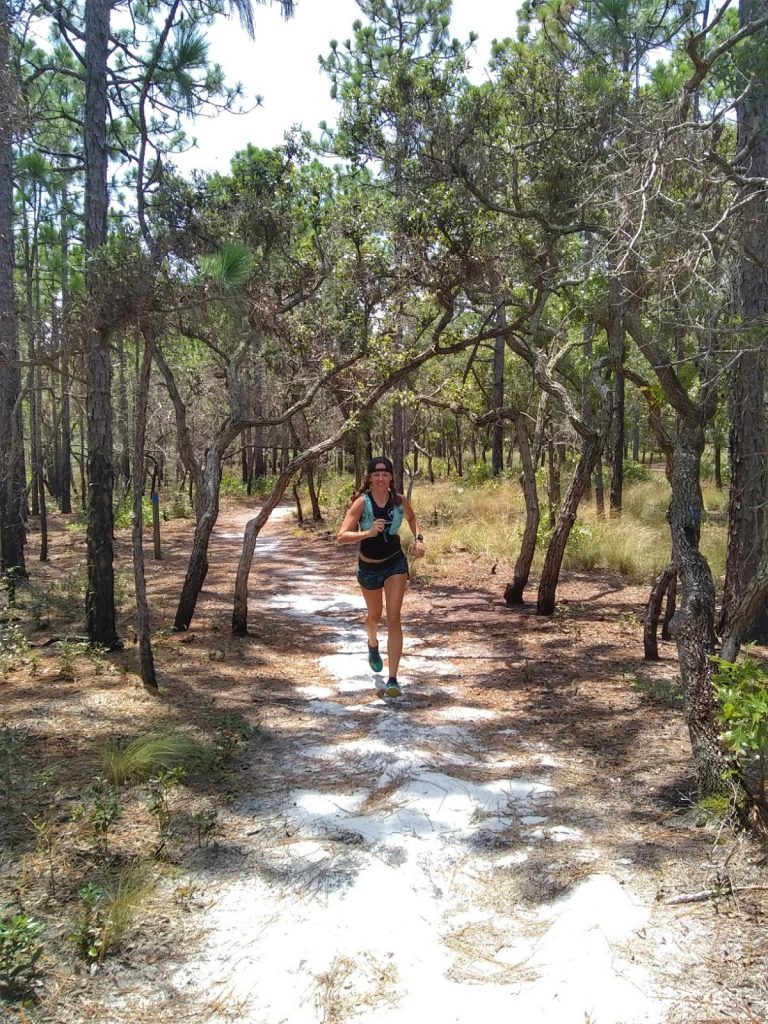 Heather Hart is an ACSM certified Exercise Physiologist, NSCA Certified Strength and Conditioning Specialist (CSCS), UESCA certified Ultrarunning Coach, RRCA certified Running Coach, co-founder of Hart Strength and Endurance Coaching, and creator of this site, Relentless Forward Commotion.   She is a mom of two teen boys, and has been running and racing distances of 5K to 100+ miles for over a decade.  Heather has been writing and encouraging others to find a love for fitness and movement since 2009.